SUN-KISSED BEACH IN
VIBRANT CITY CENTER
ALL-LGBT+
COMPLETE RESORT BUYOUT
ALL-NEW HALLOWEEN & DAY OF THE DEAD EXPERIENCE
VACAYA returns to Mexico just in time for Halloween & Day of the Dead 2024 with an all-new vacation experience that delivers the quality you've come to expect from VACAYA without breaking the bank.
Located on a prime stretch of beach in Playa del Carmen, Mahekal Resort is all ours October 27 – November 3, 2024! Nestled between a lush jungle ecosystem and the turquoise waters of the Caribbean Sea, Mahekal is a flourishing oasis surrounded by a thriving tropical forest, seamlessly integrating the resort into the landscape. Towering palm trees, exotic flora, and tropical birds create a natural symphony, harmonizing with the Mayan-inspired design. Whether in beachfront bungalows or garden view casitas, the resort offers a serene retreat that enhances the captivating beauty of Riviera Maya.
The architecture of Mahekal Beach Resort blends a fusion of Mexican design and contemporary comforts. Accommodations range from spacious beachfront bungalows with plunge pools and private sand with loungers to cozy garden view rooms with extra-large private patios and hammocks, immersing you in the natural beauty of the lush jungle and the turquoise waters of the Caribbean Sea.
In Mexico, the confluence of Halloween and Day of the Dead creates a spellbinding tapestry of enchantment, where vibrant costumes, flickering candles, and the aroma of marigolds weave together to summon a mystical celebration that bridges the worlds of the living and the departed.
So, leave the planning to us and get ready to live your tropical dreams on this exceptional "land cruise"* from VACAYA!
*One of our guests recently described our resort programs as a "land cruise," and we loved it! Our resorts have all the elements you love about our big-ship cruises combined with fabulous relaxation that's sure to recharge those batteries.
Renowned for its excellence in hospitality, Mahekal Beach Resort has garnered prestigious accolades, including being recognized among the Travel and Leisure's Best 25 Hotels in Mexico and Forbes' Best Boutique All-Inclusive Resort, a testament to the resort's commitment to providing you with an exceptional and unforgettable stay in the heart of Playa del Carmen.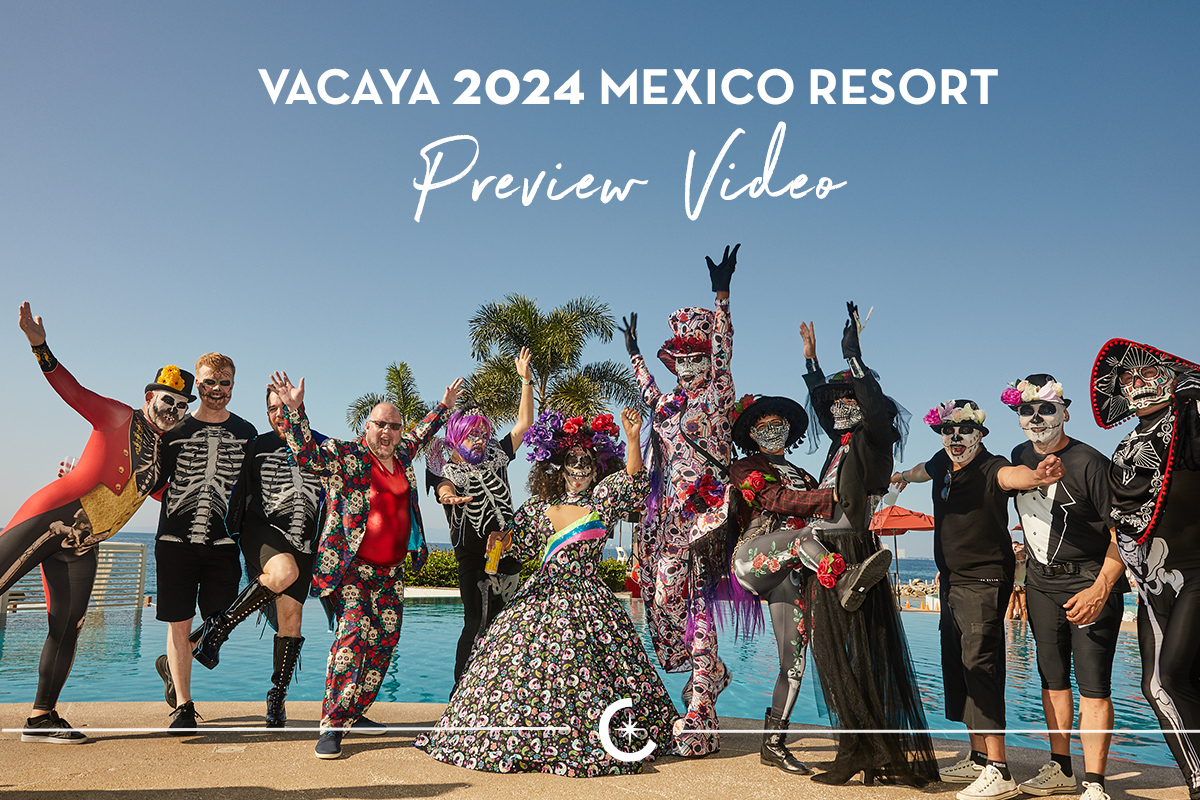 Boasting 3 premium restaurants (2 are beachside), 7 distinct bars (including beach and pool service), a theater, a spa, a 24-hour state-of-the-art fitness center, and 5 pools (including one clothing optional), VACAYA Oasis @ Mahekal is the all-inclusive vacation of your dreams at a price point that can't be beat. EVERY meal, EVERY drink, EVERY party, EVERY show, and EVERY social activity is included – all for one great price!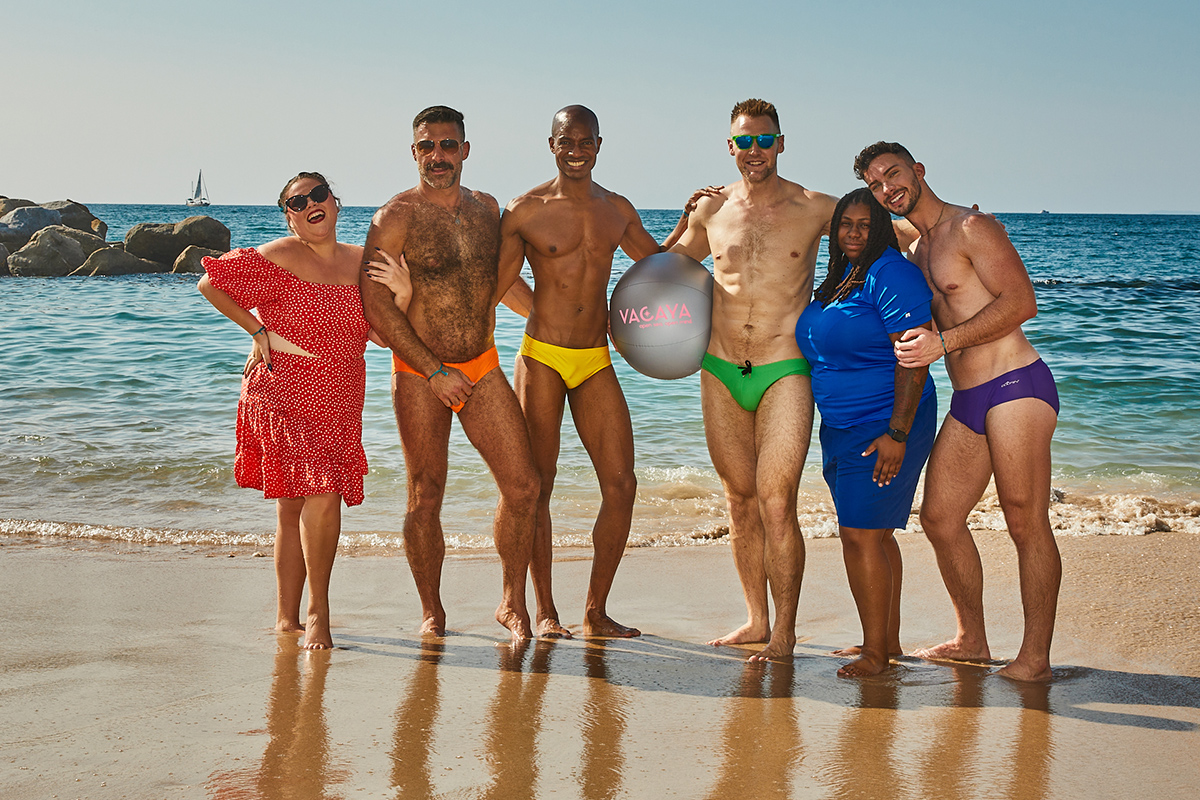 LGBT+ RESORT TAKEOVER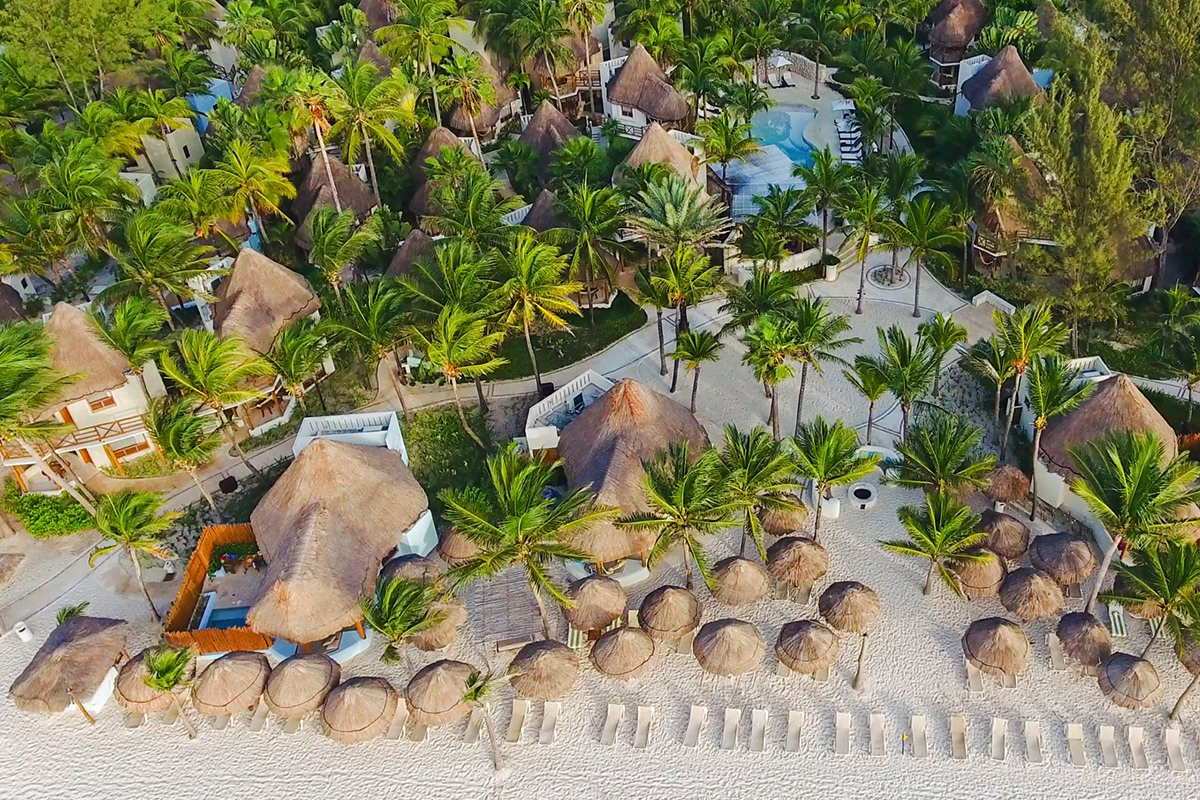 TROPICAL OASIS AT THE SEASHORE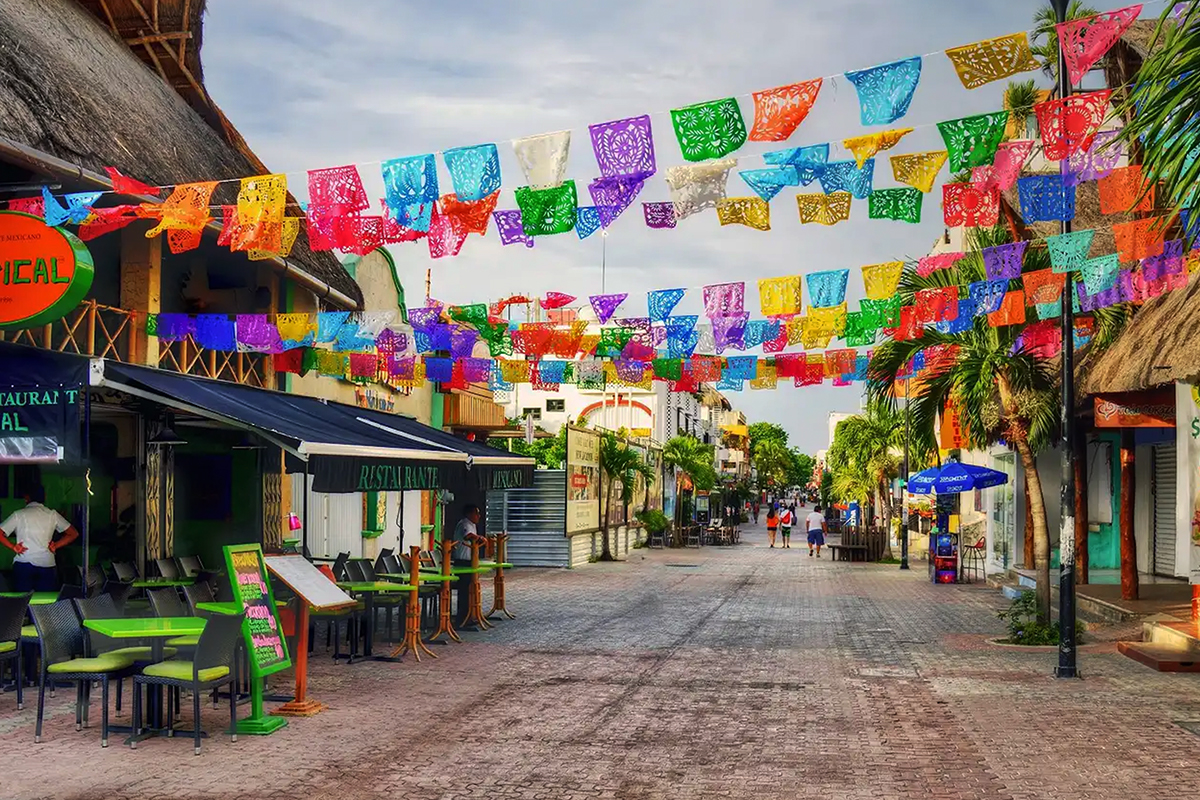 CITY CENTER JUST STEPS AWAY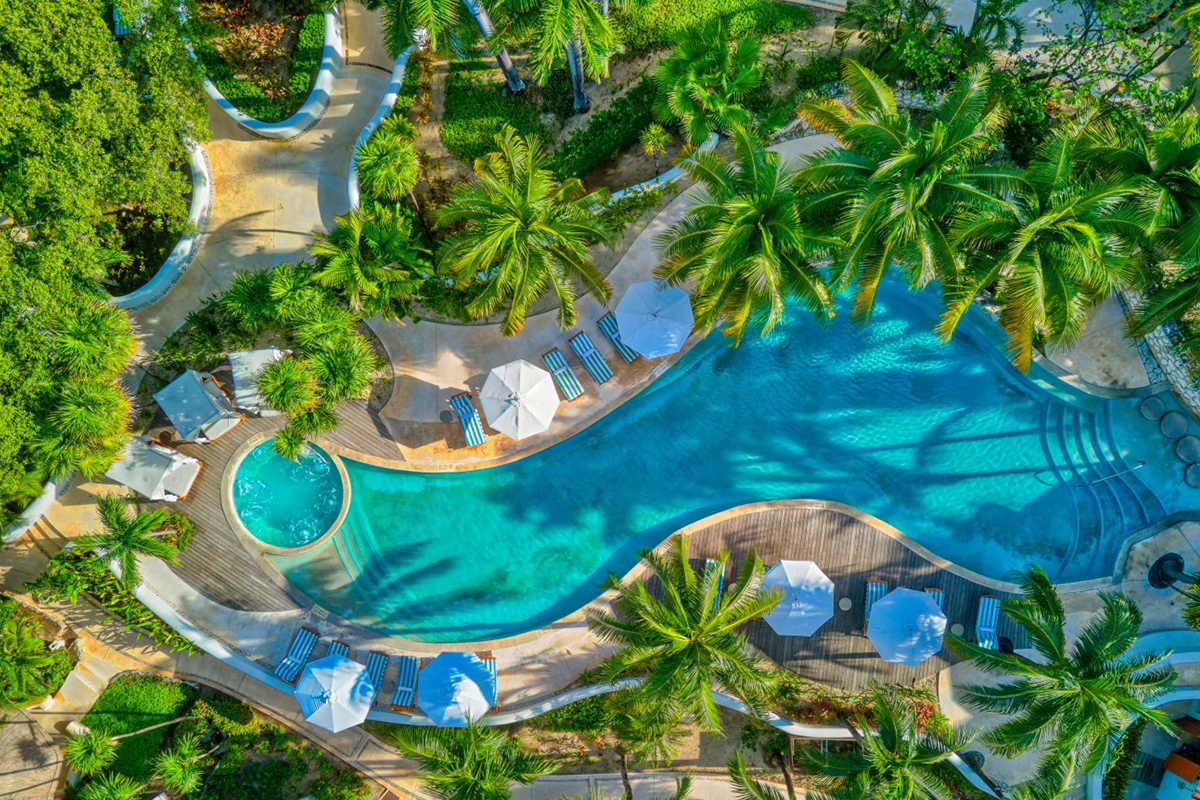 5 SPARKLING SWIMMING POOLS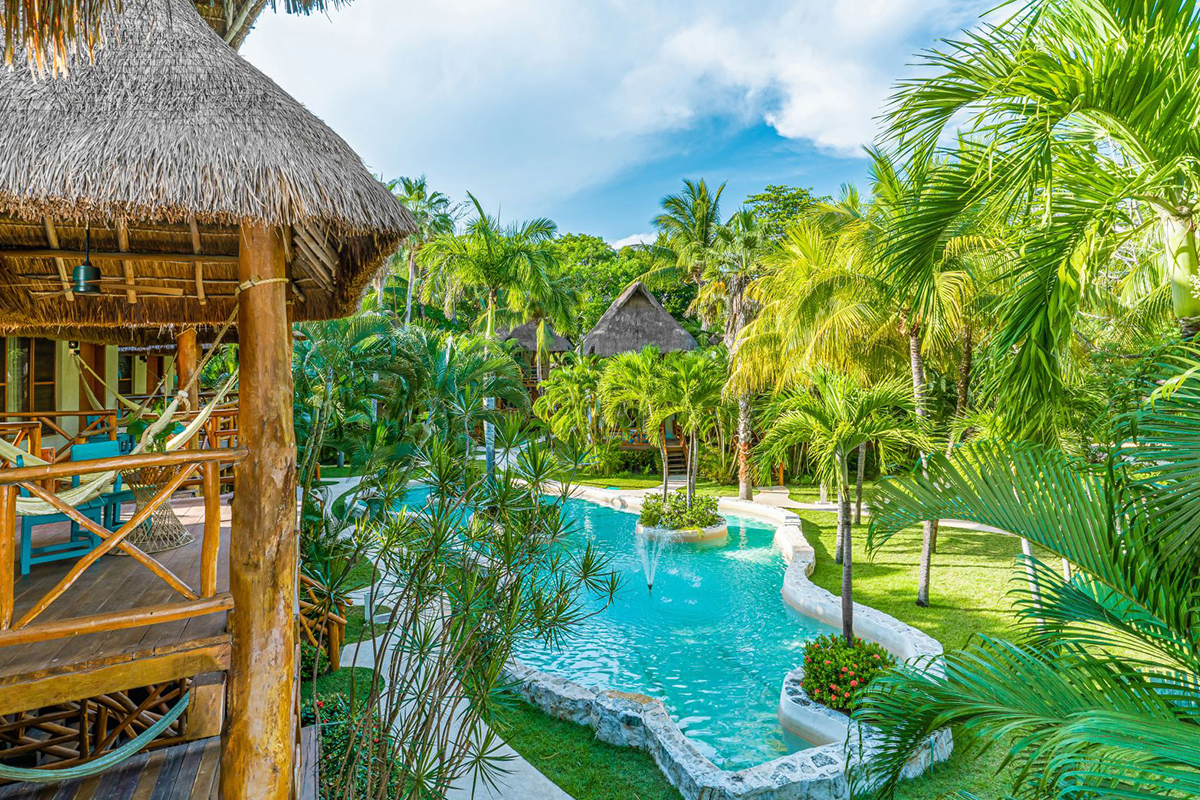 1 CLOTHING OPTIONAL POOL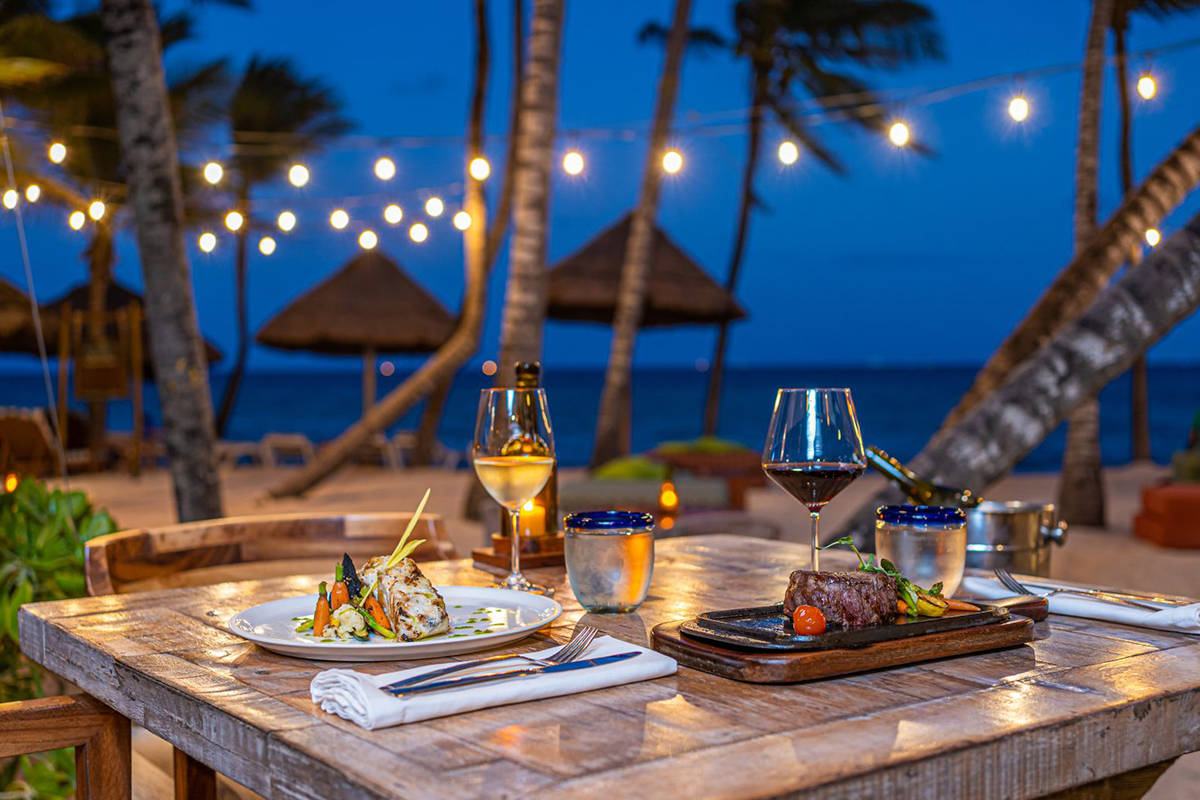 3 DELICIOUS DINING EXPERIENCES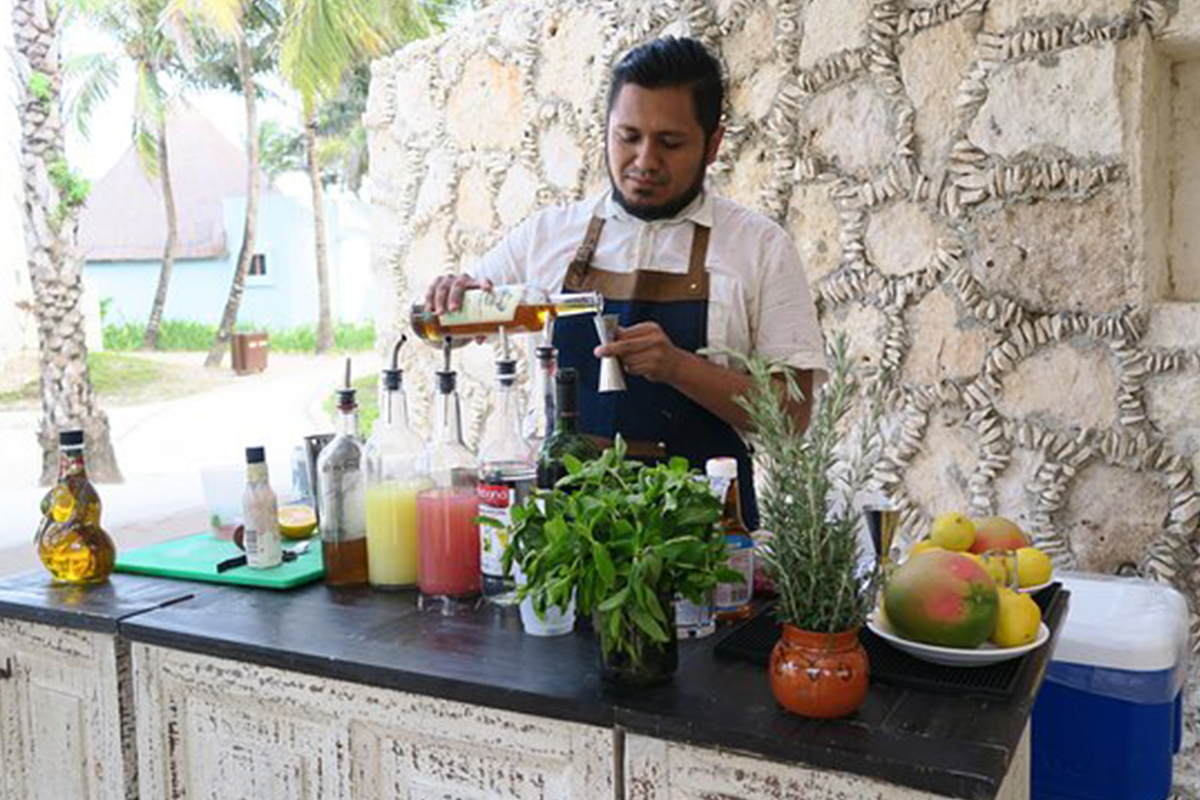 BARS AT EVERY TURN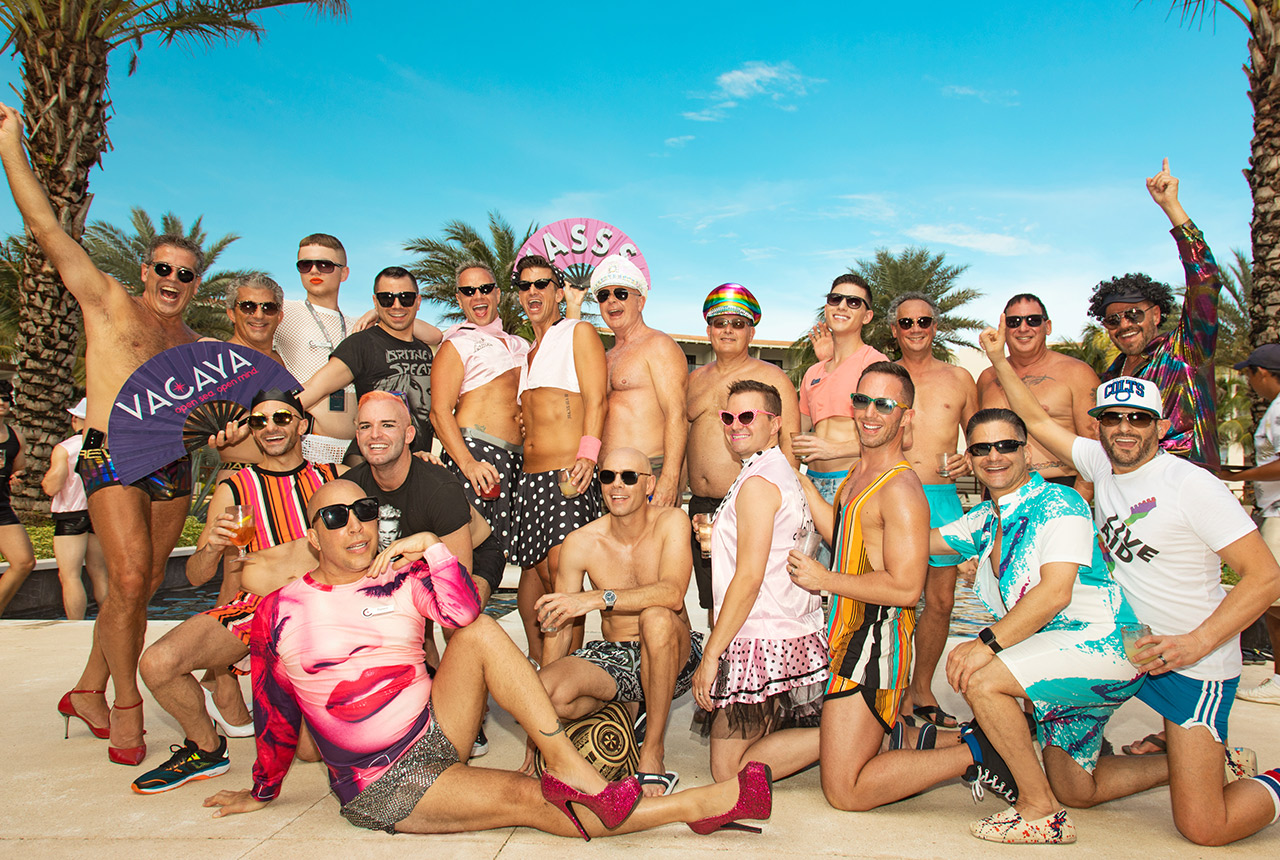 FUN & FRIENDLY PARTIES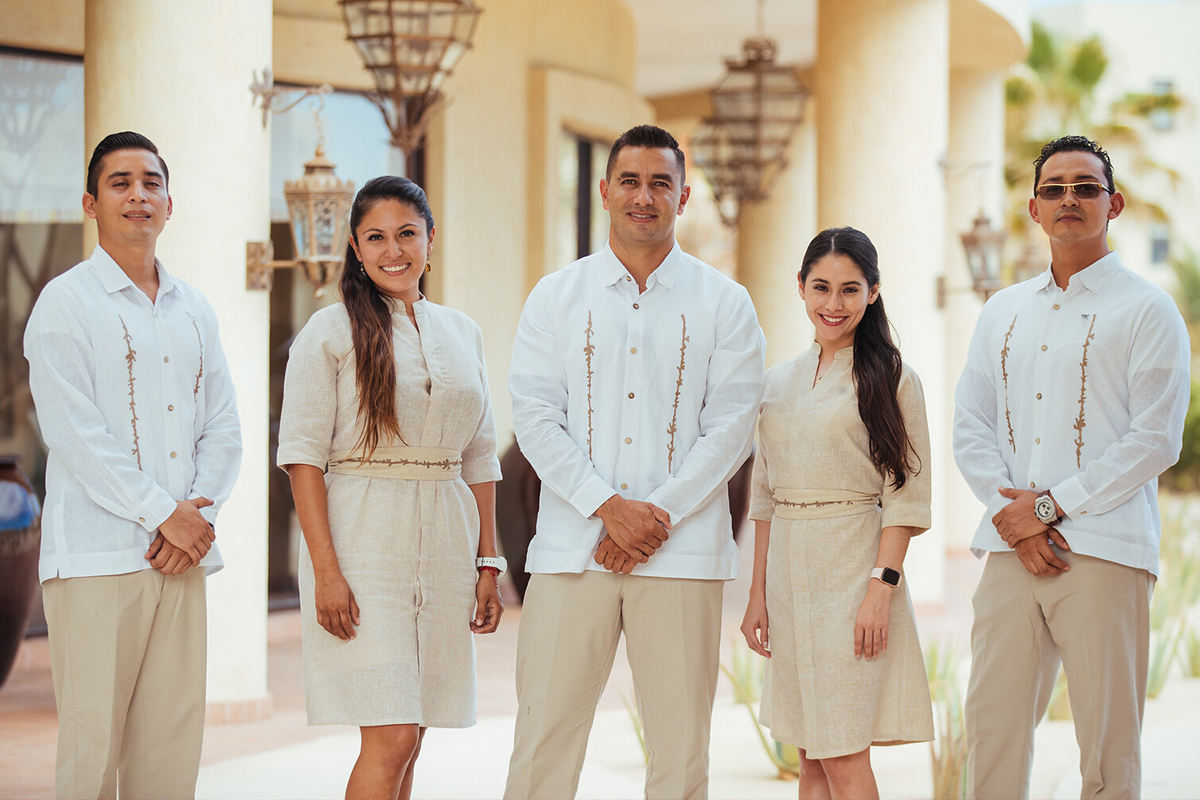 WELCOMING LOCAL RESORT STAFF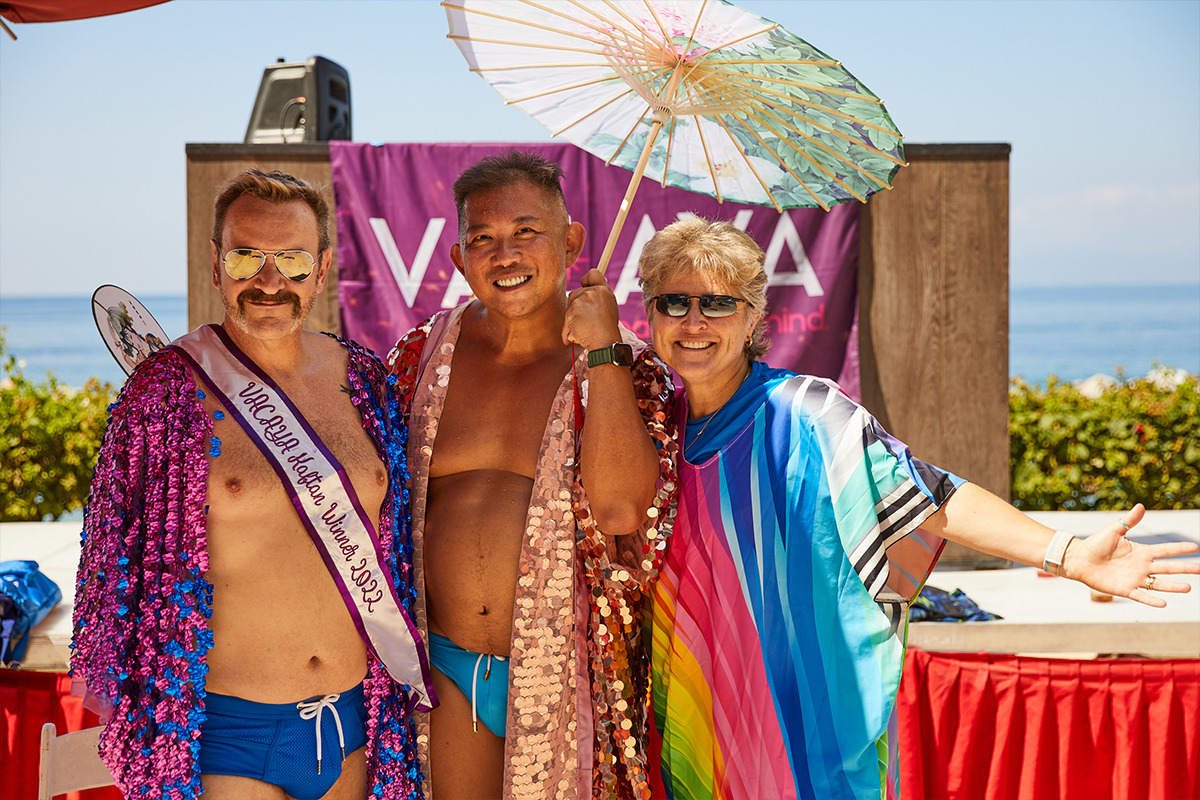 ALL ARE WELCOME
OUR BEST VACATION VALUE – INCLUSIVE IN MORE WAYS THAN ONE!
All-inclusive resorts offer an amazing value for any cost-conscious traveler, and Mahekal offers all that, along with a level of comfy accommodations you can sink into at an affordable all-in price point. And with all the added VACAYA benefits – from signature entertainment and welcoming parties to endless social activities and non-stop fun – it's also a great value. And with activities like beach volleyball, yoga, oceanfront swimming pools, and hot tubs with waiter service, you'll quickly discover the perfect combo of relaxation and adventure. Explore all the inclusions and judge for yourself the value of this all-inclusive resort experience from VACAYA:
7 Nights of beautiful traditional villa or casita accommodations with personal hammocks
Unlimited drinks at 7 distinct bars, including poolside and beachside service
Breakfast, Lunch, Dinner, and Snacks served daily in multiple restaurants and bars
5 Sparkling Pools, including one Clothing Optional Pool
Red Light District nightly from 10pm-2am
Minibar refreshed daily
Fitness Center
Yoga Classes
Wi-Fi Resort-wide
And of course, all the VACAYA signature activities, pool gaymes, parties, and entertainment
Be In The Know
Select premium labels are included in a premium package for sale at the resort. Pricing will be announced at a later date.
Some of the menu options like lobster have an additional cost.
Room Service is available, with a la carte menu prices.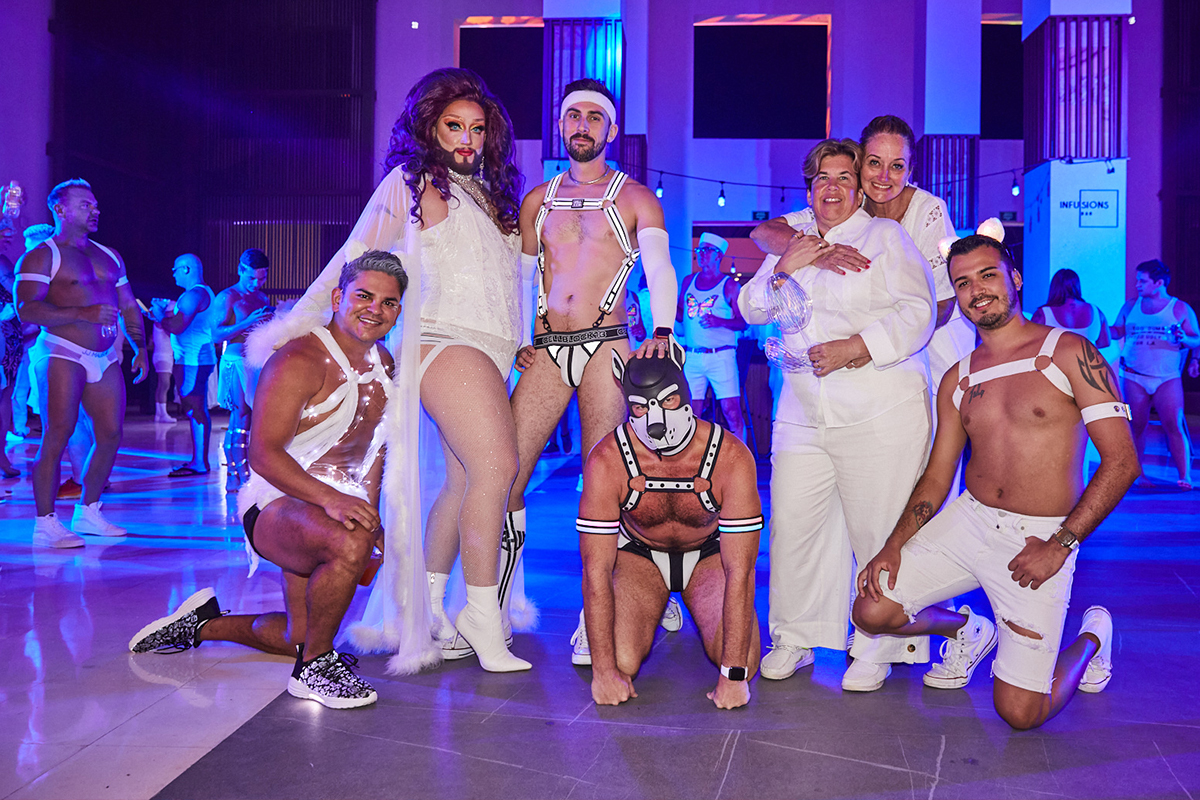 Part of the fun of each VACAYA resort vacation is our theme parties. Once we're 120 days out, we'll share the party themes, so you can dust off those sewing machines and refill those hot glue guns! Just let your creativity (or your Amazon Prime membership) soar! And while costumes are always encouraged, they're never required. We'll love you in or out of costume and you'll enjoy your time at VACAYA's friendly welcoming parties no matter what.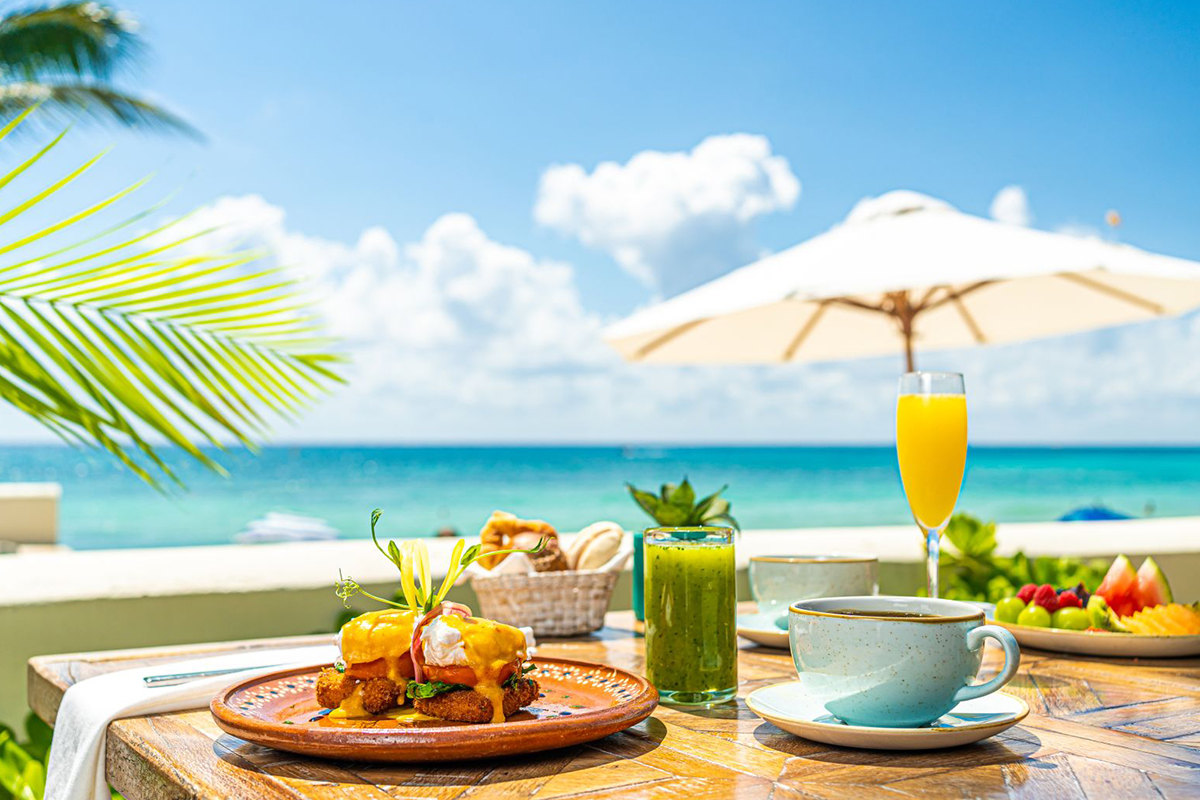 At Mahekal Beach Resort, the attentive waiters and chefs will take you on a tasteful trip around the world, one dish at a time at the resort's included restaurants, bars, & lounges. Prepare for a culinary adventure that takes you not only to Mexico, but around the globe as well.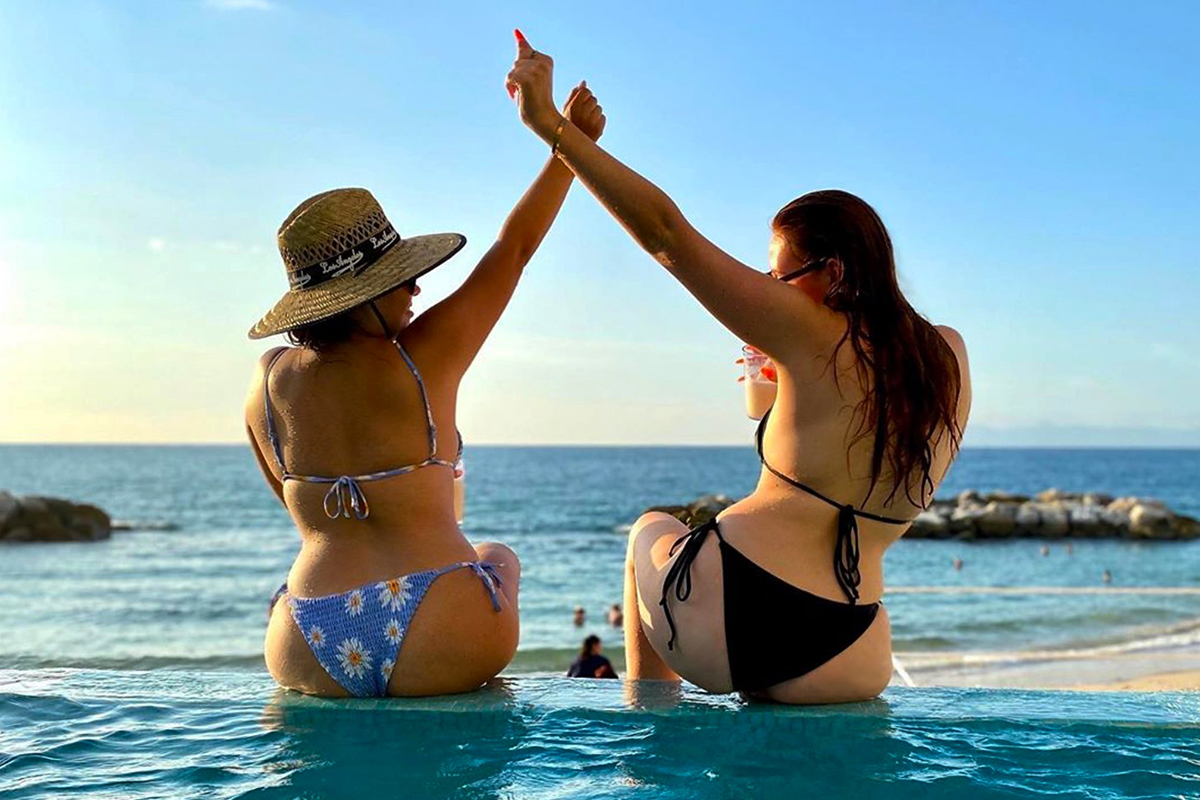 Mahekal's bar staff knows how to whip up your favorite 'tini, smoothie, or frothy libation. Meticulously crafted cocktails and a selection of spirits can be found resort-wide. So, no matter whether you're poolside, beachside, or anywhere in between, you'll never be far from your next refill! Branded alcoholic and non-alcoholic drinks, bottled water, coffee, and teas are available during standard operating hours.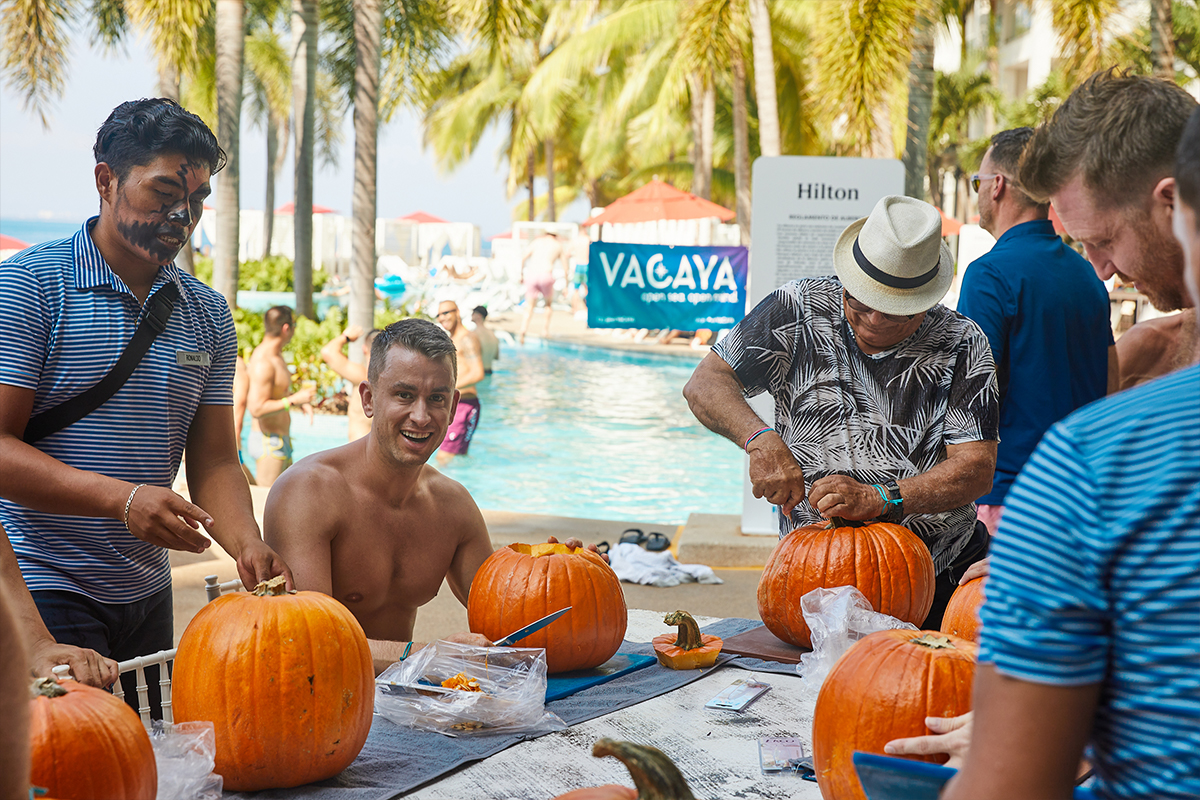 With VACAYA, you're in complete control of your own schedule. You can hop from one activity to the next or simply relax at the resort's pools overlooking the ocean. Our activities include meet ups, pool games, fitness classes, V-Dances, and so much more. Whether you're a beach person, a pool person, or one who enjoys taking in the view from on high, we've got a sunning spot just for you!
GATEWAY TO PLAYA DEL CARMEN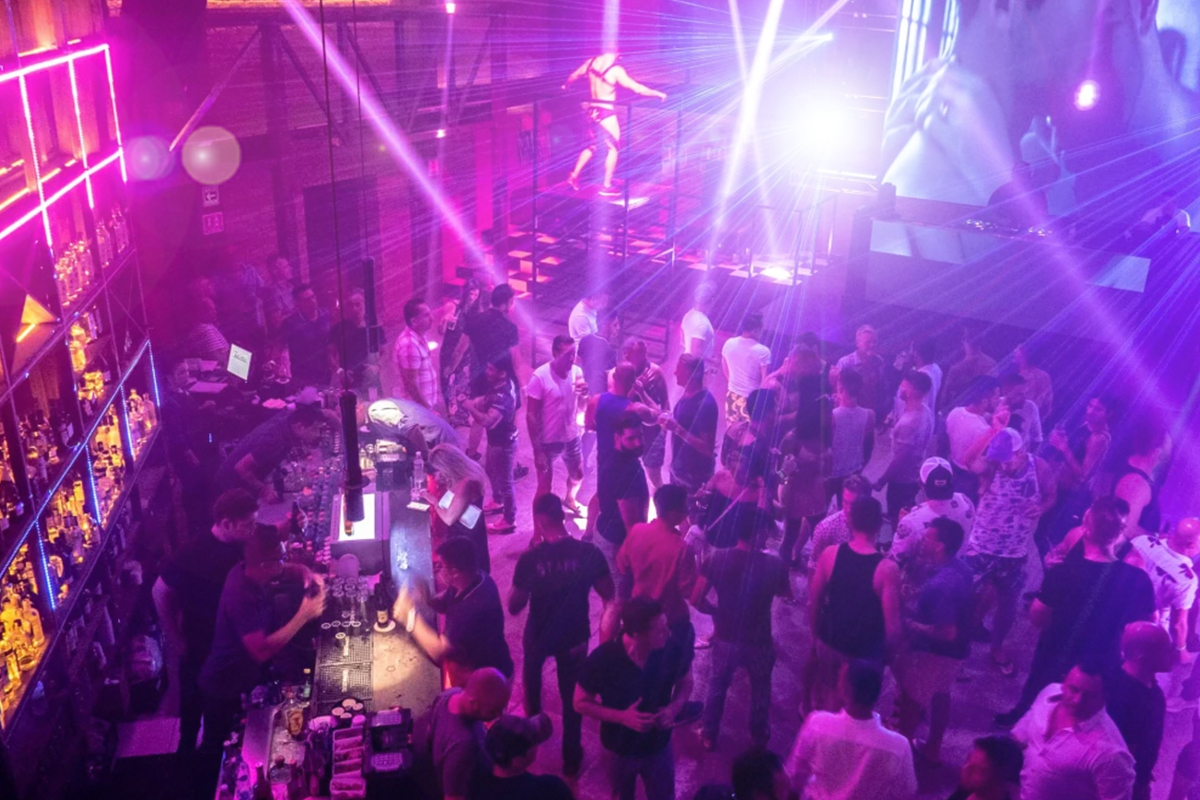 GATEWAY TO PLAYA DEL CARMEN
Mahekal Beach Resort's proximity to Playa del Carmen and Fifth Avenue enriches the guest experience. Steps away from the resort lies the vibrant city center, offering access to local culture and the lively atmosphere of Fifth Avenue. Guests can effortlessly explore boutique stores, markets, nightclubs, and dining options, striking a perfect balance between the resort's tranquility and the dynamic city offerings. Just wait until you experience Halloween and Day of the Dead in this vibrant and dynamic town.
CLOTHING OPTIONAL VILLAGE & WADING POOL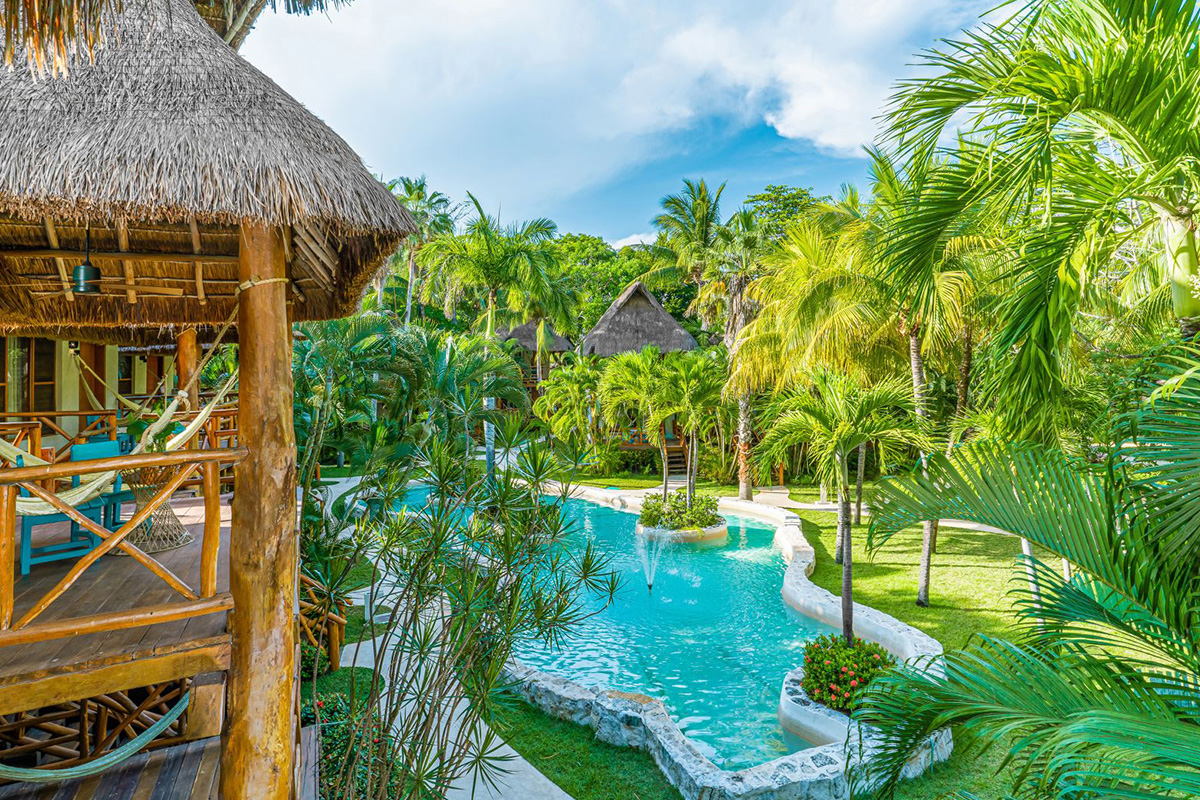 CLOTHING OPTIONAL VILLAGE & WADING POOL
This sexy sunning spot nestled within the jungle of the resort and surrounded by 28 guest casitas boasts loungers and a tropical oasis wading pool. A full-service satellite bar throughout the afternoon and your fellow sun bathers will ensure you'll never go "thirsty." Popular by day, this hot spot will take on a provocative vibe after sunset. At VACAYA, our clothing optional areas at both our resorts and on our cruises bring us all together in a utopia where sexuality, gender identity, and body type don't matter one bit. And the best part? With all of life's worries literally stripped away, you never know when you might make a new nekkid best friend!
A TRADITIONAL MAYAN VILLAGE IN THE HEART OF PLAYA DEL CARMEN
The Spanish word, MAHEKAL, translates to "MAGICAL" and that describes this resort perfectly. The resort, the very first to open in Playa del Carmen, debuted 33 years ago with six beachfront grass-thatched huts, without electricity, in the middle of what was then a jungle. Over time, the property expanded to its current 195 beach front villas and jungle casitas, adding such amenities as ceiling fans and air conditioning.
TAKE A TOUR OF THE RESORT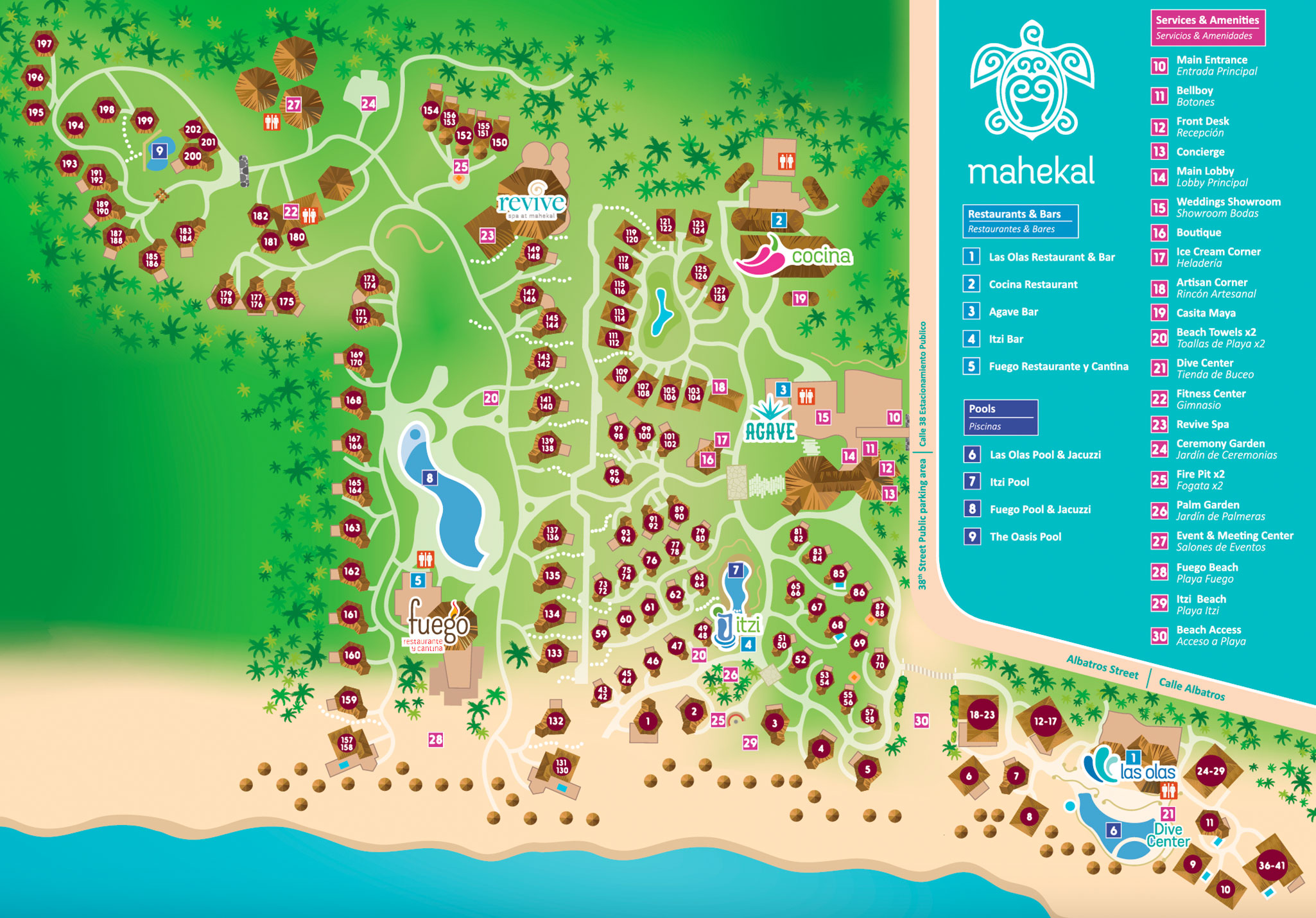 LAS OLAS POOL, JACUZZI, & BAR
This tropical pool and jacuzzi, surrounded by lush greenery and swaying palm trees, provides an idyllic setting for relaxation and refreshing dips. Here, sunrises and sunsets have never looked better.
ITZI POOL & BAR
This centrally-located pool and sexy bar is sure to be a hotspot both day and night.
FUGO POOL, BAR, & JACUZZI
This oasis is surrounded by lush tropical landscapes, where guests can bask in the sun, sip on refreshing cocktails, and soak up the energetic ambiance of this dynamic poolside haven.
CLOTHING OPTIONAL POOL & VILLAGE-WITHIN-A-VILLAGE
Our clothing optional pool is surrounded by 28 well-appointed guest casitas. Boasting its own satellite bar, this is sure to be a hot spot for all guests who enjoy a communal atmosphere.
THE OASIS POOL & VILLAGE
Think of this pool as a secluded and serene retreat, nestled amidst tropical foliage, offering a peaceful haven where guests can enjoy moments of relaxation and rejuvenation in a tranquil and private setting.
LAS OLAS RESTAURANT & BAR
This beachfront eatery serves a fusion of Mexican and international cuisines amidst the rhythmic sounds of the Caribbean waves. Open for breakfast, lunch, and dinner.
FUEGO RESTAURANT & BAR
You can literally dip your toes in the sand from many tables where expertly crafted dishes combine to create a fiery and memorable culinary experience. Open for lunch & dinner.
COCINA RESTAURANT & BAR
Local staff invites guests to savor the essence of Mexican cuisine in buffet and waiter service style, where traditional recipes are transformed into modern culinary delights celebrating the rich tapestry of flavors from across the country. Open for breakfast and dinner.
AGAVE SPORTS BAR
This vibrant gathering spot offers an array of beverages and sports-themed décor. It's the perfect setting for you to unwind, socialize, and enjoy the latest games and events.
CLEBRE VACAYA THEATER & BAR
This vibrant theater provides a dynamic stage for captivating LGBT+ singers and comedians to entertain us with a mix of enchanting melodies and hilarious performances.
REVIVE SPA
Mayan inspired Revive Spa offers a cultural journey in the serenity of a comforting boutique spa experience.
ARTISAN CORNER
Creativity comes to life at the Artisan Corner as master craftspeople share their culture while you discover your own artistic talents through hands-on ceramic painting. *Fee
DIVE CENTER
A dive center located on property, with knowledgeable, attentive instructors, in addition to diving and snorkeling excursions. *Fee.
COMFY. COZY. PERFECT FOR THE VACAYANS.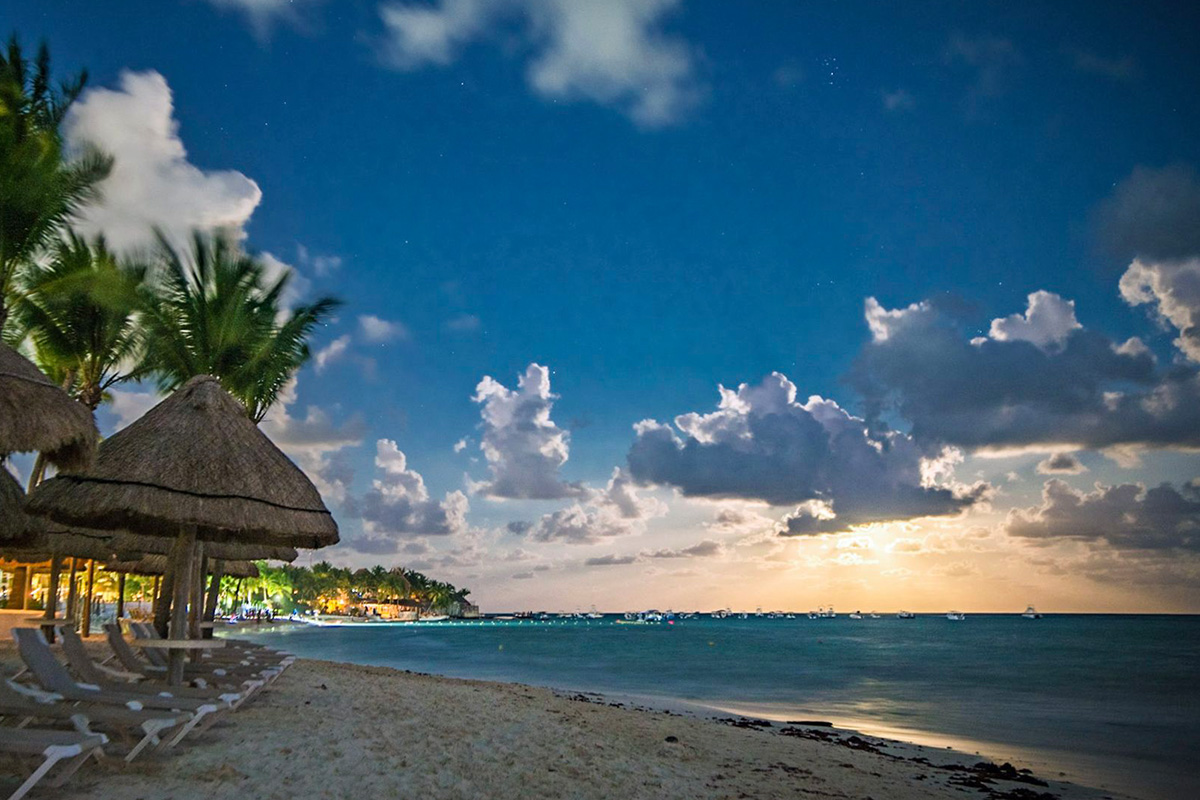 With direct beach access, multiple pools, a spa, a plethora of activities, and diverse dining options, Mahekal promises both a tranquil escape when you want it and easy access to lively Fifth Avenue with its vibrant shops, restaurants, and nightlife when you'd prefer that. Whether for a romantic getaway or an adventurous gaycation with friends, Mahekal Beach Resort ensures an enchanting & exhilarating stay in the heart of the Riviera Maya.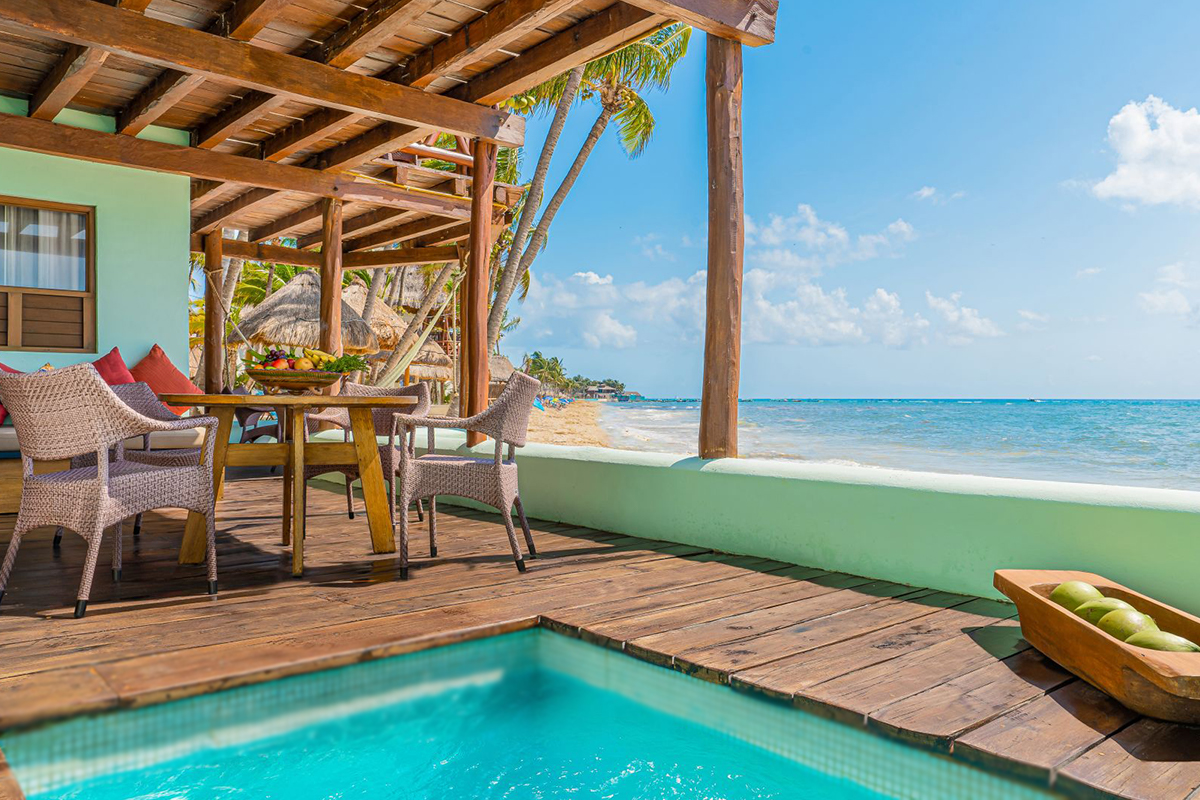 Mahekal Beach Resort elevates the luxury experience with its exquisite suites, where indulgence takes center stage. Each suite is a private sanctuary, offering exclusive amenities such as personal plunge pools that invite relaxation amidst a tranquil setting. Adding to the allure, these suites extend to private areas of beachside sand, complete with sumptuous loungers assigned exclusively to the suite, ensuring an intimate and opulent seaside retreat. This personalized touch allows guests to bask in the beauty of this vibrant seaside beach in utmost comfort.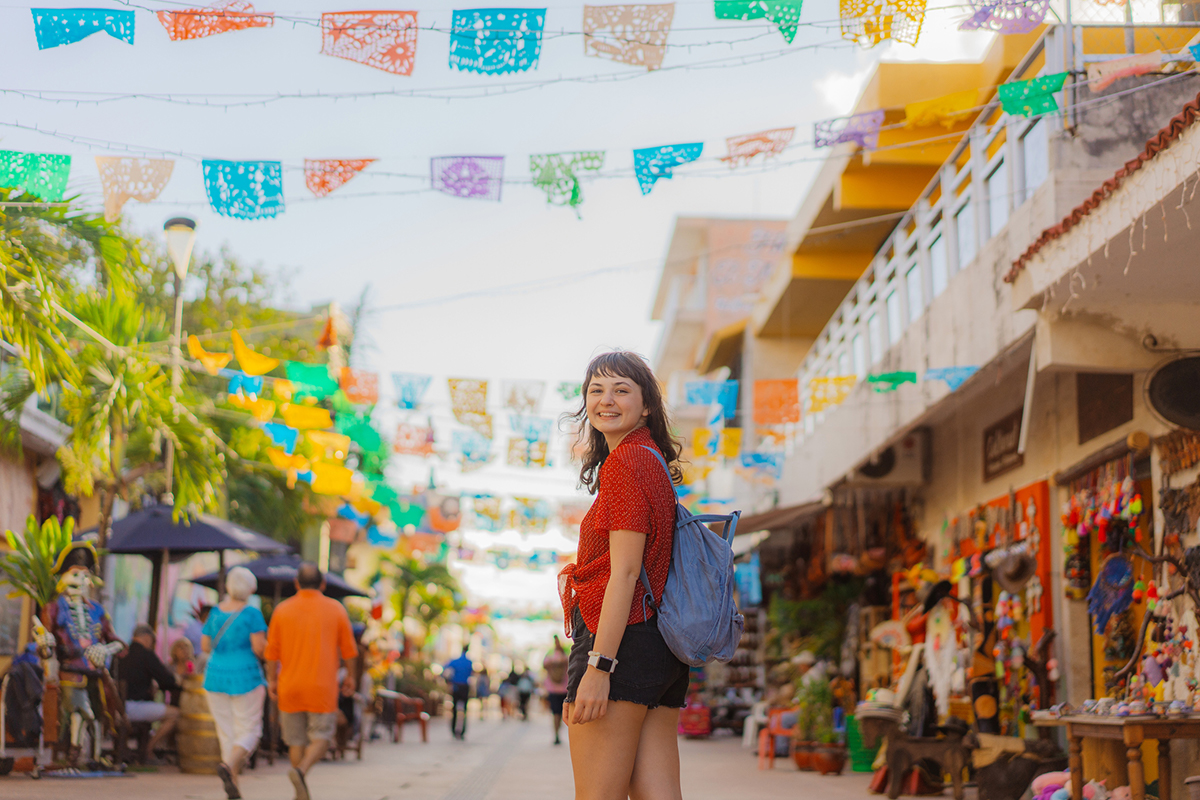 Embarking on the ferry from Playa del Carmen to Cozumel promises both convenience and exploration. The scenic ride glides over turquoise Caribbean waters, providing breathtaking views of the coastline. In Cozumel, a treasure trove of cultural and natural wonders awaits, from vibrant coral reefs to historical landmarks like the San Gervasio archaeological site. The ferry, with its frequent and reliable services, not only offers a hassle-free connection but also serves as a gateway to diverse experiences on the captivating island.
CABANAS WITH WAITER SERVICE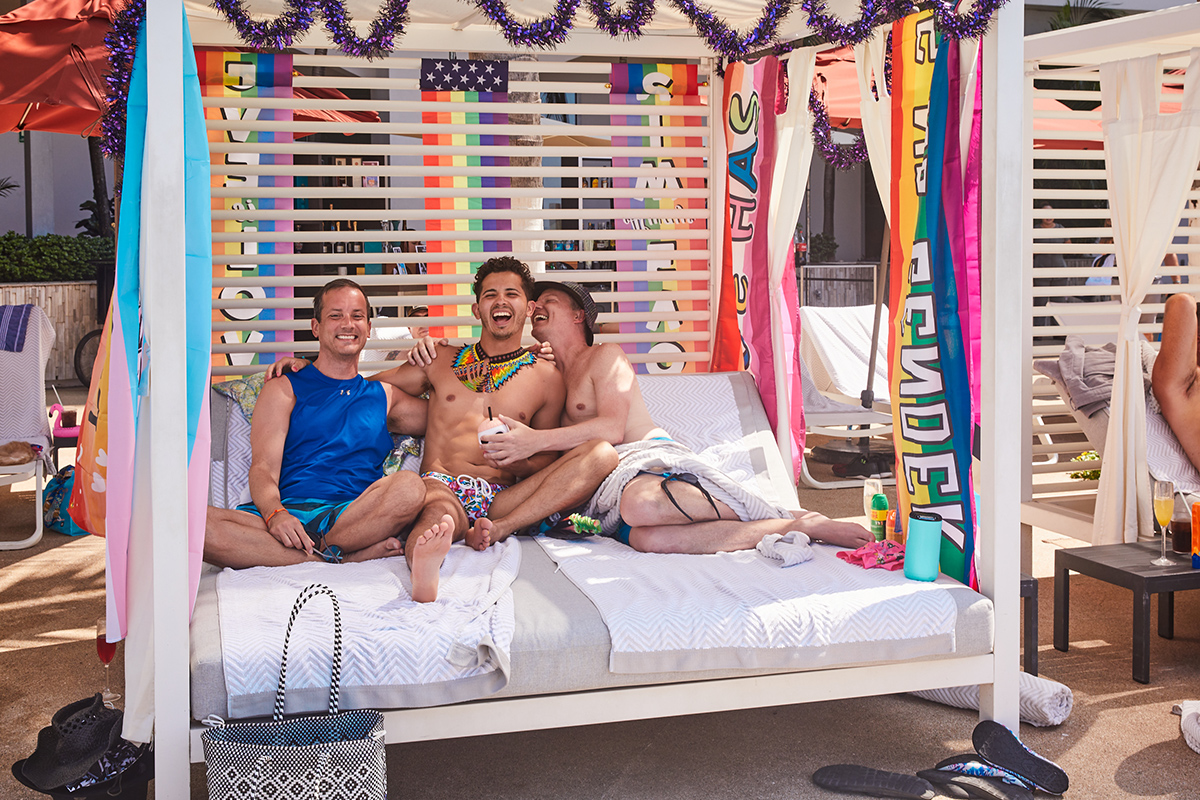 CABANAS WITH WAITER SERVICE
If you want to experience the perfect sun-drenched day, our beautifully appointed cabanas are the way to go. Each of these spacious retreats features details and furnishings that provide comfort, convenience, and service that make your time here immensely pleasurable and relaxing. *Extra fee; bookable at the resort.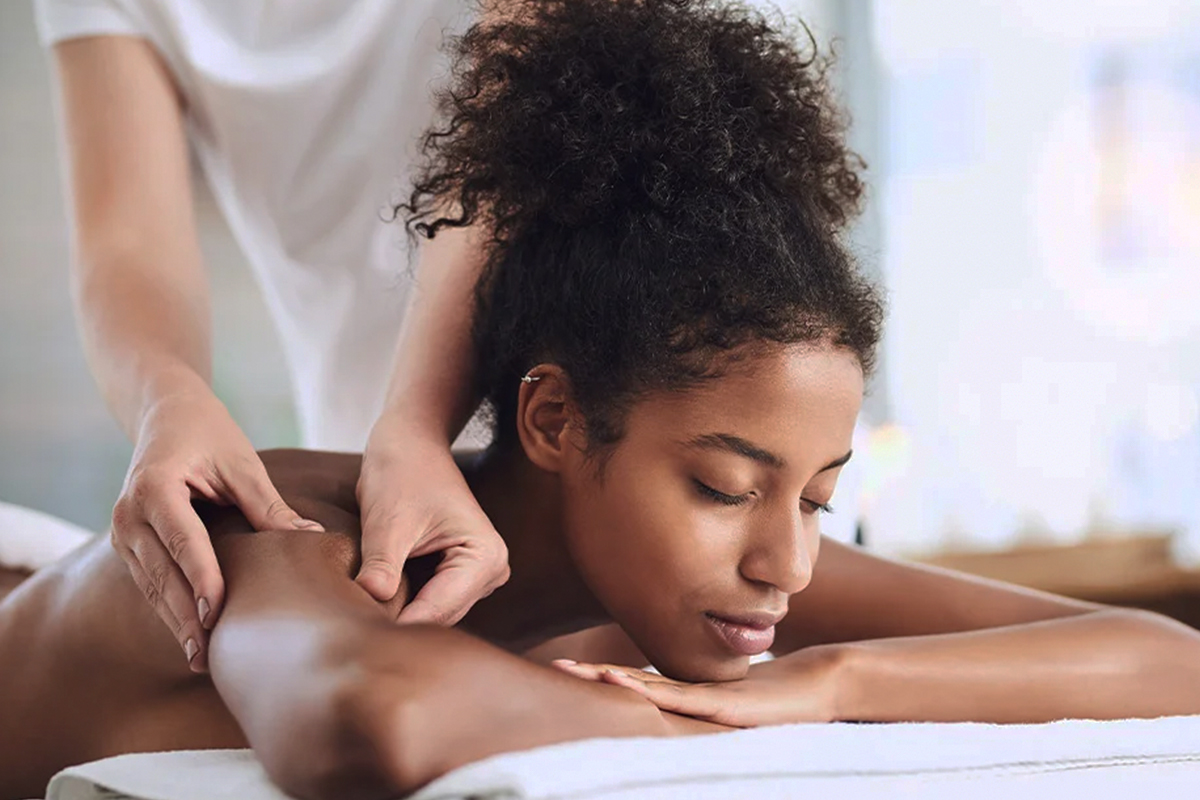 The spa treatments are informed by Mexican culture and the local therapists invite you to reach a level of tranquility both familiar and unexpected in one of their treatment rooms. Indulge with a chocolate body wrap or simmer under a hot stone massage. But first, the hydrotherapy area calls. Follow that up with a couple's massage, a warm mud wrap, or a refreshing citrus exfoliation. Delve into a most gracious state of bliss and let all your worries drift away. *Extra fee; bookable at the resort.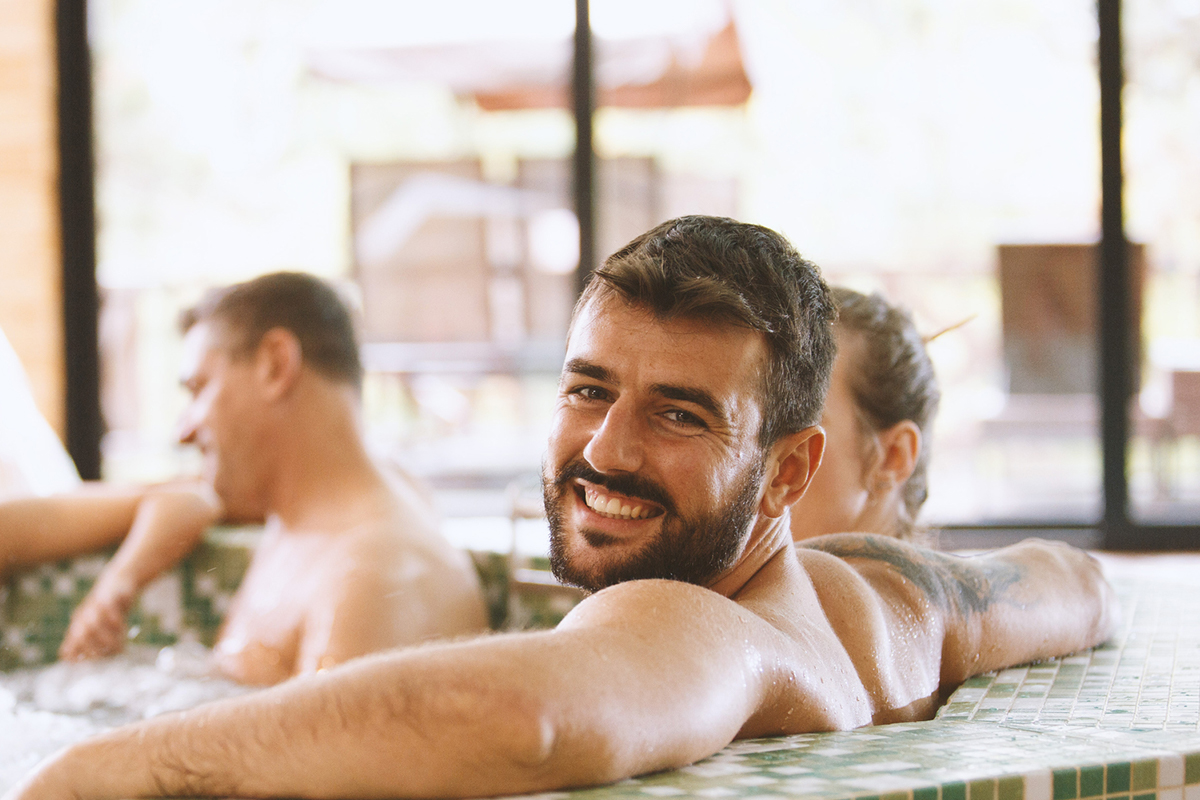 Detoxify, rejuvenate, and reconnect mind, body, and soul as contrasting water temperatures soothe and provide you with immediate relief. Our healing waters feature a steam bath, hot tub, and dry sauna so you can experience a circuit of relaxation. Access to this area is included for guests who book optional spa treatments.
VACAYA OASIS DAILY ITINERARY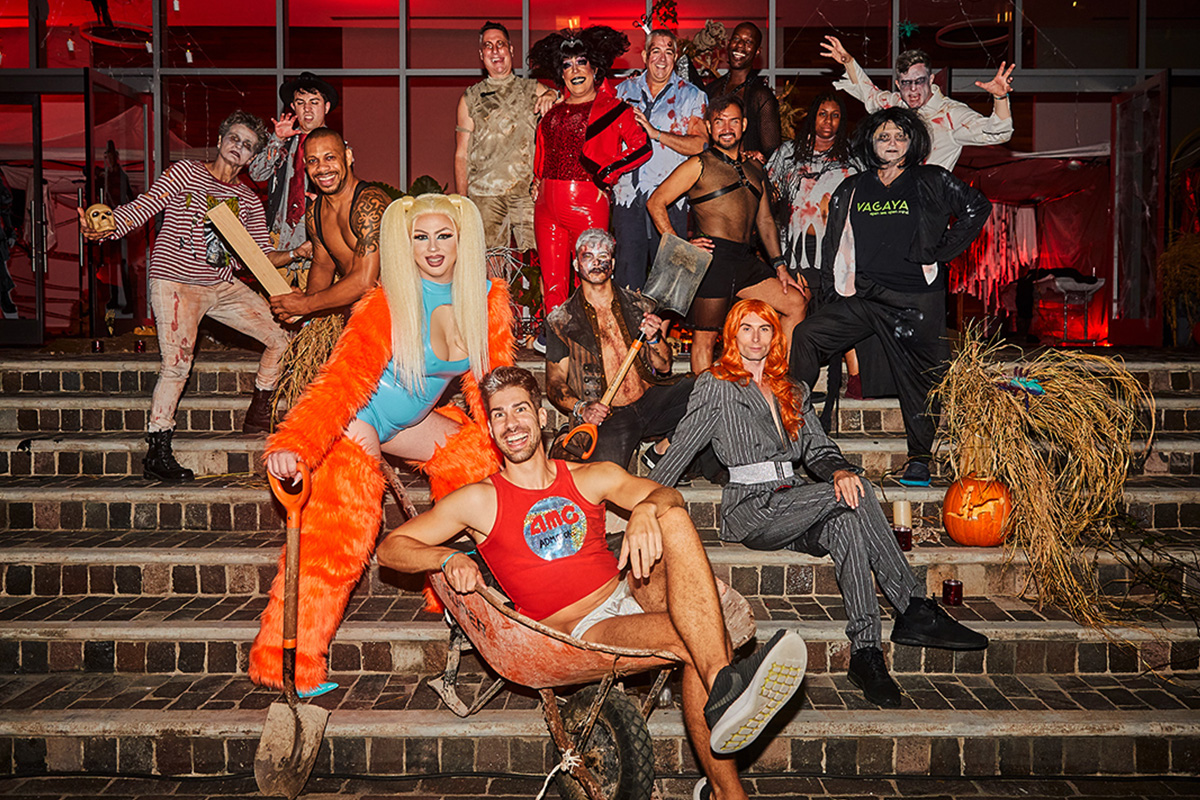 SUNDAY, OCTOBER 27, 2024
CHECK IN
Smiles, Everyone, Smiles! Welcome to Mahekal Beach Resort! The V Team will welcome you as you arrive at the resort for a breezy check in. We're easy to spot in our colorful VACAYA polo shirts made of recycled water bottles and we're eager to make your vacation dreams come true. An amazing lunch awaits, followed by a casual walk around the resort. Is a dip in one of the freshwater pools what you crave this afternoon? Or maybe you're ready to take in your first spa treatment at our holistic spa and wellness center? An amazing dinner at one of the resort's award-winning restaurants and our signature "This is Me" party are on tap for your first evening, so get ready to flash your smile and say hello to all your new friends!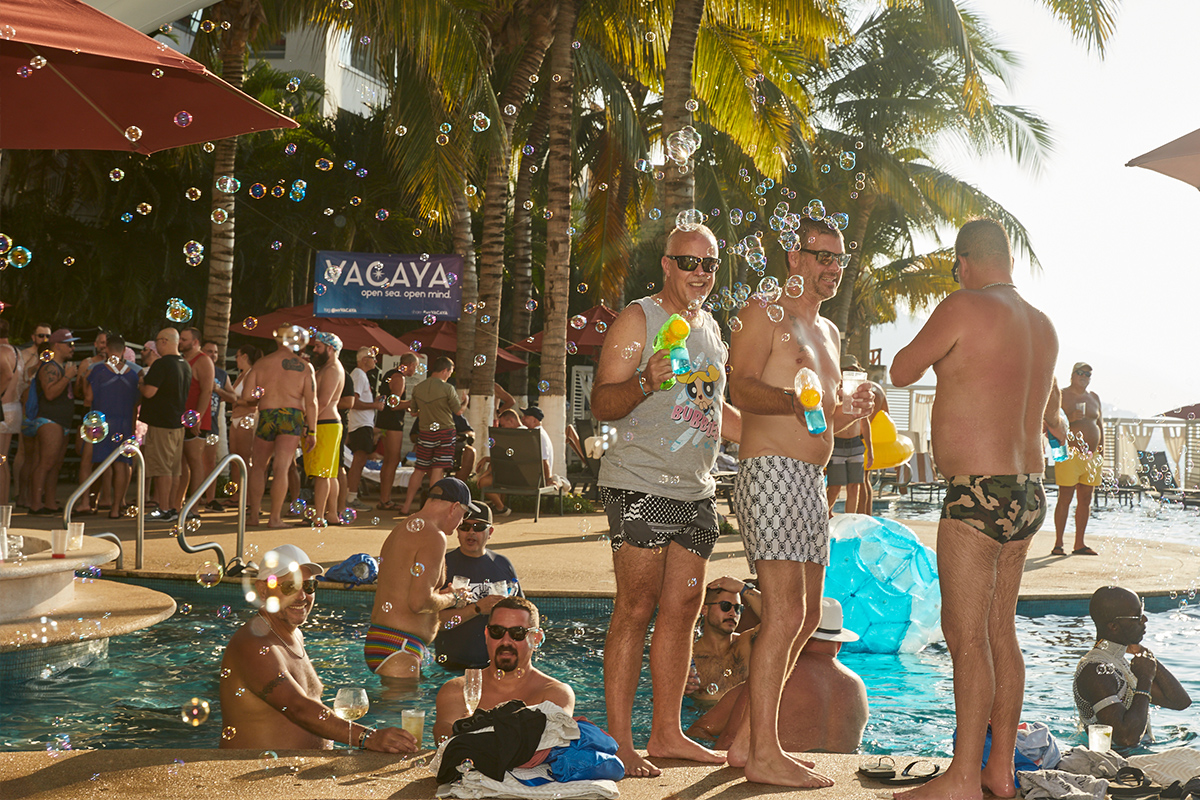 MONDAY, OCTOBER 28, 2024
SUN'S OUT! BUNS OUT!
Our first V-Dance of the week takes place this afternoon! So, be ready for the unexpected! Feeling adventurous? Want to avoid tan lines and a sand-filled swimsuit? Why not go au natural at our clothing optional oasis and wading pool? If being naked isn't your definition of utopia (and we totally understand if it's not), maybe try a little volleyball on the beach. Or how about a Mexican cuisine cooking or mixology class? No matter your "state of dress" preference for the afternoon, we've got something to suit just about everyone! After a sumptuous dinner at one of the fine dining restaurants, don't miss the chance to dance poolside as we celebrate the night away!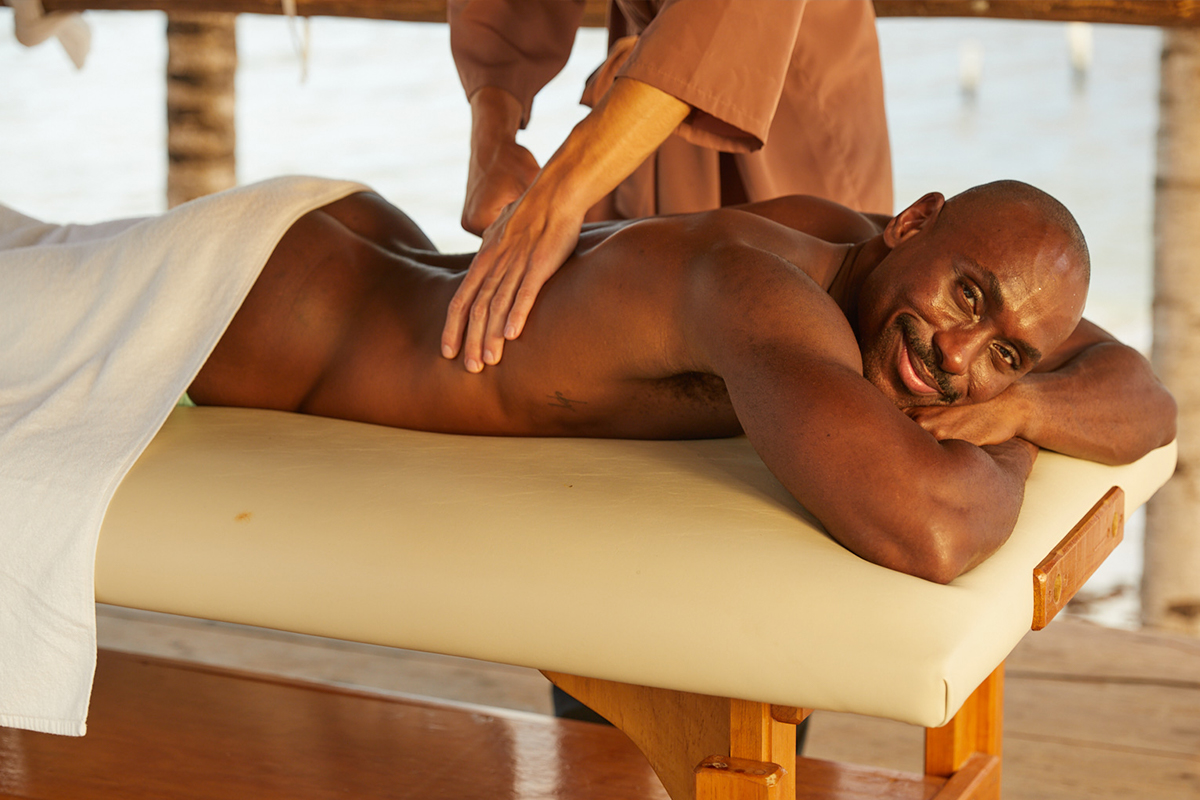 TUESDAY, OCTOBER 29, 2024
THE SPA & FIFTH AVENUE SHOPS CALL
The Riviera Maya sun shines brightly today as everyone settles in at the resort. Is today the day you experience Revive Spa's pampering treatments? Or are you looking to explore the city center? Mahekal is just steps away from world-renowned Fifth Avenue, a lively pedestrian walkway that offers dining, nightlife, and endless shopping opportunities at internationally recognized boutiques. Can't decide? We don't blame you. There's so much to see and do!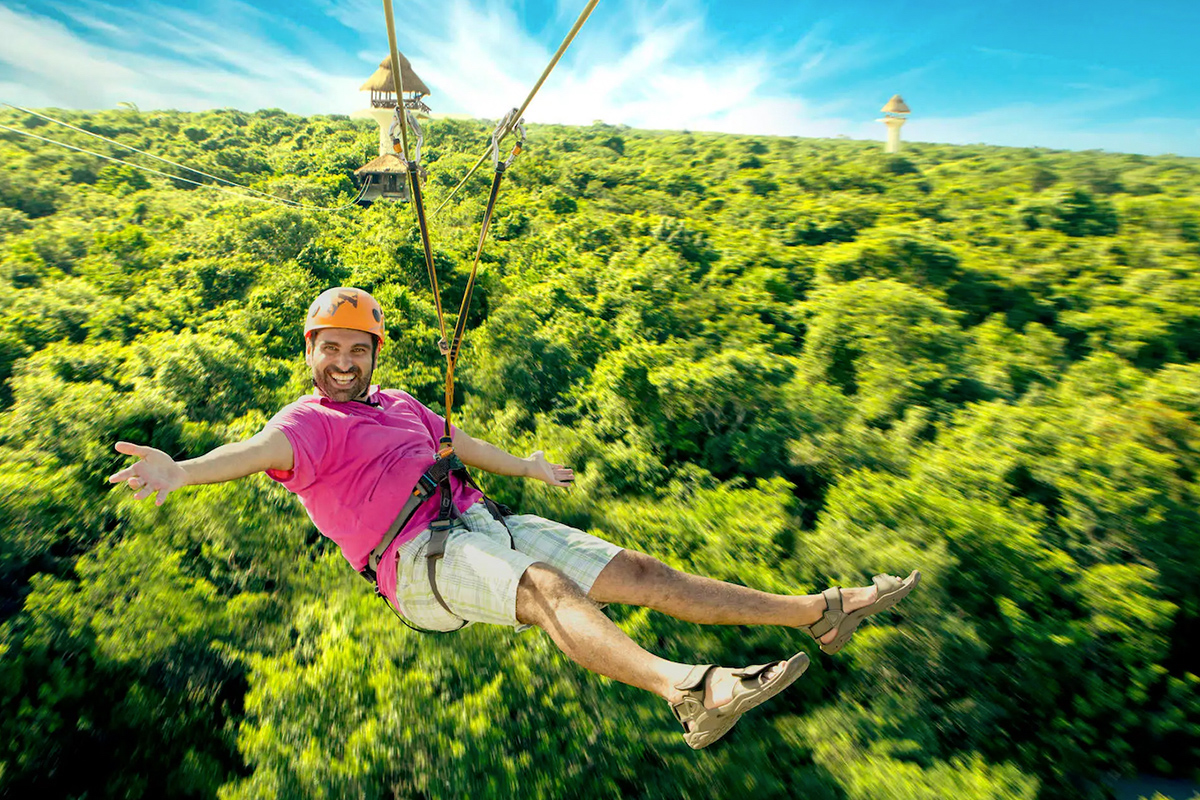 WEDNESDAY, OCTOBER 30, 2024
THE ADVENTURE CONTINUES
We've reached the midpoint of our time here in Mexico and the choices for today abound! Will you take advantage of one of the excursions and head off to the Mayan Ruins to explore the ancient sites? Or will you explore the crystal-clear waters of Xcaret, a water themed eco-archaeological park? Or are you looking to expand your friend circle through one of our signature social mixers? Here, you literally can have it all!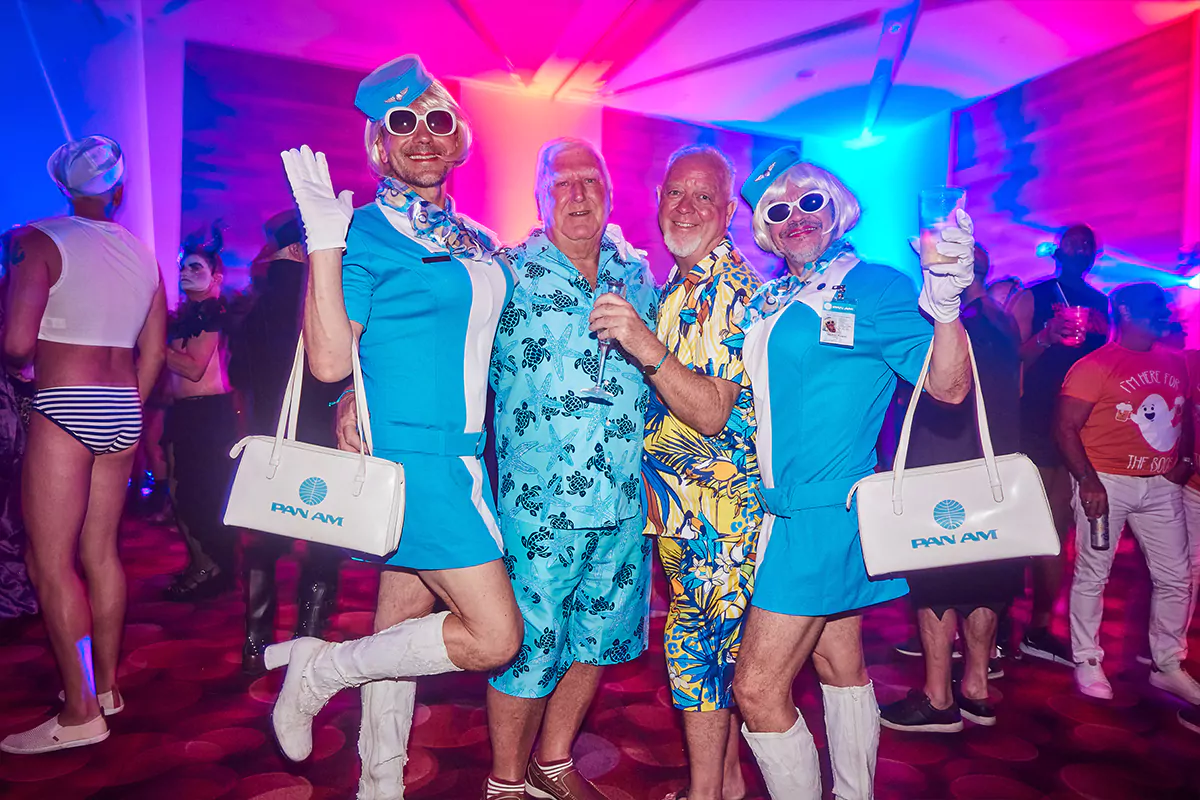 THURSDAY, OCTOBER 31, 2024
HALLOWEEN
It's Halloween and VACAYA and Mahekal are ready with both tricks AND treats! Tonight, don't miss our Halloween Costume Extravaganza poolside before we dance the night away. You'll have the chance to walk away with our coveted "ZZOLO" Award. We know… many of you have NO IDEA what that is, but you will soon enough. And we promise… it's worth it!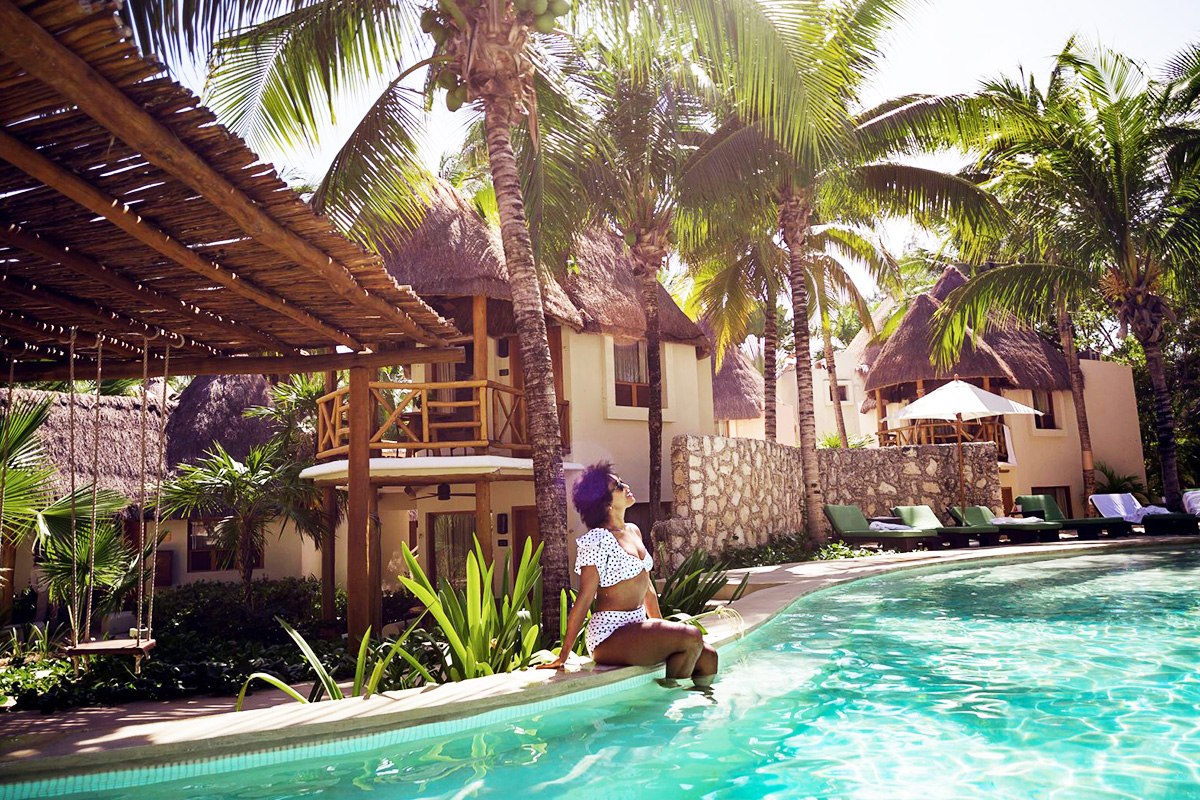 FRIDAY, NOVEMBER 1, 2024
RELAX. REFRESH. REJUVENATE.
Where does the time go? Mahekal Beach Resort's nearly unlimited inclusions, adventure, rejuvenation, and connections are waiting to be discovered around every corner. No matter your choice, you've entered UTOPIA and it'll be hard to say goodbye… guaranteed. But… we're going out in style with our biggest party of the week tonight! So, be ready!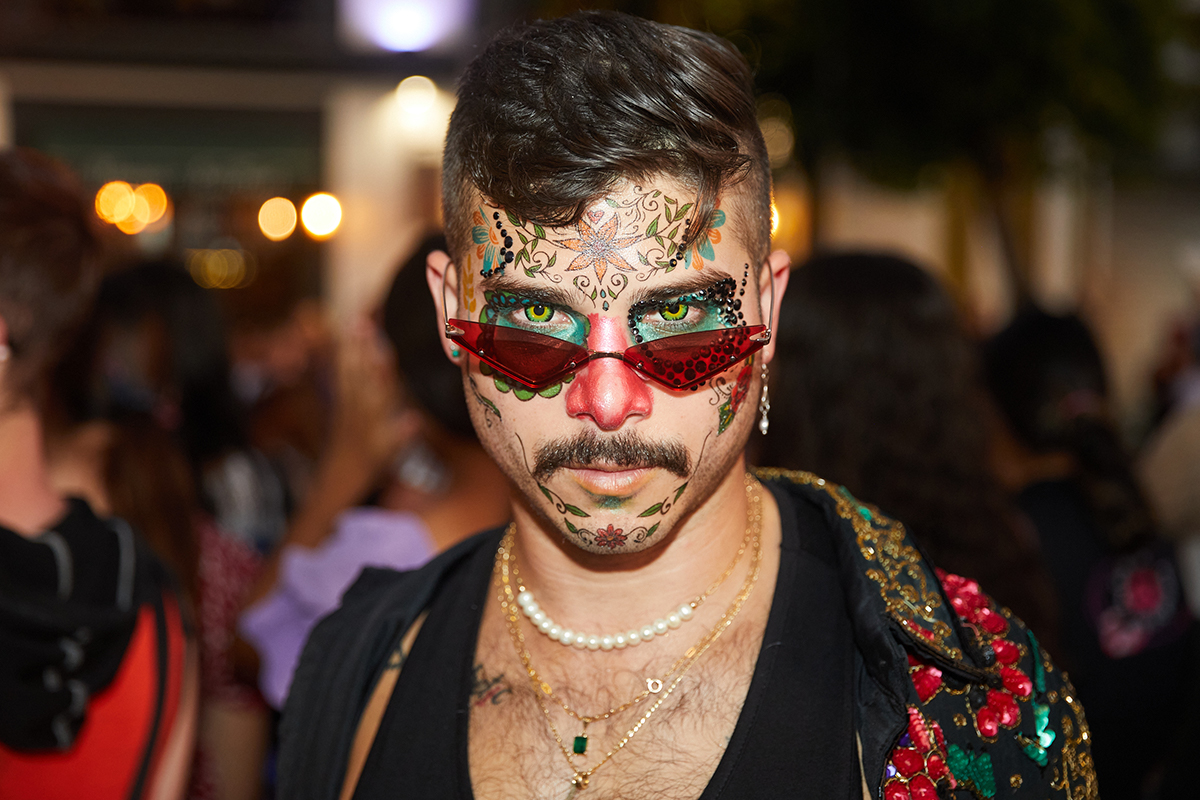 SATURDAY, NOVEMBER 2, 2024
DAY OF THE DEAD
It's hard to believe our time together is almost over, but what a way to go out! Today is hands down the most special day of our week here in Mexico. It's Día de los Muertos (or Day of the Dead), Mexico's celebrated holiday for those who've moved on to the spiritual world. It's a day like no other in the world and we'll first celebrate it here at the resort with our final V-Dance and then with our Mexican brothers and sisters out and about in the Playa del Carmen City Center.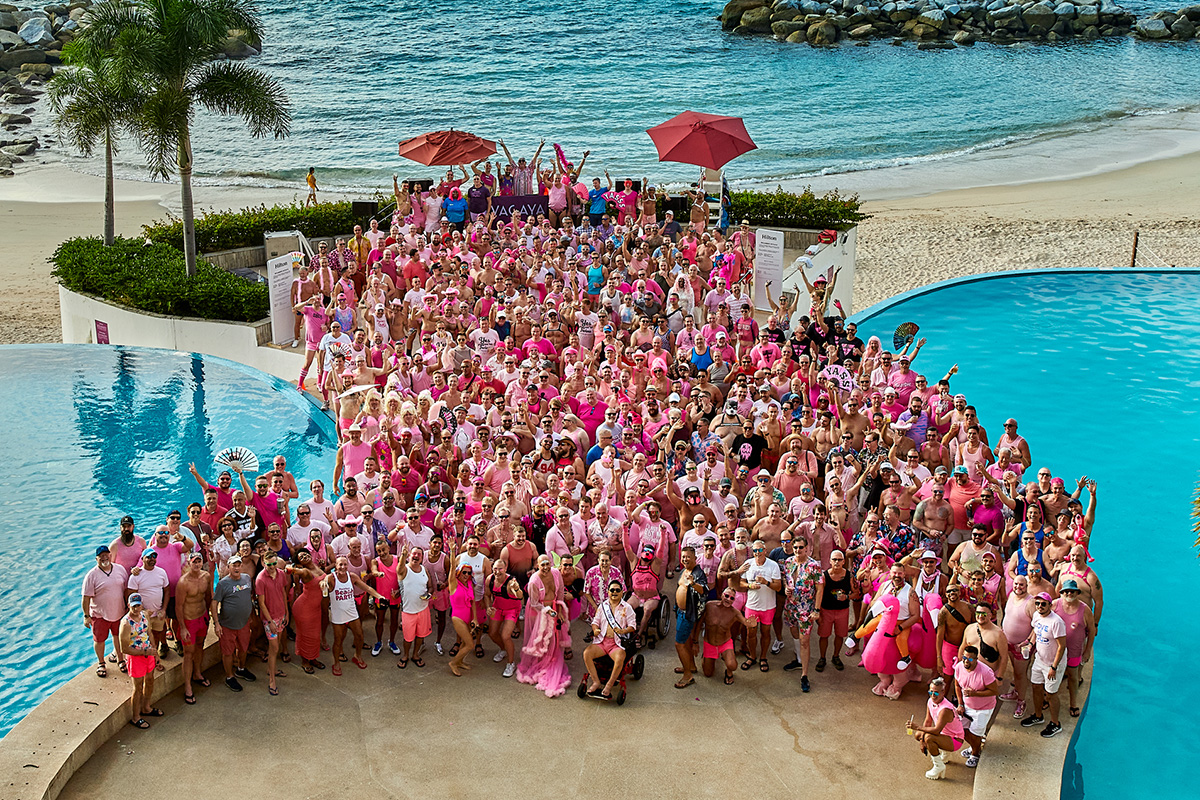 SUNDAY, NOVEMBER 3, 2024
CHECK OUT
Parting is such sweet sorrow. Our time here in Mexico officially comes to an end today. Many of you will, of course, extend your stay here at Mahekal Beach Resort and other hotels in the area, while many others will return home today. Whether you stay here or head home, we wish you the safest of journeys.
When you book online directly with VACAYA, you'll enjoy 24×7 access to your booking information, Pay-In-Full bonus offers, No-interest Monthly Payments, AIRLINE DISCOUNTS, and our BEST RATE GUARANTEE!
If you're a Solo Traveler, we offer some great recommendations for finding a roommate HERE.
From stunning suites to our more affordable casitas nestled in the jungle, you've never been able to have so much for so little. You're sure to find your perfect 4-Diamond home-away-from-home at a price point that works for your budget…
Garden View – Clothing Optional
TAXES, ADMIN FEES, & PRE-PAID GRATUITIES
Taxes, admin fees, and pre-paid gratuities are 314 USD per person.
100% of your pre-paid gratuities go to resort staffers, including your room attendant, the culinary services staff, the behind-the-scenes hotel services staff, and the myriad department heads who work with their teams around the clock to create a flawless VACAYA experience for you.
ACCESSIBILITY OF THE RESORT
Mahekal Resort has limitations in regard to accessibility. If you're considering joining us for this Mexican adventure, it's important you understand the various conditions:
The resort covers 7 acres, not all of which are navigable by pathway. Many of the pathways that exist between the rooms and the resort's public facilities are sandy wood-slatted walkways.
All rooms except the two designated accessible rooms have steps to enter (the two accessible rooms have already been sold). Rooms on the first floor have several steps to reach the entryway. Rooms on the second floor have a full set of stairs to reach the landing.
The city of Playa del Carmen is not traversable by wheelchair/scooter. Street curbs are high (to protect the buildings from flooding) and ramps are few and far between.
While VACAYA welcomes all guests, ultimately, if you decide to join us, you're acknowledging that you understand these limitations and are capable of making any necessary adjustments on your own (or with a caregiver) to ensure your enjoyment of the facilities and surrounding areas.
If you'd like to know more specific details, we'll be happy to put you in direct contact with our resort partners. They can help answer any additional questions you may have.  
Solo guests in their own stateroom pay single taxes, admin fees, and pre-paid gratuities.
The fare for 3rd and 4th guests is 997 USD each in all staterooms and suites.
Room descriptions, sizing, and view specifics have been provided to us by Mahekal and VACAYA is not responsible for incorrect information. Room layouts and views can vary within the same category.
Upon booking outside of 300 Days – 10%.
At 300 Days (January 1, 2024) – 25%.
At 240 Days (March 1, 2024) – 50%.
At 180 Days (April 30, 2024) – 75%.
At 120 Days (June 29, 2024) – 100%.
Upon booking through 300 Days (January 1, 2024) – 10% of total.
From 299 (January 2, 2024) to 240 Days (March 1, 2024) – 20% of total.
From 239 (March 2, 2024, 2024) to 180 Days (April 30, 2024) – 40% of total.
From 179 (May 1, 2024) to 120 Days (June 29, 2024) – 60% of total.
From 119 (June 30, 2024) to 90 Days (July 29, 2024) – 80% of total.
From 89 (July 30, 2024) to 0 Days (October 27, 2024) – 100% of total.
Flights from your home city to Cancun, Mexico
Airport Transfers to/from Mahekal 
Spa Services
Laundry
Gift Shop Purchases
Optional Excursions
Premium Beverage Packages
Be sure to read VACAYA's Terms & Conditions, which include the Payment/Cancellation/Refund Policies for all reservations. Please note that cancellation fees apply from the time of booking.
For real-time availability, proceed by clicking 
BOOK NOW
. With ever-shifting inventory, a category that shows availability on this page may no longer be available when you attempt to book. If you need help finding the perfect room in another category or to add your name to our wait list for a sold-out category, feel free to email The V Team at 
info@myvacaya.com
 and we'll be happy to assist you.
Don't see your first choice in room category? Upgrades that become available will be prioritized to guests who've already booked their second choice. To jump on our upgrade waitlist, book your second choice and then email your desired category to info@myvacaya.com. Be sure to include your reservation number and full name. We'll reach out to you if your name reaches the top of the upgrade availability list. Subject to upgrade charges.
You may pay in full at the time of booking. Unless you later modify your reservation, no further payments will be necessary.
Your initial deposit is due at time of booking. Then, your remaining monthly payments will be calculated using the number of months between your booking and the final payment due date. Payments will be charged on the 1st day of the month, the 15th, or the last day of each month (determined automatically depending on the day of the month you book). Payments will be charged to your credit card on file. If your credit card details change at any time, simply update the info in our system prior to your next month's payment date. Please note declined payments are subject to a convenience fee. For more information, explore our Automatic Billing FAQs and our Terms & Conditions.
There is one question every traveler across the globe universally faces: should I purchase Travel Insurance? It's natural to ask yourself, should I spend the extra dollars to protect my vacation investment? Or do I leave it in the hands of Lady Luck and hope for the best. At VACAYA, we've always believed Trip Insurance was critical to the vacation planning process. That's why we took special care to integrate the purchase opportunity into our online booking process. Pre-pandemic, the main reason to buy insurance was to assure your safe return home if something were to happen to your health while on vacation. That's because quality insurance covers medical evacuation so people don't have to pay medical emergency transportation expenses out of their own pocket.
Although the pandemic is over, Covid-19 is in our lives for the foreseeable future. So, after all we've been through, our rationale for recommending Trip Insurance stands. And we recommend "Cancel For Any Reason" insurance. CFAR has quickly risen in popularity, and for good reason. If you decide you don't want to travel after the cancellation penalty period has begun, this type of insurance covers a good portion of your cancellation fees. Having coverage is also a great way to help honor your Social Contract with VACAYA.
So go ahead and buy that bucket list trip, but protect your health and your investment by purchasing Trip Insurance. ❤️