Show your VACAYA spirit with the latest in V Gear!
We're so pleased to announce the launch of our new Marketplace. From VACAYA Ts and Tanks to hoodies and rainbow throws, everything you could ever want to show your support of VACAYA can be found here. Simply hit the Big Pink Button below and shop till your heart's content!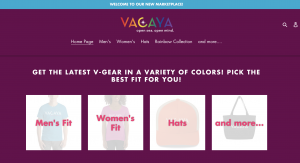 VISIT THE VACAYA MERCHANDISE MARKETPLACE
VACAYA ONDEMAND PRINT SHOP
Professional printing at cost, delivered to you!

Welcome to VACAYA's OnDemand Print Shop. Here, you'll find great professionally-printed VACAYA assets like post cards, flyers, sweepstakes handouts, and stickers you can share with friends and clients. Many are even customizable with your contact/agency information. If you live in the US, your order will be shipped directly to you within a few days. International orders take just a bit longer. Based on your feedback, we'll be adding new options all the time. Just send your suggestions to marketing@myvacaya.com.
Ordering is intuitive, but if you need a little extra help, step-by-step instructions can be found HERE.