What's Included in a Gay All-Inclusive Resort?
More laid back than our big-ship cruises, the irresistible all-inclusive resorts of VACAYA Oasis offer the perfect getaway for those seeking fun, relaxation, adventure, and romance at some of the best all-inclusive resorts the world has to offer. We've broken the mold with our resort vacations, offering a mix of both value-conscious and 5-star luxury resorts.
Our resort vacations focus on the fun while delivering everything from all-inclusive cuisine and unlimited cocktails to scores of daytime activities, powerhouse nightly entertainment, exquisite turquoise waters, and sun-soaked (mostly) private beaches… all for one low price. With so many inclusions, there's very rarely a need to even carry cash with you (except, of course, to occasionally recognize outstanding service). But that's only the beginning. Whether you're looking to zip line through tree canopies, frolic in the Caribbean Sea, lounge by an incredible swimming pool, or take advantage of our full-service spas, you'll find it here as you create friendships and memories that'll last a lifetime.
Our all-Inclusive resorts redefine what's expected and what's possible from the truly "all inclusive" vacation. VACAYA's exclusive partnerships with some of the best all-inclusive resorts is rewriting the playbook on all-gay all-inclusive resort holidays. From farm-to-table meals at our on-site restaurants to the finest spa treatments and wellness programs in the world, VACAYA resorts deliver, and then some!
Whether value oriented or over-the-top luxurious, our resorts are magical places where you'll become part of a much larger VACAYA family – a "Vacayan," as our guests affectionately refer to themselves. It's a style of LGBT+ resort vacations we know you'll love – each Oasis trip is unique unto itself. The VACAYA Oasis rhythm is… Relaxed. Easy. Fun. Balanced. Luxurious. Indulgent. Sporty. Unscripted. Adventurous. An all-new way to play.
Here are the all-inclusive benefits of a VACAYA Oasis Resort: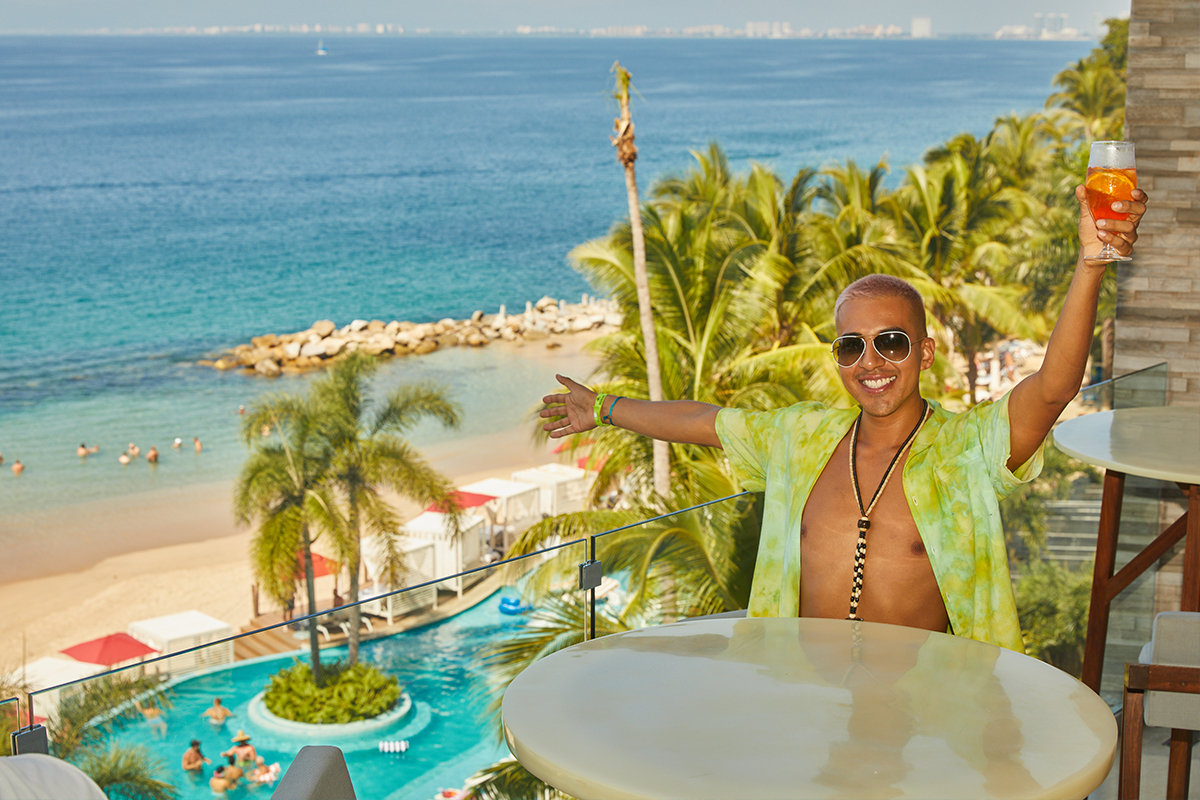 VACAYA always takes over the entire resort. So, when we say you'll have the chance to expand your friend circle, we're not kidding around. A VACAYA Oasis resort vacation is not like going to a resort where no one knows each other. Here you'll have the chance to make anywhere from 200 to 800 new friends because everyone arrives with the mindset of expanding their social sphere.
Designed for YOU and ALL Your Friends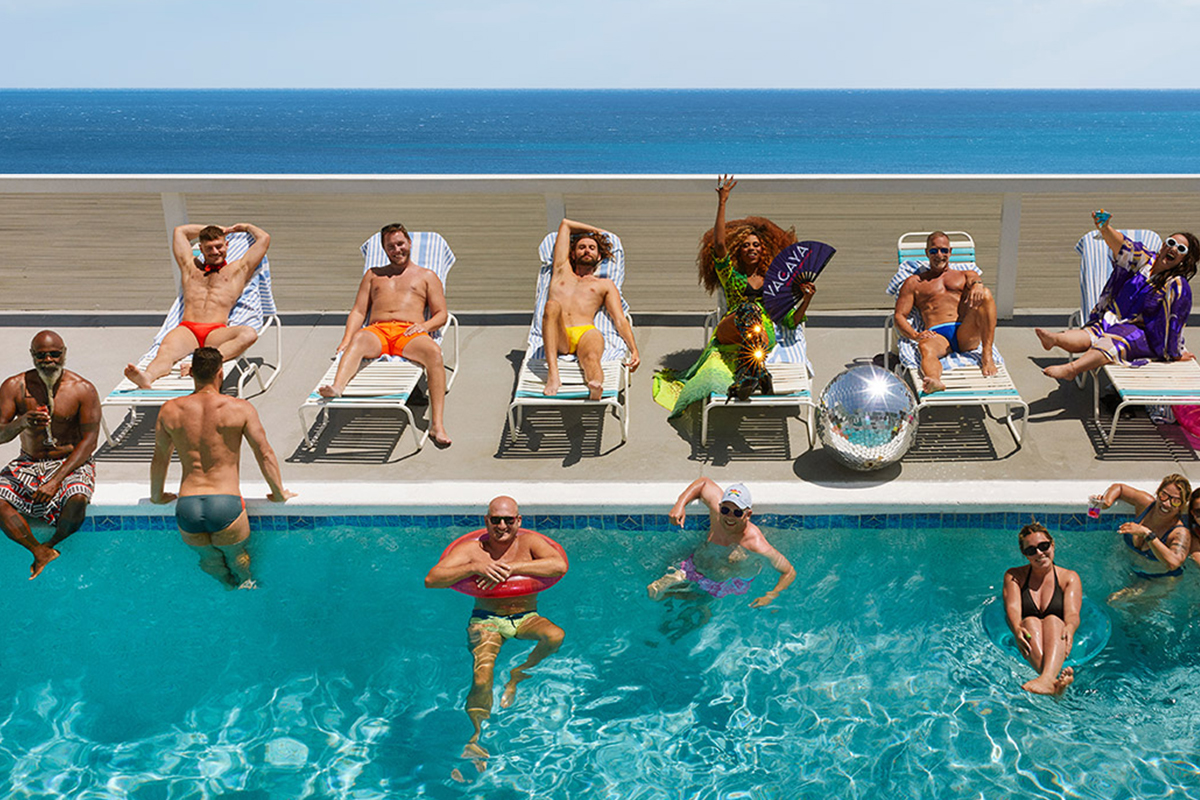 ALL are welcome here, no matter where you fall on the wide spectrum of identities, ethnicities, body types, or relationship status, and no matter whether this is your first gay/LGBT+ vacation or your 100th. VACAYA's inviting environment is built on the culture of "love is love." A VACAYA vacation includes straight allies as well. So, if they're a friend of yours, they're a friend of ours. And that's the real beauty of VACAYA's community. It's not something programmed or manufactured by us. It's a magical tapestry that's woven by our guests, one relaxingly joyous day at a time.
Vacation at LGBT+ Paradise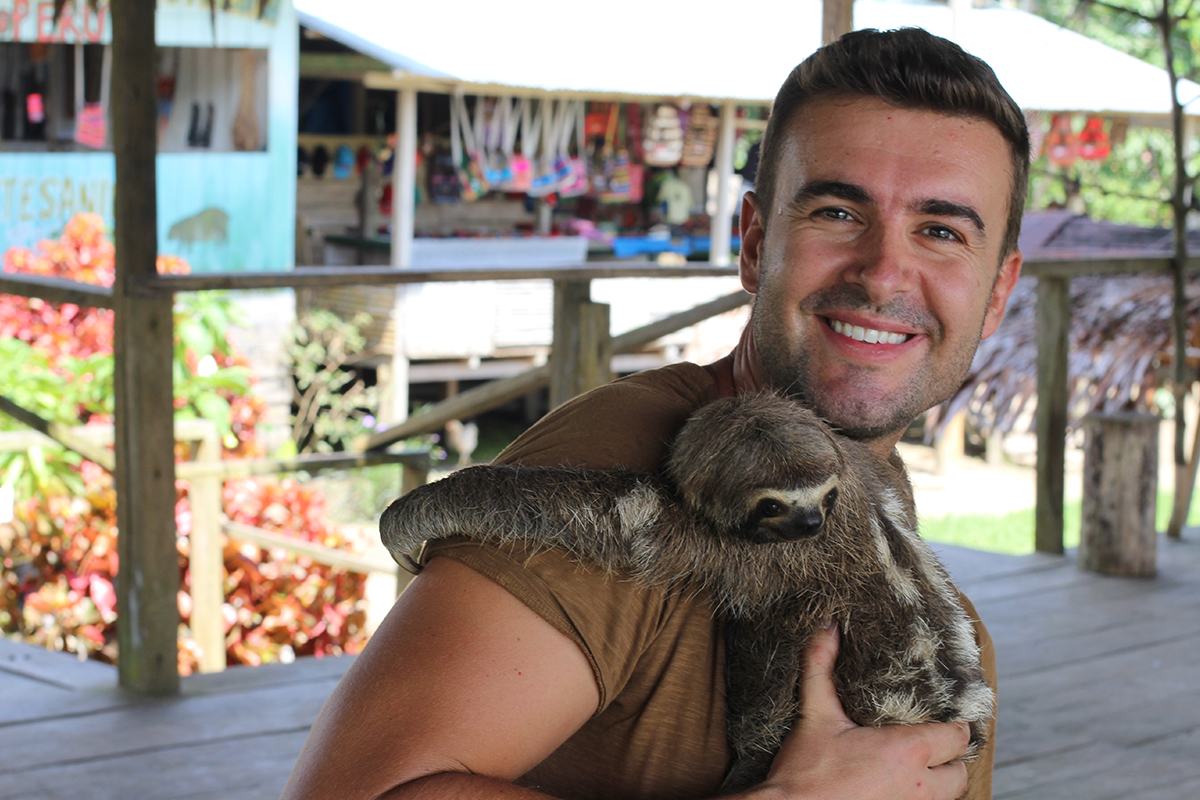 Part of VACAYA's mission is to take our guests to far flung places that have never been offered in the world of all-inclusive LGBT+ resorts. Did you know that VACAYA was the first LGBT+ travel company to host a full-resort buyout in the lush tropical gardens of Costa Rica? And while we'll certainly offer close-to-home options like our Mexico Resorts in our lineup of adventures, we'll never become complacent and offer the same exact resort repeatedly for years. We have so many more amazing destinations to discover together with you. So get ready to explore the world and experience unexpected cultures!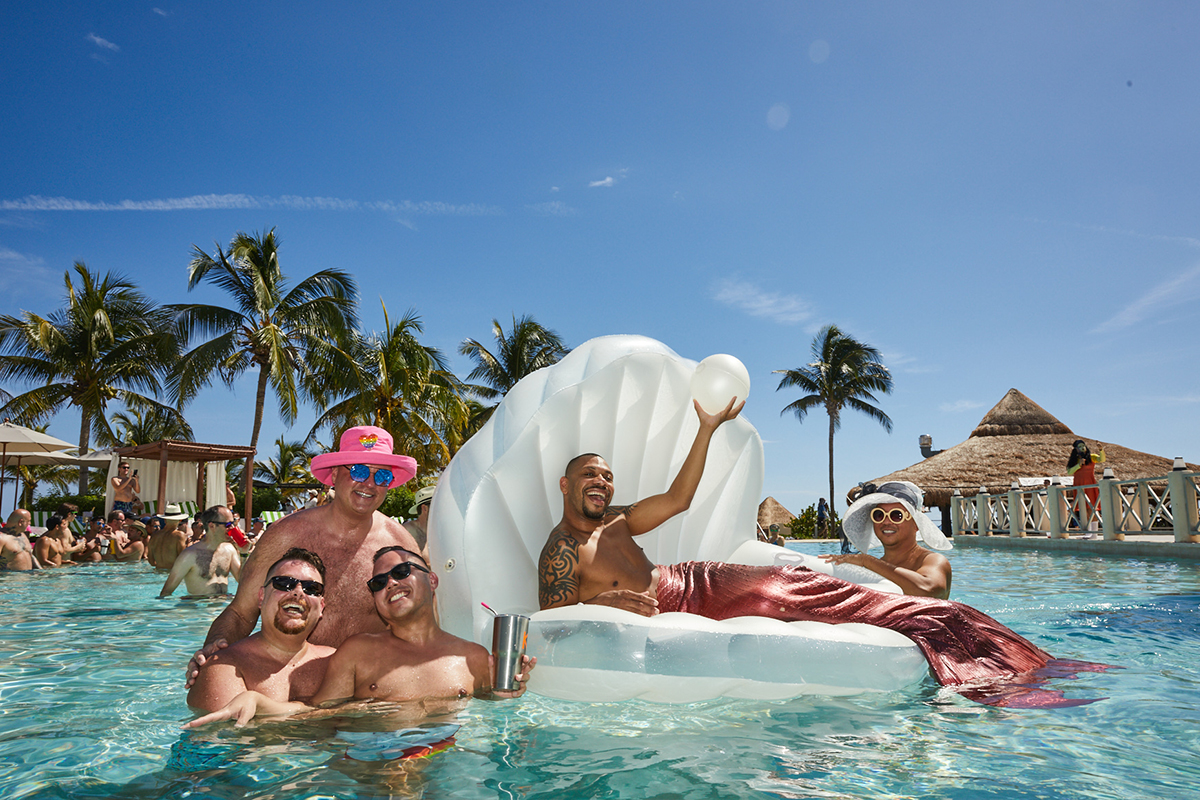 VACAYA charters the entire resort. That allows us to fully customize the daily schedule and to create bespoke 24×7 entertainment and social activities that are the perfect fit for the gay community. So if you're an active vacationer, you'll never be bored at a VACAYA resort. From morning yoga and bootcamp classes to afternoon prize-filled pool games and zany themed V-dances, you'll find something to suit your evolving mood throughout the day. And chances are… you'll never be bored!
Resort. Relax. Rejuvenate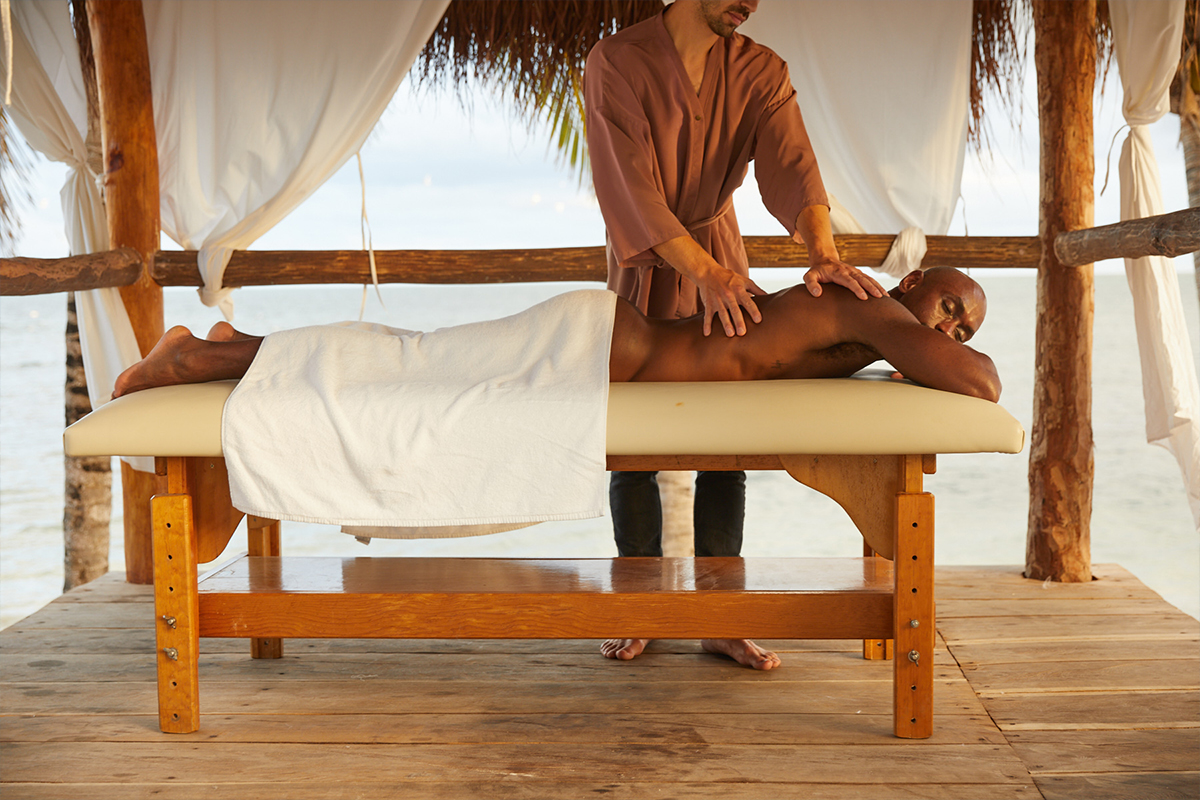 Do you prefer to spend your resort day being pampered? Inhale, exhale, relax, and recharge with a relaxing massage or while away the hours at any one of the resorts' swimming pools, saunas, or hot tubs. Whether you want to clear your mind, fine tune your body, reinvigorate your spirit, or all of the above, the on-site spa is an indulgent escape where you can do it all.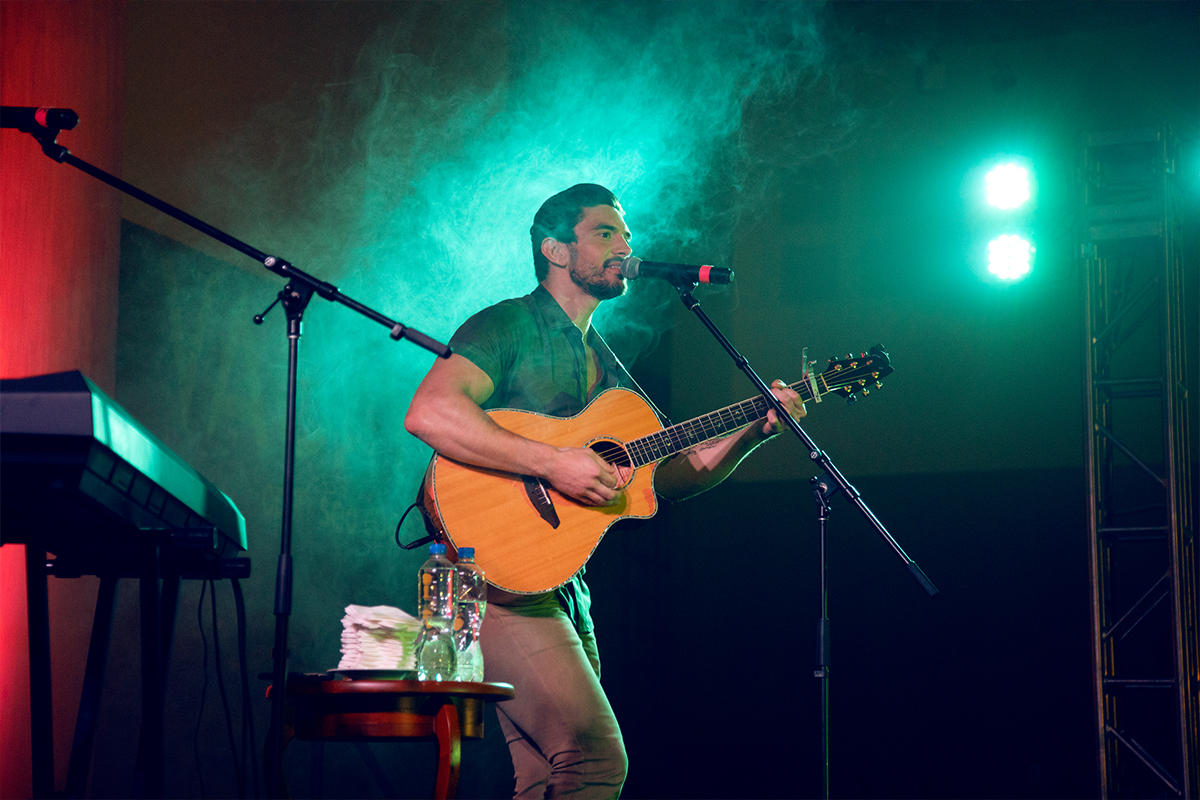 At VACAYA, we bring you the best of Broadway, television, music, and film to inspire, challenge, and entertain you. We've already hosted some of the biggest stars in the business including Matteo Lane, Kimberley Locke, Jessica Kirson, Steve Grand, Ty Herndon, and so many more. And many of our stars stay with us throughout the getaway and are thrilled to mix and mingle so you have the opportunity to get to know them as people, not just performers.
Nighttimes are Sensational and Sexy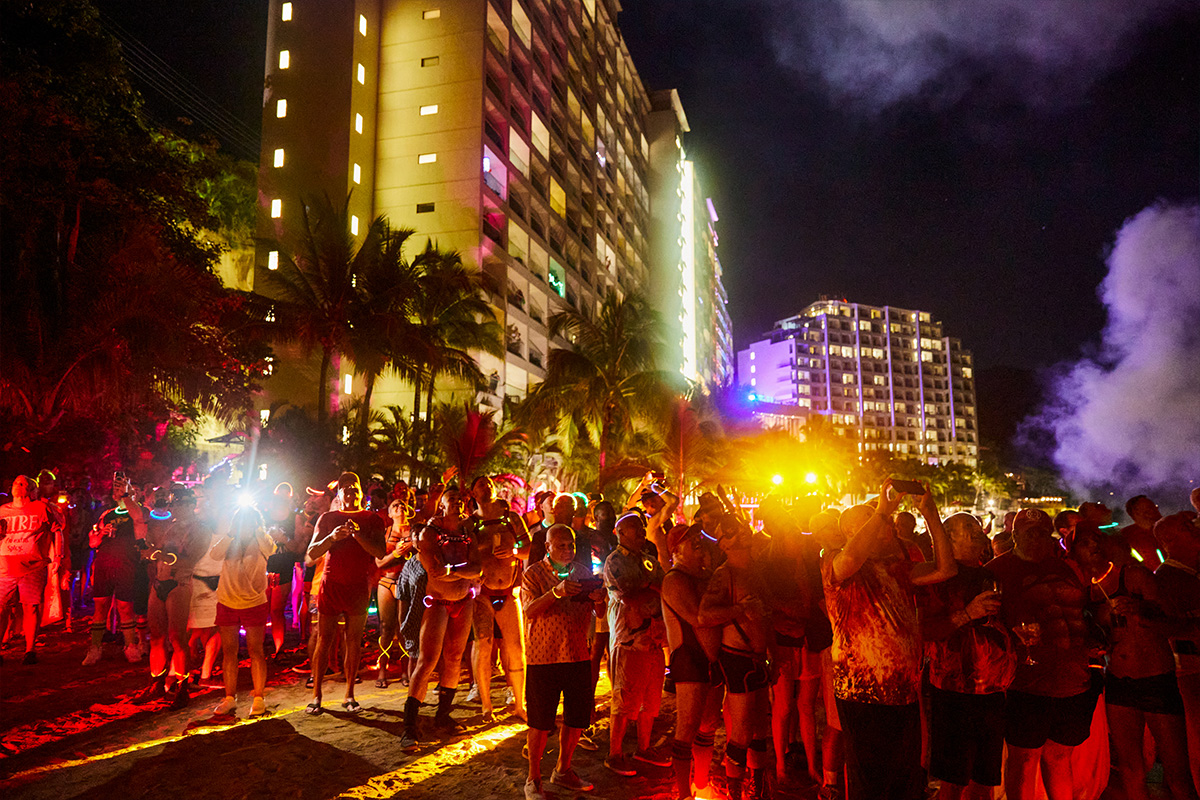 When night falls, the real beauty of a VACAYA resort vacation becomes apparent. We create joyous parties and intimate environments that expand your social circle even further. VACAYA takes you to the edge of your comfort zone in a safe and welcoming environment.
So, whether dressing up in a costume for a theme party is right up your ally or it's your first time wearing a harness to a leather party, you'll feel right at home at the resort. As a sex-progressive company, our Red Light District* (a sanctioned play space that eliminates the stigma of the shadowy "dick deck" you may have found on other cruises), each night becomes a thrilling adventure custom-tailored for you by you.
Connect and Enjoy… Together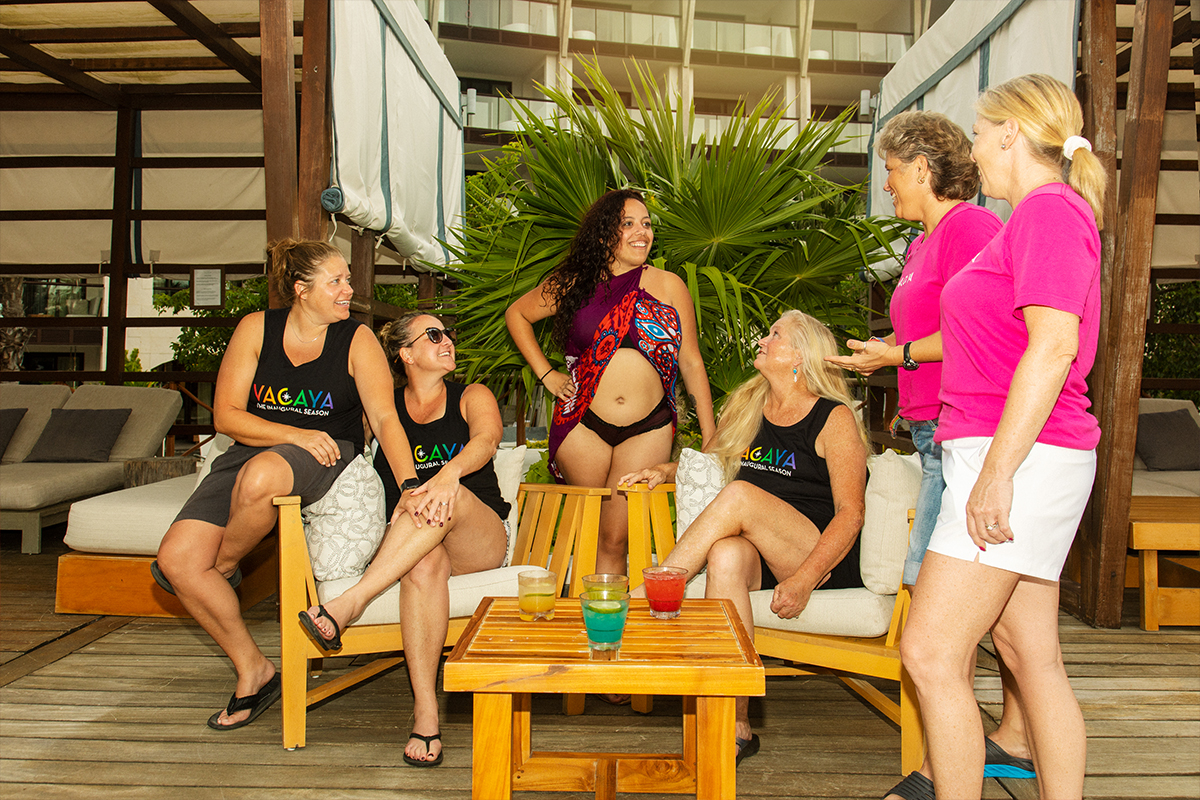 Whether you come on an all-gay cruise of resort vacation with friends or by yourself, you're now part of a whole new family. At an organized dinner or cocktail mixer, our Solo/Single Travelers program ensures you connect with and enjoy your vacation with like-minded individuals. All you have to do is bring your smile and be open to the possibilities!
Giving Back While on Vacation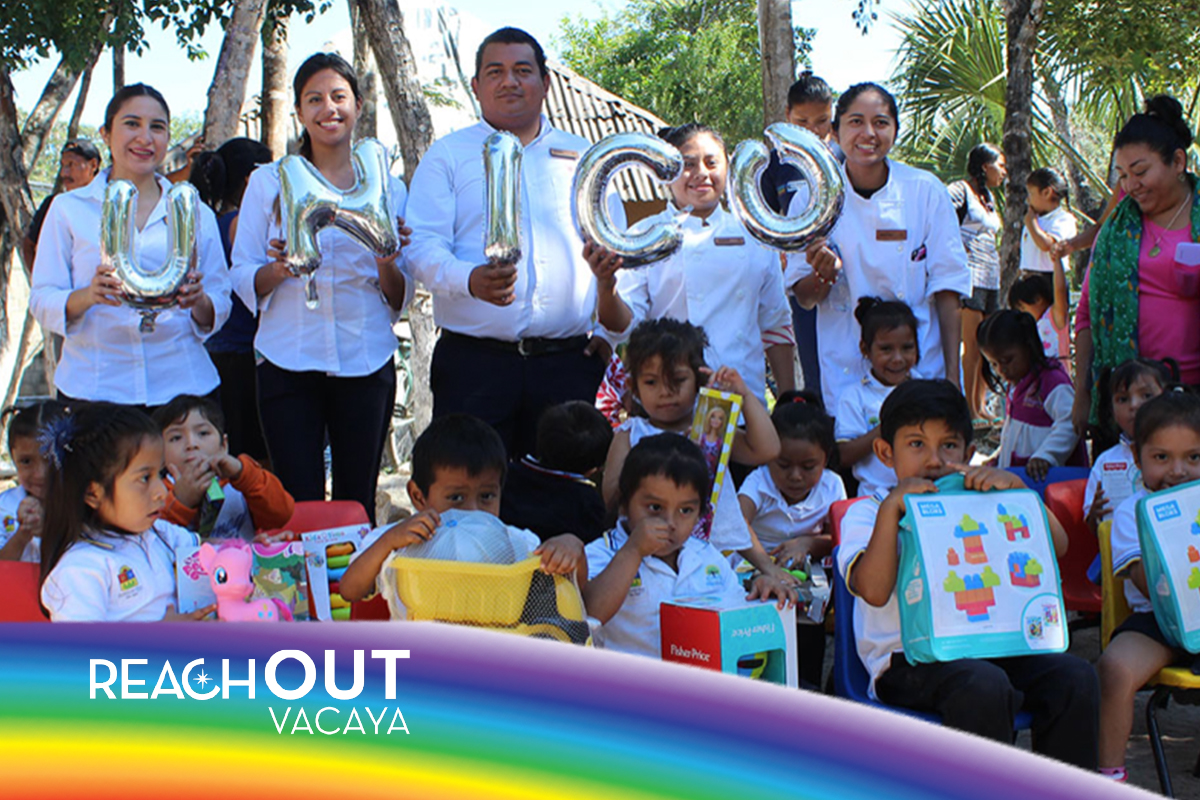 VACAYA's ReachOUT program gives you the chance to connect in new and more meaningful ways by helping the communities we visit, either through sweat equity or donation. While we're at the resort, we might visit a local farm that delivers fresh produce to the resort or an orphanage in need of backpacks and school supplies. So, whether you attend one of those excursions or simply donate from the resort, you'll feel part of the local solution.
Vacationing with Confidence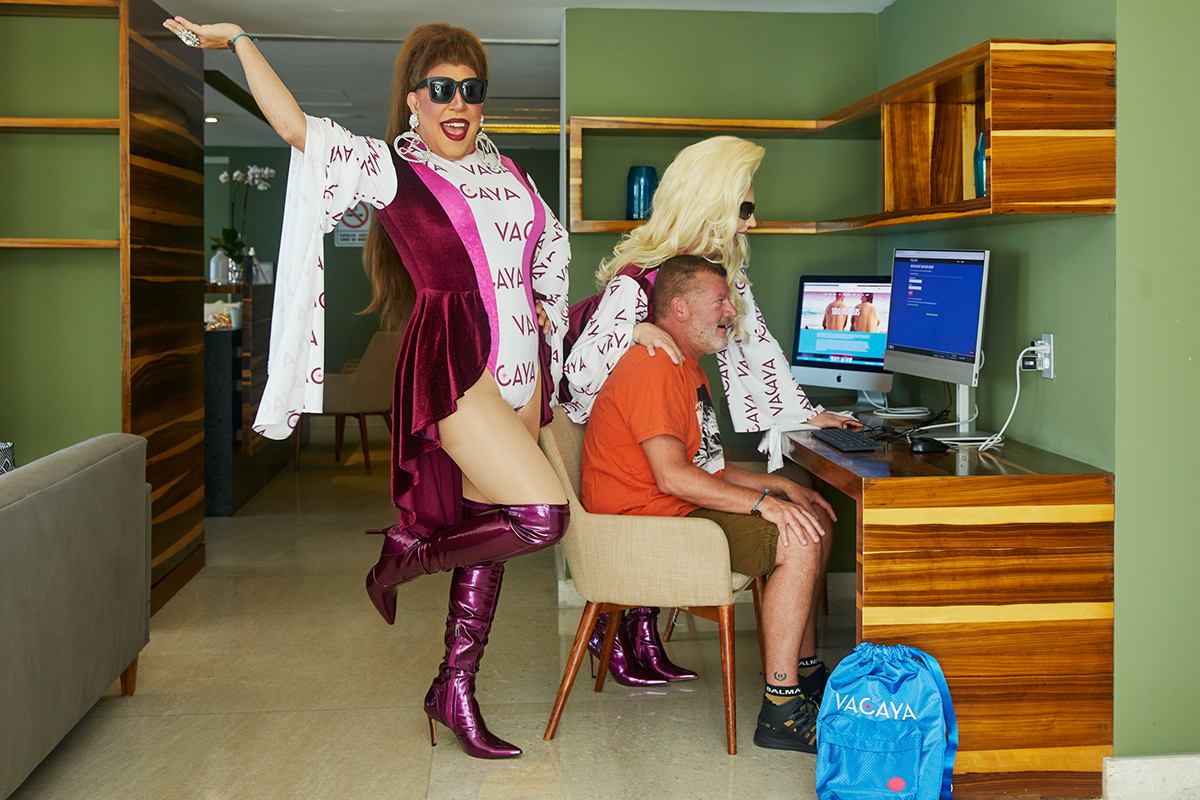 We recognize that a vacation starts with knowing all the important information about your travels with us. Expect clear, timely, concise, and abundant communication throughout your VACAYA experience. Our goal is for you to be able to ease into your vacation without any stress. Our WhatsApp groups are a great way to stay in touch with the daily schedule while at the resort.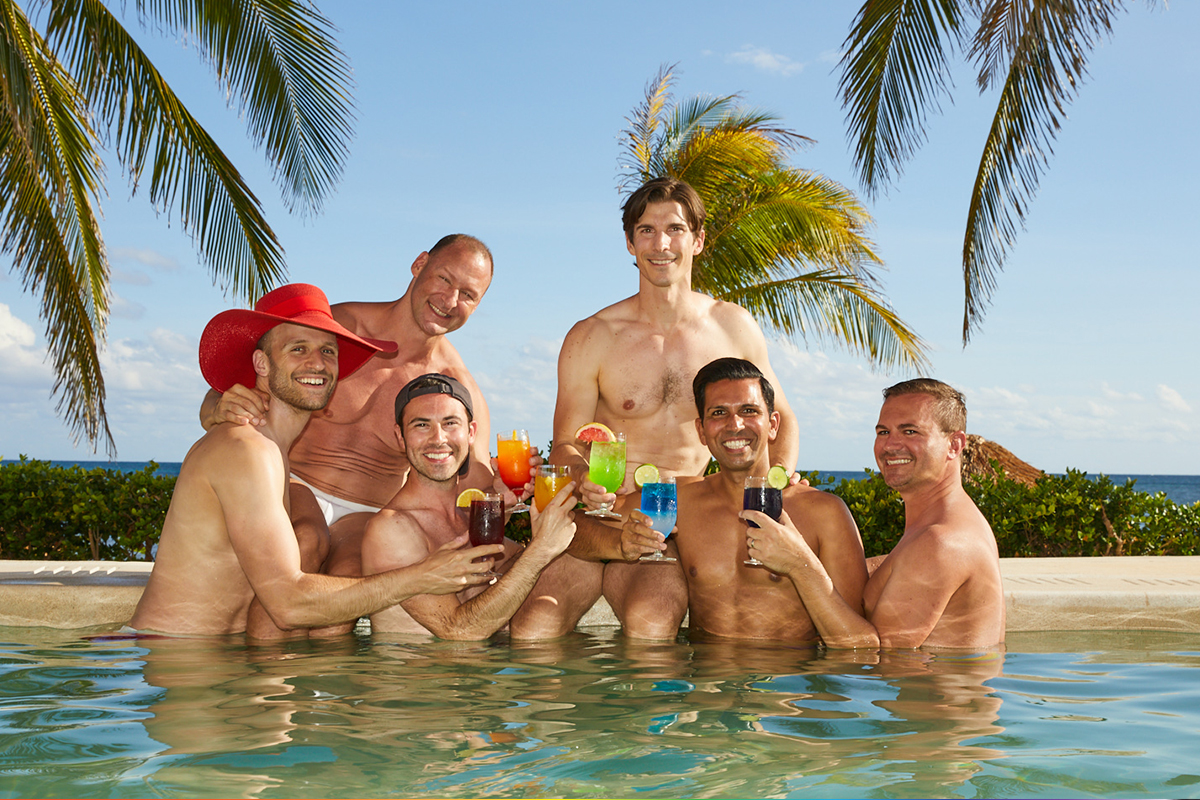 It's a simple formula, really. VACAYA gives you the absolute best LGBT+ resort vacation at the absolute best vacation value we can – no matter whether it's at one of our more value-minded resorts or at one of the Leading Hotels of the World. AND… to help you enjoy your vacation even more, adult beverages are always included with our all-inclusive Oasis Resort programs. And with our partnerships with leading airlines and alliances, your airfare doesn't have to break the bank either.
IS THIS YOUR FIRST GAY RESORT?
There has never been a better time to experience your first all-LGBT+ resort, and we want you to know exactly what to expect. Simply expand each section below to reveal the deets:
*Red Light District is not available at all VACAYA Oasis resorts. Check with our guest services team or the Get Ready page to confirm for your vacation.
IF YOU HAVEN'T BOOKED THE HOTTEST LGBT+ VACATIONS ON THE PLANET,
WHAT ARE YOU WAITING FOR? CHECK THEM OUT BELOW!