It's a common question… when's the best time to book my flights?
Since VACAYA's first trip is out of New York City, we'd like to take a deeper look at this particular (and unique) destination. As your travel savvy companions, we're happy to provide you with our best take on New York City flights, airports, and getting to/from the cruise port and Manhattan.
The general consensus is that flyers get the best fares seven weeks before their trip. So for our Ptown Cruise, which begins August 11, your target window for booking flights at the best price should be around June 23.
An additional way to save is by taking advantage of VACAYA's partnership with Delta Air Lines. Details and booking links can be found HERE.
There are three airports serving NYC:
Newark (EWR)
John F. Kennedy (JFK)
LaGuardia (LGA)
Newark Airport provides the closest access to New York's Cape Liberty Cruise Port in Bayonne, New Jersey. EWR is approximately 18 minutes away from the pier where Celebrity Summit will be docked. So if you're flying in on August 11, your best bet is to fly into EWR. Getting from EWR to Cape Liberty via Uber/Lyft or taxi should cost less than $20.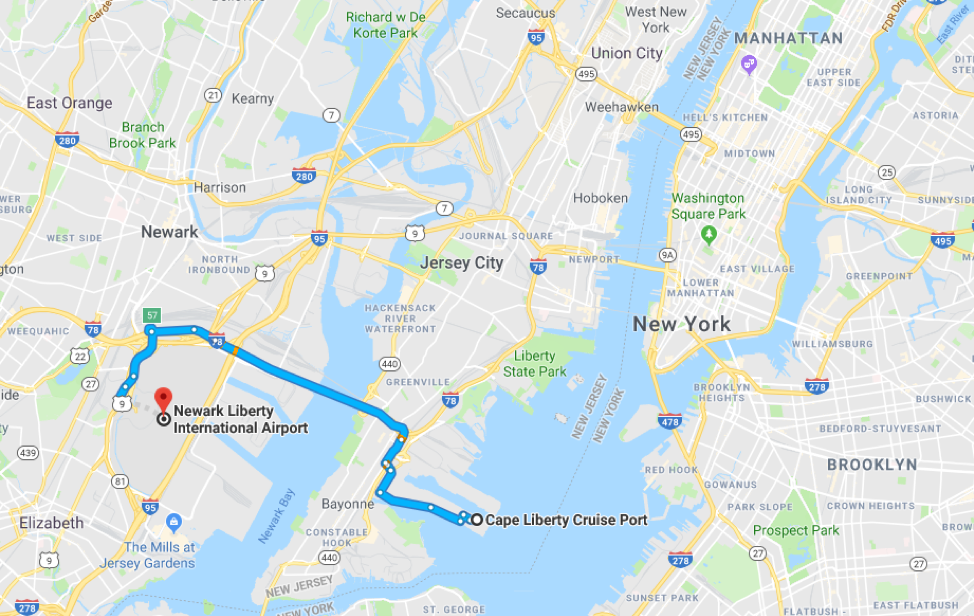 If you're coming into NYC earlier than August 11 (and we certainly recommend you do), LaGuardia is the closest airport to Manhattan, but is the smallest of New York's three airports – more regional than transcontinetal. Delta, American, and Southwest have extensive service at LaGuardia. John F. Kennedy provides the most international flights into NYC and hosts hubs for Delta, American, and JetBlue. Newark International Airport is a primary hub for United Airlines.
All three NYC airports offer relatively inexpensive transportation options into Manhattan:
---
EWR: AirTrain is by far the best, fastest, and most economical way of getting from Newark to Manhattan. For $12.50, you can go from the airport to Manhattan's Penn Station at 34thSt. and 8th Ave. From Penn Station, you can catch most of the major subway lines to get pretty much anywhere in the city for $2.75. A taxi from EWR to midtown Manhattan will run you between $50-$70 (depending on traffic) plus tolls and tip.
---
JFK: AirTrain to the subway and then the subway to your hotel is the cheapest option at $7.75 per person. There are a fair number of stairs you'll have to navigate using the subway system, but if you're traveling lightly, those shouldn't be a problem. Board the AirTrain at JFK and travel to Howard Beach Station, where you can catch the A train into Manhattan. Or, you can take the AirTrain to Jamaica Station, where you can catch the Long Island Railroad directly to Manhattan's Penn Station. An AirTrain ticket costs $5 and a subway ticket is $2.75. The easiest way to get from JFK to Manhattan is by taxi. It's a flat rate of $52.50 plus tolls and tip.
---
LGA: Although LaGuardia is in close proximity to Manhattan, public transportation options are limited, so the easiest way to go from airport to hotel is by taxi/Lyft/Uber. Estimate a cost of approximately $50 for the fare, tolls, and tip to get to midtown Manhattan. If you're truly budget-minded, you can go from LGA to Manhattan via bus and subway for $2.75, but keep in mind that you will have to haul your luggage up/down stairs and on/off vehicles along the way. From LGA, take the M60 Bus to Manhattan's 125th Street where you can catch the 4, 5, or 6 trains at Lexington Ave., the 1, 2, or 3 trains at Malcolm X Blvd., or the A, B, C, or D trains at St. Nicholas Ave.
Here are a few PRO tips to help you find the most economical flight to any destination:
Even if you're buying tickets for multiple people, search for them one at a time. Airlines sell multiple fare classes at different prices with only a few seats in each class. If there's only 1 seat left in the cheapest class and you're searching for 2 tickets, you typically won't see the lower-priced class. Most automated fare search engines will show you the higher fare class for all tickets instead.
Because planes are least full on Tuesdays, Wednesdays, and Saturdays, flights on these days tend to be priced more economically.
Tuesday through Thursday is the best time to search for your flights. Airlines typically offer their lowest fares over these three days.
SAVE THE DATE: We're planning an excursion to Fire Island Pines on Saturday, August 10, as well as other activities Friday, August 9. So as you begin to make your NYC plans, be sure to keep that in mind!
HOTEL NEWS: Within the coming weeks, VACAYA will be launching an entirely new online booking feature for our recommended hotels in NYC. We've worked with properties at all price and luxury levels to get you the absolute best rates available. You'll be able to make and manage your hotel reservations directly on our website. So stay tuned for more details coming soon!
IF YOU HAVEN'T BOOKED THE HOTTEST LGBT+ VACATIONS ON THE PLANET,
WHAT ARE YOU WAITING FOR? CHECK THEM OUT BELOW!