Whenever VACAYA charters a ship and decides to take our guests to the world's greatest destinations, it all starts with a simple question:
"What do we call this trip?!?"
Typically, we include the destination in the name of our cruises:
2022 Seychelles Cruise
2022 Antarctica Cruise
2023 Norwegian Fjords Cruise
2023 Polynesia Cruise
Etc. Etc.
But occasionally, we consider going in a completely different direction. And one example of that is our 2023 Venice Cruise, which was almost called the "Cruise of Thrones."
Why? Fans of the hit HBO series Game of Thrones will understand why. Our cruise route covers many of the filming locations for the Emmy Award-winning show.
Imagine…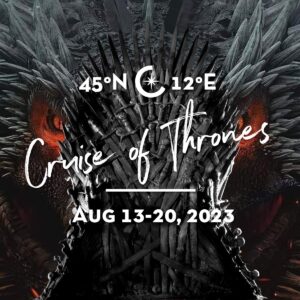 Your quest begins in the northern Italian capital of Venice – a miracle of a city that the all-powerful Dukes of Venezia fought to rule for over a thousand years. Venice is not only a breathtakingly beautiful city, but it also guards the secrets to centuries-old crusades for the ancient thrones of Roman and Greek legends – stories told and untold. From Jason and the Argonauts to Game of Thrones, the Adriatic Sea has played a tempestuous role in countless tales… Jason plied these treasure-rich waters in search of the legendary Golden Fleece and it's here where the Starks, Lanisters, and Targaryens battled each other endlessly for the Iron Throne of Westeros.*
Experience the very best of the Dalmatian Coast with Croatia and Montenegro, followed by the rarest of rare stops on Italy's east coast in Bari and Ravenna, where you'll have the chance to visit the medieval microstate of San Marino. You'll fall in love with San Marino the same way the man who held the Iron Crown of Lombardy, King of Italy Napoleon Bonaparte did in the 18th and 19th Centuries. In case you didn't know, yes… French Emperor Napoleon was crowned "King of Italy" and took the throne in 1805.
Why follow the basic paths of so many cruisers before you when you can follow in the footsteps of throne-seekers, kings, and legends with a never-before-seen itinerary from your friends at VACAYA? Winter is coming in the Summer of 2023! So, no matter whether you've been to this region before or it's your very first time, embrace your inner dragon and let VACAYA show you a whole new epic way to experience the myths and legends of this storied part of our world. The Sirens are calling!
*You can see the actual Iron Throne from Game of Thrones on Peacock Island, a short ferry ride from Old Town Dubrovnik, where the series was filmed!
We deliberate and debate each option endlessly, and where we ultimately land can even surprise us occasionally. But as we've done since Day 1, VACAYA will continue to lift the veil of secrecy surrounding LGBT+ travel. Knowing what goes on behind-the-scenes gives our guests the chance to connect with us in a much deeper way. And that's just one more VACAYA Difference.
IF YOU HAVEN'T BOOKED THE HOTTEST LGBT+ VACATIONS ON THE PLANET,
WHAT ARE YOU WAITING FOR? CHECK THEM OUT BELOW!