VACAYA Weddings & Vow Renewals
It's your special day. Let VACAYA make it truly extraordinary!
Few things compare to the anticipation and exhilaration of the moment a loving couple finally says "I do!" Now that marriage equality is the law of the land, there's no better way to celebrate your big day than with VACAYA. Your magic moment will brim with enchanting delights, joyous celebrations, and picturesque views providing a spectacular backdrop.
VACAYA's Happily Ever After program can provide all that and more! Our Vacation Planners can help you partner with cruise line and resort wedding coordinators to plan a wedding experience that'll create memories sure to last a lifetime.
Whether you prefer to have your wedding on one of our spectacular ships while still in port, while sailing at sea, or on the stunning shores of an all-inclusive VACAYA Oasis resort, the cruise lines offer packages that'll be all you imagined and more. Choose from an array of inspiring destinations and a host of options onboard and ashore that will make your magical day exceptional in every way. Your wedding, reception, and honeymoon vacation can blend seamlessly to create a truly unforgettable event.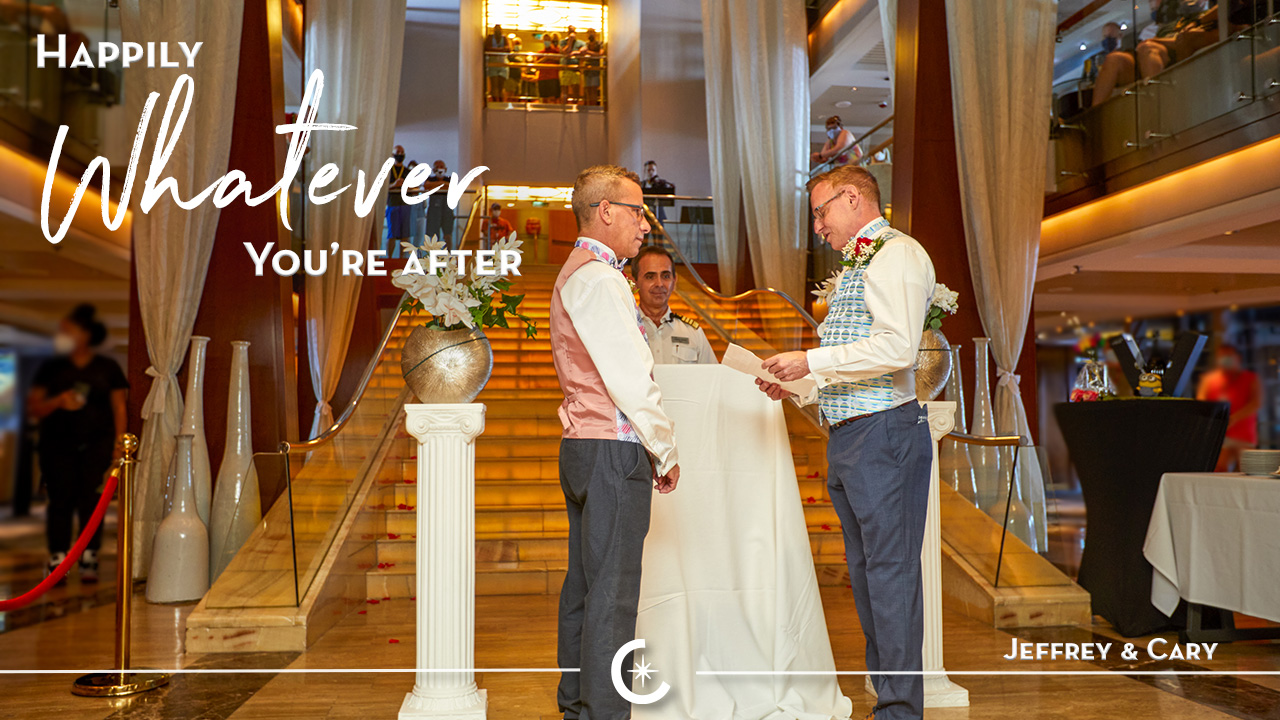 Imagine the thrill of having the Captain of one of our magnificent ships officiate your ceremony. Many of our cruise line partners can offer the unique experience of a legal wedding at sea while sailing majestically across international waters.
A wedding with VACAYA is a party like no other. What better way to share your momentous occasion than to invite your loved ones along? A VACAYA Happily Ever After wedding is a wonderful opportunity for friends and family to join you on your vacation — complete with an amazing array of amenities, dazzling horizons, and captivating destinations.
Our cruise line and resort partners' wedding coordinators can help you design a wedding that's truly extraordinary. Whether an intimate ceremony for two or a grand event with many guests, they will guide you in every way – from the ceremony to dining to décor.
The whole wide world is full of romantic opportunities, but VACAYA takes honeymoons to the next level! Whether you're looking for a quiet corner of a picture-perfect beach or to celebrate with hundreds of friends old and new, our experiences provide the perfect way to express your love. We'll work with our industry colleagues to ensure your honeymoon is filled with romance and magic to add to your celebration.
IF YOU HAVEN'T BOOKED THE HOTTEST LGBT+ VACATIONS ON THE PLANET,
WHAT ARE YOU WAITING FOR? CHECK THEM OUT BELOW!
Memories to cherish forever are about to be made. Each VACAYA vacation offers something unique, something any couple or throuple can get excited about and something all your guests can enjoy. Luxurious ocean liners and ward-winning Resort hotels can't help but make your celebration magical and the perfect celebration of your love.
To get started with your wedding or honeymoon planning, simply email info@myvacaya.com and one of our Vacation Planners will be in touch.