Guest Blog Contribution from Auston Matta from Two Bad Tourists
Puerto Rico is considered the most gay-friendly island in all of the Caribbean, making it an ideal destination. San Juan is the capital of this tropical paradise and it offers unique cultural experiences plus great gastronomy and nightlife. The primary language in Puerto Rico is Spanish, but many residents speak English, particularly in the tourism industry. Plus, since Puerto Rico is a territory of the US, for Americans it's virtually the same as traveling to any other state. You don't need a passport, they use the US dollar, and your medical insurance coverage and cell phone plan is valid just the same as any other part of the US. Flights are reasonably priced and flying into San Juan is simple from most major US cities.
So, if you're considering an LGBT+ cruise, look no further. Puerto Rico is the perfect port city to take a cruise from and there's plenty to keep you busy on the island before or after your cruise departs, plus the tropical weather makes it a great choice for a winter vacation.
Here are the top 8 reasons to sail from San Juan, Puerto Rico.

Puerto Rico is home to the oldest city in the US and its territories. Originally founded by the Spanish in the early 16th century, many of Puerto Rico's cities, including San Juan, have an old town with well preserved colonial architecture to explore. In San Juan you can visit Las Americas Museum, featuring African and native heritage. Don't miss Fort San Cristóbal, which has plenty of history plus a collection of unique artifacts. And if you're a fan of rum, you can tour Casa Bacardi, home of the world's most awarded rum since 1936.

Puerto Rico is a welcoming place for LGBT+ people. Since it's part of the US, same-sex marriage is legal and LGBT+ people have more visibility and rights than most places in the Caribbean. Of course, with any destination, it's possible to encounter anti-LGBT+ people, so depending on your surroundings, it's best to be cautious with public displays of affection. The most gay-popular neighborhoods in San Juan are Condado and Santurce, which are home to many LGBT+ venues, bars, restaurants, and shops.

San Juan is definitely the hub for LGBT+ nightlife and drag culture is big in Puerto Rico. You'll find most of the gay bars and clubs located in the Condado, and some in the more up-and-coming Santurce. A couple of the most popular gay bars are
Tia Maria Bar & Liquor Store
 and
Oasis
 – a restaurant, lounge, and bar open all day and until late. If you feel like dancing, head over to either
SX Club
 or
Circo
, which are San Juan's most popular gay clubs where you can enjoy drag shows and go-go boys.

No LGBT+ cruise is complete without spending the day relaxing at the beach. While there are several great beaches to choose from in San Juan, Atlantic Beach is the go-to spot for LGBT+ visitors and locals alike. People tend to gather in front of
Oceano
, which is a gay-owned restaurant on the beach. The nearby Ocean Park is also a welcoming place for LGBT+ people, but the crowds tend to be younger and don't have the same LGBT+ vibe as Atlantic Beach. Both beaches are beautiful, but the best experiences start a little further out of town.

While San Juan is a great destination, you'd be shorting yourself by going all the way to Puerto Rico and missing some of the island's additional offerings. Head out from San Juan and make a visit to the other islands and natural wonders. Cabo Rojo is located on Puerto Rico's southwest coast and the region has a wildlife refuge known for its diverse ecosystems, including mangroves and coral reefs. It's an easy 3-hour drive from San Juan, and has it's own gay beach and gay pride celebration in Boqueron Bay. About 40 minutes from San Juan is El Yunque National Forest – the only rain forest in the US Forest system. Here you can hike, swim in waterfalls, and even Zipline. Nearby Luquillo has a strip of mall restaurants and food trucks serving local food along the beach.

While Puerto Rico is technically part of the US, it's unique territory status and history presents an experience and culture quite different than the rest of the States. At the heart of any distinct culture is its food. Puerto Rican food is inspired by a variety of sources over the centuries with influences from Europe, Africa, and the native Taínos. The base of Puerto Rican cuisine is formed by a unique blend of spices plus the use of fried plantains and slow-roasted pork often served with savory rice and beans. Enjoy your meal with a local beer or a rum cocktail to really immerse yourself in the culinary experience and enjoy the best of Caribbean cuisine. For authentic dining, head over to either
Hecho en Casa
 or
La Casita Blanca
. These two restaurants are some of the most traditional dining spots in San Juan, offering delicious local cuisine at a great value. The gay-popular
Santaella
 is sleek, modern, and sexy, with a creative spin on classic cuisine. For something casual and easy,
Lote 23
in Santurce is a colorful outdoor food park with many delicious options.

Puerto Rico is a tropical island which means that the weather is warm and balmy all year round. So while the majority of the US is experiencing freezing temperatures in February, Puerto Ricans are still going to the beach, enjoying the outdoors, and making the most of the warm temperatures. Taking a cruise from San Juan in February is a no-brainer and a great way to escape the winter weather back home.

Puerto Rico and Puerto Ricans depend on tourism to maintain their unique culture. LGBT+ people are overrepresented in the local tourism economy, and the LGBT+owned restaurants and nightlife depend on visitors to stay in business. Despite the recent political setback for trans rights all across America, Puerto Rico, with US Federal protections and marriage equality, remains a beacon of hope for the rest of the Caribbean. And because of the recent setback, the LGBT+ community in Puerto Rico needs us more than ever.
For More Information About San Juan and Puerto Rico
Visit DiscoverPuertoRico.com  for even more Things to Do.
About the Author
Auston Matta runs the blog Two Bad Tourists and is an LGBT-travel advocate and freelance writer. His work has been featured in many publications, including Attitude Magazine, Edge Media Network, and ManAboutWorld.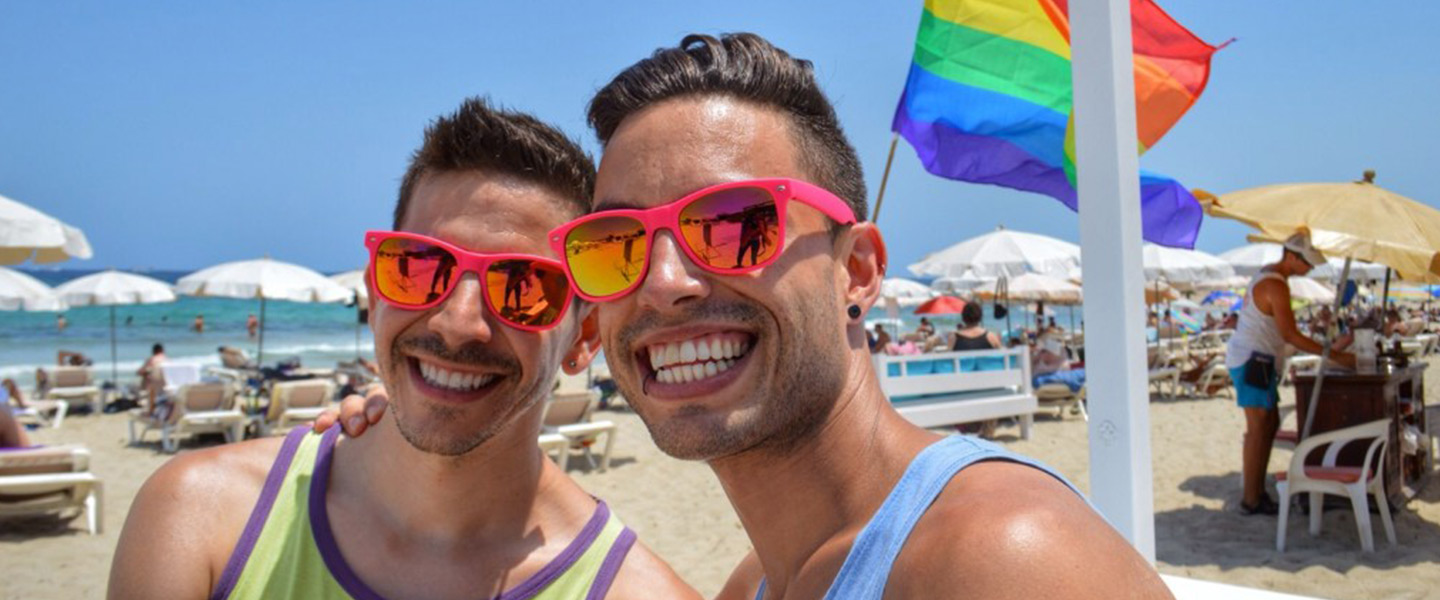 IF YOU HAVEN'T BOOKED THE HOTTEST LGBT+ VACATIONS ON THE PLANET,
WHAT ARE YOU WAITING FOR? CHECK THEM OUT BELOW!