Reprinted Article from OutTraveler Editor, David Artavia

David from OUTTraveler.com recently joined the Vacayans on Celebrity Summit to experience the all new and fully "Revolutionized" ship. He also took a test drive of VACAYA Oasis @UNICO. So what better person to give his view on two of our inaugural events. Below is the full article as it appears on OUTTraveler.com.

LGBT Vacation Company Is Changing The Game For Queer Travel

VACAYA is the first large-scale LGBTQ vacation company for adults to launch in decades. While many queer travelers have heard of companies like Atlantis, RSVP, and Olivia, who have been the preeminent go-to for LGBTQ folks longing for escape, the mission of VACAYA takes the idea steps further by securing not only entire cruise ships but also high-end luxury resorts to capacity, and utilizing their unique all-inclusive amenities.
"All-gay Atlantis, all-gay RSVP, and all-lesbian Olivia are leaders in their respective markets for a reason," explains Patrick Gunn, VACAYA co-founder and CMO. "But VACAYA is different. We are carving out an entirely new path for inclusivity, new destinations and unique experiences, balance, giving back, and delivering on our promise to be the travel savvy companion to our guests. It's an exciting road to be on, to be sure, and one whose time has come."
Indeed, VACAYA's strategy will undoubtedly change the way queer travel operates. Challenging the "circuit party" visual of gay cruising, VACAYA vacations are targeting beyond just the partygoers (though there will be plenty of lively and welcoming parties aboard the Celebrity Summit, which holds 2,100 guests). The company's goal is to add connection to its luscious and customized itinerary, and the intention behind it is strong.
Through the company's ReachOUT program, on every vacation VACAYA will partner with local organizations in the communities they visit to lend a helping hand where they can. For some travelers, that manifests itself in a bit of sweat equity (volunteering a couple hours to help clean the beach, for example). For others, they can help through donations. Together, these efforts strengthen the bonds travelers have with the local communities who welcome them.
"For us, it's about strengthening our community through shared experiences and giving back to our world," explain VACAYA's founders, all of whom are just as passionate about travel as their growing number of guests (nicknamed Vacayans). "It's that constant and energizing force to connect that drives all of the Vacayans. And through our collective experiences, our guests will feel that love and passion."
VACAYA has already gained a lucrative word-of-mouth reputation, months before its inaugural trip. In addition to the Ptown cruise, it's secured two European river cruises that sets sail in mid-December, an Iceland Cruise setting sail in Summer 2020, as well as the entire UNICO 20°87° Riviera Maya resort in Mexico to celebrate Halloween and Day of the Dead in October 2019.
Imagine exploring Mexico in five-star all-inclusive luxury with an entire resort reserved solely for LGBTQ-identified travelers (and their allies), all of them eager to share stories and cocktails while enjoying grand parties, top-notch entertainment, and delicious food. That kind of seven-day all-inclusive queer escape has never been seen before, and it's only the beginning.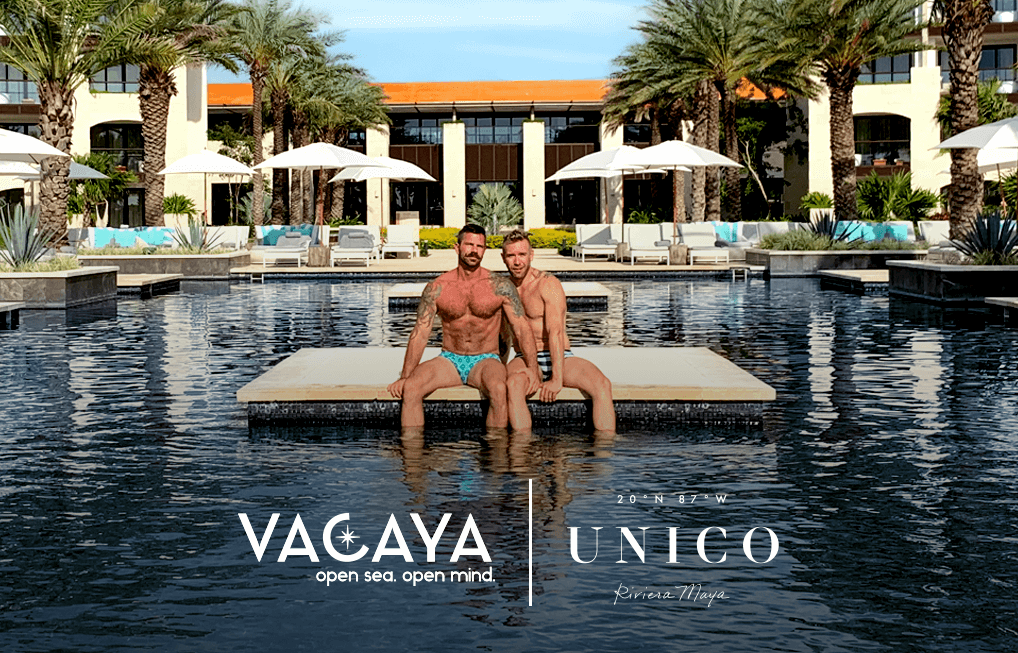 For October's Halloween and Day of the Dead resort vacation at UNICO 20°87° Hotel Riviera Maya, not only are food and top-shelf alcohol included, but spa, salon, golf, scuba, and excursions are also included. Talk about convenience!
"Our guests pay only a 20 percent service fee (which amounts to the gratuity for the service) for the spa, salon, and excursion inclusions," Gunn says of the Halloween vacation. "This elevates the traditional resort experience many have had before to a whole new level. Throw in the fact that our Mexico Resort vacation is over Halloween and Day of the Dead, and it's an unbeatable experience at an unbeatable price. Never before has our community had this level of luxury in a resort experience."
"For too long, we've been segregated from each other by the available choices in the market," Gunn explains. "With VACAYA, all people who believe in the simple mantra 'love is love' have the chance to come together for the very first time for these extraordinarily fun experiences. Up to this point, these types of vacations have been unavailable to certain community members for a multitude of reasons. VACAYA has created an environment where people of all races, genders, and sexuality can connect with each other in a truly human way. And with all the uncertainly emanating from the world's capitals as it relates to LGBT+ rights and freedoms, it's extremely important we're able to rally around each other as a complete community. VACAYA provides that blissful utopia — even if only for a week at a time — for our whole community to connect."
As for its inaugural cruise, the Celebrity Summit was one of the first environmentally friendly gas turbine ships on the seas, and its progressive culture is the perfect home for VACAYA's inaugural voyage.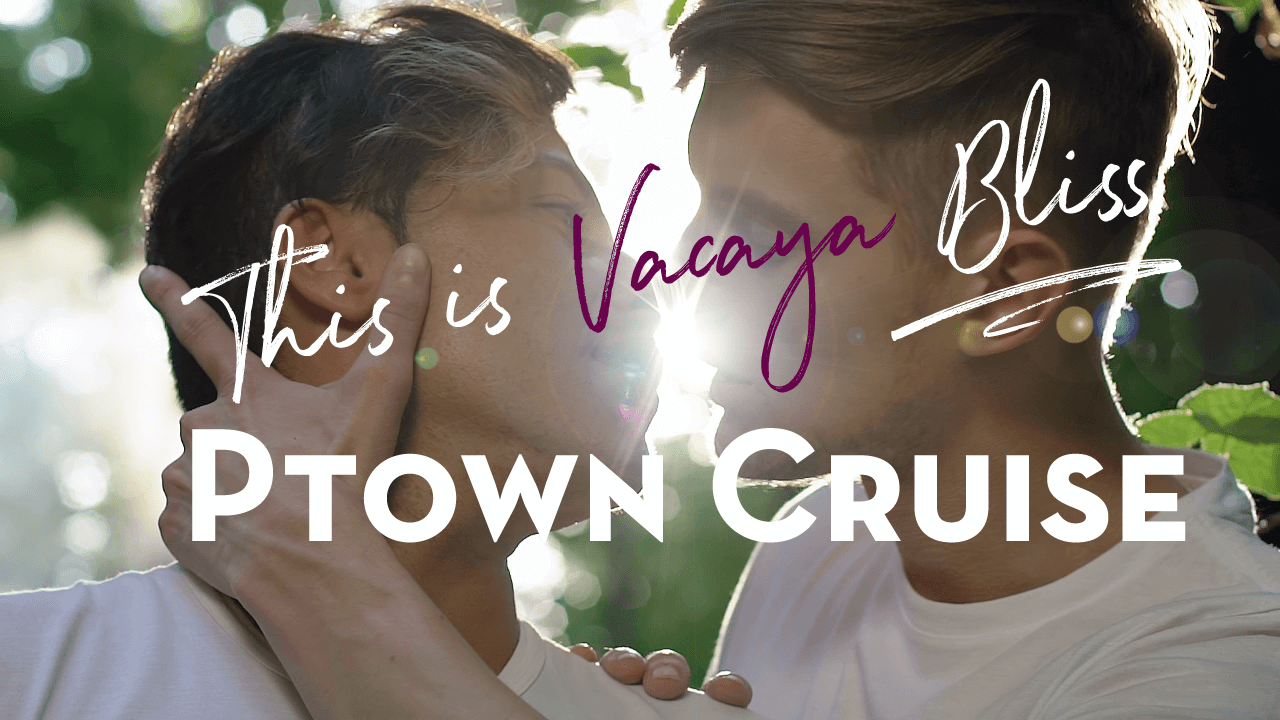 Following its multi-million-dollar "Celebrity Revolution" makeover, VACAYA's timing to charter this ship is impeccable. With it's redesign of all staterooms, spa, and public spaces, addition of modern conveniences, new areas for suite guests, upgraded dining like the Cosmopolitan restaurant and its avant-garde sushi restaurant, Blu, guests will find comfort getting lost and finding luxurious surprises around every corner.
Entertainment is always something to keep in mind as well, especially for queer travelers with high levels of connoisseurship. Thankfully, VACAYA iscompletely customizing the entertainment for their events, bringing in the best comedians, vocalists, musicians, specialty acts, and drag artists from around the world to add to Celebrity Summit's already world class shows.
"One thing that separates us in the market is the fact that we'll begin previewing our entertainment and party themes a full 120 days before each event," Gunn says. "We understand how that adds to the fun and excitement of each trip and we try to give our guests all the tools they'll need to have an easy and stress-free experience with us."
Furthermore, VACAYA will release the all-important cruise line booking numbers (which allow guests to book their excursions in advance online) approximately 90 days before each cruise. Gunn recommends using these numbers to book excursions directly from the cruise line, rather than through private companies, to ensure the ship knows exactly where you are so that they ensure a safe return.
"We want our guests to have authentic local experiences," Gunn adds of personalizing excursions. "It's the key to any vacation. One thing to remember is that many times we will create a completely custom itinerary and that sometimes takes us to ports the cruise lines don't travel to regularly. Those are the most fun because we get to build the on-shore excursion experience hand-in-hand and from the ground up with the cruise lines."
Travel has never been so convenient for queer escapers, and as VACAYA leads into its many upcoming adventures this inaugural season, eager visitors are right to be curious. The ever-changing landscape of travel will soon become tangible through a queer lens.
VACAYA is just speeding things along.
IF YOU HAVEN'T BOOKED THE HOTTEST LGBT+ VACATIONS ON THE PLANET,
WHAT ARE YOU WAITING FOR? CHECK THEM OUT BELOW!