7 SUMMER NIGHTS
NON-STOP ADVENTURE
ALL-LGBT+
FULL-SHIP CHARTER
DISCOVER THE BEST OF
EUROPE ALL OVER AGAIN
La Serenissima beckons you to this brilliant 7-Night adventure!
There's a reason Venice is known as "La Serenissima" or the "most serene." This miracle of a city shouldn't exist at all, but somehow she does. Her canals and bridges intentionally cause you to slow down. And when you do, a world of almost incalculable beauty awaits. Whether this is your first or 20th visit to Venice, she NEVER disappoints – taking your breath away at each and every turn. It's actually quite difficult to put into words just how stunningly beautiful this city really is – poets have tried and failed for centuries; she must be seen to truly be believed.
Venice no longer welcomes large ocean liners, but our beautiful 5-star Le Lyrial falls just under the limits of what's possible. Our custom itinerary has been crafted from the ground up with the best of the best ports of call just for you. We'll sail roundtrip from Venice to the Adriatic's most thrilling destinations in Croatia and Monténégro. We've also added a couple perfect days on Italy's east coast. Our stop in Ravenna, Italy gives you the opportunity to visit the gorgeous hilltop micro-nation of San Marino for an unforgettable experience. 7 Nights. 4 Countries. 5-star All-Inclusive Luxury. Endless European Gorgeousness.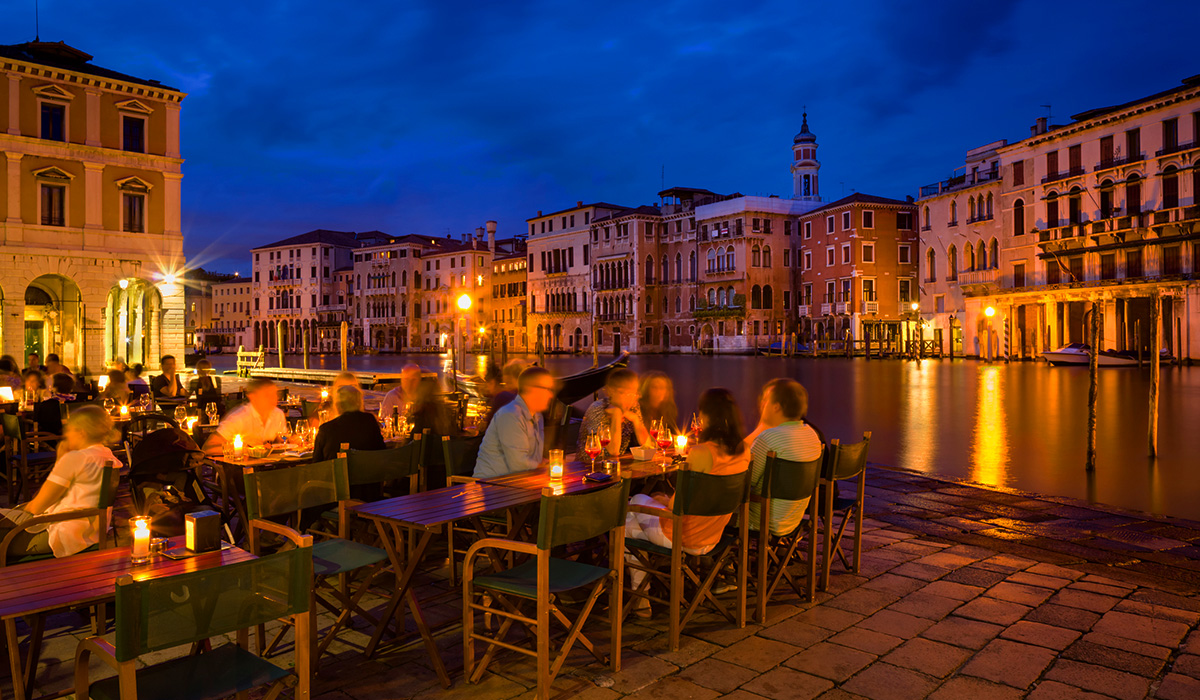 CUSTOM ITINERARY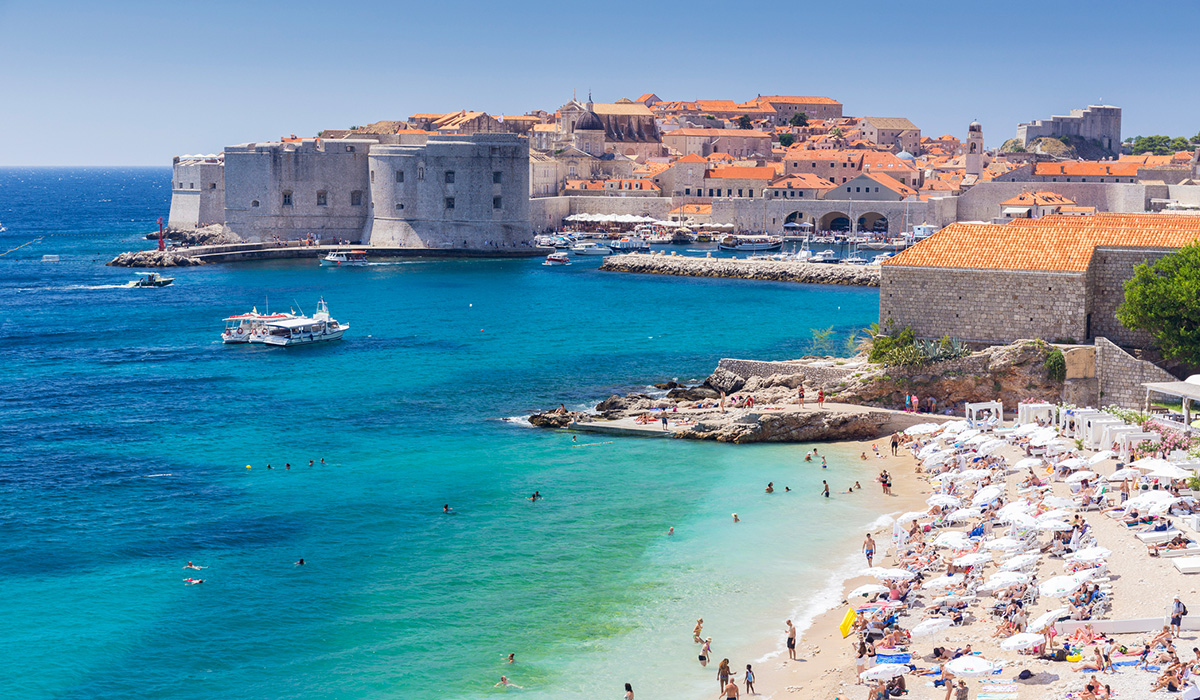 DUBROVNIK, CROATIA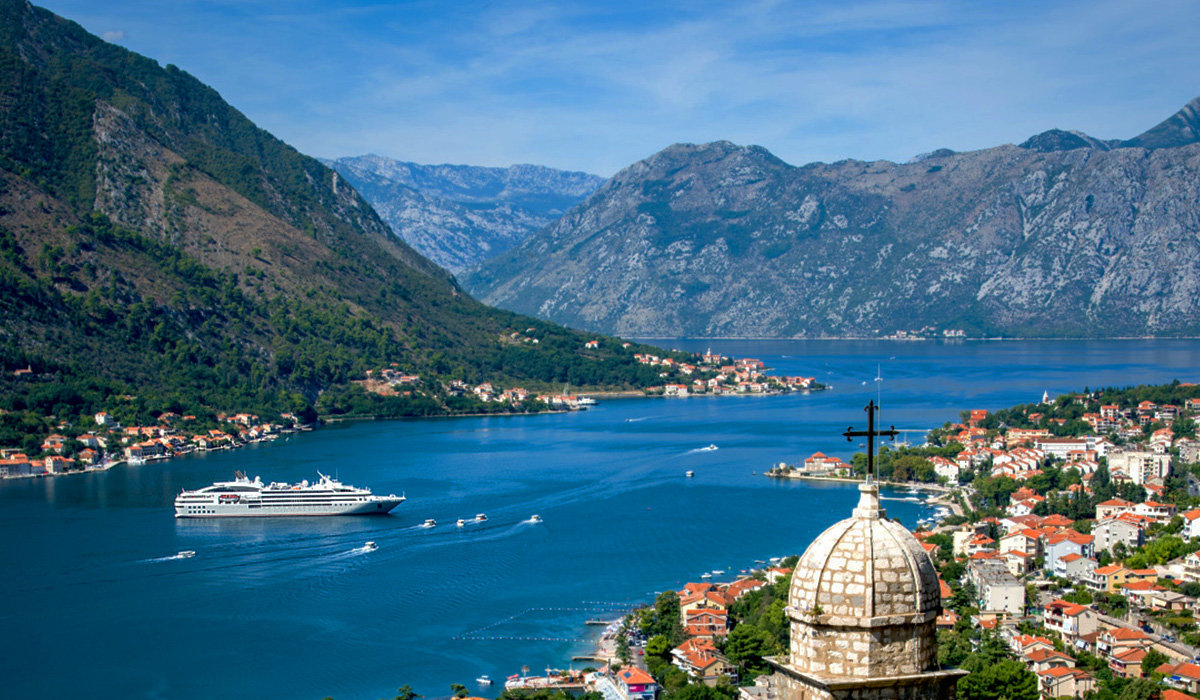 KOTOR, MONTÉNÉGRO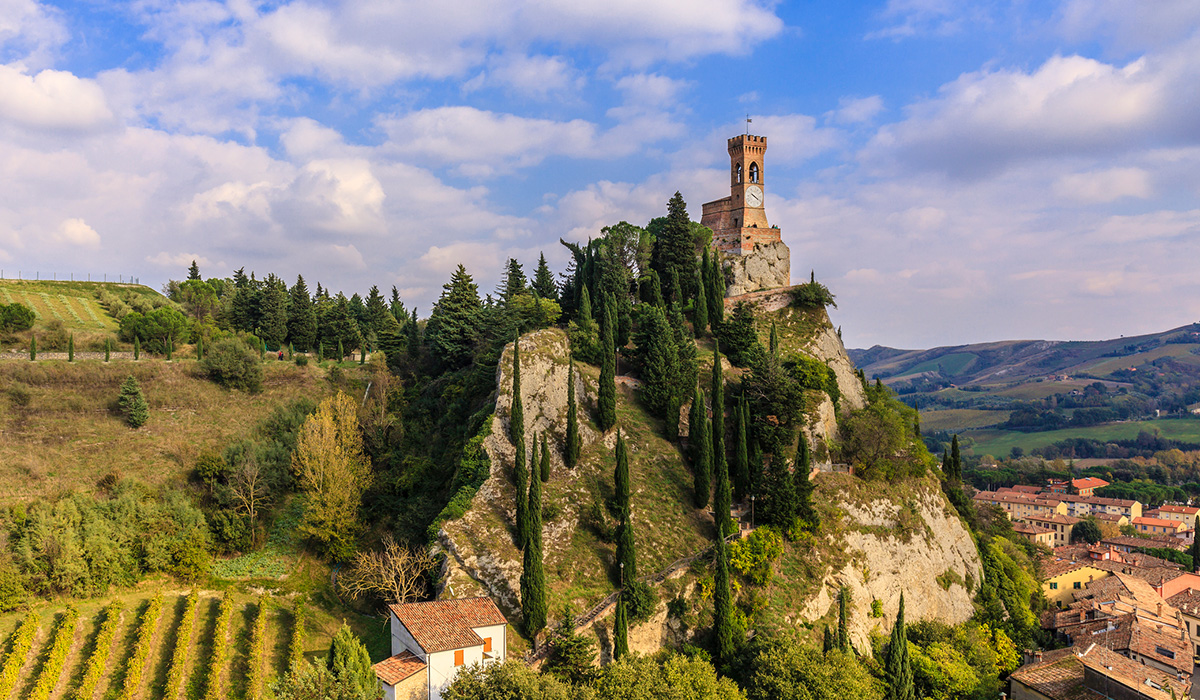 RAVENNA & SAN MARINO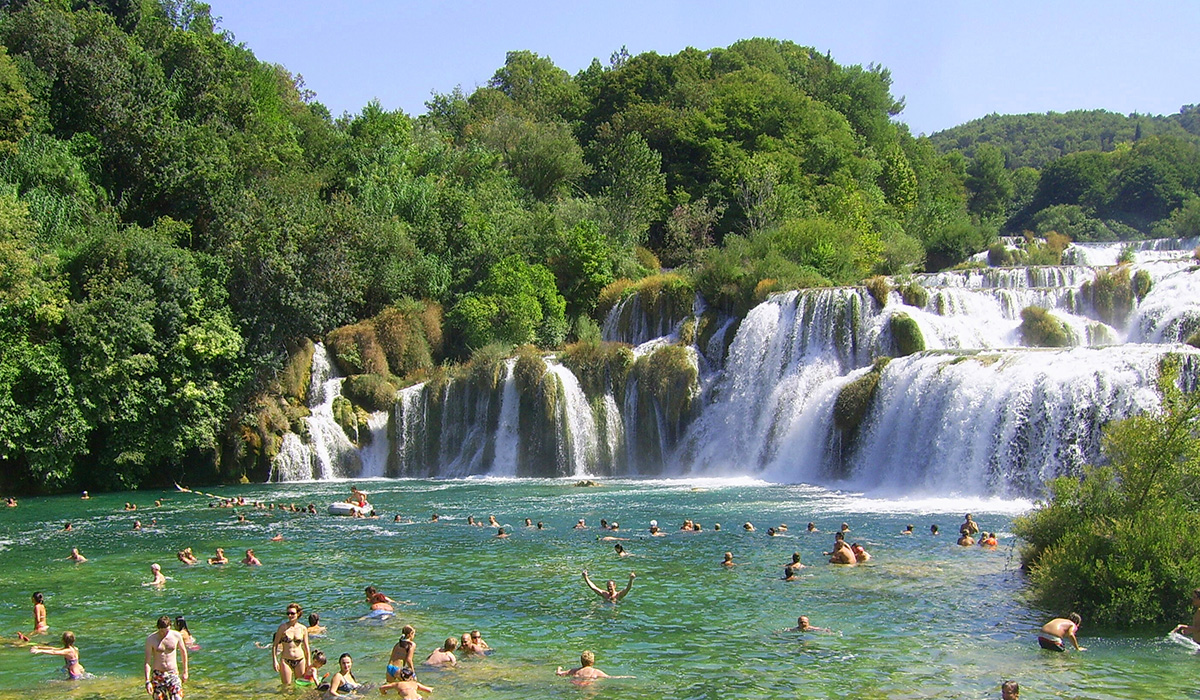 KRKA WATERFALLS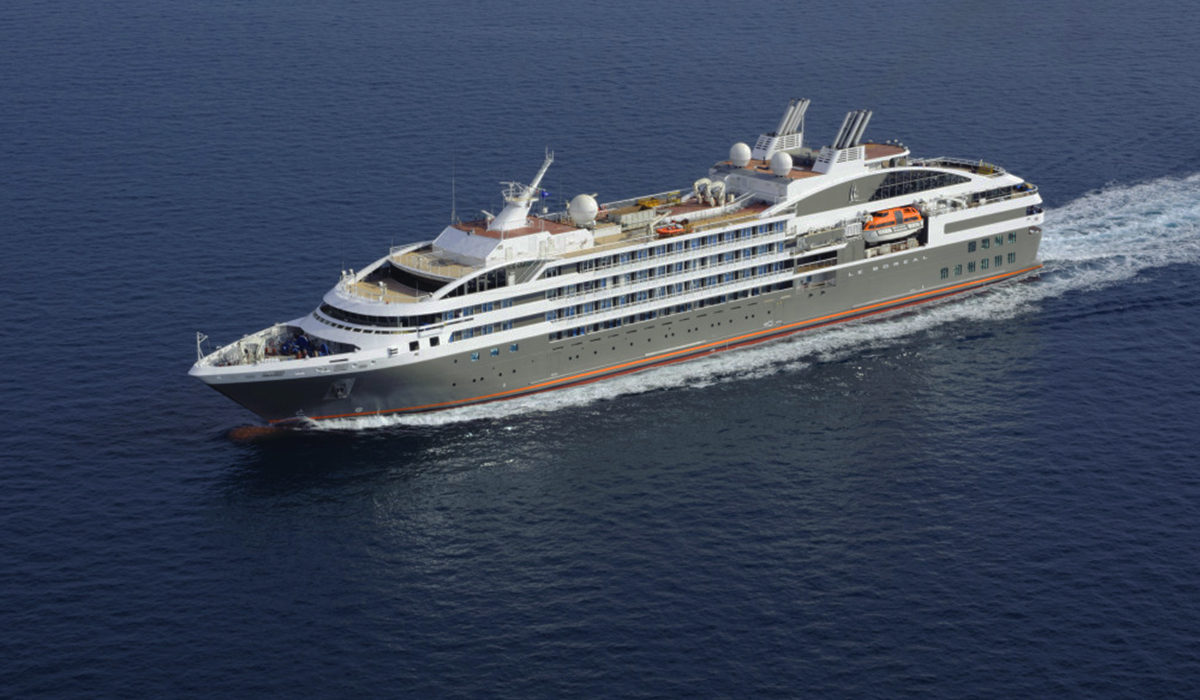 5-STAR LGBT+ LUXURY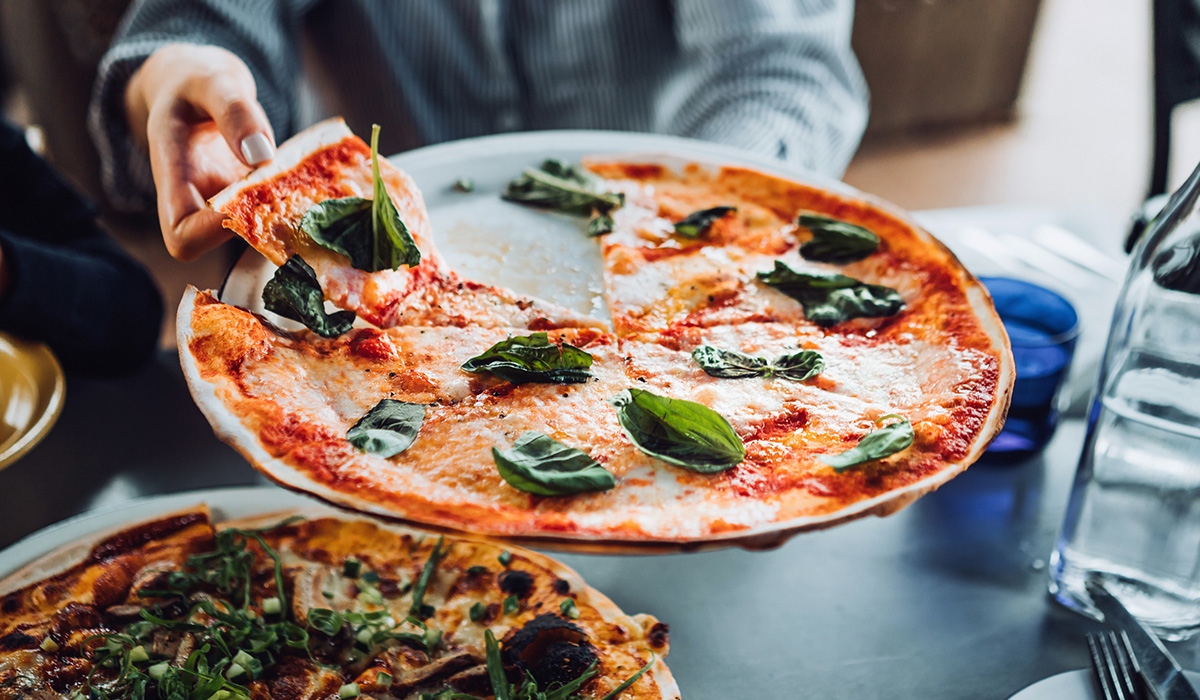 FARM-TO-TABLE CUISINE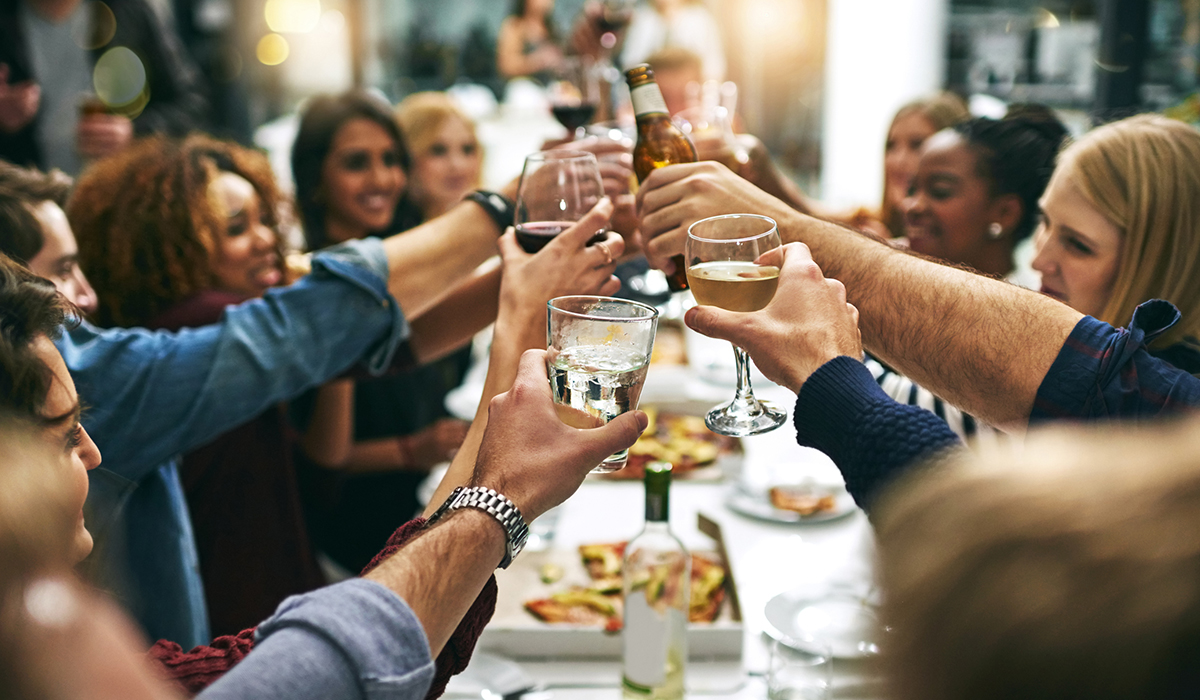 MOST BEVERAGES INCLUDED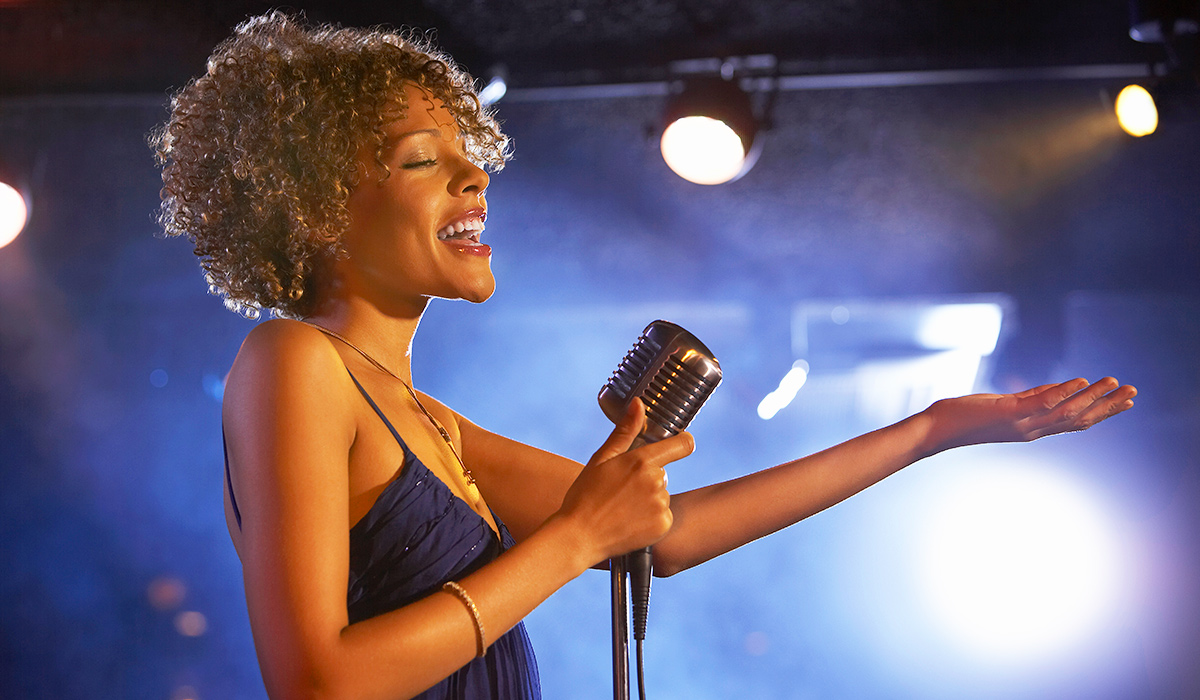 SIGNATURE ENTERTAINMENT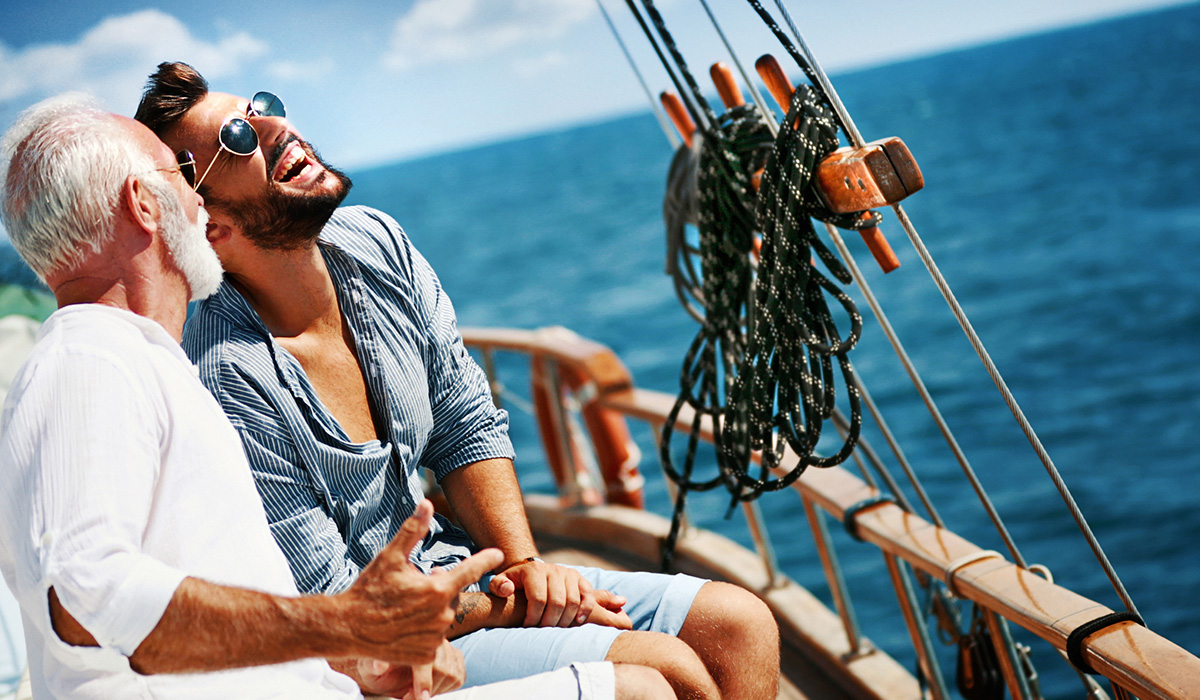 BEAUTIFUL FRIENDSHIPS
We've packed in these 8 magical days with incredible stop after incredible stop. Some will be familiar while others will provide enchanting moments of discovery. A definite highlight of our time together will be an overnight in splendid Dubrovnik, Croatia (especially for
Game of Thrones
fans). And if you've never been to Kotor, Monténégro, prepare yourself for a postcard-perfect day in paradise.
The beauty of all we'll experience on this trip is only slightly one-upped by our gorgeous home-away-from-home, Le Lyrial. First introduced in 2015 and the fourth ship in PONANT's Sisterships series, Le Lyrial is the very embodiment of this new generation of intimately-sized cruise ships. Her exterior and interior lines, all sober understatement and refinement, make her a rare and innovative find in the world of super yachts. And she's all ours!
VACAYA's 2023 Venice Cruise continues our already-robust tradition of redefining all that's possible in the world of LGBT+ luxury travel. Of course savvy travelers recognize "value"
rarely
means "low price." Instead, value is defined as getting something extraordinary for a great price. And that is exactly what VACAYA's Venice Cruise delivers.
The Vacayans are dedicated to providing you with the very best. That's what drives us, journey after journey. And it's amazing what's included:
7 Nights aboard the stunning Le Lyrial
All Meals, featuring subtle and audacious flavors inspired by our ports of call
Complimentary unlimited Open Bar throughout your cruise (premium alcohol extra)
Complimentary unlimited Open Mini-Bar in your Stateroom/Suite (premium alcohol extra)
Complimentary WiFi/Internet
Daily Afternoon Tea and Pastries
24-Hour Room Service
5-Star Service
24×7 Stateroom Service
24×7 Reception Desk
The following services are available for an additional charge:
Shore Excursions
Salon Services
Laundry
Satellite Telephone Services
Medical Services
If you've ever wanted to explore the world in style in a friendly and intimate setting, VACAYA Luxe's small-ship voyages have distinct advantages over their big-ship counterparts. Small ships gracefully dock in quaint harbors that bulkier oceangoing vessels simply can't access, while also calling on classic destinations our guests long to visit again and again. The ability to call in ports of all sizes allows for more intriguing itineraries that become the focal point of the journey. Small ships also tend to stay longer and dock closer to town, giving you more time to explore. There are no crowds to beat, so you can see places at their most pleasant and authentic.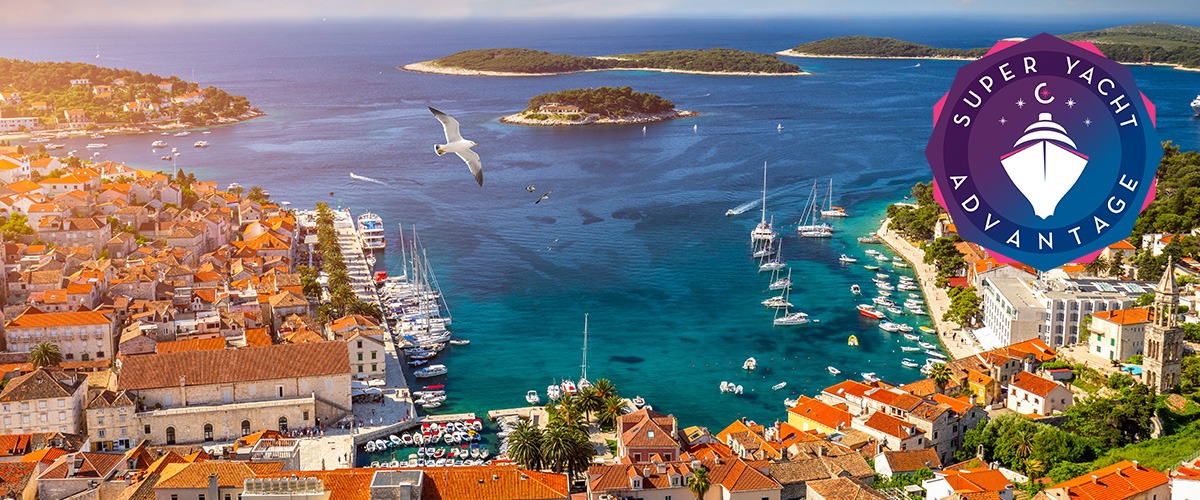 As concerns about environmental sustainability have become more prominent in the collective conscious, a greater emphasis has been placed on responsible travel practices. As lovers of the sea and the wondrous treasures of our planet, VACAYA and PONANT are committed to the protection of the environment and respecting indigenous communities. Larger cruise ships with guests numbering in the thousands can easily overwhelm popular ports with smaller populations. Small ships place less of a burden on the ports of call and do a much better job of meeting environmental regulations. PONANT has incorporated many environmental practices into their business model, whether it's sustainable dining practices, partnering with local communities, partnering with international NGOs, supporting local research, or building ships with new technologies that reduce their environmental impact. PONANT's strong sustainability policies have earned it many prestigious awards, including the Magellan Award for Eco-Friendly "Green" Cruise Ship.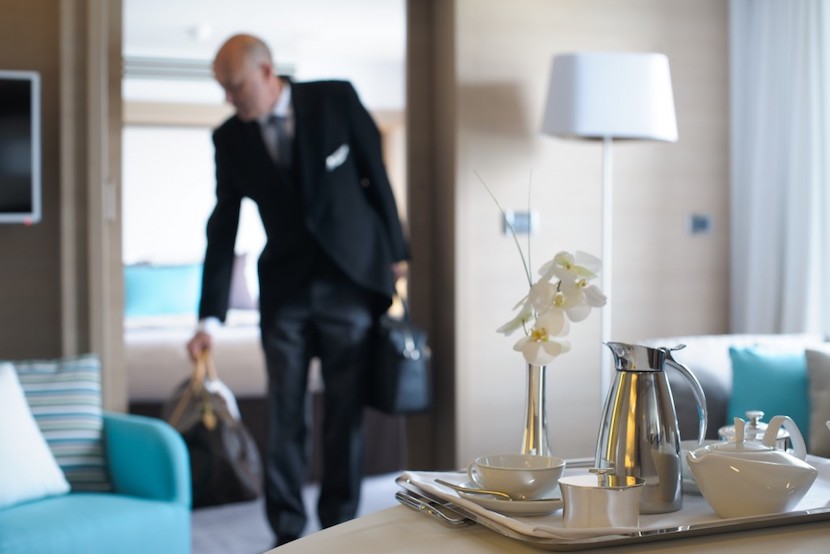 The French Touch means, above all, a French crew to welcome you and ensure your comfort and well-being throughout your cruise. In an atmosphere of elegant luxury, you'll find
5-Star Service
 onboard. It's a unique travel experience that's simultaneously authentic and refined.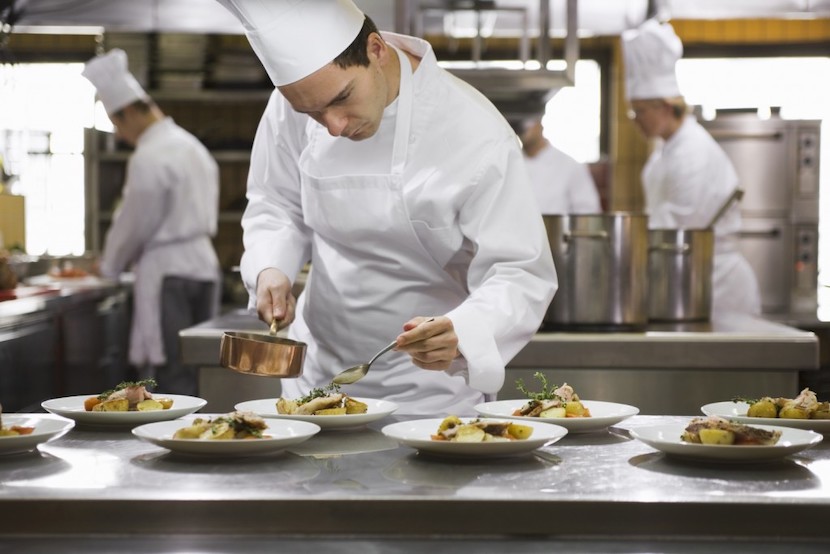 The French Touch also means a way of living in which gastronomy takes pride of place. Every day you'll discover fragrant flavors, carefully selected cheeses and wines, and delicious specialty breads & pastries from Maison Lenôtre. Maison Taillevent provides its fine selection of vintage wines by the glass, Maison Veuve Clicquot champagne is served at our gala cocktails, and delicious sweets from Ladurée bakery are on offer during afternoon teatime.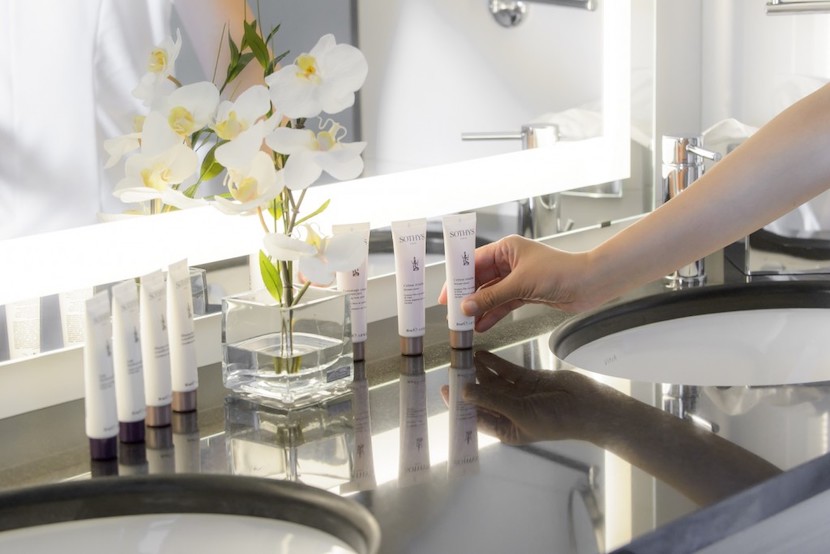 Finally, the French Touch is also evident in our choice of 
partners
, whose expertise and passion for their work is in line with our own quest for excellence: interior design by 
Jean Philippe Nuel
, fabrics by 
Pierre Frey,
 delicate flavours from
Le Palais des Thés
,
Hermès
bath products in all staterooms and suites, spa care products by 
Sothy's
, and signature perfumes from 
Fragonard
A PERFECT 7-NIGHT VACAYA LUXE EXPERIENCE AWAITS
Le Lyrial, like Sisterships L'Austral, Le Soléal, and Le Boreal, epitomizes the unique feel and atmosphere of the ships of the PONANT fleet. Subtly combining luxury, intimacy, and serene well-being, the ship has been designed to offer you both moments of conviviality and spaces conducive to peaceful tranquility and a sense of escape and getting away from it all. Her exterior and interior lines testify to the ingeniousness and refinement with which the Sisterships have been designed.
Le Lyrial was built in 2010 and has led the way among PONANT's expedition ships for over a decade. She is a stunning vessel with sleek lines and an unusual dark-gray hull that makes her truly stand out. Le Lyrial is decidedly upscale and unashamedly French. She's guaranteed to take your breath away.
Meet Le Lyrial…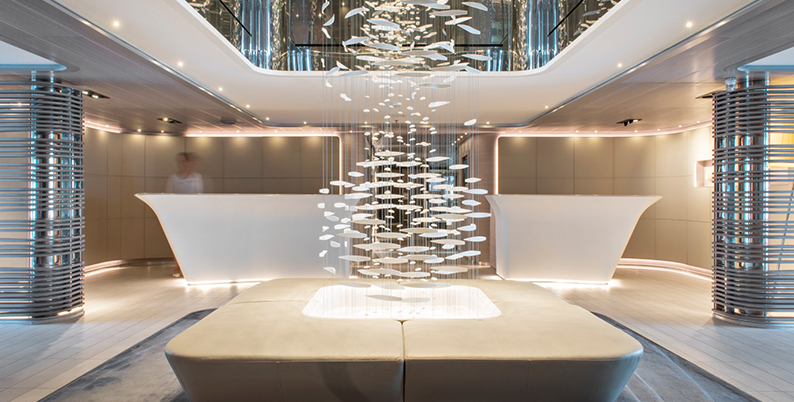 Magnificent Luxury on the 5-Star Le Lyrial

Marina
(Deck 2) – The aft marina platform serves as a launch for tenders and water sports activities.
MAIN RESTAURANT
(Deck 4) Located aft, prepare to indulge in delicious cuisine with a decidedly French flair.
MAIN LOUNGE
(Deck 3) A perfect place to relax during the day and join VACAYA Piano Bar Sing-Alongs at night.
EXCURSION DESK
(Deck 3) Find information and book optional excursions and activities once onboard.
THEATER
(Deck 4) Both Ponant and VACAYA entertainers bring this beautiful venue roaring to life.
GYM
(Deck 5) The ship features a well-equipped gym with panoramic ocean views.
HAMMAM
(Deck 5) Relax those muscles with a massage or in the thermal sauna with friends.
POOL
(Deck 6) A heated swimming pool offers panoramic views and there's plenty of comfortable seating around to watch all the antics.
GRILL RESTAURANT
(Deck 6) Enjoy breakfasts, buffet lunches, and themed dinners in a relaxed atmosphere here.
PANORAMIC LOUNGE & LIBRARY
(Deck 6) You'll spend lots of time on the upper decks as you take in all the magnificent views that surround us. There's also a fantastic Library here with myriad books about the region.
RESTAURANTS, BARS, & OTHER VENUES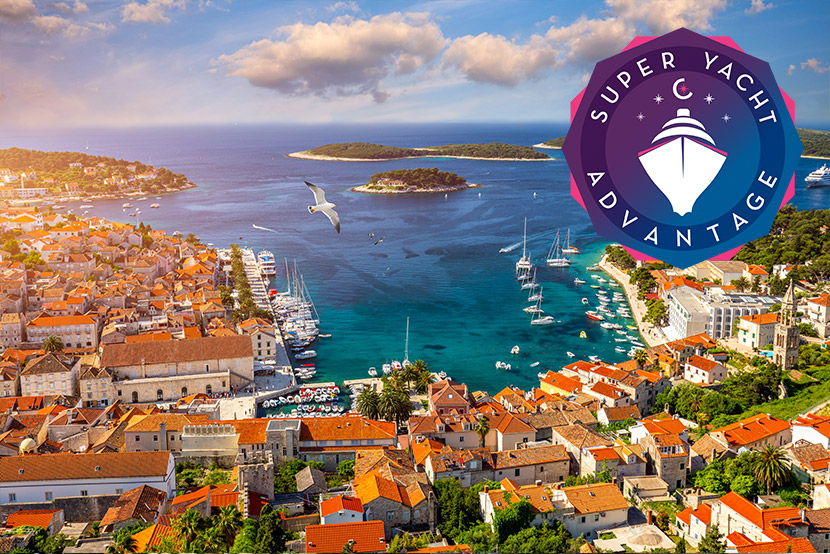 The upside of going on smaller vessels like the super yachts of PONANT is that you can visit seaside cities and towns that don't have ports or harbors constructed with enormous ships in mind. This allows you to get right to the heart of the culture of your chosen destination, and you won't find yourself hampered by all of the Duty-Free outlets that characteristically dominate the larger ports. It's one thing to explore a busy and thriving metropolis. It's quite another to witness the extraordinarily intimate atmosphere of a smaller port of call. And with smaller vessels, you don't have to worry about missing out on larger ports; we can go to those, too! So you'll enjoy plenty of variety during your journey with VACAYA.
Look for this symbol within the itinerary section of The Overview page to understand which ports are exclusive to smaller ships.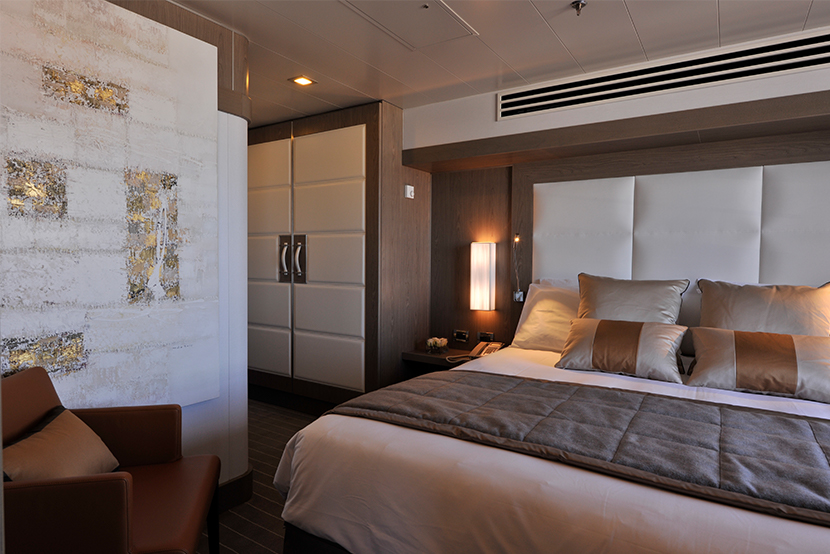 122 elegantly-designed staterooms and spacious suites boast a warm contemporary interior design by Jean-Philippe Nuel. The designer took direct inspiration from the destinations and cultures explored during PONANT's stopovers and then punctuated the design with beautiful ethnic touches. Every stateroom onboard boasts a lovely veranda, open minibar (replenished as needed), and unlimited WiFi access, and 24-hour room service. Select suites offer even more luxuries including butler service to tend to your every need including unpacking and repacking upon request. See pricing page for specifics.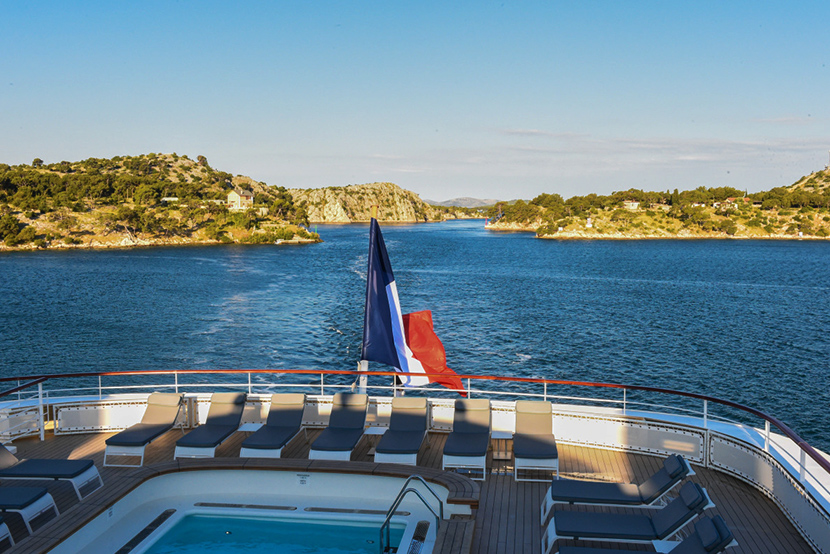 POOL & NATURE VIEWING DECK
The ship's heated pool offers a panoramic view of our surroundings and is equipped with a counter-current swimming system for those who wish to maintain their lap swimming regimen while on vacation (or show off your physical endurance for the entire shipboard community). This is THE spot for daytime relaxation. There's also an outdoor bar and loungers, chairs, and sofas, perfect for our organized events and parties or simply meeting up with your friends.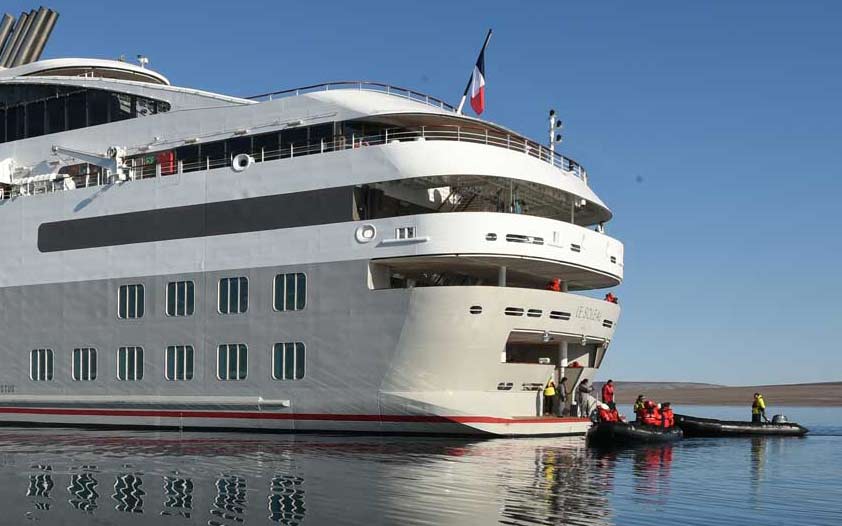 Imagine diving off of the ship while docked inside a tranquil cove on a warm sunny day. A fully-equipped sundeck and marina allow access to the sea for swimming and water sports. A submersible mini-port, an original and unique concept, enables direct access to the ship's tenders, kayaks, and other watercraft. Just one more Super Yacht Advantage.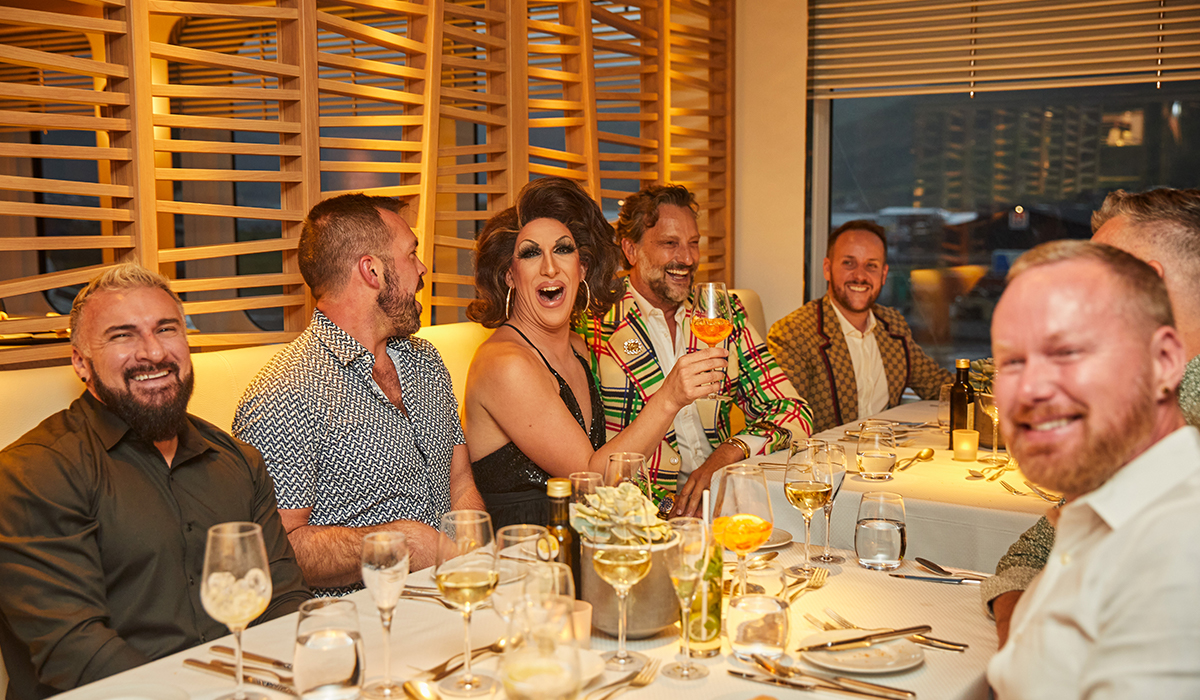 PONANT's talented chefs craft high-end menus so you can enjoy the delights of a refined table. They share their passion for premium produce with guests, enriched with the inspiring flavors of the region.
On Deck 2 Aft, you'll find the ship's panoramic restaurant, which can accommodate all of us in a single sitting. This dining area, which opens onto the outside, will have a buffet of salads, desserts, and cheeses at your disposal. And the ship's discrete and attentive crew will provide table service for breakfast, lunch, and dinner. For a more relaxed atmosphere, an outdoor grill on Deck 6 serves grilled meats with a variety of salads and desserts. And of course, complimentary room service is available to you 24×7.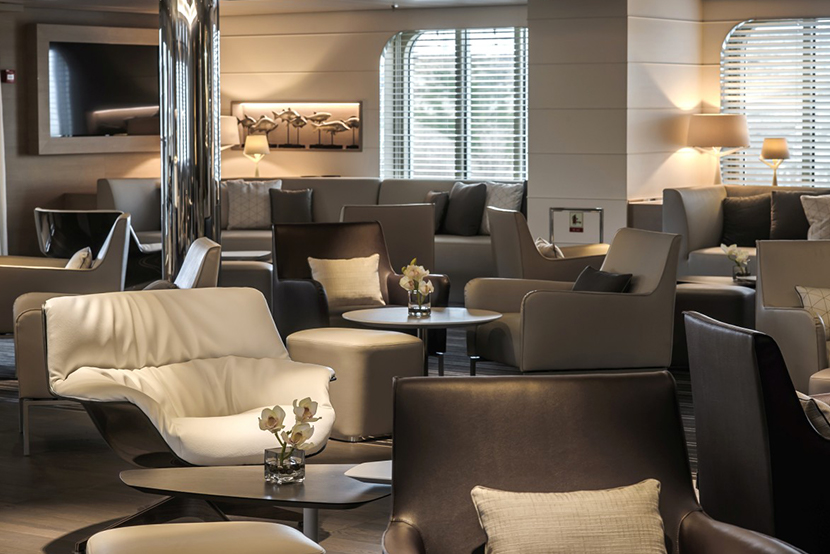 Different lounges enable you to socialize and share moments with other guests during your cruise. Our ship features the Main Lounge, an ideal place to meet over a drink and watch daytime or evening events; the Panoramic Lounge, an intimate piano bar with a unique view of the horizon; and the outdoor bar, a relaxation area with access to the pool and solarium. The main lounge can accommodate all guests for VACAYA's social activities both day and night.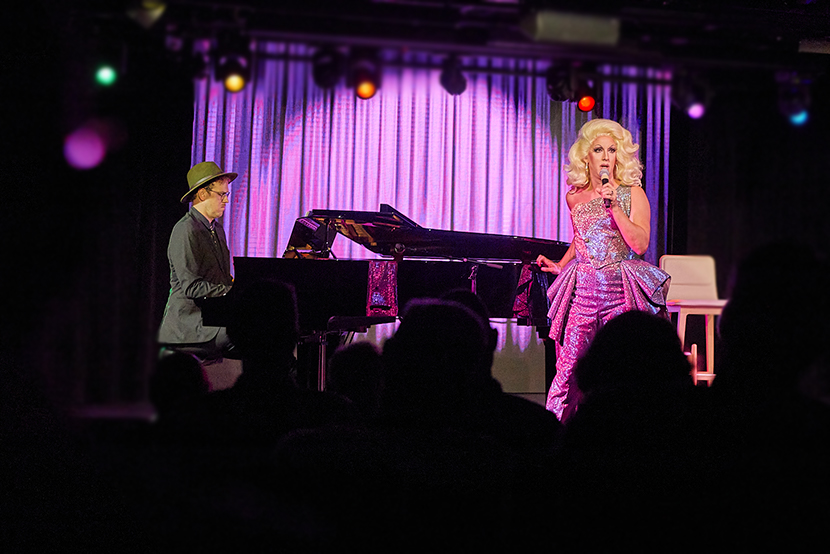 The theater seats all guests and is equipped with the latest sound and lighting technology. This will be the showcase venue for VACAYA's and PONANT's entertainment line-up, who are all complements to the true star of this voyage, this beautiful region.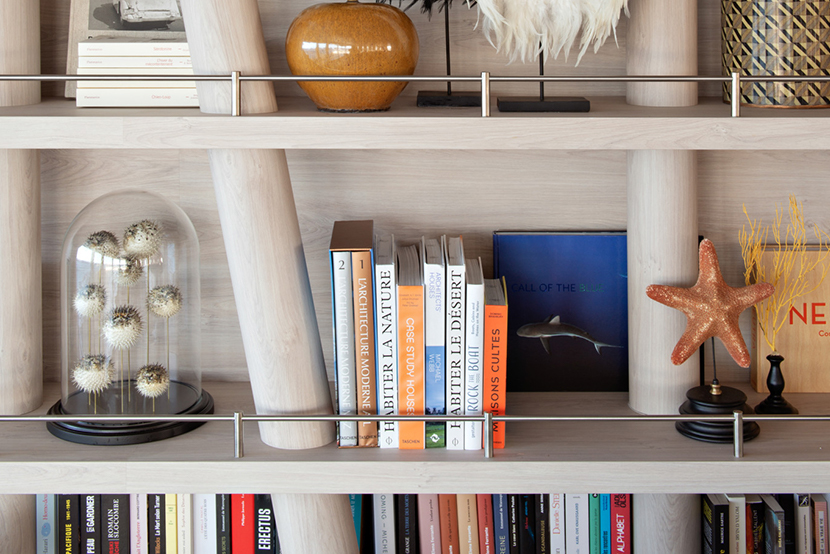 With exploration a big part of any cruise to this region, the ship has a well-stocked selection of books on different topics that will enrich your experience.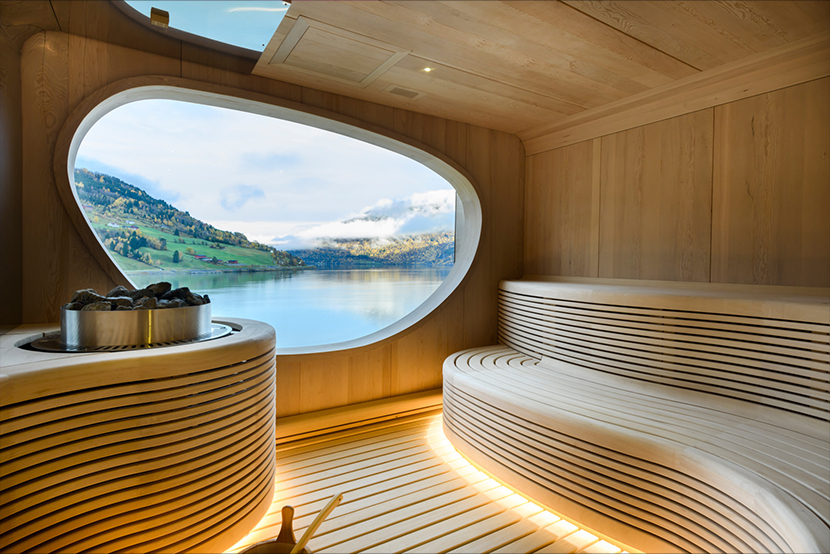 The Spa offers a series of luxury treatments. Choose from moisturizing facials, relaxing massages, aromatherapy baths, anti-aging treatments, and enjoy a moment of absolute relaxation. There's a salon as well, offering hair styling, barbering, manicures, and pedicures. The spa area includes a lovely sauna that's larger than you'd typically expect on a ship this size. With a window facing the outdoors and long curvy benches, it's an enticing retreat after an active expedition. The Fitness Center, boasting picture-perfect views of the open sea, features the latest Technogym machines including a Kinesis Wall.
THE MUST-SEE GEMS OF THE ADRIATIC… ALL FOR YOU!
Venice Roundtrip
Overnight in Dubrovnik, Croatia
Countless UNESCO World Heritage Sites
Perfect Cities. Perfect Beaches. Perfect Days.
5-star All-Inclusive Luxury on Le Lyrial
Day 1 – Aug 13
Venice, Italy
Day 2 – Aug 14
Sibenik, Croatia
Day 3 – Aug 15
Kotor, Monténégro & Dubrovnik, Croatia
Day 4 – Aug 16
Dubrovnik, Croatia
Day 5 – Aug 17
Bari, Italy
Day 6 – Aug 18
Hvar, Croatia
Day 7 – Aug 19
Ravenna, Italy (San Marino)
Day 8 – Aug 20
Venice, Italy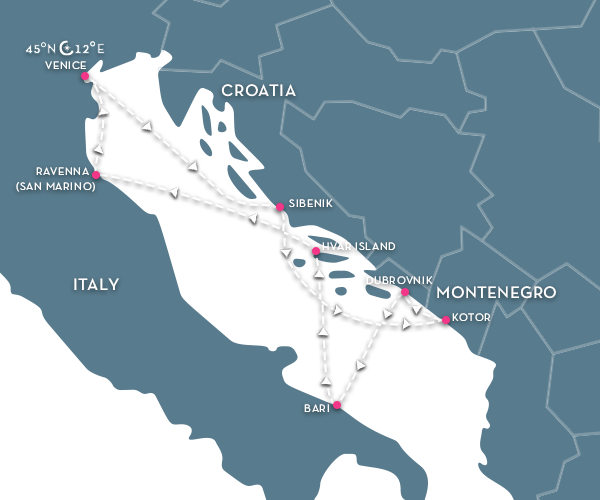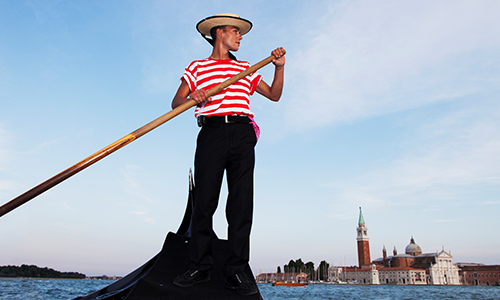 VENICE, ITALY 45°N 12°E
SUNDAY, AUGUST 13, 2023
BOARDING 3PM | DEPARTURE 6PM
Proud and eternal, Venice has reigned on its lagoon ever since the 6th century. You may think you know this city before even setting foot here. You will inevitably fall in love with the charm of the innumerable treasures of the Serenissima: Saint Mark's square, the basilica, Doges palace, the Grand Canal, and the gondolas. Yet, secret Venice is also waiting for you to explore its little interlacing streets and canals, to ramble through its squares and to push open the doors of its churches. The city's extraordinary heritage provides the perfect backdrop for enjoying a refreshing summer Aperol Spritz and a few tramezzini. At minimum, we recommend a couple days in Venice either before or after your cruise… or both!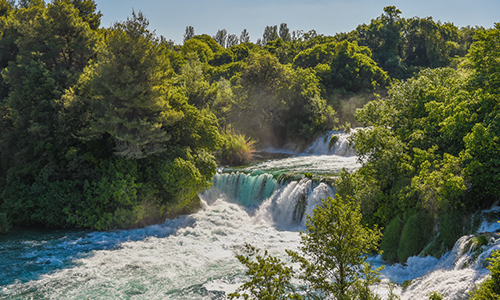 SIBENIK, CROATIA
MONDAY, AUGUST 14, 2023
ARRIVE 12:30PM | DEPART 6:30PM
When Le Lyrial drops anchor across from the Croatian village of Sibenik in the heart of Central Dalmatia, you'll have the chance to discover the exceptional Krka Waterfalls. Krka National Park, with its eight waterfalls formed by calcium carbonate deposited by the water as it flows along the Krka River, is one of the most spectacular in Croatia. During an optional excursion, visit this lush natural site boasting incredibly rich fauna and flora.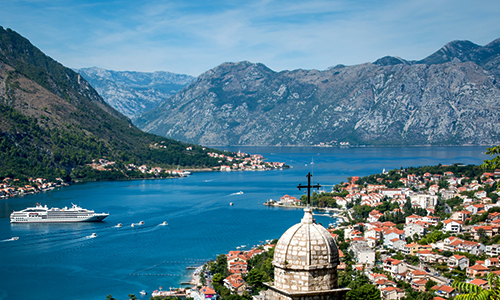 KOTOR, MONTÉNÉGRO & DUBROVNIK, CROATIA
TUESDAY, AUGUST 15, 2023
ARRIVE KOTOR 9:30AM | DEPART KOTOR 3PM
ARRIVE DUBROVNIK 10PM | OVERNIGHT
Situated in one of Monténégro's most beautiful bays, the medieval city of Kotor is a small town full of charm, truly imbued with the traditions and stories of another time. Built between the 12th and 14th centuries, this village, a UNESCO World Heritage Site, has preserved many historical monuments from this epoch. During our stop, be sure to admire the impressive castle that dominates the town, and let yourself fall under the charm of its maze of small streets and intimate squares.
We'll sail from Kotor mid-afternoon and head to fabulous Dubrovnik. We'll arrive just in time for a night on the town!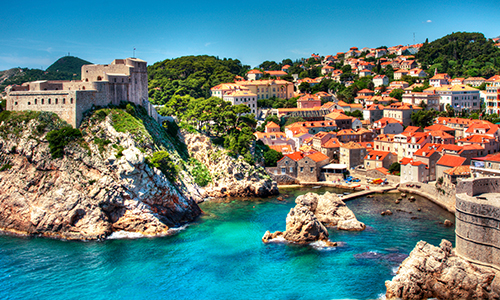 DUBROVNIK, CROATIA
WEDNESDAY, AUGUST 16, 2023
OVERNIGHT | DEPART 7PM
We'll be docked in an area of town that only accommodates smaller vessels so you'll have an advantage to come and go through a part of town that is not overrun by tourists from larger cruise ships. Just one more Super Yacht Advantage.
Emblem of the Dalmatian coast, Dubrovnik is magnificently positioned on a rocky spur. History is sovereign here in this ancient city, now a listed UNESCO World Heritage site. You'll perhaps be surprised by the proportions of La Placa, the central drag through the city. The sheer width of it can be explained by the fact that it straddles a former lagoon. The elegant houses along La Placa are built in the legendary travertine stone. At Pile Gate, you'll be greeted by the statue of the patron saint of Dubrovnik, and you can admire the coastline as you walk along the ramparts.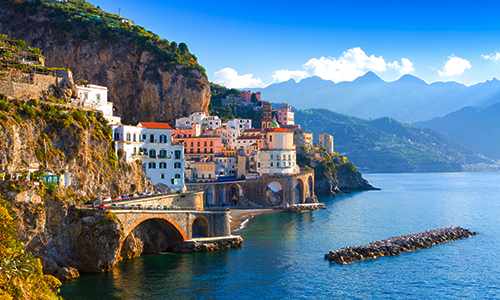 BARI, ITALY
THURSDAY, AUGUST 17, 2023
ARRIVE 7:30AM | DEPART 6PM
With its gorgeous old town, bustling harbor, and Italy's best beaches nearby, the Italian port city of Bari will surprise you with all she has to offer – chief among them, her food scene. Local chefs take advantage of all nearby farms and the sea have to offer to twist traditional Italian cuisine in exciting new ways.
With its imposing seafront built by Mussolini, the Old Harbor is the best place to start your exploration of Bari. In true fascist style, it's the grandest and longest seafront in Italy, lined with lively bars, delicious restaurants, and perfect people-watching cafes.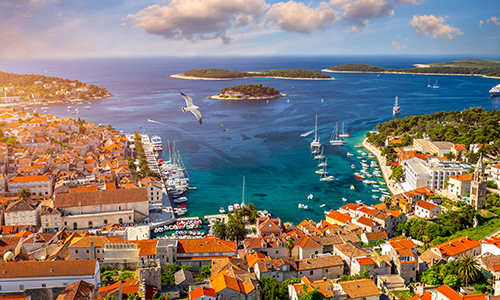 HVAR, CROATIA
FRIDAY, AUGUST 18, 2023
ARRIVE 7AM | DEPART 2PM
Off the coast of Split, Hvar will surprise you by its traditions that haven't changed since antiquity. The country's oldest town, Stari Grad, is here on this Dalmatian Island. The town nestles by a cove on the north-west coast, surrounded by dry stone wall structures on the Stari Grad plains. These have been designated a UNESCO World Heritage site because they were built in the time of the Ancient Greeks. From these parcels of land come wines and olive oil manufactured manually. In the upper part of town, it's possible to discover hams and cheeses made by local producers. And discover them you should!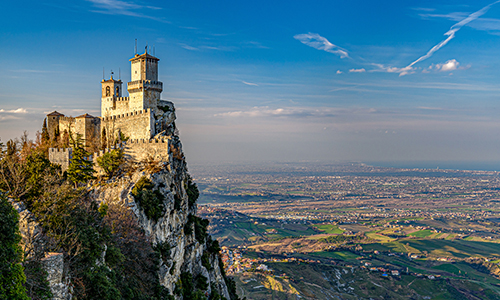 RAVENNA, ITALY (SAN MARINO)
SATURDAY, AUGUST 19, 2023
ARRIVE 8:30AM | DEPART 6PM
Ravenna is a history and art lover's dream! Her mosaics are world renowned and no visit here is complete without exploring her most famous works – Basilica of San Vitale and the Mausoleum of Galla Placida. There are 8 UNESCO World Heritage sites here and your day will be filled exploring them all. However…
If you decide instead to visit the micro-nation of San Marino, be prepared to see one of THE most beautiful places you'll ever lay eyes on. This hilltop nation's splendor will leave you breathless. San Marino is actually the world's oldest republic and has never been ruled by a monarch. Founded in 301 (that's right, 301), the area of San Marino covers 24 square miles and has a population of just over 33,000 people. The main town square is THE place to start every exploration of the world's fifth smallest country (only Tuvalu, Nauru, Monaco, and Vatican City are smaller).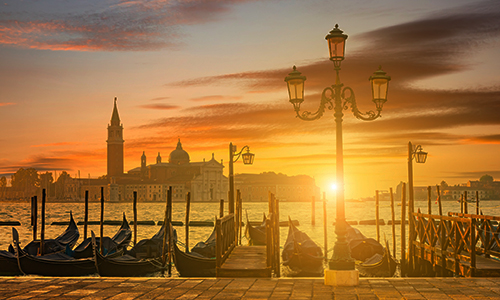 VENICE, ITALY
SUNDAY, AUGUST 20, 2023
ARRIVE 7AM | ALL GUESTS DISEMBARK BY 9AM
We return to where this magical journey started – Venice, Italy. If you didn't have the chance to spend much time here pre-cruise, we certainly hope you'll take 2-3 days post-cruise to discover why she's considered "the most beautiful city in the world." Our recommended hotel is the Radisson Collection Hotel, Palazzo Nani Venice. This gem can be booked approximately 11 months before the trip using the discount link on the trip's GET READY page.
When you book online directly with VACAYA, you'll enjoy 24×7 access to your booking information, Pay-In-Full bonus offers, No-interest monthly payments, AIRLINE DISCOUNTS, and our BEST RATE GUARANTEE!
While our Solo Traveling with Ease Program (STEP) has been sunset, we offer some great recommendations for finding a roommate HERE.
Port & Admin Fees are 427 USD per person.
Pre-Paid Gratuities are 136.50 USD per person. 100% of these gratuities go to onboard staffers, including your stateroom attendant, the culinary services staff, the behind-the-scenes hotel services staff, and the myriad department heads who work with their teams around the clock to create a flawless VACAYA experience for you.
Solo guests in their own stateroom pay double Gratuities and single Port & Admin Fees.
Because of the unique nature of this cruise, adding a 3rd or 4th guest in a stateroom/suite is not possible on this sailing.
Room descriptions, sizing, and view specifics have been provided to us by PONANT. Room layouts and views (including obstructions) can vary within the same category. For rooms with a capacity greater than 2, the additional bedding is a combination of sofa beds and/or upper berths.
Upon booking outside of 300 Days – 10%.
At 300 Days (October 17, 2022) – 25%.
At 240 Days (December 16, 2022) – 50%.
At 180 Days (February 14, 2023) – 75%.
At 120 Days (April 15, 2023) – 100%.
Upon booking through 300 Days (October 17, 2022) – 10% of total.
From 299 (October 18, 2022) to 240 Days (December 16, 2022) – 20% of total.
From 239 (December 17, 2022) to 180 Days (February 14, 2023) – 40% of total.
From 179 (February 15, 2023) to 120 Days (April 15, 2023) – 60% of total.
From 119 (April 16, 2023) to 90 Days (May 15, 2023) – 80% of total.
From 89 (May 16, 2023) to 0 Days (August 13, 2023) – 100% of total.
Round-Trip Flights from your home city to/from Venice
Pre- or Post-Cruise Hotels
Transfers to/from the Ship
Onboard Laundry
Gift Shop Purchases
Spa/Salon Services
Optional Excursions
Be sure to read VACAYA's Terms & Conditions, which include the Payment/Cancellation/Refund Policies for all reservations. Please note that cancellation fees apply from the time of booking.
For real-time availability, proceed by clicking BOOK NOW. With ever-shifting inventory, a category that shows availability on this page may no longer be available when you attempt to book. If you need help finding the perfect room in another category or to add your name to our wait list for a sold-out category, feel free to email The V Team at info@myvacaya.com and we'll be happy to assist you.
You may pay in full at the time of booking. Unless you later modify your reservation, no further payments will be necessary. BONUS OFFER: Paid-in-Full Reservations made through October 17, 2022 will receive $100 off per person/$200 off for solo travelers in their own room.
Your initial deposit is due at time of booking. Then, your remaining monthly payments will be calculated using the number of months between your booking and the final payment due date. Payments will be charged on the 1st day of the month, the 15th, or the last day of each month (determined automatically depending on the day of the month you book). Payments will be charged to your credit card on file. If your credit card details change at any time, simply update the info in our system prior to your next month's payment date. Please note declined payments are subject to a convenience fee. For more information, explore our Automatic Billing FAQs and our Terms & Conditions.
There is one question every traveler across the globe universally faces: should I purchase Travel Insurance? It's natural to ask yourself, should I spend the extra dollars to protect my vacation investment? Or do I leave it in the hands of Lady Luck and hope for the best. At VACAYA, we've always believed Trip Insurance was critical to the vacation planning process. That's why we took special care to integrate the purchase opportunity into our online booking process. Pre-pandemic, the main reason to buy insurance was to assure your safe return home if something were to happen to your health while on vacation. That's because quality insurance covers medical evacuation so people don't have to pay medical emergency transportation expenses out of their own pocket.
With Covid-19 in our lives for the foreseeable future, we now have an even stronger rationale for recommending Trip Insurance. "Cancel For Any Reason" insurance has quickly risen in popularity, and for good reason. If you decide you don't want to travel after the cancellation penalty period has begun, this type of insurance covers most if not all of your cancellation fee. It's also a great way to help honor your Social Contract with VACAYA.
So go ahead and buy that bucket list trip, but protect your health and your investment by purchasing Trip Insurance. ❤️