VACAYA LUXE NORWEGIAN FJORDS CRUISE ON PONANT LE DUMONT D'URVILLE
JUL 31-AUG 7, 2023
Our journey to Norway begins in: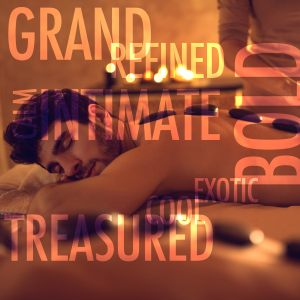 We're often asked, "What should we expect from a VACAYA Luxe experience?" Our Luxe vacations are an unapologetically exclusive celebration of the wonders of our planet – welcoming to all, of course, but built for discerning travelers seeking intimate experiences, splendid accommodations, and unparalleled service. They'll reach the far corners of the globe – giving VACAYA guests an opportunity to expand their horizons in completely new ways.
The VACAYA Luxe rhythm is… Bold. Refined. Intimate. Exotic. Treasured. Calm. Cool. Grand. A chance to live life to the absolute fullest.
AIRLINE DISCOUNTS
As a VACAYA guest, discounts are available to you with various air carriers when booking your flights using our Group Codes/Links. Those codes/links, as well as the instructions for booking, can be found HERE.
AIRPORT RECOMMENDATIONS
Guests will either fly directly into Bergen, Norway (Airport Code BGO) or, if you take our recommendation and fly roundtrip into/out of Oslo instead, you'll use Oslo's Gardermoen Airport (OSL). 
If flying home or onward directly from Oslo on August 7, you'll want to book flights at noon or later. It'll take about an hour to get from the ship, to the train station, and to OSL Airport by train. Taxis take approximately 30 minutes from the pier to OSL and cost about 1000 NOK (around $100 USD). 
AUGUST 7 DOCKING LOCATION
On August 6 at the conclusion of our cruise, Le Dumont D'Urville will dock at Skolten North Pier – Akershusstranda 19, 0150 Oslo, Norway.
BERGEN ATTRACTIONS
Historic Bryggen: Bergen's colorful waterfront has somehow managed to retain its distinctive character and charm despite the ever-changing city around it. Dating back to the 14th Century, the waterfront was first established by German traders. We recommend spending a good bit of time exploring the narrow alleyways and courtyards. Restaurants and unique shops abound.
Ride Fløibanen: Looking for the best views in town? Ride Bergen's famed funicular railway UP from the city center and you'll be at the top of gorgeous Mount Fløyen in minutes. You'll be greatly rewarded once you reach the summit.
Hike Mount Fløyen: You'll, of course, want to head straight for the viewing platforms for that Insta-worthy shot, but we encourage you instead to hit the hiking trails first. Save the viewing platforms until after your hike and hopefully the crowds will have dispersed a bit. Mount Fløyen's trails offer options for beginners, as well as experienced hikers. If you're looking for a short hike/walk, you won't be disappointed with the 15-minute trip to Lake Skomakerdiket. Just follow the signs to get there. And maybe just maybe, you'll score one of the free canoes available for rental on the lake.
Troll Forest: While you're on Mount Fløyen, be sure to explore Trollskogen. Here, you'll find curious wooden troll sculptures hidden among the trees.
Bergenhus Fortress: Between the cruise ship port and Bryggen waterfront is the imposing Bergenhus Fortress. As you wander around the city, be sure to stroll through and catch a glimpse of this fort's impressive grounds.
Bergen Fish Market: Bergen's fish market has been THE meeting place in town since the 12th Century. Today, not only is there a large indoor fish market, but a year-round food hall, as well. If the weather is nice, grab a table outside and enjoy the fresh sea and mountain air as you dine.
CURRENCY
The currency of Norway is the Krone. The exchange rate as of May 2023 is:
1 USD = 10.67 Krone
1 Krone = 0.094 USD
American Express, MasterCard, and Visa are widely accepted. You'll find that ATMs are readily available at the airport and a few in the city centers. HOWEVER… very few retailers actually take cash in Norway. The country features a nearly cashless society.
Please note that Euros and US Dollars are NOT accepted for payment at Norwegian businesses.
ENTERTAINMENT PREVIEW
We'll preview your entertainment here approximately 30 days before our cruise.
EXCURSIONS
Excursions will be sold onboard Le Dumont D'Urville. On Day 1, the Shore Excursions Manager will present all the available options and booking will take place shortly thereafter.
UPDATED MAY 15, 2023: HERE is a preview of the excursions that will be available for purchase onboard. 
GETTING AROUND OSLO
Oslo has super-efficient public transit, with a Metro, trolleys, and busses running to/from all important points in the city.
To get started, we recommend downloading the Ruter app. You can download the Ruter app for iPhone HERE and for Android devices HERE. You can purchase either an individual ride ticket (39 NOK, or roughly $4 USD), a 24-hour pass (117 NOK, or roughly $12 USD), or a 7-day pass. If you're staying just a few days, we recommend the much more economical 7-day pass, which costs 323 NOK ($32 USD). If you're planning to stay in the heart of the city, all major sites and neighborhoods are in ZONE 1. So you'll only need to purchase a ticket/pass that covers Zone 1. If you decide later to travel out of the city or to use the train to get to the airport (Zone 4N), you can purchase a single supplement to a different zone to cover that trip. These passes cover the Metro, the trolleys (or "trikk" in Norwegian), and busses, so you can move freely from one transportation option to the other.
Getting to OSL Airport from the City Center can be done easily using Ruter and the regional L or R trains that go to/from Oslo Central Train Station (Oslo S) every 20 minutes. If you've purchased a Zone 1 pass, you can add a single Zone 4N pass through the app to get to the airport. The app will prompt you to add the supplement when you put in your destination. Then you just charge it to the credit card on file within the app. The airport Zone 4N supplement runs 75 NOK (or around $8 USD). Locals and tourists alike use the train to get to OSL. By all accounts, it's the most efficient and cost effective way to do so. The ride from Oslo Central Station to OSL takes approximately 30 minutes.
There's a second train option that runs from Oslo Central Station to OSL Airport called FlyToGet. This is also an efficient way to go between OSL and the city center. FlyToGet runs slightly more regularly than the L or R regional trains (every 10 minutes), but they take about the same amount of time for the journey. FlyToGet typically runs about 4 or 5 minutes faster than the regional train. The cost for FlyToGet, however, is double that of the regional trains at 210 NOK (around $21 USD) each way. FlyToGet tickets can be purchased HERE.
GRATUITIES
You have pre-paid basic gratuities. However, if someone goes above and beyond for you, you are more than welcome to offer them a few dollars (or more if appropriate) as an extended note of appreciation and grace. Collectively, those small thank yous add up and can make all the difference in the lives of these hard-working crew members.
HOTEL & TRAIN RECOMMENDATIONS
For ease of travel and to have one of the greatest travel experiences you'll ever have, The V Team recommends buying a roundtrip plane ticket to/from Oslo and then taking The Bergen Line train from Oslo to Bergen for the start of our cruise.
The train ride from Oslo to Bergen takes about 7 hours and is regarded as one of "the most beautiful train rides in all of Europe" as your electric train weaves through the mountains and fjords on its way from Oslo to Norway's western coast. Although ticket pricing is dynamic, you can expect to pay around $100 USD per person for a train ticket.
The ideal plan would bring you into Oslo on July 27, 28, or 29. You'd overnight in Olso until July 29 or 30 and then take The Bergen Line from Oslo Central Station (Oslo S) to Bergen Stadjon on one of those 2 days – July 29 or 30. If you'd like more time in Bergen (and it's DEFINITELY worth spending some time there), we recommend taking the train on July 29. If you'd like to just get a taste of Bergen, a July 30 train ride over would be just fine.
Either way, once you arrive in Bergen, you'd overnight there until the day of our cruise departure, July 31. We will begin boarding Le Dumont D'Urville mid-afternoon on July 31. So even if you arrive in Bergen on July 30, you'd have the rest of that day plus all morning and early afternoon on July 31 to explore Bergen before boarding our ship.
Our recommended hotel in Oslo – either before the cruise, after, or both – depends on how many nights you'll ultimately spend in Oslo. Both the Radisson Blu Plaza Hotel Oslo (near the train station) and the Radisson Blu Scandinavia Hotel Oslo (near the Royal Palace) are lovely properties. If you're just coming into Oslo for a single night and then plan to take the train over to Bergen the next day, we recommend staying at the Radisson Blu Plaza Hotel near the train station. Its proximity to the station makes it the perfect choice. If you're staying in Olso more than a couple nights, the Radisson Blu Scandinavia near the Royal Palace is a great choice. Oslo is a small big city and is easily navigable on foot, so you can't go wrong with either hotel.
Our recommended hotel in Bergen is the Radisson Blu Royal Hotel, which is just off the water in a beautiful area – not far from the Bergen train station or from where Le Dumont D'Urville will be docked.
If you've decided to spend more time in Norway before the cruise, The Bergen Line offers the opportunity to get off the train at several incredible stops along the way from Oslo to Bergen. All the details of these options can be found on The Bergen Line's homepage (address below).
Of course if you're not interested in the train ride, you can always fly into Bergen for the start of our cruise and out of Oslo at the end of our cruise. The choice is entirely up to you, but we wanted you to know about this incredible train ride experience. If you choose to take the train, it will undoubtedly be a highlight of your Norwegian adventure with VACAYA.
Tickets for The Bergen Line become available between 90 and 120 days before the travel date you seek. Since July is the peak summer travel season, we recommend purchasing your train tickets shortly after they become available for purchase. 120 days before July 29 is March 31, 2023. 90 days before is April 30, 2023.
You can book your Bergen Line train tickets here: https://www.vy.no/en/traffic-and-routes/stations-and-network-maps/the-bergen-line
And for our Recommended Hotels in Bergen and Oslo, simply follow the booking guidelines below to secure the best rates.
Once again, our recommended hotel in Bergen is Radisson Blu Royal Hotel Bergen.
Our recommended hotels in Oslo are Radisson Blu Plaza Hotel Oslo (near the train station) or the Radisson Blu Scandinavia (near the Royal Palace).
To book:
Choose your destination and travel dates
Under "Special rates" select "Travel agency ID" from the dropdown menu
Enter code 33584202
Click SEARCH
You're now on your way to SAVINGS as you take advantage of the best rates you'll find anywhere!
INCLUDED BEVERAGES
Standard drinks are included for all guests. That's house spirits, beer, select wines by the glass, sodas, juices, bottled waters, and specialty coffee drinks/teas.
Wines by the bottle are available for purchase from any of the bars or from your sommelier in the main restaurant.
PONANT sells a premium beverage package onboard that gives guests access to several available top-shelf alcohols (as designated in their bar menu onboard). That upgrade is 25 Euro per person per day (subject to change up until our sail date) and can be purchased from any bartender on Day 1.
JULY 31 DOCKING LOCATION
On July 31, Le Dumont D'Urville will be docked at Skolten North, Skoltegrunnskaien 1, 5003 Bergen, Norway. 
LAUNDRY
Laundry services are available aboard Le Dumont D'Urville.
You'll find laundry pricing, bags, and slips inside your stateroom. During your entire cruise, your steward or stewardess will be available for laundry and ironing services, which will be completed within 48-72 hours. You can contact PONANT for specifics on pricing at 888.400.1082.
LOST & FOUND
Lost & Found is located at Reception on Deck 3. If you're missing anything, be sure to check there first. And of course if you find anything, be sure to turn it into Reception so they can get it back to its owner with haste.
MEDICAL EQUIPMENT ONBOARD
PONANT is renowned to have health care's latest generation of equipment onboard their ships.
They also go beyond industry standards with the following additional provisions:
The onboard Medical Team consists of one Physician and one Nurse, but the team can be scaled up at any time, if required. The inhouse Medical Team is available 24/7.
Rapid diagnostic medical equipment in an isolated environment, with mobile laboratory terminals, allowing to test all common infectious diseases, potentially dangerous or contagious, tropical diseases, as well as cardiac distress syndromes.
"Shore-hospital-like" professional diagnostic equipment: ultrasound, radiology, and blood biological analysis.
Facilities for the management of respiratory distress

3x 40ltr bottles of O2 to last 80 hours to 5 ltr/min or 200 to 2 ltr/min distributed in fixed general circuit
5 portable 5-l bottles to last 6 hours to 2 ltr/mm
1 O2 extractor
2 respirators
Intubation kits
Intubation drugs
Resuscitation solute

Pharmacy, which has been leveled up with specific Covid-19 dotation
Specific training and drills performed regularly
EVASAN (evacuation) plan ready at all times in case of emergency
Infrastructure
1 resuscitation bed
1 intra-hospital isolation room
Additional COVID Considerations
Continuous Control of Temperatures: Two thermic cameras will check the body temperature of all passengers and crew when passing by. Both will be placed at maximum transit points of guests and crew.
Two PCR Test Biologic Devices available onboard, with enough reactant for testing all guests.
The PCR testing of guests and crew will be implemented only if necessary. The doctor will be in charge for conducting the sampling and use of machine for testing. The positive results of diagnosis will be shared with CCMM (Maritime Medical Coordination Center in Toulouse, France), who will decide the next steps for managing the patient and their evacuation.
MONKEYPOX
Monkeypox has been making its way through the LGBT+ community over the past year and has become somewhat problematic for gay men in some areas of the world. Monkeypox is a virus that includes a painful rash, which may look like pimples or blisters, and flu-like symptoms. Monkeypox spreads through close, personal, skin-to-skin contact.
We advise that you take all necessary preventive measures to avoid contracting or spreading the infection, including vaccination if currently available in your area. While the monkeypox vaccination can be hard to come by in some regions, we're seeing an increase in production and availability that should continue to expand over the coming months.
The CDC says that if you were vaccinated against smallpox as a child that that inoculation offers someprotection against monkeypox. You can learn more about monkeypox and monkeypox vaccinations HERE.
If you're experiencing symptoms suggesting you may have monkeypox, please see your healthcare provider immediately for treatment and be sure to limit your close contact with others.
OFFICIAL FACEBOOK GROUP
For each of our adventures together, VACAYA hosts an Official Facebook Group. This group is your chance to connect with other Norwegian Fjords cruisers before we meet each other in-person. You can join the group HERE.
OSLO ATTRACTIONS
Whether you're coming into Oslo and taking the train over to Bergen before our cruise or extending your time in Oslo after our cruise, you'll be greatly rewarded with a few days of sightseeing in this beautiful town.
Summer in Oslo is the very best time to be here – with nearly endless days (18+ hours of sunshine) and the city in full bloom with colorful flowers. Here are our recommended sites that every visitor to Oslo should experience:
Vigeland Sculpture Park: Famed Norwegian sculptor Gustav Vigeland has chronicled the entire human experience from birth to death in his nude sculptures, which number 200, spread out over several acres of parkland in Frogner Park. 
The Fram Museum: The Fram Museum tells the story of famed Norwegian explorer Roald Amundsen's trek to the South Pole (he was the first to reach the pole). Visitors even have a chance to explore his history-making ship, the Fram, which is housed under the museum's roof. If you've got time, we also recommend exploring the fascinating Kon-Tiki Museum next door. Info and tickets available HERE.
MUNCH: Upon his death in 1944, world-famous painter Edvard Munch willed all of his works still in his possession to the municipality of Oslo. And in 2018, one of the largest single-artist museums in the world opened to showcase his iconic works. Known originally as "The Munch Museum," it is now simply known as "MUNCH." Munch's most famous work, Scream, is on permanent display here. Info and tickets available HERE.
Norwegian National Opera & Ballet: After exploring MUNCH, be sure to swing by the nearby Opera House and walk the stunning building's rooftop, which provides beautiful vistas of downtown Oslo and the Fjord. 
Karl Johan's Gate: This is Oslo's main shopping street, lined with restaurants and shops that stretch from the Royal Palace to Oslo's Central Train Station. 
Aker Brygge: Another fantastic area for shopping and dining along the waterfront. 
Hop-On Hop-Off Bus: Like most of Europe's major cities, this easy-to-use option is available here, too. Get more information and purchase tickets HERE.
Hiking & Fjord Cruising: What makes Oslo so incredible is its connection to nature. We highly recommend a half or full-day adventure in the nearby mountains or on the Fjord. The forests and the water define Oslo, and a hike through the Sognsvann Loop, Vettakollen, and Mellomkollen (with a stop for a warm waffle at one of the trail's waffle huts) or a cruise through Oslofjord will quickly show you why Norway is so special. 
The Well: If you're looking for a fantastic Scandinavian sauna experience, it doesn't get any better than The Well, located at Kongeveien 65 in Sofiemyr, about 13 miles from Oslo City Center and easily accessible by city bus. For more information about The Well and to purchase passes, go HERE. Please keep in mind that The Well is co-ed and most attendees are naked. 
OSLO RESTAURANT AND BAR RECOMMENDATIONS
VACAYA Co-founder Randle Roper and his husband Jacob call Oslo home, and here are their favorite restaurants and bars in the city. Several require reservations months in advance, so if you're interested in experiencing Oslo's exciting culinary scene, be sure to make your reservations as instructed.
Maaemo – Dronning Eufemias Gate 23 – THE BEST RESTAURANT IN OSLO – 3 Michelin Stars. Since opening, Maaemo has perennially been rated among the 50 best restaurants in the world. Reservations for table sizes from 1 to 6 can be made through the website. They release reservations on the 1st of each month at 12:00PM CET (6am ET in the US), two months ahead of the desired booking month. May 1 will be the release date for July reservations and June 1 for August reservations.
Omakase – Ruseløkkveien 3, 2nd Floor – 1 Michelin Star. Almost indescribably delicious for those who love sushi. Sabi Omakase Oslo offers guests a unique dining experience consisting of a seasonal set menu centered on Japanese Edomae Sushi technique. Reservations can be made HERE. Omakase releases reservations on the 1st of each month at 12:00PM CET (6am ET in the US), two months ahead of the desired booking month. May 1 will be the release date for July reservations and June 1 for August reservations.
Stallen – Underhaugsveien 28 – 1 Michelin Star. This is the neighborhoodiest of hidden gems. A comfy space with an incredible and seasonally-inspired tasting menu that ranges from 20-25 bite-sized courses. Reservations can be made HERE.
Code – Dronning Eufemias gate 18 – Delicious Norwegian and regional tastes. Reservations can be made HERE.
Punk Royale – Frognerveien 5 – This Scandinavian wonder has just opened its first Oslo location, and it is WILD! Book a table and be prepared for a night like nothing you've ever experienced. It's theater. It's art. It's manic. It's delicious. And it will leave an incredible impression on you for all time! Reservations can be made HERE.
Vaaghals – Dronning Eufemias Gate 8 – This food is meant to be shared. Vaaghals' chefs focus on Norway's food treasures with roots in tradition, but also with creativity and innovation. Reservations can be made HERE.
Savage – Nedre Slottsgate 2 – Although a newcomer to Olso's culinary scene, Savage is already leaving a great impression, having recently been called one of the hottest new restaurants in Oslo by The New York Times. Reservations required.
If you're looking for something a little less expensive, there are a few great local places:
Kverneriet – With locations at Solli Plass (Henrik Ibsens Gate 100) and Majorstua (Kirkeveien 64B), this hip burger joint offers the best and most creative burgers in town. Reservations can be made directly on their website for each location.
Basso Social – Storgata 10 – In a city with astronomically high dining costs, Basso Social not only provides great food, but a comparative bargain with their tasting menu. The tasting menu must be ordered by all at the table and ranges in price from 748 NOK (around $75 USD) for 10 courses to 898 NOK ($90 USD) for 13 courses. We recommend going all-in with 13! Reservations can be made directly on Basso Social's website. For a TRUE bargain, on Sundays, their tasting menu runs only 598 NOK (around $60 USD).
Park 29 – Parkveien 29 – Dining at this indoor/outdoor gem near the Royal Palace is a perfect way to spend a summer night. Park 29 offers both an a la carte menu and a tasting menu, featuring local seafood and meats. Reservations can be made HERE.
Our favorite Food Halls:
For quick, easy, and fun options, Oslo has two eclectic food halls that are worth checking out:
Oslo Street Food – Torggata 16 – You order food online through their site and then pick it up once ready from the various stalls.
Mathallen Oslo – Vulkan 5 – Mathallen Oslo is inspired by the great European food courts and you can try myriad regional and European flavors here.
Our favorite cocktail bars (non-gay) are:
The Conservatory – Rostockgata 42 – An off-shoot of 3-Michelin-starred Maaemo and a nearly perfect place to have a pre- or post-dinner drink. Reservations required and can be made through their website.
HIMKOK – Storgata 27 – An institution that attempts to embody Norwegian culture through the cocktails they create and the spirits they distill. With a fully functioning distillery producing Aquavit, Gin, and Vodka, HIMKOK creates drinks and products with a pure Nordic taste through sustainable production. Reservations required and can be made HERE
Pier 42 – Jernbanetorget 2 – Recently awarded the Best Cocktail Bar in Norway 2021 & 2022, with Pier 42's Bar Manager Adrián Michalčík winning Global Bartender of the Year by World Class Cocktail Festival 2022, this centrally-located bar doesn't take reservations, but it's definitely worth the wait to get a table.
Our favorite LGBT+ bars:
London Pub – C. J. Hambros Llass 5 – This is Oslo's oldest LGBT+ bar and remains one of the favorite hangout spots for the community. It's a darkly lit cave of fun.
Elsker – Kristian IVs Gate 12 – Just a short walk from London Pub, this is a fun spot for Oslo gays, lesbians, trans, bisexuals, and queers of all colors, shapes, and sizes.
César Bar & Café – C. J. Hambros Plass 2 – Also a short walk from London Pub, this is a relatively new gay café bar in Oslo City Center. César serves lunch and drinks and features live DJs on Friday and Saturday nights.
PARTY THEMES
The parties on our Luxe cruises are certainly more of the cocktail variety, but if you'd like to throw on a costume and dance, by all means… you do you.
THIS IS ME
Our signature Night 1 cocktail party brings all our guests together for the very first time. This is your chance to meet, mix, and mingle with fellow travelers. Wear a little somethin' somethin' to let us know where you're from.
BATHROBE NIGHT
In one of our favorite VACAYA Luxe traditions, you'll throw on your bathrobe (the one from your room) at 6pm and wear it all night long – to pre-dinner drinks, to dinner, to the show, and to our after-party! Bring accessories for your robe… people have been taking this night to the next level!
HAMMER-TIME
Everybody's favorite Norwegian god, Thor, is the inspiration for this Asgard-inspired tribute to 90s music legends.
LET IT GO
Inspired by our upcoming visit to Arendal, we take a simple Frozen theme to new heights! Or is it new lows in this evening underwear party? Of course if you run a little chilly, long johns and union suits work great, too! For those who are ready to join us for a little late night fun, come down to Blue Eye for INTO THE UNKNOWN after LET IT GO starts to wind down.
MEATBALLS
We're heading to Sweden tomorrow and we're going full-on camp (get it… the movie Meatballs? Swedish meatballs) with this ABBA-inspired tribute!
PONANT LUGGAGE TAGS
To expedite boarding and check-in, we encourage everyone to print their PONANT Luggage Tags at home and then attach them to your checked bags just prior to arriving at Le Dumont D'Urville. You can download and print PONANT's Luggage Tags HERE.
SAFETY PROTOCOLS AND PRE-CRUISE HEALTH QUESTIONNAIRE
ALL GUESTS ARE NOW WELCOME, REGARDLESS OF THEIR COVID-19 VACCINATION STATUS. NO PRE-CRUISE TESTING IS REQUIRED. 
MOST of PONANT's safety protocols are happening behind the scenes to minimize interruptions to the experience. So know that whatever the protocols end up being on our cruise, we are going to have a great time exploring together. #AdaptToLive 
One procedure that remains (and has for nearly all cruise lines) is the pre-cruise health questionnaire. You'll complete this prior to boarding Le Dumont D'Urville. If you'd prefer to print it in advance at home and bring it with you to the pier (you'll complete it within 24 hours of boarding), feel free. You can find PONANT's Health Questionnaire HERE.
ROOM KEY
Your onboard magnetic card (we point out it's magnetic to warn against placing it too close to your mobile phone, which could erase the information), which will be handed to you upon boarding is your room key. It's also your onboard charge card and you'll be asked for it to make onboard purchases. Whenever you leave the ship or re-board it in our ports of call, you'll show your card to Security when leaving/returning.
When you board, you'll want to register a credit card with Reception to cover any onboard purchases. You'll receive a final invoice in your room on the last evening of your cruise. Assuming all of the charges are correct (and if not, be sure to speak with Reception), your card on file with PONANT will be automatically charged the morning of disembarkation. If you'd prefer to pay cash to close out your account, you will need to do that on our last night before they charge your card the following morning.
SPA & FITNESS CENTER
The Spa's beauticians and massage therapists are at your service on Deck 7 and offer a wide range of treatments that can be booked once onboard. The Spa is typically open 9am to 8pm, but that could change slightly depending on our time ashore. Check your Daily Program (delivered to your stateroom each night with the following day's schedule) for exact times.
Le Dumont D'Urville's Fitness Center, also on Deck 7 near the Spa, is open 24 hours a day and contains several cardio machines for your use. There are no free weights in the ship's Fitness Center. We recommend packing lightweight stretch bands that are great for resistance training, if needed.
SMOKING ONBOARD
Le Dumont D'Urville is a NON-SMOKING ship. Smoking – including eCigarettes & Vape Pens – is not permitted in staterooms, on balconies, or in any public rooms. A small smoking area will be available onboard and we'll point that out during our Day 1 Orientation.
And of course NEVER throw cigarette butts overboard. They can easily get sucked into the ship's ventilation system and cause a fire.
TOILETS
PONANT ships have a state-of-the-art sewage treatment plant onboard, which helps preserve the pristine waters through which we sail. To assure it can properly do its job, we need your full cooperation.
Only use the biodegradable toilet tissue provided.
Do not flush facial tissues, sanitary wipes, feminine hygiene products, condoms, cigarettes (you shouldn't be smoking in your bathroom anyway), or any other materials, as they can affect the entire system and may cause embarrassing backups in your room AND in your neighbors' rooms.
Keep the toilet lid closed when not in use, and be careful not to drop towels, wash cloths, or personal grooming articles (including floss and Q-tips) into the toilet while flushing.
THIS IS ME COMMUNITY BOARD
VACAYA is all about connections. To help strengthen the bonds between our guests, we're creating a "This Is Me" Community Board where pictures and fun facts of each of our guests will be featured. We're hoping this new board will be a welcome addition to your VACAYA Luxe experience.
While participation is certainly not compulsory, we hope each of you will choose to join us. If you'd like to be included, please send the following to us prior to Friday, June 30:
A Photo of you as an Individual or as a Couple (the orientation of the pics will be portrait, so think about that as you choose the best pic). Be sure the photo you choose is a clear face pic and no larger than 5MB.
Your Name (or Names if a couple. Please indicate who's who in the pic.)
Your Hometown
Your Relationship Status
Occupation
Family Info (children, pets, etc.)
Interest/Hobbies
Social Media Handle
You can send your photo and the above information to V Team Member Jen at jen@myvacaya.com. Simply click on that pink link to connect with Jen.
Please note that we won't be able to add anyone to the board after the deadline. Shortly after June 30, the information we've received will be laid out by a graphic designer and the boards completed. Also, each This Is Me board is independent from past boards. So even if you've sent in your information for a past cruise, it won't carry forward to this one. So, you'll need to send it in again.
This Community Board will be posted in the ship's Lobby on Deck 3.
Here is an example of what your entry will look like on the board: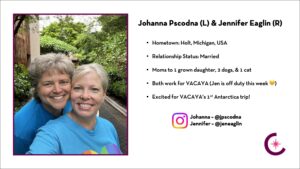 TRAVEL INSURANCE
In today's ever-shifting world, it's imperative to protect your hard-earned vacation dollars. You can do that by insuring your investment. VACAYA partners with Travel Guard.
If you ever need to make an adjustment to your Travel Guard policy (for example, if your travel dates have shifted or you've added to your travel plans beyond our cruise), you can submit a policy modification request via Travel Guard's online modification form. Modification requests must be submitted prior to your travel dates. Through this form, you can also change or add any pre- or post-cruise travel days or add additional trip costs (flights, hotel, etc.). Adding coverage for other items beyond your cruise (if that's all that was covered in your original policy) may incur additional premium costs.
If you have questions, we encourage you to visit Travel Guard's Resource Center, where you'll find answers to many frequently asked questions. You can also speak with a licensed Travel Guard insurance agent by calling 800.826.5248.
A NOTE ABOUT TRIP INTERRUPTION INSURANCE
If you've not purchased trip interruption insurance (that helps defray costs of hotel accommodations in case of a positive test result at the end of the trip), there's still time to add it to your existing policy or originate a policy with most travel insurance carriers. Although we can't consult on insurance, we are pointing out that these policies offer peace of mind for a reasonable price.
WIFI ONBOARD
Complimentary WiFi is included. However, please keep in mind that the speed is more akin to old-school dial-up.
When you check in, you will receive ONE WiFi passcode for one device. This is done to ensure there's enough bandwidth for all guests. If you need access on multiple devices, simply log out of one and log in to the other.
WEATHER
July/August in Norway is fairly temperate with highs in the upper 60s (20°C)/lower 70s (22°C). However, it can be substantially cooler or warmer. So, keep an eye on the weather reports the week before our sailing and plan accordingly.
Low temperatures are typically in the low-to-mid 50s (12-13°C).