VACAYA LUXE MYSTIC JUNGLE CRUISE ON PONANT LE BELLOT
MAR 7-17, 2023
Our journey to Central & South America begins in: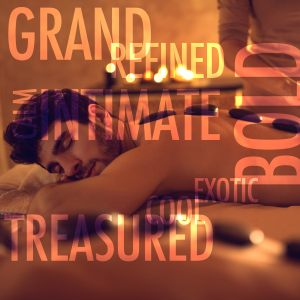 We're often asked, "What should we expect from a VACAYA Luxe experience?" Our Luxe vacations are an unapologetically exclusive celebration of the wonders of our planet – welcoming to all, of course, but built for discerning travelers seeking intimate experiences, splendid accommodations, and unparalleled service. They'll reach the far corners of the globe – giving VACAYA guests an opportunity to expand their horizons in completely new ways.
The VACAYA Luxe rhythm is… Bold. Refined. Intimate. Exotic. Treasured. Calm. Cool. Grand. A chance to live life to the absolute fullest.
AIRLINE DISCOUNTS
As a VACAYA guest, discounts are available to you with various air carriers when booking your flights using our Group Codes/Links. Those codes/links, as well as the instructions for booking, can be found HERE.
AIRPORT RECOMMENDATIONS
Most guests will fly into SJO Airport. That's San Jose, Costa Rica's main international airport. Puerto Caldera, where our ship will be docked on March 7, is just under an hour outside of the city. Liberia Airport (LIR) is also another option if you'd like to spend a few pre-cruise days exploring the northwest area of the country, BUT it's about 4 hours by car from LIR to Puerto Caldera.
At the end of the cruise, most guests will fly home from PTY Airport. That's Panama City, Panama's main international airport. While Colón does have a small regional airport (ONX), there are very few connecting flights. PTY Airport is 56 miles/91km from where our ship will be docked in Colón; estimated travel time by car is 75-90 minutes. We do not recommend long-haul flights home from PTY until mid-afternoon/evening.
CURRENCY
The currencies you'll encounter on this voyage are as follows:
Costa Rica – Costa Rican Colon
1 USD = 624 Colon
1 Colon = 0.0016 USD
Panama – Panamanian Balboa
1 USD = 1 Balboa
1 Balboa = 1 USD
Colombia – Colombian Peso
1 USD = 3858 Pesos
1 Peso = 0.00026 USD
American Express, MasterCard, and Visa are widely accepted. You'll find that ATMs are readily available in the airports and in the city centers. US dollars are also widely accepted throughout Costa Rica and Panama, but keep an eye on the exchange rates – they can fluctuate wildly.
HOTEL RECOMMENDATIONS
Our recommended pre-cruise hotels in San Jose are the Park Inn by Radisson San Jose and the Radisson San Jose-Costa Rica.
For guests staying additional nights in Panama City, our recommended hotel is Hotel El Panama by Faranda Grand, a member of Radisson Individuals.
To take advantage of the VACAYA savings, follow these simple instructions:
Choose your destination and travel dates
Under "Special rates" select "Travel agency ID" from the dropdown menu
Enter code 33584202
Click SEARCH
You're now on your way to SAVINGS as you take advantage of the best rates you'll find anywhere!
ENTERTAINMENT PREVIEW
We'll preview your entertainment here approximately 30 days before our cruise.
EXCURSIONS ONBOARD
This is an expedition cruise and there will be daily included landings as part of your cruise. A few optional excursions will be available for purchase onboard.
GRATUITIES
You have pre-paid basic gratuities. However, if someone goes above and beyond for you, you are more than welcome to offer them a few dollars (or more if appropriate) as an extended note of appreciation and grace. Collectively, those small thank yous add up and can make all the difference in the lives of these hard-working crew members.
INCLUDED BEVERAGES
Standard drinks are included for all guests. That's house spirits, beer, select wines by the glass, sodas, juices, bottled waters, and specialty coffee drinks/teas.
Wines by the bottle are available for purchase from any of the bars or from your sommelier in the main restaurant.
PONANT sells a premium beverage package onboard that gives guests access to several available top-shelf alcohols (as designated in their bar menu onboard). That upgrade is 20 Euro per person per day (subject to change up until our sail date) and can be purchased from any bartender on Day 1.
LAUNDRY
With this being a long cruise, you'll be happy to know that laundry services are available aboard Le Bellot.
You'll find laundry pricing, bags, and slips inside your stateroom. During your entire cruise, your steward or stewardess will be available for laundry and ironing services, which will be completed within 48-72 hours. You can contact PONANT for specifics on pricing at 888.400.1082.
LOST & FOUND
Lost & Found is located at Reception on Deck 3. If you're missing anything, be sure to check there first. And of course if you find anything, be sure to turn it into Reception so they can get it back to its owner with haste.
MARCH 7 DOCKING LOCATION
On March 7, Le Bellot will be docked at Puntarenas Inicio del Paseo de los Turistas, Costado de antigua Capitania Puntarenas, Costa Rica.
MARCH 17 DOCKING LOCATION
On March 17 at the conclusion of our cruise, Le Bellot will dock at Paseo Gorgas, Calle #9, Ciudad de Colón, Panamá.
OFFICIAL FACEBOOK GROUP
For each of our adventures together, VACAYA hosts an Official Facebook Group. This group is your chance to connect with other Mystic Jungle cruisers before we meet each other in-person. You can join the group HERE.
MONKEYPOX
Monkeypox has been making its way through the LGBT+ community over the past year and has become somewhat problematic for gay men in some areas of the world. Monkeypox is a virus that includes a painful rash, which may look like pimples or blisters, and flu-like symptoms. Monkeypox spreads through close, personal, skin-to-skin contact.
We advise that you take all necessary preventive measures to avoid contracting or spreading the infection, including vaccination if currently available in your area. While the monkeypox vaccination can be hard to come by in some regions, we're seeing an increase in production and availability that should continue to expand over the coming months.
The CDC says that if you were vaccinated against smallpox as a child that that inoculation offers someprotection against monkeypox. You can learn more about monkeypox and monkeypox vaccinations HERE.
If you're experiencing symptoms suggesting you may have monkeypox, please see your healthcare provider immediately for treatment and be sure to limit your close contact with others.
MEDICAL EQUIPMENT ONBOARD
PONANT is renowned to have health care's latest generation of equipment onboard their ships.
They also go beyond industry standards with the following additional provisions:
The onboard Medical Team consists of one Physician and one Nurse, but the team can be scaled up at any time, if required. The inhouse Medical Team is available 24/7.
Rapid diagnostic medical equipment in an isolated environment, with mobile laboratory terminals, allowing to test all common infectious diseases, potentially dangerous or contagious, tropical diseases, as well as cardiac distress syndromes.
"Shore-hospital-like" professional diagnostic equipment: ultrasound, radiology, and blood biological analysis.
Facilities for the management of respiratory distress

3x 40ltr bottles of O2 to last 80 hours to 5 ltr/min or 200 to 2 ltr/min distributed in fixed general circuit
5 portable 5-l bottles to last 6 hours to 2 ltr/mm
1 O2 extractor
2 respirators
Intubation kits
Intubation drugs
Resuscitation solute

Pharmacy, which has been leveled up with specific Covid-19 dotation
Specific training and drills performed regularly
EVASAN (evacuation) plan ready at all times in case of emergency
Infrastructure
1 resuscitation bed
1 intra-hospital isolation room
Additional COVID Considerations
Continuous Control of Temperatures: Two thermic cameras will check the body temperature of all passengers and crew when passing by. Both will be placed at maximum transit points of guests and crew.
Two PCR Test Biologic Devices available onboard, with enough reactant for testing all guests.
The PCR testing of guests and crew will be implemented only if necessary. The doctor will be in charge for conducting the sampling and use of machine for testing. The positive results of diagnosis will be shared with CCMM (Maritime Medical Coordination Center in Toulouse, France), who will decide the next steps for managing the patient and their evacuation.
ROOM KEY
Your onboard magnetic card (we point out it's magnetic to warn against placing it too close to your mobile phone, which could erase the information), which will be handed to you upon boarding is your room key. It's also your onboard charge card and you'll be asked for it to make onboard purchases. Whenever you leave the ship or re-board it in our ports of call, you'll show your card to Security when leaving/returning.
When you board, you'll want to register a credit card with Reception to cover any onboard purchases. You'll receive a final invoice in your room on the last evening of your cruise. Assuming all of the charges are correct (and if not, be sure to speak with Reception), your card on file with PONANT will be automatically charged the morning of disembarkation. If you'd prefer to pay cash to close out your account, you will need to do that on our last night before they charge your card the following morning.
SAFETY PROTOCOLS
ALL GUESTS ARE REQUIRED TO BE VACCINATED AND BOOSTED AGAINST COVID-19, with your last shot at least 14 days before we board.
All of PONANT's current protocols can be found HERE and they are, of course, subject to change at any time. Wearing a mask onboard is not required, but if wearing one makes you feel more comfortable, by all means… you do you.
MOST of these protocols are happening behind the scenes to minimize interruptions to the experience. So know that whatever the protocols end up being on our cruise, we are going to have a great time exploring together. #AdaptToLive 
PRE-CRUISE COVID TESTING (SUBJECT TO CHANGE BEFORE SAILING)
A pre-cruise Covid-19 test is NOT required for this sailing. However, we do recommend taking one to protect yourself and other travelers.
If you test positive on a self-administered pre-cruise test, you are still welcome to sail if you're asymptomatic or have mild symptoms. We just ask that you wear a mask while onboard. If you're experiencing severe symptoms, please do not sail. Doing so runs the risk of infecting others and ruining the trip for many.
If you're experiencing symptoms onboard, the ship's doctor will test you. If you test positive and are experiencing severe symptoms, you will be placed in isolation in your stateroom. If you're asymptomatic or experiencing mild symptoms, you can still participate in activities, but a mask will be required.
SMOKING ONBOARD
Le Bellot is a NON-SMOKING ship. Smoking – including eCigarettes & Vape Pens – is not permitted in staterooms, on balconies, or in any public rooms. A small smoking area will be available onboard and we'll point that out during our Day 1 Orientation.
And of course NEVER throw cigarette butts overboard. They can easily get sucked into the ship's ventilation system and cause a fire.
SAN JOSE EXCURSIONS
The following pre-cruise excursions are available through our ground transportation partner Amstar in San José:
Explore San Jose Essences (City Tour & Coffe Plantation) –  Combine our classic city tour with a unique coffee plantation
Classic San Jose City Tour –  Half-day tour, visiting major hot spots of our capital city
Combo Tour (Doka Coffee, Poas Volcano, La Paz Waterfall) –  Discover a unique combination of major Costa Rican highlights, coffee, nature and volcano.
Doka Coffee, Grecia & Sarchi (Oxcart Factory) – Enjoy the tastes of coffee, the architecture of Grecia and the home of the first oxcart factory
Irazu Volcano, Orosi Valley & Lankester Gardens – The second tallest mountain of Costa Rica, a unique valley and colorful gardens near the colonial city of Cartago
La Paz Waterfall Gardens (Half-Day) –  Amazing waterfall with diffferent lookout points
Canopy Parque Aventura San Luis –  Traditional Half-day Zip-line adventure
Tortuga Island Cruise – Enjoy the Gulf of Nicoya in a secluded Island
Ram Luna Lookout Point & Dinner Experience –  A perfect night escape in the city, great food and traditions
To book a San José excursion, please complete THIS ONLINE FORM. You will need to complete a new form for each excursion you'd like to book. After submitting the form for one excursion, simply complete the form again to book an additional excursion (or to book transfers). Once Amstar receives your request(s), a payment link will be sent to you via email to complete the transaction.
Amstar excursions are not exclusive to VACAYA guests unless the minimum number of participants has been met.
PARTY THEMES
With this being an expedition cruise, it's difficult to plan exactly when each cocktail party will be since the schedule will shift daily depending on myriad circumstances, but you'll find our themes below. In addition, we recognize this is a long 10-night cruise and as it is with all of our Luxe cruises, the destination is the true star here. So, don't feel overburdened to bring many costumes. We've tried to keep it nice and easy.
THIS IS ME
Our signature Night 1 cocktail party brings all our guests together for the very first time. This is your chance to meet, mix, and mingle with fellow travelers. Wear a little somethin' somethin' to let us know where you're from.
GOING BANANAS
We're surrounded by monkeys! The rainforests of Costa Rica and Panama inspire this fun and silly tribute to all of the region's native creatures.
BATHROBE GALA NIGHT
In one of our favorite VACAYA Luxe traditions, you'll throw on the bathrobe from your stateroom at 6pm and wear it all night long – to the port brief, to our gala dinner, to the show, and to our after-party!
OH YES IT'S 80s NIGHT
Grab a Long Island Iced Tea and get ready to sing along to your favorite 80s tunes, brought to you by DJ JoJo. If you're looking to shake a tail feather, tonight is the night!
WHAT CAN BROWN DO FOR YOU
As we sail toward Colombia, we pay tribute to the iconic Juan Valdez and his magical beans. Think espresso martinis, Kahlua lattes, and iced coffee drinks as we all percolate in shades of brown.
Day or night, remember… it'll be hot and sticky as we sail near the equator. So, dress lightly and comfortably morning, noon, and night.
TOILETS
PONANT ships have a state-of-the-art sewage treatment plant onboard, which helps preserve the pristine waters through which we sail. To assure it can properly do its job, we need your full cooperation.
Only use the biodegradable toilet tissue provided.
Do not flush facial tissues, sanitary wipes, feminine hygiene products, condoms, cigarettes (you shouldn't be smoking in your bathroom anyway), or any other materials, as they can affect the entire system and may cause embarrassing backups in your room AND in your neighbors' rooms.
Keep the toilet lid closed when not in use, and be careful not to drop towels, wash cloths, or personal grooming articles (including floss and Q-tips) into the toilet while flushing.
TRANSFERS
We've partnered with Ground Transportation operator Amstar for the various transfers/excursions available to you. You can book the following services through Amstar:
Airport transfers from SJO to your San José Hotel
Excursions in and around San José
Group transfers from the Park Inn by Radisson San José or the Radisson San José to the ship in Puntarenas the afternoon of March 7. Available transfer times are 1pm, 2pm, and 3pm.
To book any of these services, please complete THIS ONLINE FORM. You will need to complete a new form for each service you'd like to book. After submitting the form for one service, simply complete the form again for an additional service. Once Amstar receives your request(s), a payment link will be sent to you via email to complete the transaction.
SPA & FITNESS CENTER
The Spa's beauticians and massage therapists are at your service on Deck 7 and offer a wide range of treatments that can be booked once onboard. The Spa is typically open 9am to 8pm, but that could change slightly depending on our time ashore. Check your Daily Program (delivered to your stateroom each night with the following day's schedule) for exact times.
Le Bellot's Fitness Center, also on Deck 7 near the Spa, is open 24 hours a day and contains several cardio machines for your use. There are no free weights in the ship's Fitness Center. We recommend packing lightweight stretch bands that are great for resistance training, if needed.
TUESDAY MARCH 14 CARTAGENA COLOMBIA
Cartagena is a wonderfully alive city with some awesome LGBT+ (or gay-popular) hangouts for our night on the town. Our favorites include:
LGBT+ Bars:
Gabanna Bar Club Cartagena – Open 2pm-1am – Cl. 32 #18 B 108 Local 1A, Pie Del Cerro
Taboo Disco Club – Open 8pm-3am – Cl. 24 #10-55, Getsemaní
Crazy Breeze Bar – Open 3pm-3am – Local 2. Cra. 1 #47-64 (slightly outside the center)
Welcoming Gay-Popular Bars:
THIS IS ME COMMUNITY BOARD
VACAYA is all about connections. To help strengthen the bonds between our guests, we're creating a "This Is Me" Community Board where pictures and fun facts of each of our guests will be featured. We're hoping this new board will be a welcome addition to your VACAYA Luxe experience.
While participation is certainly not compulsory, we hope each of you will choose to join us. If you'd like to be included, please send the following to us prior to Friday, February 17:
A Photo of you as an Individual or as a Couple (the orientation of the pics will be portrait, so think about that as you choose the best pic). Be sure the photo you choose is a clear face pic and no larger than 5MB.
Your Name (or Names if a couple. Please indicate who's who in the pic.)
Your Hometown
Your Relationship Status
Occupation
Family Info (children, pets, etc.)
Interest/Hobbies
You can send your photo and the above information to V Team Member Jen at jen@myvacaya.com. Simply click on that pink link to connect with Jen.
Please note that we won't be able to add anyone to the board after the deadline. Shortly after February 17, the information we've received will be laid out by a graphic designer and the boards completed. Also, each This Is Me board is independent from past boards. So even if you've sent in your information for a past cruise, it won't carry forward to this one. So, you'll need to send it in again.
This Community Board will be posted in the ship's Lobby on Deck 3.
Here is an example of what your entry will look like on the board: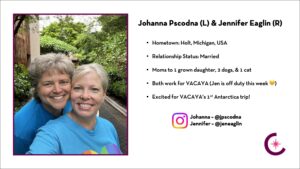 TRAVEL INSURANCE
In today's ever-shifting world, it's imperative to protect your hard-earned vacation dollars. You can do that by insuring your investment. VACAYA partners with Travel Guard.
If you ever need to make an adjustment to your Travel Guard policy (for example, if your travel dates have shifted or you've added to your travel plans beyond our cruise), you can submit a policy modification request via Travel Guard's online modification form. Modification requests must be submitted prior to your travel dates. Through this form, you can also change or add any pre- or post-cruise travel days or add additional trip costs (flights, hotel, etc.). Adding coverage for other items beyond your cruise (if that's all that was covered in your original policy) may incur additional premium costs.
If you have questions, we encourage you to visit Travel Guard's Resource Center, where you'll find answers to many frequently asked questions. You can also speak with a licensed Travel Guard insurance agent by calling 800.826.5248.
A NOTE ABOUT TRIP INTERRUPTION INSURANCE
If you've not purchased trip interruption insurance (that helps defray costs of hotel accommodations in case of a positive test result at the end of the trip), there's still time to add it to your existing policy or originate a policy with most travel insurance carriers. Although we can't consult on insurance, we are pointing out that these policies offer peace of mind for a reasonable price.
WHAT TO WEAR
It's going to be hot and sticky the entire trip. We're sailing very close to the equator, so keep that in mind as you pack. You'll need a few things for the daily treks:
Tops: Protect yourself from sun, heat, and insects. Pack quick-drying, breathable long-sleeve shirts. Choose light colors. Dark shades draw mosquitoes. We also suggest a shirt with UV protection. Bottoms: Fast-drying convertible pants are your best bet.
Shorts: Pack comfortable loose fitting and breathable shorts. Pareos/Sarongs: The most versatile garment of the tropics. Wear as a skirt, a wrap, or to sit on. Hat: Shade your face from the sun with a large brim hat with a chinstrap to secure your hat while on Zodiac rides.
Footwear/Water Sandals: Sturdy walking shoes/sandals that don't chafe when wet are essential expedition wear. Add socks by night to reduce insect bites. Water sandals are essential to protect your feet while near coral and sharp stone beaches.
Accessories: Waterproof Backpack, if you have a lot of camera equipment and do not intend to use plastic seal-proof bags, pack a Waterproof Backpack.
Here are a few great clothing and accessory tips from our PONANT Expedition Team:
Clothing:
Wear comfortable cotton and light-weight shorts
Light-weight long trousers
Long-sleeve breathable SPF50+ shirts
Cotton short-sleeve T-shirts
Aquatic UV long-sleeved T-shirt for sun protection during snorkeling or swimming
Aquatic non-slip sandals
Windproof, waterproof and breathable outer layer
Broad brimmed anti-UV hat with strap and veil to protect the neck
Comfortable walking shoes
Accessories:
Camera
Highly protective sunglasses
Sunscreen and after-sun with high SPF index
Insect repellent
Binoculars (strongly recommended for wildlife viewing)
Small waterproof backpack (to protect your camera from water)
Camelbak (backpack with water pockets)
Walking poles (highly recommended)
Please also note: During visits to some local communities, all guests will be required to dress respectfully to the local culture: Women must have their shoulders and thighs covered. Men must have their shoulders covered (meaning no tank tops for those visits).
WIFI ONBOARD
Complimentary WiFi is included. However, please keep in mind that the speed is more akin to old-school dial-up.
When you check in, you will receive ONE WiFi passcode for one device. This is done to ensure there's enough bandwidth for all guests. If you need access on multiple devices, simply log out of one and log in to the other.