VACAYA OASIS @ HILTON VALLARTA RIVIERA
OCTOBER 29 – NOVEMBER 5, 2023
Our journey to Mexico begins in: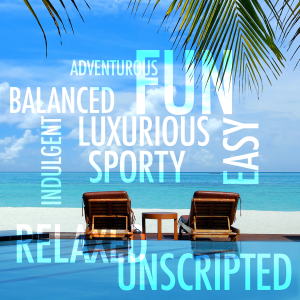 We'll also house an email archive on this page, too. This archive will feature all the trip-specific communications we have with you throughout your pre-resort experience with us. That way, if you happen to lose a general email somewhere along the way, you'll be able to find it right here.
VACAYA's mission is to give you everything you need with plenty of time to ensure a totally stress-free experience. Get ready for your vacaya!
Many people ask us "what will the VACAYA Oasis experience be like?" VACAYA Oasis is certainly more laid back than our large-ship cruises, perfect for those seeking fun, relaxation, adventure, and romance.
The VACAYA Oasis rhythm is… Relaxed. Easy. Fun. Balanced. Luxurious. Indulgent. Sporty. Unscripted. Adventurous.
ACCESSIBILITY
We are keen to invite those with accessibility issues to the resort and we believe you'll have a wonderful experience. However, the resort only has 3 rooms that are designated as wheelchair accessible. So booking early is important if you want an accessible room. You can see them on the map found HERE.
The accessible rooms are 418, 420, and 422. Each of these has one king bed. The reason they put them on the 4th floor is that the lobby is also on the 4th floor (at street level because the hotel sits on a hillside), From the lobby, there's an elevator that goes to every floor, including the lower pool deck, and all the floors the restaurants are on. It's a short distance from the lobby to the accessible rooms on the 4th floor.
Hilton defines accessible as:
Accessible bathroom – Roll-In shower, grab bar in shower, accessible bathtub.
Lever door handles
Wheelchair-accessible parking and path to lift
Wheelchair-accessible registration, concierge, pool, and on-site restaurants.
Visual fire alarms
Wheelchairs available on site (there might be a fee)
Please contact the hotel to obtain answers to very specific questions about "how accessible" it is beyond what's on this list. The hotel can be reached at +52 322 176 1300.
Please note these rooms can only be booked directly with a VACAYA Guest Services team member via email at info@myvacaya.com or by calling +1.718.504.0404, Mon-Fri 10am-4pm ET.
Excursion Advisory:
We want to ensure your Mexico vacation is as enjoyable as possible. While our resort strives to provide accessible facilities and services within its premises, there's simply no way to guarantee that that accessibility translates outside the resort. Mexico's infrastructure and terrain may present unforeseen challenges for guests with specific accessibility needs. We encourage all travelers to research their adventures outside the resort in advance. Since Mexico isn't subject to the ADA (Americans with Disabilities Act) requirements you're likely used to, it's important to discuss concerns you may have directly with any excursion companies you may elect to use. It's simply not possible for VACAYA to know/understand the limitations of every possible challenge you might face outside the resort. While your safety and satisfaction are our top priorities, of course, we appreciate your understanding of the factors beyond our control. For more information on VACAYA's Accessibility policy, please see more here: https://www.myvacaya.com/discover/accessibility/.
AIRLINE DISCOUNTS
As a VACAYA guest, discounts are available to you with various air carriers when booking your flights using our Group Codes/Links. Those codes/links, as well as the instructions for booking, can be found HERE.
BOOKING EXTRA NIGHTS
You can book extra nights at Hilton Vallarta Riviera either before or after our week HERE.
For pre-event stays, if you book the same room type you'll have with VACAYA, every effort will be made to put you in the same room you'll have for your VACAYA week for the extra nights, but it cannot be guaranteed. For post-event stays, assuming you purchase the same room type for your additional nights, you'll stay in the same room. 
CABANAS
Hilton offers 35 Balinese Cabanas that are rentable by the day. You can reserve a cabana at check-in and then throughout your stay, based on availability. The cost is 80 USD per day* and can be charged to your room.
*As always, prices are subject to change at any time. 
CHECK IN ON OCTOBER 29
Rooms are scheduled to be ready by 4pm local time. If you arrive before 4pm, you can check your bags with the porters and use the resort's facilities until your room is ready. Just keep your swimsuit in an easy-to-grab location!
To check in, you'll need the following:
Your Passport
A Credit Card (for incidentals)
IMPORTANT NOTE FOR THOSE CHECKING IN EARLY:
If you're checking in to the Hilton on a day prior to Oct 29, please swing by The V Team table in the lobby between 10am-12pm on Oct 29 to pick up your VACAYA items and to sign the clothing optional sun deck/Red Light District Boat waiver.
CLOTHING OPTIONAL SKY DECK
At VACAYA, the clothing optional areas at our resorts and on our cruise ships have become progressive celebrations of the incredible diversity of the LGBT+ community. Our clothing optional areas bring us all together in a utopia where sexuality, gender identity, and body type don't matter one bit. And the best part? With all of life's worries literally stripped away, you never know when you might make a new nekkid best friend!
We're so pleased to offer a clothing optional area at Hilton Vallarta Riviera. It's the Sky Bar deck on Floor 7 just above the Main Lobby. Sky Bar will be open daily from 9am to 1am, with the area designated as clothing optional for sunbathing from 9am to sunset and nude hot tubbing any time between 9am-1am. Please note that waiter service is unavailable in this area, but the bar is big and well-staffed. Out of respect for our host bartenders, we ask that you throw on your swimsuit or wrap a towel around yourself before heading to the bar for a drink.
Our hosts have been very gracious in allowing us to provide this clothing optional area to you, so we want to be extremely respectful in regard to the guidelines they've established. So thank you in advance for your cooperation. As a general rule and out of respect for your fellow guests, please remember that cameras shouldn't be used in the clothing optional area. 
As a reminder to everyone coming to the resort earlier than Oct 29… our designated clothing optional area is NOT clothing optional until October 30. With the resort's guests from the week prior still able to use the facilities on Oct 29 (until they depart the resort), we ask that you please stay clothed when using this rooftop area. Also, the rooftop will not be clothing optional on November 5 (as future guests begin to arrive).
In general, if you're looking for a great pre- or post-dinner place to grab a drink under the stars with friends, Sky Bar is one of the many options available to you during the evening. It does, however, have a hard close at 1am.
Access to the Sky Bar deck is capacity controlled at 110 guests both day and night.
VERY IMPORTANT NOTE: The Sky Bar deck is NOT a Red Light District.
VACAYA is a sex positive company, of course, but based on myriad factors (a venue's rules and regulations, local ordinances, etc.), we're sometimes limited in our ability to host a Red Light District. We'll always have one when we can, but Hilton has requested that this clothing optional space not be used for sexual encounters. This area will certainly be a great place to meet new people in the buff, but please take the sexcapades back to your room. Luckily, every resort room faces the ocean so the view will be very similar. Enjoy!
CLUB LOUNGE
Our Suite guests have access to Hilton's Club Lounge – located on Floor 13 in the North Tower – from 7am to 8pm. A light breakfast is available here each morning, and a wide variety of beverages is available to you during opening hours.
CURRENCY
Although US Dollars are widely accepted around Mexico, there are some businesses that will only take Mexican Pesos.
If you decide to purchase Mexican Pesos (MXN), the exchange rate is:
1 USD = 16.7 MXN*
For the latest exchange rates, we recommend https://www.xe.com.
*As of August 29, 2023
DAY OF THE DEAD
While we'll have evening entertainment at the resort, we encourage all guests to go into the heart of PV for the Dia de los Muertos parade and festival late afternoon/early evening. It's a great way to experience this holiday side-by-side the beautiful people of Mexico. We hope to offer an excursion that you'll book through Hilton that will include transportation, the festival, and dinner in town. Details will be available soon. 
ALSO…
In what has become an incredibly meaningful tradition with us being in Mexico during one of its most celebrated holidays, Hilton has offered us an incredibly tender and sweet opportunity to be a part of their official ofrenda.
What's an ofrenda you ask?
Ofrendas are an essential part of Day of the Dead celebrations. The word ofrenda means offering in Spanish.
Some people mistakenly think Mexicans set up ofrendas to worship their defunct relatives, but nothing could be further from the truth. The vast majority of Mexicans are Christian Catholics, so they only worship God. Ofrendas are altars set up to remember and honor the memory of their ancestors. Pictures of the deceased are placed on the ofrenda, as well as some of the person's favorite clothing, perhaps a hat or a shawl.  For the children, small toys are placed on the ofrenda. Food is specially prepared for the souls. Their preferred dishes are cooked for them and placed on the altar.
If you would like to remember someone important to you who has moved on to the spirit world, please bring a small framed photo of them with you to the resort. The photo will be placed on the official Hilton ofrenda to honor them. We will have a table set up at check in where you can give us your framed photo and tell us a little about the person you'd like to honor. The photo will be returned after the alter is taken down. ❤️
DAILY SCHEDULES
Your daily activity schedules will be available here and you can access them via the resort's free WiFi. 
DINING
The dining options at Hilton Vallarta Riviera are bountiful. From an abundant buffet to Italian, Mexican, Asian, Seafood, Steaks, and Sushi specialty restaurants, you won't ever go hungry.
The resort's restaurants' hours will be posted here once finalized.
Vela Food Hall
Breakfast:
Lunch:
Dinner:
Azulinda
Grab & Go:
Fusion/Sushi:
Late Snacks:
Cocomar (Seafood)
Lunch:
Seasalt (Grill)
Lunch:
Dinner (Reservations Required):
La Luce (Italian)
Dinner (Reservations Required):
Maxal (Mexican)
Dinner (Reservations Required):
Sunan (Asian)
Dinner (Reservations Required):
Room Service
Available 24×7
Same-day reservations for the International Restaurants can be made at the Concierge Desk in the Lobby daily from 9am-5pm. With the exception of a couple menu items (like lobster and tomahawk steaks), there is no extra charge for dining at Hilton's International Restaurants. 
DOCUMENTATION REQUIREMENTS
With the exception of Mexican citizens, all travelers must have a valid passport to travel to Mexico via air.
Visas are not required for US Citizens, but may be required of other nationalities. You can check the official visa requirements/instructions for Mexico HERE. It is the responsibility of each traveler to have the proper travel documents.
When arriving at PVR Airport, you will go through Mexican Immigration and Customs. After collecting your luggage in the Arrivals Hall, make your way to the Customs queue. Mexican Customs officials scan all bags as they leave the Arrivals Hall and some are randomly selected for further inspection. You'll be asked to press a button that lights up either green or red to determine whether you'll be randomly selected. Green means "you're free to exit without inspection." Red means "you've been selected for further inspection." If selected for further inspection, simply follow the instructions of the officials as they do a hand inspection of your luggage.
ENTERTAINMENT PREVIEW
We're so excited to have the following fabulous entertainers and a unique guest speaker with us in Puerto Vallarta. Simply click on each picture to learn more!
ENTERTAINERS
GUEST SPEAKER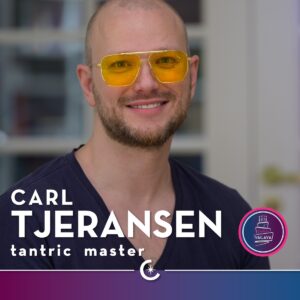 Discover the world of tantra and tantric sexuality from a queer perspective with Norwegian Tantric Master Carl Tjeransen. This 4-session immersive workshop will delve into themes like self-awareness, intimacy, and pleasure. All within a safe and inclusive space.
As always, everything entertainment/guest speaker-wise is subject to change up to and including during our week together.
EXCLUSIVE ALL-GAY TOURS
Discounted Private Boat Excursions, Including Clothing Optional Beach Tours
Experience the beauty of Puerto Vallarta, Mexico like never before with Jet's Private Boat Tours. Jet's is the company we've contracted with to handle our Red Light District Boat. But they also offer several tours, as well…
Whether you're looking to explore in a small, intimate group or gather your friends for a larger adventure, Jet's has the perfect option for you. Their tours offer the choice of traditional Mexican Pangas or luxurious yachts, ensuring a personalized experience tailored to your preferences.
Set sail along the stunning coastline of Puerto Vallarta and discover secluded beach towns that can only be reached by boat. Beach hop to your heart's content, exploring pristine shores and tropical waters. Dive into the underwater wonders of the Pacific Ocean with snorkeling opportunities that reveal vibrant marine life. With our private boat tours, you'll create cherished memories in one of Mexico's most beautiful destinations while enjoying the flexibility and comfort that comes with a private charter.
One of Jet's most unique tours includes the option to go nude! The brainchild of local business owners Jet and Daniel, both lovers of nudism, it offers the opportunity to experience Puerto Vallarta in a liberating, clothing-optional manner. The destination is an exclusive nude beach accessible only by boat.
As a valued VACAYA guest, receive 5% off any tour or boat charter between October 26 through November 8, 2023.
Important Information regarding most of Jet's Tours (if you're not able to do these things, we do not recommend these tours):
You must be agile enough to hop on and off the beach from the boat, or on some occasions even swim to the shore.
You must be able to swim, at least with a life jacket, and be comfortable in the water.
You must be able to climb a ladder.
To take advantage of the discounts, please use the following specific promo codes:
Naked Beach Tours: VACAYA2023
https://jetsnakedbeach.com/activities/naked-beach-ticket-pv/
All Other Tours and Boat Rentals: VACAYA5
https://www.jetsprivateboattours.com/boat-tours/
EXCURSIONS
We are working with a new excursions company this year, Tropical Incentives. Their excursion offerings can be found HERE.
Excursions can either be booked in advance directly with Tropical Incentives OR they can be booked once you arrive at the resort. Tropical Incentives has a desk at the hotel. As always, if you want to ensure availability, booking in advance is highly recommended.
To book any of the available excursions in advance, simply email your request to either:
When requesting to book, be sure to indicate the following:
Your name
Your email address
Your check-in date (most guests are checking in Oct 29)
Your resort room number
The tour name
The preferred day of the week (the available days of the week are listed in the preview document above)
The preferred time (the available times are listed in the preview document above)
How many tickets are needed
Once your request is received and confirmed, Tropical Incentives will send you a payment link via email to complete the transaction.
FITNESS CENTER
The Hilton's Fitness Center – located on the lower level of the North Tower – will be open daily from 6am to 9pm.
GRATUITIES
Gratuities are NOT included in your fare and have not been pre-paid. So here's a general guideline for tipping at the resort:
Bartenders – $1 USD per drink or a larger tip to your favorite/regular bartender at the end of each night
Restaurants – $2-3 USD per meal is standard
Housekeeping – $3-5 USD per person per day, usually left on the pillow. You may or may not have the same room attendant all week. So if you wait and tip at the end of the week, you might be tipping someone who's only taken care of your room on the final day. A good practice is finding out on the first or second day if the person cleaning your room will be with you all week. If so, it's customary to tip a bit at the beginning (to ensure you're well taken care of) and the rest at the end (as a show of appreciation).
Tour Guides are typically tipped the equivalent of $10 USD for a full-day tour and $5 for a half-day tour at the end of your tour.
We've spoken with a few of the Hilton team members and they've advised that the workers would greatly appreciate the tips being in pesos, but they will gladly accept US dollars, as well. 
PARTY THEMES
It's July 1 (120 days before our time together), so that can only mean one thing… PARTY THEMES! So, let's get to it…
THIS IS ME (Oct 29)
Our signature Night One party brings everyone together for a chance to mix and mingle with fellow travelers. Wear a little somethin' special to let us know where you're from.
VIVA: MEXICAN STOPLIGHT PARTY (Oct 30)
Now that you've met everyone, we're putting a Mexican flag spin on our now-signature "stoplight party," our first V-Dance of the week. Wear GREEN if you're single and ready to mingle; RED if you're taken and want to remain that way; or WHITE if you're somewhere magically in between. That's Green, Red, and White instead of Green, Red, and Yellow. You've got this!
PROM NIGHT (Oct 31)
What's scarier than Halloween?!? PROM NIGHT, of course! It's VACAYA's infamous Halloween costume contest and party, which, this year, take its inspiration from the 1980 cult classic starring gay icon Jamie Lee Curtis. "If you're not home by 2am, you won't be coming home!"
The prom-themed costume categories are:
Scary Carrie: If having a bucket of pig's blood dumped on you makes you as mad as Carrie White, let your favorite horror film be your guide and scare the daylights out of everyone!
Prom Theme Realness: Put a gay or spooky twist on your high school prom theme. Picture it: Plano, Texas 1987. Teenagers dancing to "The Best Was Yet to Come" by Bryan Adams, a song inspired by the murder of Playboy model Dorothy Stratten. Wait. What?!? (True story.)
Spiked Punch: Admit it… you probably wanted to wear fetish gear to your high school prom, didn't you?!? Well, this is your chance! Spikes, harnesses, ball gags, the choice is yours. Or play it a little safer and knock yourself out as a boxer or something punch-related.
You Done Lost Your Mind: The category for everyone and everything… else. These are the costumes that are so creative (or so weird!) they defy categorization.
The winner from each category will move on to the Finals, where a Best-in-Show Champion will be crowned! Finalists will receive the following VACAYA future vacation credits in finish order:
First Place: $500
Second Place: $250
Third Place: $150
Fourth Place: $100
ETERNAL SPIRITS V-DANCE (Nov 1)
Let the spirit of your inner child guide you as we observe Día de los Angelitos (Day of the Little Angels) or Children's Day, part of the two-day Día de los Muertos celebrations.
HOLA, HULA! (Nov 3)
Don (Ho) your best South Pacific style and say, "Hola, Hula!" to an entire evening under the stars. The V Team has just returned from our cruise across the Pacific and we're bringing a bit of Polynesia with us to Mexico as we gather outside at the Beach Club for a luau-inspired evening of fun!
THE "T" V-DANCE (Nov 4)
Our Traditional closing V-Dance is brought to you by the letter T. Think about what Togs you want to Transport from Texas or Tennessee to Turn out while Tippling Tequila (a T-shirt or Tank will do) and come dressed as your favorite word that begins with T. If you want to be extra clever, Take it a step further and find a T from T V(-Dance). But let's be real… no matter what you wear, you're already ready for the party, you Tourist, you.
REACHOUT
We'll let you know as soon as the initiative has been named. 
RED LIGHT DISTRICT BOAT
Our new Red Light District Boat will be anchored just off the resort's beachside cove and will be open just about nightly between 10pm-2am (water and weather conditions permitting). Here, inhibitions melt away and sexual fantasies will come alive! VACAYA's Red Light District Boat is an intimate playground meticulously designed just for you. Hang out on the clothing-optional deck and enjoy the company of like-minded adults under the moonlight. When you're ready, enter the labyrinth just below and allow yourself to be overtaken by the rhythmic beats that hang in the air and transport you to a realm where pleasure knows no bounds.
Two smaller 20-person boats (called Pangas) will be used to continuously shuttle guests back and forth throughout the night. The RLD boat has a capacity of 60-passengers at any one time, so we'll ask for your patience if there's ever a wait to board. All guests interested in coming aboard will be asked to sign a release form at check-in. We ask all guests to be respectful regarding cleanliness. Towels and trash receptacles will be readily available; please use them. Phones will not be allowed on the pangas or on the RLD boat so please use your hotel room safe to store it while you're using the RLD boat.
Be polite and respectful.
This should go without saying, but no means no. Whether that "no" is verbal, physical, or simply one's attitude, if someone seems disinterested, leave them alone. Don't try to initiate play if someone is walking away, shaking their head, pushing your hand away, or otherwise declining via body language. Don't be pushy or rude. You'll be asked to leave the space if you are.
Understand that consent is sometimes non-verbal.
To put a finer point on the above: if someone is blindfolded and on all fours, they're likely giving you non-verbal consent to have sex with them. If a guy is standing there with his dick in his hand, he's giving you non-verbal consent to approach and likely give him oral sex. If, however, anyone pulls away or otherwise signals a change in intent, that means they've declined consent, too.
These are obvious situations and pretty common, but if you're ever unsure, it's always acceptable to ask. Other situations, however, may not be so clear. Be aware of your body language and the body language of others, and remember that non-verbal consent gets harder to read when alcohol is involved.
That being said, please understand when entering a play space like the Red Light District, a certain degree of consent is waived.
If you walk into a space where people are having sex, you waive a degree of consent. That's the reality of the situation. Of course, you still retain the ability to deny consent; if someone touches you, you can gently rebuff them or move their hand away. Anonymous groping and touching is a feature of these spaces, and by entering them, you will all but certainly face it. Please keep this simple rule in mind: don't be an asshole. Don't push yourself on someone if they're clearly denying consent.
Understand that not everyone reads body language the same way.
If you're in the Red Light District where talking is at a minimum and body language is the primary mode of communication, you run the risk of misreading someone's intent – a risk everyone assumes by being there. If you have to be more direct with someone, open your mouth and speak. There is a big difference between misreading someone's body language and ignoring a direct, verbal "no." If the latter occurs, tell V Team member Anthony, who'll be present at the RLD each night. Disrespecting consent isn't sexy; it's harassment. And pushing it too far could be criminal.
Don't let rejection ruin your night.
Some people will want to play with you, some simply won't. The person you've been looking at all night may not be in to you, and that's okay. Accept it, and know that's part of the reality of every play space.
Never talk about who you saw at the Red Light District, and never take photos or videos.
The Red Light District is a place people go to be uninhibited, to break loose from the morals and judgement of society, and fulfill their sexual fantasies. Respecting the privacy of others is key to maintaining that atmosphere. Talking about other attendees outside these venues reflects poorly on you, and detracts from the purpose of the space. CAMERAS ARE NOT ALLOWED IN THE RED LIGHT DISTRICT.
If you choose to have unprotected sex, assume the risks.
All sex carries some risk of HIV/STI transmission, but that risk can be minimized if you take certain precautionary measures, like using condoms or taking PrEP. Even with condoms, you're still at risk for common sexually transmitted infections, and PrEP only protects you from HIV. This is why the official PrEP page on the CDC's website states you should use condoms in conjunction with PrEP to protect yourself from infections like syphilis, chlamydia, and gonorrhea.
If you choose not to wear condoms, you obviously have a higher risk of getting an STI than your condom-wearing peers. That's a simple fact. There's no shame in it, however. It's just a fact of sexual life today. If you enjoy anonymous play – no talk, no names, no chatter – you assume even higher risk, and such risk is absolutely part of this kind of experience.
Since risk is unavoidable, there's no reason to let that reality prevent you from enjoying what you enjoy. Take necessary steps to keep yourself healthy. Get tested frequently. If you're HIV+, get on meds as soon as possible and take them diligently. HIV+ people who take their medications as prescribed become undetectable, meaning HIV antibody tests can't detect the virus in their blood, and they are unable to infect their sex partners with HIV, regardless of condom use.
Get tested for HIV and other STIs after the cruise.
If you go into the Red Light District often and regularly have sex there, please get tested after our time together. Frequent testing is how our community reduces the spread of HIV and other sexually transmitted infections.
Thank you to Alexander Cheves for these play space essentials.
RED LIGHT DISTRICT BOAT FAQs
How will we board the vessel?
You 'll be transported directly from Hilton's beach via a small traditional boat called a "panga" to a larger two-level catamaran for the full Red Light District experience. Since there is no dock at the Hilton, the panga will come right up onto the beach, and guests will climb into the panga for the transfer to the catamaran. Most of the time, guests will be able to step from dry sand onto the boat, but there may be times (depending on the tides) when guests get their feet and lower legs wet to board the Panga.
What should I wear?
Guests are recommended to wear sandals with straps or any other water shoe. The weather will hopefully be somewhat balmy at night, so shorts and tank tops/t-shirts are appropriate. Anyone who typically gets cold may want to bring along a cover-up.
What can I bring on the Panga and Catamaran?
Guests should limit personal items to the minimum because you will be fully responsible for anything you bring onboard. Please plan to bring any personal protection and lube as those items will not be provided by the boat. While we fully expect the water to be calm, for those prone to motion sickness, it's advisable to bring medication or remedies to ensure a more comfortable experience. While tipping is not required, it's certainly encourages and we'll have a boat crew tip jar onboard the catamaran for anyone who feels compelled to tip the panga/catamaran crew. Carrying your personal items in a weatherproof bag is always a good idea.
What will be provided on the Catamaran?
The Red Light District Boat experience will offer both a dark room experience and a separate chill vibe section for conversations and to get to know other guests better. A restroom will be available. Guests will be provided with water upon request, but alcohol won't be served onboard.
What are the requirements to go on the panga/catamaran?
You must be agile enough to hop on and off the panga/catamaran.
You must be able to swim, at least with a life jacket, and be comfortable in the water.
You must be able to climb a ladder.
Guests are kindly advised that by participating in the boating experience, they willingly assume all associated risks and will be required to sign a liability waiver before embarking on the journey. This waiver acknowledges and releases the companies providing the experience from any legal liability related to the boating activities and the experience.
Anyone who can't do the above listed things or who refuses to sign the waiver will not be able to join the RLDB experience.
ROOM KEYS
You won't have one! And you won't need a lanyard to carry a room key card. Instead, when you check in, you'll receive a special RFID bracelet that you'll simply scan against your door's entry pad to get into your room. Simple. Easy. And if you keep your bracelet on the entire time, you can't lose it!
SAFETY PROTOCOLS
All Covid-19 protocols (vaccination and testing requirements) have been rescinded. Of course, anything and everything could change at any time, but for now… we're in the clear. 
SERVICE ANIMALS
Hilton Vallarta Riviera allows registered service dogs on property at no extra charge. Hilton requires that you provide written documentation of service status from a certified veterinarian at check in or your dog will not be permitted on property. Dogs are allowed in your guest room and public venues as long as they're not disruptive to other guests. Please note that the hotel may ask you what tasks your dog performs for you at check in (as a reminder, as part of the ADA, this type of questioning is not allowed in the United States, but we're in Mexico and they allow it). You and your dog are expected to follow the rules of the hotel as they're set forth for all guests. And obviously, you are responsible for any charges due to damage caused by your service dog. 
SMOKING POLICY
Hilton Vallarta Riviera guests may only smoke in the designated Beach Club area (indicated below). This is a small area dedicated to smokers on the beach.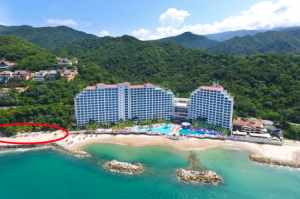 Smoking is not permitted in any indoor area, including in guest rooms. Smoking is also prohibited on the room's terraces.
SPA
At Hilton Vallarta Riviera's eforea Spa, you'll emerge brighter from a cocoon of spiritual refreshment and physical relaxation. eforea Spa promises an experience focused on balance and wellness, away from the ever-increasing demands of everyday life.
You'll make your spa appointments once you arrive at the resort October 29.
SPECIAL NEEDS
If you have a special need due to a disability or dietary restriction, we'd love to know about it so we can communicate that need to our partners at Hilton Vallarta Riviera. If you have a special need, please complete the online form you'll find HERE by Thursday, Sep 28. We'll send the list of needs over to the resort soon after that date and we'll get back to any guests whose needs might require alternative arrangements.
To better understand how VACAYA approaches the special needs of our guests, we encourage you to read through our Accessibility page HERE.
TRANSFERS
Learning from our 2022 resort experience at Hilton Riviera Vallarta, group transfers will not be offered. Instead, we recommend taxis or Uber to get from PVR Airport to the resort (and back). Ultimately, taxis/Uber are easier, less expensive, and prevent you from having to wait around for other guests to arrive on later flights. Non-surge pricing UberX cost around 210 Mexican Pesos (approximately $13 USD), and UberXL around 360 Mexican Pesos (approximately $22 USD).
For Uber, you'd obviously pay through the app just as you would in any other city. And for taxis boarded at the airport taxi stand, some take credit cards and some take cash only. Be sure to double check before getting in. To be safe, you can get pesos at the ATMs in the PVR Arrivals Hall. As a reminder, the current exchange is roughly 17 pesos per 1 USD.
If you'd prefer to book a private transfer, our ground transportation partner Tropical Incentives offers several options. if you're traveling with a larger group of friends, these options will make getting to/from the airport much easier as a group:
A private van for up to 6 passengers for $200 USD
A private deluxe Suburban for up to 5 passengers for $275 USD
A private Sprinter Van for up to 12 passengers for $480 USD
To book a private transfer, you can email our Tropical Incentives contacts, either:
When booking a private transfer, please be sure to include your flight information (the last flight leg into PVR, the first flight leg out of PVR, or BOTH). Once your request is received and confirmed, Tropical Incentives will send you a payment link via email to complete the transaction.
WATER
While the tap water at the resort is perfectly fine for showering, bathing, and brushing your teeth, it's recommended that you drink bottled water both while on property and off. Bottled water is abundantly available around the resort.
WEATHER
Seasonal norms for October and November show consistent highs of around 89°F / 31.6°C and a consistent low of around 79°F / 26.1°C each night.
WHAT TO WEAR
The resort is nice comfy casual at all times. Swimsuits/shorts and Ts/tanks are perfect during the day. And nice shorts/jeans/pants and a collared shirt are perfect resort wear during the evening. Nice T-shirts are also ok. The restaurants are beautiful spaces and you'll see they warrant just a bit of style. As a general guideline, we ask that tank tops not be worn in the restaurants during dinner.
And we'll say it again here (because it's that important)… when moving away from the Clothing Optional Sky Deck, please cover yourself.
WIFI
WiFi is included throughout the resort.