VACAYA OASIS @ HILTON VALLARTA RIVIERA
OCTOBER 29 – NOVEMBER 5, 2023
Our journey to Mexico begins in: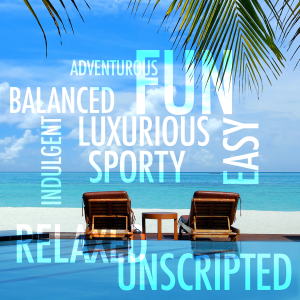 We'll also house an email archive on this page, too. This archive will feature all the trip-specific communications we have with you throughout your pre-resort experience with us. That way, if you happen to lose a general email somewhere along the way, you'll be able to find it right here.
VACAYA's mission is to give you everything you need with plenty of time to ensure a totally stress-free experience. Get ready for your vacaya!
Many people ask us "what will the VACAYA Oasis experience be like?" VACAYA Oasis is certainly more laid back than our large-ship cruises, perfect for those seeking fun, relaxation, adventure, and romance.
The VACAYA Oasis rhythm is… Relaxed. Easy. Fun. Balanced. Luxurious. Indulgent. Sporty. Unscripted. Adventurous.
ACCESSIBILITY
We are keen to invite those with accessibility issues to the resort and we believe you'll have a wonderful experience. However, the resort only has 3 rooms that are designated as wheelchair accessible. So booking early is important if you want an accessible room. You can see them on the map found HERE.
The accessible rooms are 418, 420, and 422. Each of these has one king bed. The reason they put them on the 4th floor is that the lobby is also on the 4th floor (at street level because the hotel sits on a hillside), From the lobby, there's an elevator that goes to every floor, including the lower pool deck, and all the floors the restaurants are on. It's a short distance from the lobby to the accessible rooms on the 4th floor.
Hilton defines accessible as:
Accessible bathroom – Roll-In shower, grab bar in shower, accessible bathtub.
Lever door handles
Wheelchair-accessible parking and path to lift
Wheelchair-accessible registration, concierge, pool, and on-site restaurants.
Visual fire alarms
Wheelchairs available on site (there might be a fee)
Please contact the hotel to obtain answers to very specific questions about "how accessible" it is beyond what's on this list. The hotel can be reached at +52 322 176 1300.
Please note these rooms can only be booked directly with a VACAYA Guest Services team member via email at info@myvacaya.com or by calling +1.718.504.0404, Mon-Fri 10am-4pm ET.
AIRLINE DISCOUNTS
As a VACAYA guest, discounts are available to you with various air carriers when booking your flights using our Group Codes/Links. Those codes/links, as well as the instructions for booking, can be found HERE.
BOOKING EXTRA NIGHTS
Our special discounted group rates are available for the nights of Oct 26, 27, & 28 and Nov 5 & 6. We will have instructions/links for booking extra nights shortly. 
For pre-event stays, if you book the same room type you'll have with VACAYA, every effort will be made to put you in the same room you'll have for your VACAYA week for the extra nights, but it cannot be guaranteed. For post-event stays, assuming you purchase the same room type for your additional nights, you'll stay in the same room. Please note that all extra night bookings must be paid in full at the time of booking and they are non-refundable. Also, if you'd like to book extra nights both before and after our week, you'll have to make two different extra night reservations.
CABANAS
Hilton offers 35 Balinese Cabanas that are rentable by the day. You can reserve a cabana at check-in and then throughout your stay, based on availability. The cost is 80 USD per day and can be charged to your room.
CHECK IN ON OCTOBER 29
Rooms are scheduled to be ready by 4pm local time. If you arrive before 4pm, you can check your bags with the porters and use the resort's facilities until your room is ready. Just keep your swimsuit in an easy-to-grab location!
To check in, you'll need the following:
Your Passport
A Credit Card (for incidentals)
IMPORTANT NOTE FOR THOSE CHECKING IN EARLY:
If you're checking in to the Hilton on a day prior to Oct 29, please swing by The V Team table in the lobby between 10am-12pm on Oct 29 to pick up your VACAYA items and to sign the clothing optional sun deck waiver.
CLOTHING OPTIONAL SKY DECK
At VACAYA, the clothing optional areas at our resorts and on our cruise ships have become progressive celebrations of the incredible diversity of the LGBT+ community. Our clothing optional areas bring us all together in a utopia where sexuality, gender identity, and body type don't matter one bit. And the best part? With all of life's worries literally stripped away, you never know when you might make a new nekkid best friend!
We're so pleased to offer a clothing optional area at Hilton Vallarta Riviera. It's the Sky Bar deck on Floor 7 just above the Main Lobby. Sky Bar will be open daily from 9am to 1am, with the area designated as clothing optional for sunbathing from 9am to sunset and nude hot tubbing any time between 9am-1am. Please note that waiter service is unavailable in this area, but the bar is big and well-staffed. Out of respect for our host bartenders, we ask that you throw on your swimsuit or wrap a towel around yourself before heading to the bar for a drink.
Our hosts have been very gracious in allowing us to provide this clothing optional area to you, so we want to be extremely respectful in regard to the guidelines they've established. So thank you in advance for your cooperation. As a general rule and out of respect for your fellow guests, please remember that cameras shouldn't be used in the clothing optional area. 
As a reminder to everyone coming to the resort earlier than Oct 29… our designated clothing optional area is NOT clothing optional until October 30. With the resort's guests from the week prior still able to use the facilities on Oct 29 (until they depart the resort), we ask that you please stay clothed when using this rooftop area. Also, the rooftop will not be clothing optional on November 5 (as future guests begin to arrive).
In general, if you're looking for a great pre- or post-dinner place to grab a drink under the stars with friends, Sky Bar is one of the many options available to you during the evening. It does, however, have a hard close at 1am.
Access to the Sky Bar deck is capacity controlled at 110 guests both day and night.
VERY IMPORTANT NOTE: The Sky Bar deck is NOT a Red Light District.
VACAYA is a sex positive company, of course, but based on myriad factors (a venue's rules and regulations, local ordinances, etc.), we're sometimes limited in our ability to host a Red Light District. We'll always have one when we can, but Hilton has requested that this clothing optional space not be used for sexual encounters. This area will certainly be a great place to meet new people in the buff, but please take the sexcapades back to your room. Luckily, every resort room faces the ocean so the view will be very similar. Enjoy!
CLUB LOUNGE
Our Suite guests have access to Hilton's Club Lounge – located on Floor 13 in the North Tower – from 7am to 8pm. A light breakfast is available here each morning, and a wide variety of beverages is available to you during opening hours.
CURRENCY
Although US Dollars are widely accepted around Mexico, there are some businesses that will only take Mexican Pesos.
If you decide to purchase Mexican Pesos (MXN), the exchange rate is:
1 USD = 18.1 MXN*
For the latest exchange rates, we recommend https://www.xe.com.
*As of April 27, 2023
DAY OF THE DEAD
Our ground transportation Amstar will sell a Day of the Dead excursion for the Dia de los Muertos celebrations in downtown Puerto Vallarta.
ALSO…
In what has become an incredibly meaningful tradition with us being in Mexico during one of its most celebrated holidays, Hilton has offered us an incredibly tender and sweet opportunity to be a part of their official ofrenda.
What's an ofrenda you ask?
Ofrendas are an essential part of Day of the Dead celebrations. The word ofrenda means offering in Spanish.
Some people mistakenly think Mexicans set up ofrendas to worship their defunct relatives, but nothing could be further from the truth. The vast majority of Mexicans are Christian Catholics, so they only worship God. Ofrendas are altars set up to remember and honor the memory of their ancestors. Pictures of the deceased are placed on the ofrenda, as well as some of the person's favorite clothing, perhaps a hat or a shawl.  For the children, small toys are placed on the ofrenda. Food is specially prepared for the souls. Their preferred dishes are cooked for them and placed on the altar.
If you would like to remember someone important to you who has moved on to the spirit world, please bring a small framed photo of them with you to the resort. The photo will be placed on the official Hilton ofrenda to honor them. We will have a table set up at check in where you can give us your framed photo and tell us a little about the person you'd like to honor. The photo will be returned after the alter is taken down. ❤️
DINING
The dining options at Hilton Vallarta Riviera are bountiful. From an abundant buffet to Italian, Mexican, Asian, Seafood, Steaks, and Sushi specialty restaurants, you won't ever go hungry.
The resort's restaurants' hours will be posted here once finalized.
Vela Food Hall
Breakfast:
Lunch:
Dinner:
Azulinda
Grab & Go:
Fusion/Sushi:
Late Snacks:
Cocomar (Seafood)
Lunch:
Seasalt (Grill)
Lunch:
Dinner (Reservations Required):
La Luce (Italian)
Dinner (Reservations Required):
Maxal (Mexican)
Dinner (Reservations Required):
Sunan (Asian)
Dinner (Reservations Required):
Room Service
Available 24×7
Same-day reservations for the International Restaurants can be made at the Concierge Desk in the Lobby daily from 9am-5pm. With the exception of a couple menu items (like lobster and tomahawk steaks), there is no extra charge for dining at Hilton's International Restaurants. 
DOCUMENTATION REQUIREMENTS
With the exception of Mexican citizens, all travelers must have a valid passport to travel to Mexico via air.
Visas are not required for US Citizens, but may be required of other nationalities. You can check the official visa requirements/instructions for Mexico HERE. It is the responsibility of each traveler to have the proper travel documents.
When arriving at PVR Airport, you will go through Mexican Immigration and Customs. After collecting your luggage in the Arrivals Hall, make your way to the Customs queue. Mexican Customs officials scan all bags as they leave the Arrivals Hall and some are randomly selected for further inspection. You'll be asked to press a button that lights up either green or red to determine whether you'll be randomly selected. Green means "you're free to exit without inspection." Red means "you've been selected for further inspection." If selected for further inspection, simply follow the instructions of the officials as they do a hand inspection of your luggage.
EMAIL ARCHIVE
All emails to our Booked Guests are available here.
ENTERTAINMENT PREVIEW
We'll preview our galaxy of VACAYA stars here approximately 60 days before our adventure together.
Of course, once posted, all entertainers, dates, and venues are subject to change with or without notice.
EXCURSIONS
We will be working with Amstar in PV once again to provide excursions to local sites/adventures. 
FITNESS CENTER
The Hilton's Fitness Center – located on the lower level of the North Tower – will be open daily from 6am to 9pm.
GRATUITIES
Gratuities are NOT included in your fare and have not been pre-paid. So here's a general guideline for tipping at the resort:
Bartenders – $1 USD per drink or a larger tip to your favorite/regular bartender at the end of each night
Restaurants – $2-3 USD per meal is standard
Housekeeping – $3-5 USD per person per day, usually left on the pillow. You may or may not have the same room attendant all week. So if you wait and tip at the end of the week, you might be tipping someone who's only taken care of your room on the final day. A good practice is finding out on the first or second day if the person cleaning your room will be with you all week. If so, it's customary to tip a bit at the beginning (to ensure you're well taken care of) and the rest at the end (as a show of appreciation).
Tour Guides are typically tipped the equivalent of $10 USD for a full-day tour and $5 for a half-day tour at the end of your tour.
PARTY THEMES
Our commitment to you is to always release party themes a full 120 days before each event. So stay tuned!
REACHOUT
We'll provide information about this trip's ReachOUT initiative approximately 60 days before our time together. 
ROOM KEYS
You won't have one! And you won't need a lanyard to carry a room key card. Instead, when you check in, you'll receive a special RFID bracelet that you'll simply scan against your door's entry pad to get into your room. Simple. Easy. And if you keep your bracelet on the entire time, you can't lose it!
SAFETY PROTOCOLS
All Covid-19 protocols (vaccination and testing requirements) have been rescinded. Of course, anything and everything could change at any time, but for now… we're in the clear. 
SERVICE ANIMALS
Hilton Vallarta Riviera allows registered service dogs on property at no extra charge. Hilton requires that you provide written documentation of service status from a certified veterinarian at check in or your dog will not be permitted on property. Dogs are allowed in your guest room and public venues as long as they're not disruptive to other guests. Please note that the hotel may ask you what tasks your dog performs for you at check in (as a reminder, as part of the ADA, this type of questioning is not allowed in the United States, but we're in Mexico and they allow it). You and your dog are expected to follow the rules of the hotel as they're set forth for all guests. And obviously, you are responsible for any charges due to damage caused by your service dog. 
SMOKING POLICY
Hilton Vallarta Riviera guests may only smoke in the designated Beach Club area (indicated below). This is a small area dedicated to smokers on the beach.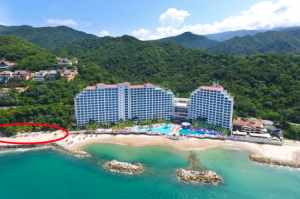 Smoking is not permitted in any indoor area, including in guest rooms. Smoking is also prohibited on the room's terraces.
SPA
At Hilton Vallarta Riviera's eforea Spa, you'll emerge brighter from a cocoon of spiritual refreshment and physical relaxation. eforea Spa promises an experience focused on balance and wellness, away from the ever-increasing demands of everyday life.
You'll make your spa appointments once you arrive at the resort October 29.
SPECIAL NEEDS
If you have a special need due to a disability or dietary restriction, we'd love to know about it so we can communicate that need to our partners at Hilton Vallarta Riviera. If you have a special need, please complete the online form you'll find HERE by Thursday, Sep 28. We'll send the list of needs over to the resort soon after that date and we'll get back to any guests whose needs might require alternative arrangements.
To better understand how VACAYA approaches the special needs of our guests, we encourage you to read through our Accessibility page HERE.
TRANSFERS
Airport transfers to/from Hilton from PVR will be sold by our ground transportation partner Amstar approximately 30 days before our event. You'll want to have your flights locked in by that time so you can provide all your flight details when booking your transfers. Airport transfers are ONLY offered on Oct 29 (PVR to Hilton) and Nov 5 (Hilton to PVR).
WATER
While the tap water at the resort is perfectly fine for showering, bathing, and brushing your teeth, it's recommended that you drink bottled water both while on property and off. Bottled water is abundantly available around the resort.
WEATHER
Seasonal norms for October and November show consistent highs of around 89°F / 31.6°C and a consistent low of around 79°F / 26.1°C each night.
WHAT TO WEAR
The resort is nice comfy casual at all times. Swimsuits/shorts and Ts/tanks are perfect during the day. And nice shorts/jeans/pants and a collared shirt are perfect resort wear during the evening. Nice T-shirts are also ok. The restaurants are beautiful spaces and you'll see they warrant just a bit of style. As a general guideline, we ask that tank tops not be worn in the restaurants during dinner.
And we'll say it again here (because it's that important)… when moving away from the Clothing Optional Sky Deck, please cover yourself.
WIFI
WiFi is included throughout the resort.