Christmas Markets
European Spirit
All-LGBT+
Full-Ship Charter
VACAYA'S 2023 EUROPE CHRISTMAS CRUISE HAS SOLD OUT!
If you'd like to put your name on our waitlist for this cruise, please follow these 2 easy steps:
If you don't yet have a profile in our booking system, set one up HERE.
Once your profile has been completed, email info@myvacaya.com and provide us with the following information: full name, phone number, email address, type of room(s) you're looking for
Once on the list, we'll reach out to you in the order your name appears on our waitlist if a room that fits your request becomes available. 
With consumers' pent-up appetite for travel reaching a fevered pitch, we advise that you book as early as you can for all of our trips. We certainly don't want you to miss out on another VACAYA adventure!
Congratulations to all those who managed to scoop up a room on this magical Christmas adventure. We can't wait to welcome you to Switzerland!
Our Most Requested Adventure Of All Time Returns in 2023… Experience the Christmas Markets of Europe with VACAYA!
In 2019, VACAYA hosted the two most magical weeks in LGBT+ travel history as we sailed the rivers of Europe during the beautiful Christmas season. That cruise proved to be our highest rated of all time and ever since we've been flooded with the question, "When are you doing it again?!?" Well… the wait is over… because we're going back to Europe for Christmas 2023!
This is your chance to make the Yuletide gay as VACAYA explores the Christmas Markets of Europe aboard the beautiful Emerald Sun from December 2-9, 2023. We're sailing from stunning Basel, Switzerland to über-LGBT-friendly Amsterdam! If you've never explored the Christmas Markets of Europe or if you sailed with us in 2019, the itinerary for our 2023 adventure is ALL NEW as we sail the Rhine and experience the very best of Switzerland, Germany, France, and The Netherlands. Powered by the elves of VACAYA, this 2023 adventure is your Christmas wish come true!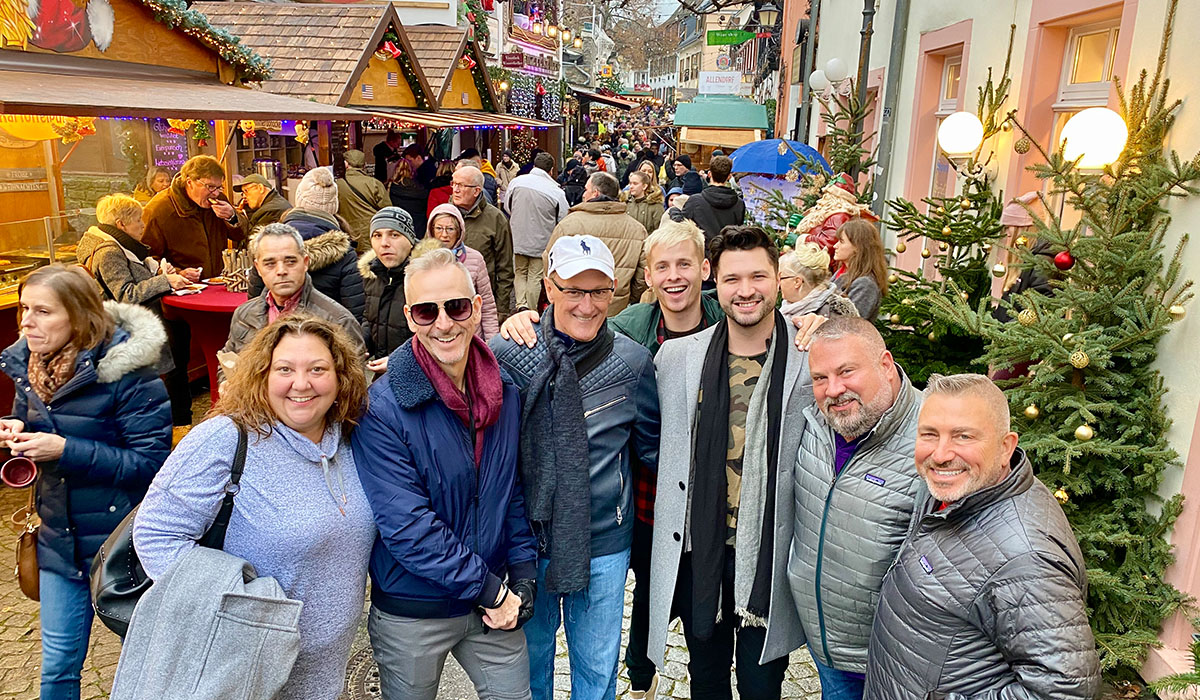 ENCHANTED MARKETS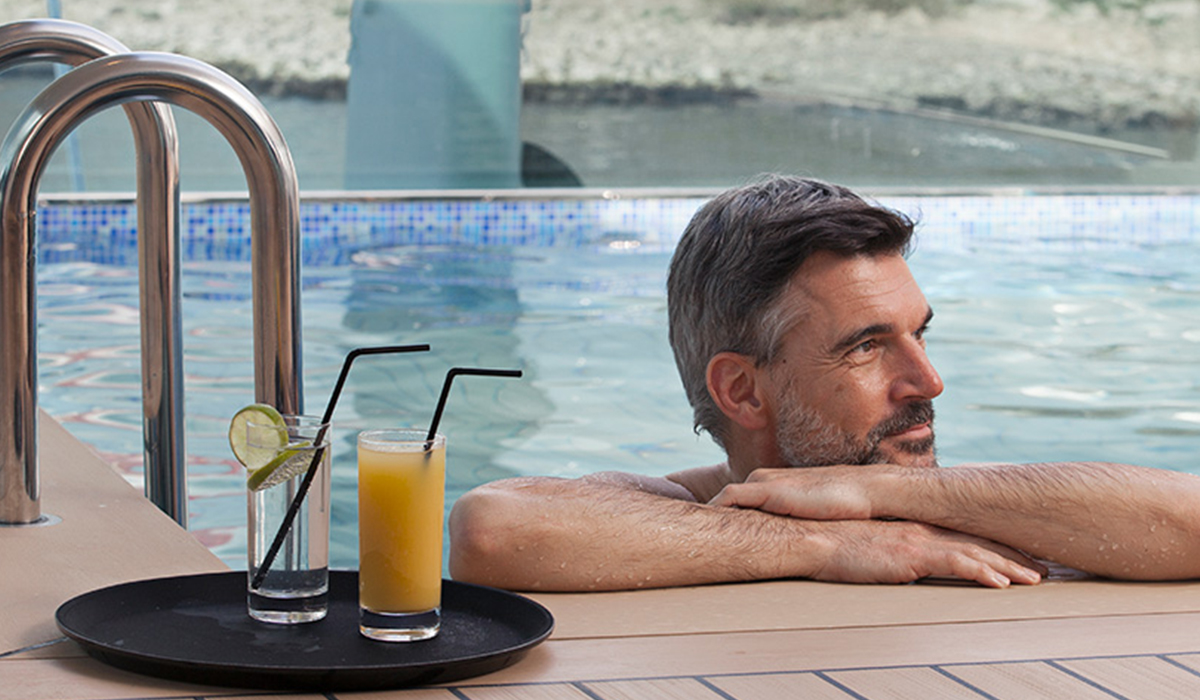 VACAYA LUXE EXPERIENCE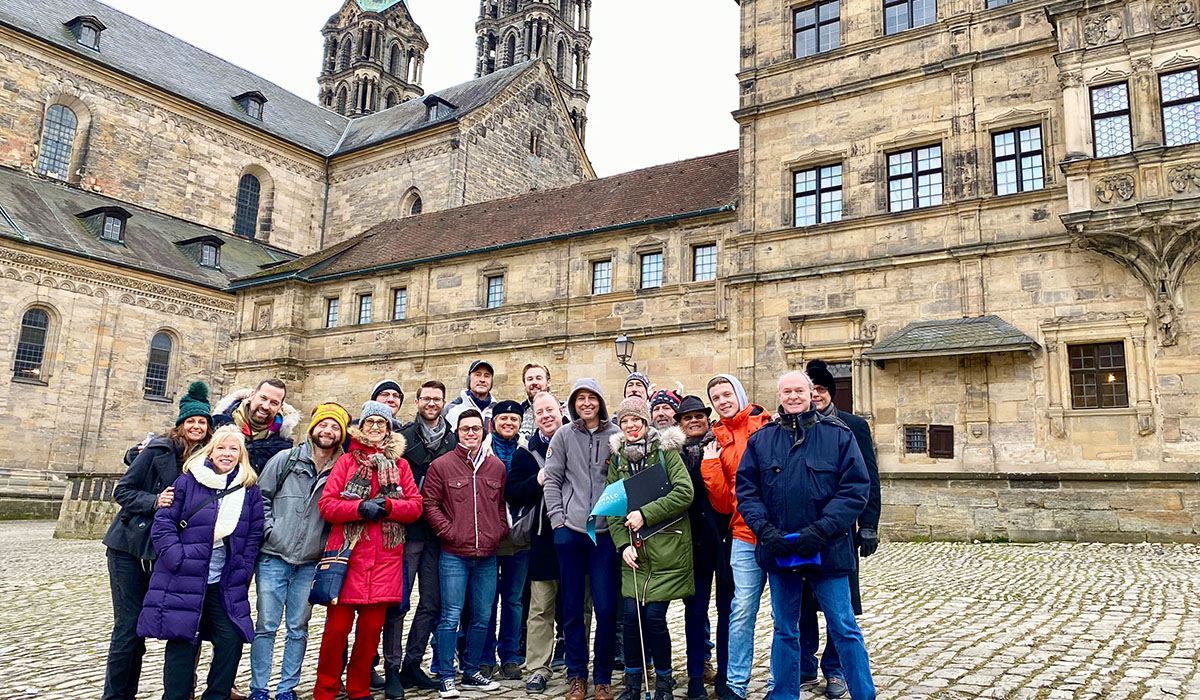 INCLUDED SHORE EXCURSIONS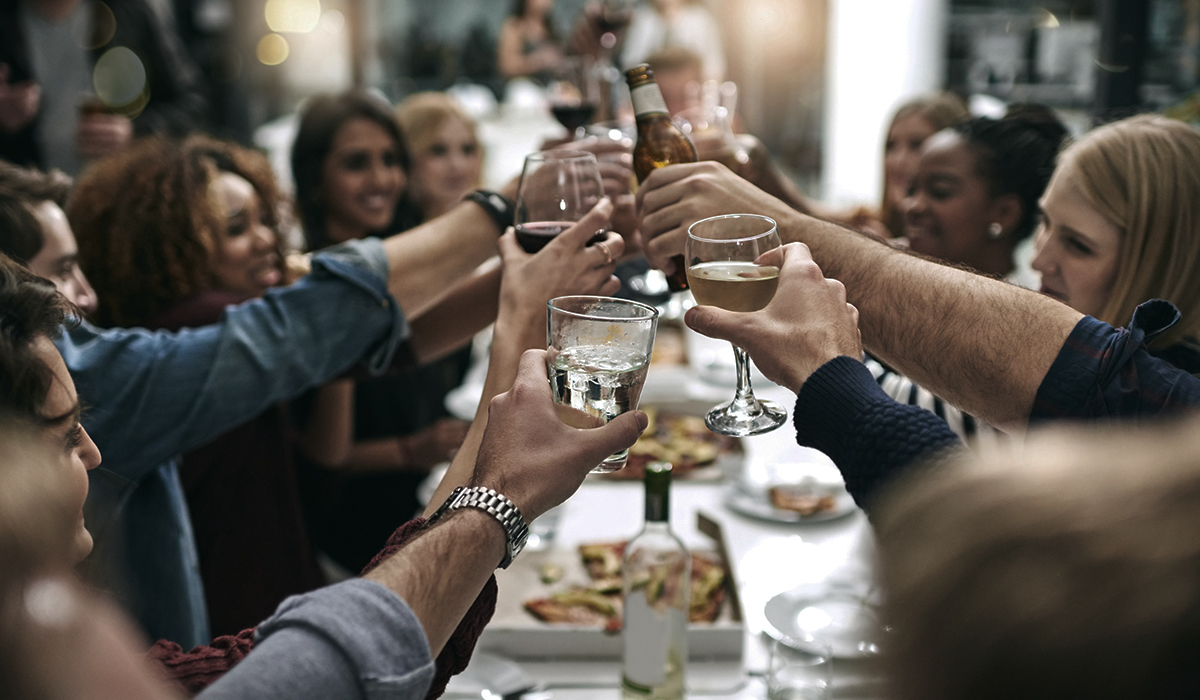 INCLUDED BEVERAGE PACKAGE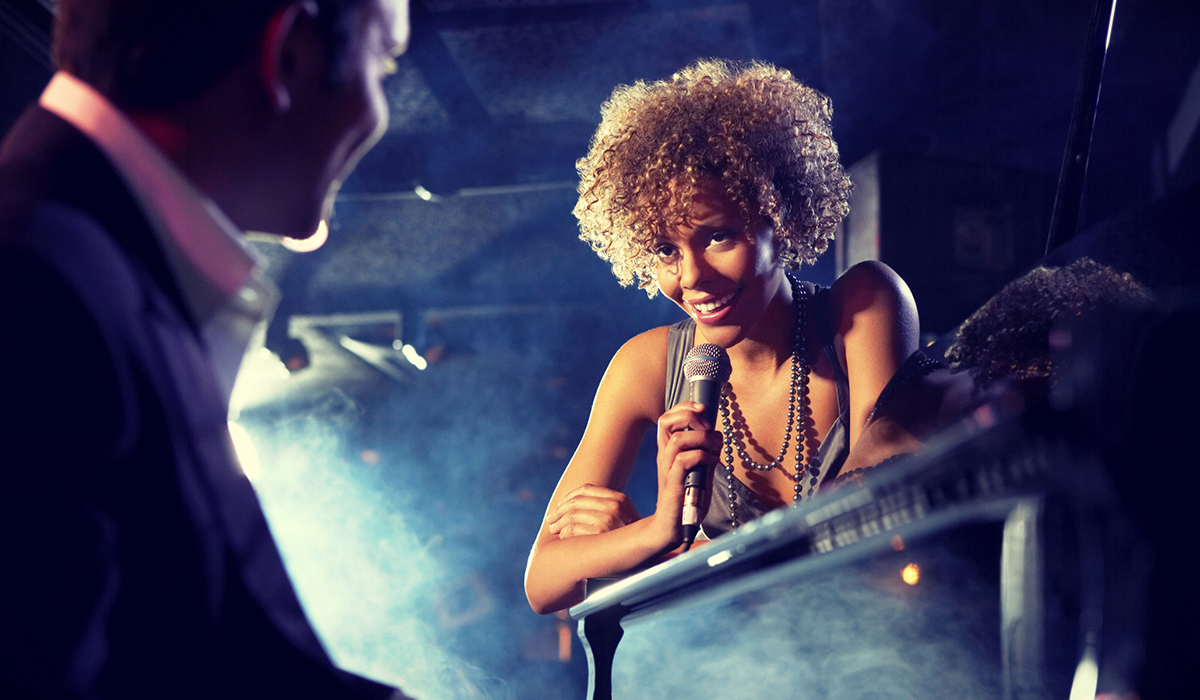 SIGNATURE ENTERTAINMENT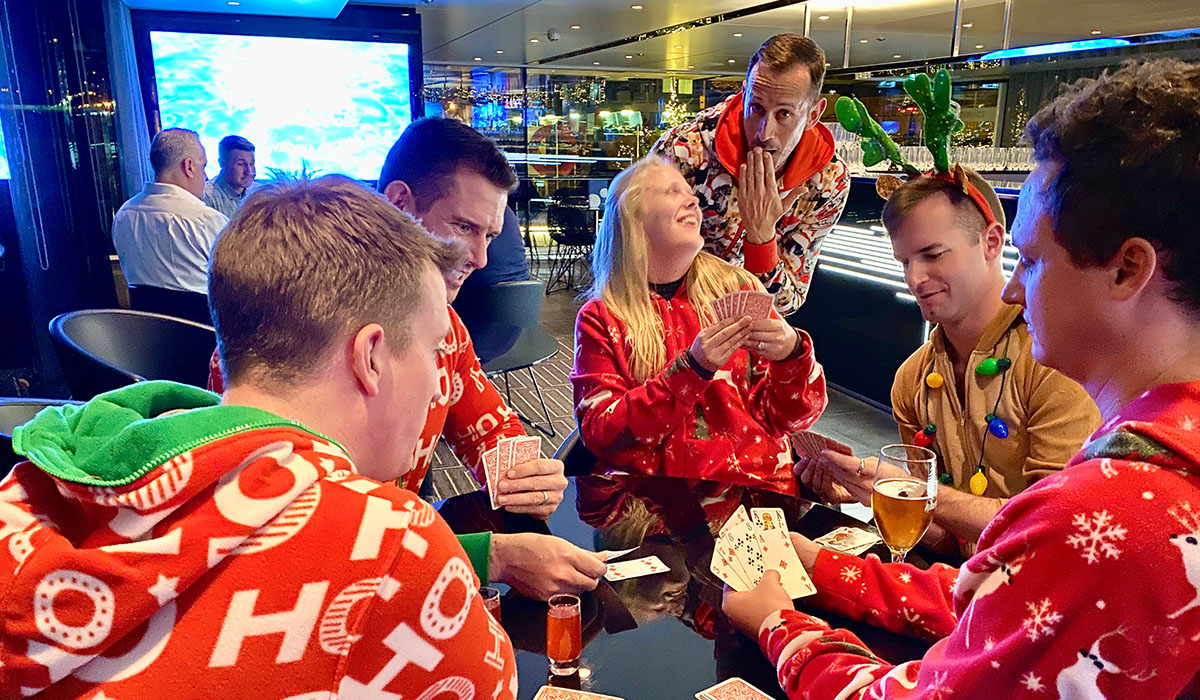 FUN & GAMES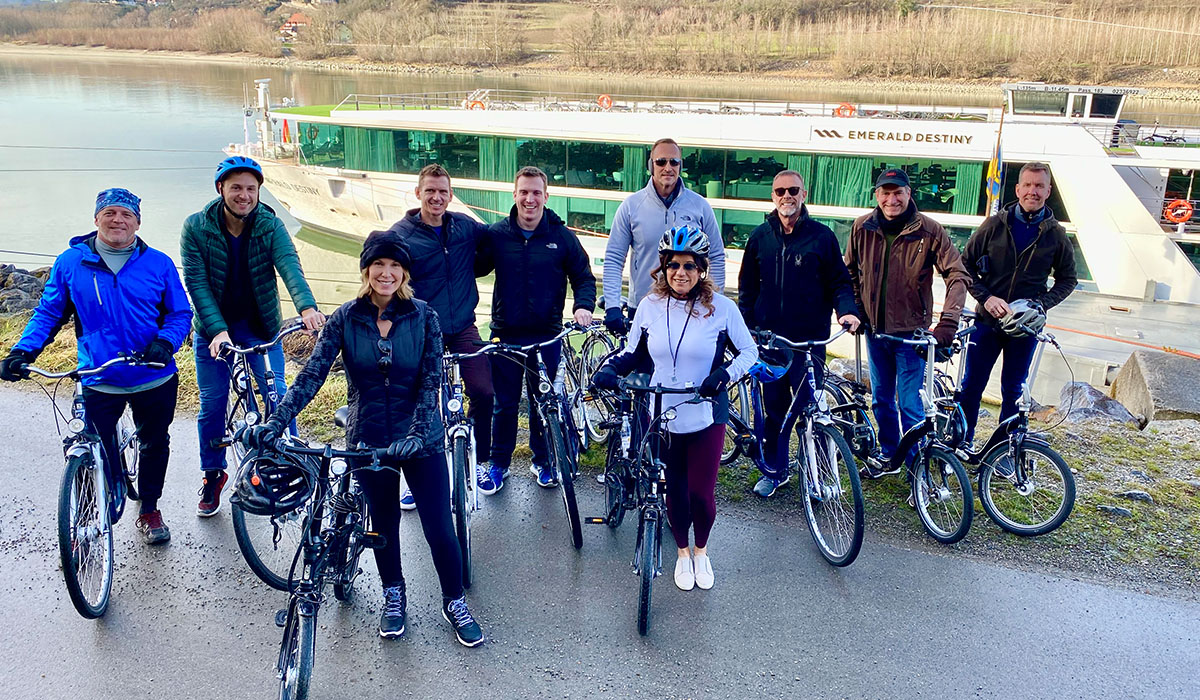 TIME TO EXPLORE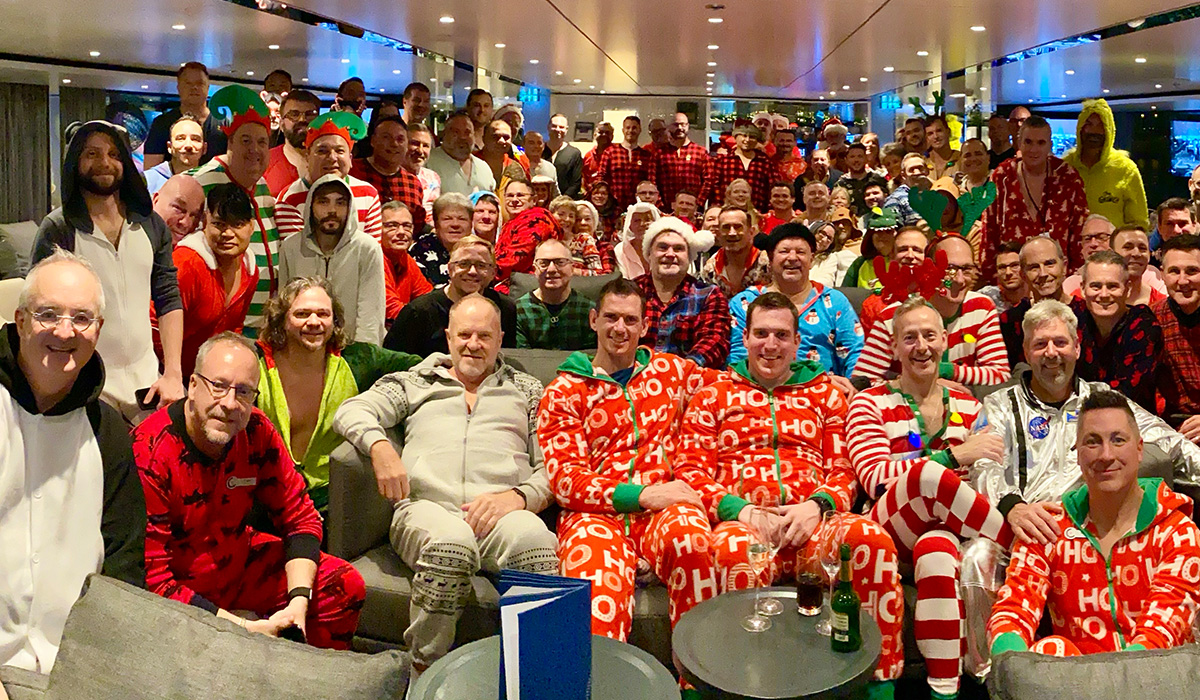 FRIENDS FOR LIFE
'Tis the season to be joyfully YOU!
Immerse yourself in the spirit of Christmas as you journey through Europe's storybook villages. Our voyage begins in Basel, Switzerland (or Zurich, if you'd like to extend your stay), and we'll sail northward down the Rhine (oh yes… DOWN… the Rhine runs south to north), where enchanting villages and imposing castles await in splendor! You'll sample tasty yuletide treats, drink glühwein 'til your heart's content, and indulge in delicious regional delicacies as you browse colorful stalls for handcrafted ornaments and unique gifts.
VACAYA's Europe Christmas Cruise features an ALL-NEW, never-before-experienced itinerary that will fill your heart with Christmas cheer at every turn. Over 7 glorious nights, we'll sail to Breisach, Kehl, Strasbourg, Ludwigshafen, Heidelberg, Koblenz, Cologne, and finally Amsterdam, where we'll overnight aboard our beautiful Sun. Christmas in Amsterdam is THE MOST wonderful time of the year!
When cruising EMERALD with VACAYA, you're choosing casual elegance, fun, & discovery…
A river cruise is one of the most elegant and worry-free ways to travel. And with only 182 guests on the ship, not only is your VACAYA Luxe river cruise a great value, but it offers a truly intimate cruising experience, as well. Onboard, you'll enjoy a continuous view of the incredible landscapes along the famous waterways, and you'll also see a different side of Europe – one that can only be experienced on the rivers that have helped shape the history and cultures of the places they weave through.
This cruise offers luxury at a great price. We've layered in quite a few inclusions that will hopefully make it irresistible to global adventurers.
It's amazing all that's included:
Boutique contemporary hotel feel
Spectacular onboard heated pool, cinema, spa, and lounge
Spacious, comfortable accommodations with an innovative open-air system for staterooms on the Vista and Horizon decks
Gourmet onboard meals and highlight dinner events, al-fresco on The Terrace or in the well-appointed Reflections Restaurant
Enjoy in-depth cultural experiences with EmeraldPLUS excursions, cheese and olive tastings, or Provencal dinners hosted by a local chef
For Owner's and Grand Balcony Suite (Category S & SA) guests, enjoy Emerald's Concierge Service, which includes continental breakfast, pre-dinner canapés, and after-dinner treats served right to your suite
A selection of complimentary house spirits, wine, beer, coffee, tea, and soft drinks throughout your voyage
Bottled water restocked daily in your stateroom
Built-in adventure, with an included onshore excursion in every port
Visits to UNESCO World Heritage Sites
Emerald Active guided biking and hiking tours
English-speaking crew
Knowledgeable, personable local destination guides
Complimentary bicycles onboard
Complimentary onboard WiFi
Transfers to the ship from Zurich on Dec 2 and from the ship to AMS Airport on Dec 9
On land or onboard, your safety is our top concern. This means we uphold strict health and safety measures. As the rules and regulations change and evolve, Emerald is continuing to adapt and optimize its already robust protocols, integrating all the technological, human, and material measures to ensure the provision and maintenance of a healthy voyage. Find Emerald's detailed and ever-evolving protocols
HERE
.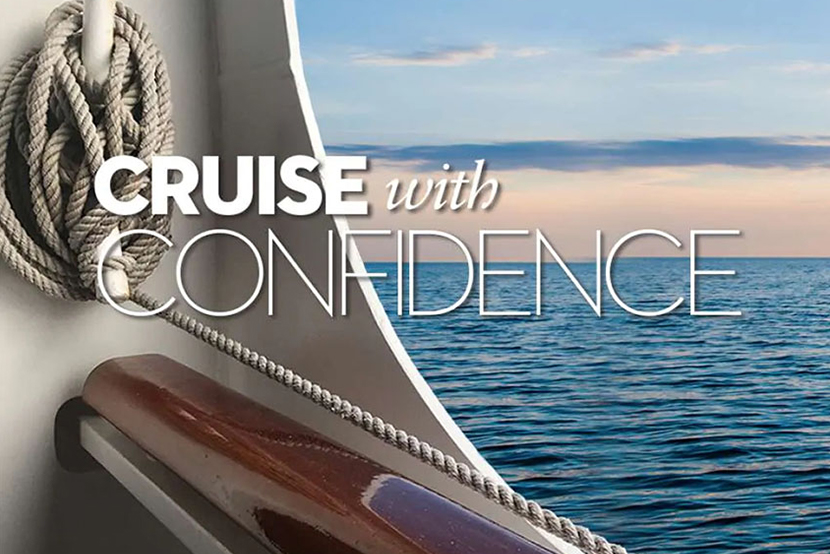 The following services are available for an additional charge:
DiscoverMORE Optional Shore Excursions
Spa Treatments
Salon Services
Laundry
Satellite Telephone Services
YOUR HOLIDAY HOME-AWAY-FROM-HOME
Emerald Waterways revolutionary "Star-Ships" aren't like any other riverships. They're designed to impress and inspire with every little detail, exceeding any expectation you have of what a rivership should be like.
At VACAYA, we don't want to just meet your expectations; we aim to create spectacular surprises that exceed what you'd expect from a rivership. That's why we've chosen to partner with Emerald Waterways, whose deluxe ships boast a heated swimming pool complete with retractable roof – creating a brilliant onboard oasis for you to relax, whatever the weather. And on selected evenings, the pool area inventively transforms into a cinema showing a collection of films.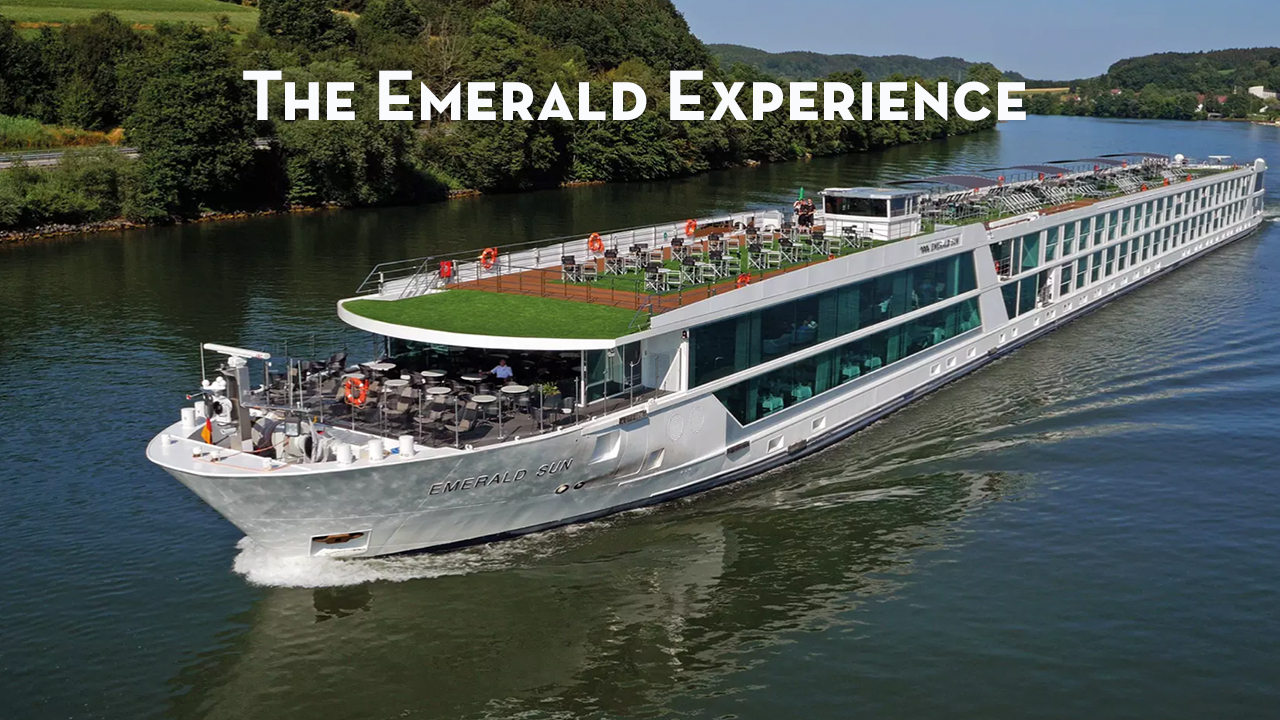 With its striking minimalistic design, sleek composition, and stylish features, Emerald Sun is comparable to a contemporary designed hotel. Only it's better, because your hotel travels with you to a multitude of fantastic destinations, and offers incredible panoramic views of the stunning scenery you pass along the way.
The spacious, airy and contemporary reception area hosts a spectacular 3-tiered atrium which opens up the center of the ship, allowing natural light to pour through and illuminate the interior.
Throughout the public areas, elegant furnishings, modern art, and mirrored walls create a refreshing and luxurious environment for you to enjoy, while floor-to-ceiling windows allow you to fully appreciate your time on the river.
Raise a toast with a cocktail and some new-found friends, and watch the endless vistas roll by.
At 135 Meters long and with 182 guests, 92 staterooms, and a crew of 47, Emerald's Star-Ships are redefining river cruising on the Danube, Rhine, and Main Rivers. The Star-Ship sisters include Destiny, Star, Sky, Dawn, and our Sun. Elegantly designed and effortlessly welcoming, they provide a sophisticated and comfortable passage along these timeless waterways.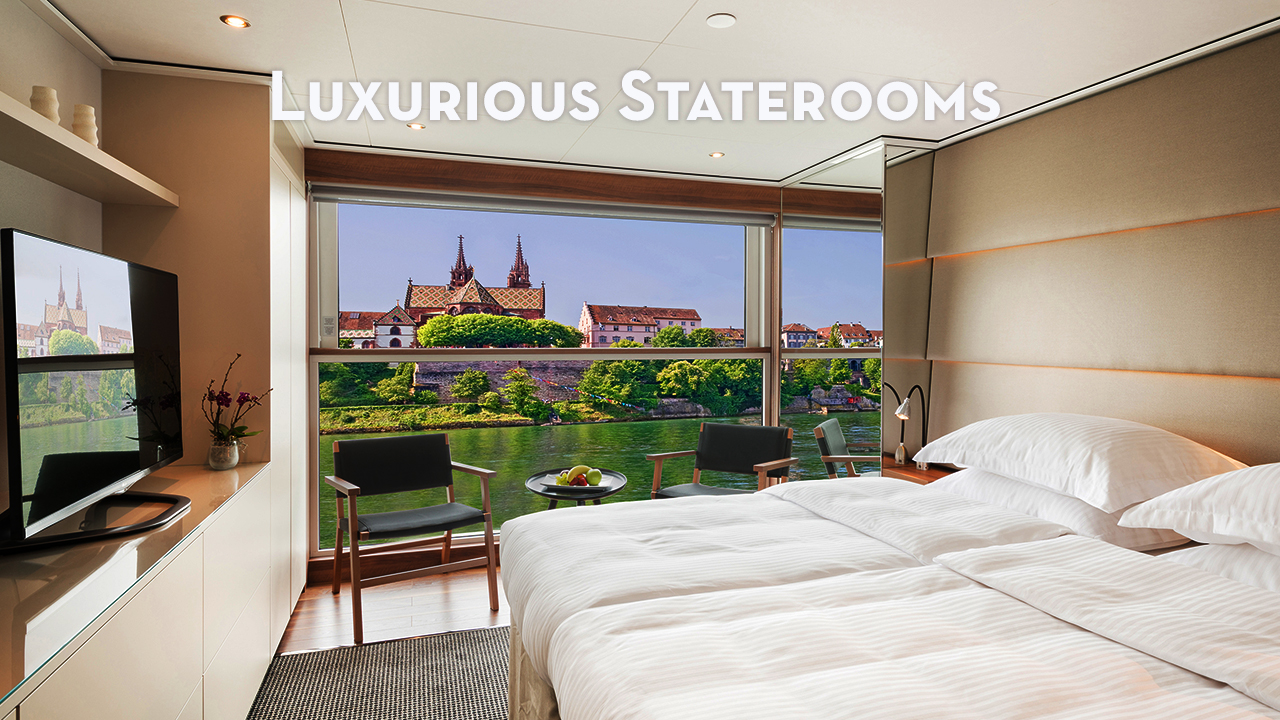 Christmas Perfection on the Undeniably Chic Emerald Sun

THE TERRACE
As we make our way down the Rhine, this will become a favorite hang-out spot to watch the stunning countryside glide by.
HORIZON BAR & LOUNGE
At the very heart of Emerald Sun is the Horizon Bar & Lounge. A contemporary and chic social space where VACAYA's signature entertainers are featured.
REFLECTIONS RESTAURANT
Dining aboard Emerald Sun provides an endless array of yummy gems. Reflections Restaurant is where you'll enjoy the majority of your meals while onboard.
SUN DECK & SKY BARBECUE
The Sun Deck offers stellar views of the beautiful scenery that will be passing by. A perfect place to lounge away an afternoon or evening.
FITNESS & WELLNESS AREA
Take advantage of Emerald's fully equipped Fitness Area and spa-like Wellness Area. The perfect way to begin or end your day of exploration and adventure.
HEATED POOL, CINEMA, & LOUNGE
Sun's innovative retractable roof over an indoor heated pool sets a new standard for riverships.
7 Magically Festive Nights
The Very Best of the European Christmas Markets
Included Activities Morning through Evening
Cherished Lifelong Memories
Day 1 – Sat, Dec 2
Basel, Switzerland – Depart 6:00pm
Day 2 – Sun, Dec 3
Breisach, Germany
Day 3 – Mon, Dec 4
Kehl, Germany to Strasbourg, France
Day 4 – Tues, Dec 5
Ludwigshafen to Heidelberg, Germany
Day 5 – Wed, Dec 6
Koblenz, Germany
Day 6 – Thu, Dec 7
Cologne, Germany
Day 7 – Fri, Dec 8
Amsterdam, Netherlands
Day 8 – Sat, Dec 9
Amsterdam, Netherlands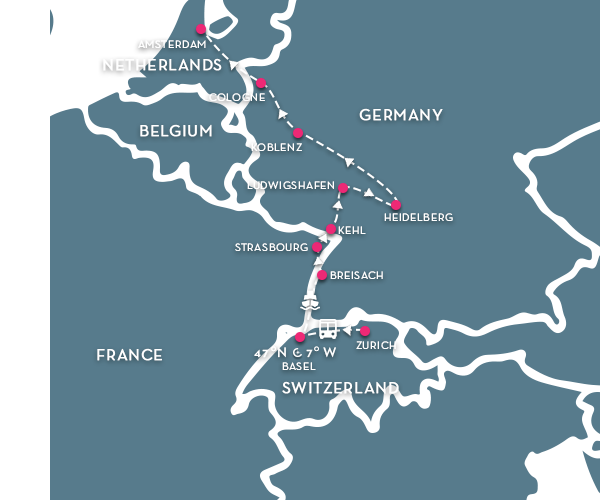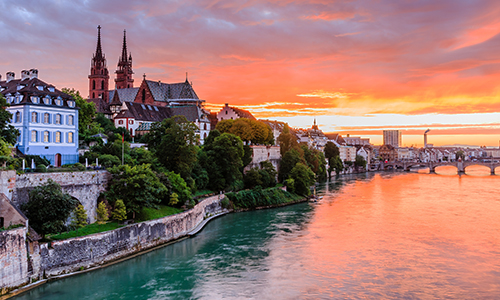 BASEL, SWITZERLAND 47°N 7°E
SATURDAY, DEC 2, 2023
BOARDING 3PM | DEPART 6PM
A delightful blend of old and new, Basel is Switzerland's best-kept secret. During the holiday season, the medieval Old Town is transformed into a magical yuletide affair. Cobblestone streets are lined with wooden chalet-style huts selling all manner of festive treats and gifts. Visitors to the Christmas market can enjoy a warming cup of aromatic glühwein in a decorated boot-shaped mug. Hand-carved tree decorations, cheerfully painted ceramics, and delicious food are sold from stalls throughout the city.
Many will choose to spend their pre-cruise time in nearby Zürich, which truly is one of the most beautiful cities in the world.
No matter where you choose to kick off your European holiday adventure, we'll all come together today on our beautiful Sun!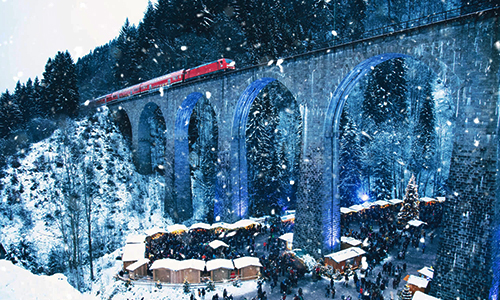 BREISACH, GERMANY
SUNDAY, DEC 3, 2023
Breisach is built on a basalt rock outcropping in the Rhine plain, opposite its French sister city, Neuf-Brisach. It's located in one of the warmest parts of Germany, across the river from French Alsace, famous for its wine growing. But Breisach, too, can boast about its wine: it's home to Europe's largest cellars, with a storage capacity of more than 160 million liters. The most prominent landmark of Breisach is the Romanesque-Gothic St. Stephen's Cathedral, built between the 12th and 13th centuries. Its two towers are visible throughout the city and from the Rhine.
Included Tour: Guided visit to the Christmas Market at Ravenna Viaduct
DiscoverMORE Option (extra expense): Excursion to Riquwihr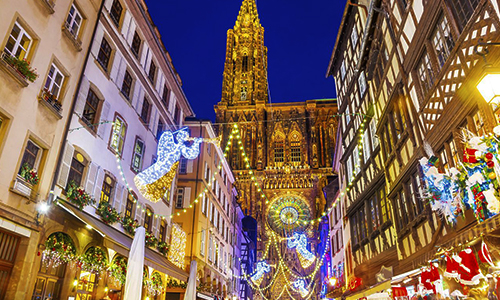 KEHL, GERMANY TO STRASBOURG, FRANCE
MONDAY, DEC 4, 2023
Although we'll dock in Kehl, we'll head across the river to stunningly beautiful Strasbourg, France to spend our day. Strasbourg is said to be "The Capital of Christmas" in France, with the city's cathedral square taking center stage as it's transformed into a winter wonderland. The city's Christkindelsmärik is the oldest in France, dating back to 1570. Hundreds of stalls are brimming with colorful wares, fine food, and mulled wine, bringing festive cheer in abundance. Alsatian specialties feature an array of hearty classics, from bretzels (soft, bread-like pretzels) to bredele (star-shaped spiced cookies), and knacks (sausages) to pain d'epices (gingerbread).
Included Tour: Guided tour of Strasbourg
DiscoverMORE Option: Evening concert at Bruchsal Palace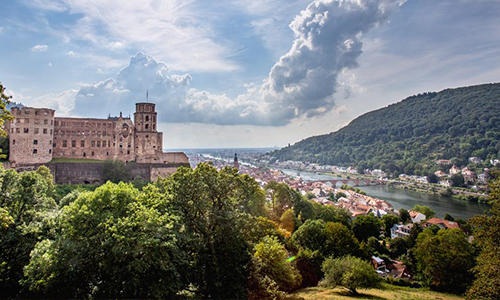 LUDWIGSHAFEN TO HEIDELBERG, GERMANY
TUESDAY, DEC 5, 2023
Today is all about exploring Heidelberg, undoubtedly one of the most beautiful towns in all of Germany – a picture-perfect Christmas postcard!
One of Germany's most perfect architectural treasures, Heidelberg is all the more remarkable because it escaped bombing during World War II. Set in an almost idealized German landscape, this jewel sits on the banks of the River Neckar, surrounded by forests and with an imposing castle dominating the church spires and terracotta gabled roofs of the compact Aldstadt – the romantic Old Town. During the 19th century, Heidelberg was the center of Germany's Romantic Movement, on the route of the "Grand Tour" and visited by many artists including JMW Turner, who captured its splendors for eternity. Heidelberg will be dressed to the nines in Christmas finery and this jewel will be a highlight of our adventure together.
Included Tour: Guided walk of Heidelberg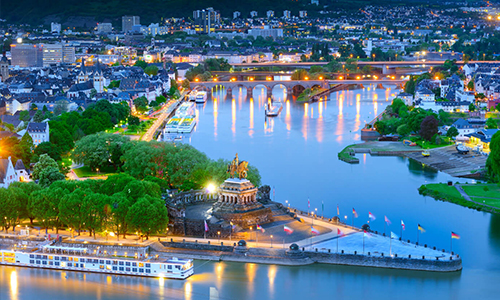 KOBLENZ, GERMANY
WEDNESDAY, DEC 6, 2023
Koblenz is a traditional German country town with a wine heritage that spans centuries; a key ingredient for the warming glühwein that is served from taverns and market stalls during the holiday season. The scent of cinnamon, cloves, and spices waft from steaming mugs as the sounds of festivities fill the air from one of the many musical performances around town. Centered around the Schängel fountain, the Koblenz Christmas Market offers all the flavors of the yuletide season from its famous Christmas bakery.
Included Tour: Walking tour of Koblenz and a visit to Ehrenbreitstein Fortress
DiscoverMORE Option (extra expense): Visit Moselle Valley and Cochem Castle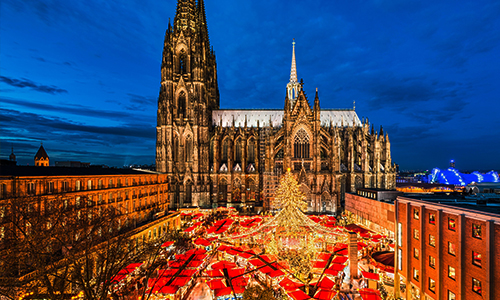 COLOGNE, GERMANY
THURSDAY, DEC 7, 2023
Endless winter markets are featured all around Cologne during the holiday season, inviting visitors to browse colorful market stalls for handmade gifts, beautiful artwork, and colorful crafts. The towering Gothic Cologne Cathedral provides a stunning backdrop to the city's festivities and the main market is located nearby. Beneath the pointed roofs of Cologne harbor's tented market, unique crafted goods are displayed amid the twinkling lights of boats docked in the marina. Be sure to check out the kitschy all-gay Heavenue Market on the grounds of KölnBonn near Rudolfplatz.
Included Tour: Guided tour of Cologne's Old Town
DiscoverMORE Option (extra expense): Visit the Eau de Cologne Museum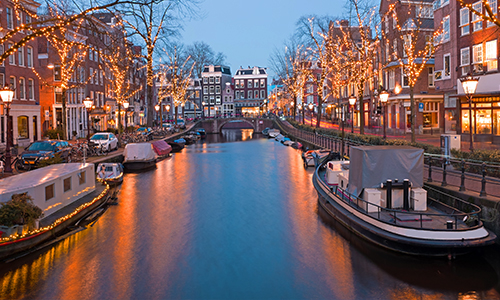 AMSTERDAM, NETHERLANDS
FRIDAY, DEC 8, 2023
A city of charming canals, elegant gabled houses, splendid museums, and more bicycles than you've ever seen, the Dutch capital of Amsterdam is a delight to explore. Its patchwork of waterways forms about 90 islands connected by 1,500 bridges. The legacy of the Dutch Golden Age lives on in gilded mansions and in the lush paintings of Rembrandt and other Dutch masters that adorn the Rijksmuseum, The Netherlands' grand repository of art and cultural history. Discovering Amsterdam is a pleasure best pursued on foot and the Christmas Markets here feature our favorite holiday treat: fresh stroopwafel to go!
We'll overnight here in Amsterdam on this exciting Friday night!
Included Tour: Canal Cruise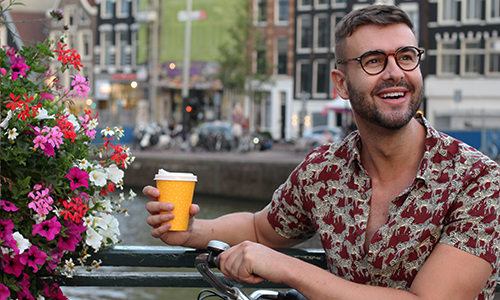 AMSTERDAM, NETHERLANDS
SATURDAY, DEC 9, 2023
Although our time together ends today, we encourage you to stay here in Amsterdam a few extra days to explore all this magical city has to offer. We hope to see you around town!
Merry Christmas!
When you book online directly with VACAYA, you'll enjoy 24×7 access to your booking information, Pay-In-Full bonus offers, No-interest monthly payments, AIRLINE DISCOUNTS, and our BEST RATE GUARANTEE!
While our Solo Traveling with Ease Program (STEP) has been sunset, we offer some great recommendations for finding a roommate HERE.
Port & Admin Fees are 347 USD per person.
Pre-Paid Gratuities are 137 USD per person (calculated at $19.50 per day). 100% of these gratuities go to onboard staffers, including your stateroom attendant, the culinary services staff, the behind-the-scenes hotel services staff, and the myriad department heads who work with their teams around the clock to create a flawless VACAYA experience for you.
Solo guests in their own stateroom pay double Gratuities and single Port & Admin Fees.
Because of the unique nature of this cruise, adding a 3rd or 4th guest in a stateroom/suite is not possible on this sailing.
Room descriptions, sizing, and view specifics have been provided to us by Emerald Waterways. Room layouts and views (including obstructions) can vary within the same category. For rooms with a capacity greater than 2, the additional bedding is a combination of sofa beds and/or upper berths.
For guests staying in Zürich pre-cruise, a transfer to Sun in Basel on Dec 2 is included. Pick-up location TBD.
For guests leaving Amsterdam on Dec 9, transfers to Amsterdam's Schiphol Airport (AMS) are included.
Upon booking outside of 300 Days – 10%.
At 300 Days (February 5, 2023) – 25%.
At 240 Days (April 6, 2023) – 50%.
At 180 Days (June 5, 2023) – 75%.
At 120 Days (August 4, 2023) – 100%.
Upon booking through 300 Days (February 5, 2023) – 10% of total.
From 299 (February 6, 2023) to 240 Days (April 6, 2023) – 20% of total.
From 239 (April 7, 2023) to 180 Days (June 5, 2023) – 40% of total.
From 179 (June 6, 2023) to 120 Days (August 4, 2023) – 60% of total.
From 119 (August 5, 2023) to 90 Days (September 3, 2023) – 80% of total.
From 89 (September 4, 2023) to 0 Days (December 2, 2023) – 100% of total.
Be sure to read VACAYA's Terms & Conditions, which include the Payment/Cancellation/Refund Policies for all reservations. Please note that cancellation fees apply from the time of booking.
For real-time availability, proceed by clicking BOOK NOW. With ever-shifting inventory, a category that shows availability on this page may no longer be available when you attempt to book. If you need help finding the perfect room in another category or to add your name to our wait list for a sold-out category, feel free to email The V Team at info@myvacaya.com and we'll be happy to assist you.
You may pay in full at the time of booking. Unless you later modify your reservation, no further payments will be necessary. BONUS OFFER: Paid-in-Full Reservations made through February 5, 2023 will receive a $100 discount per stateroom.
Your initial deposit is due at time of booking. Then, your remaining monthly payments will be calculated using the number of months between your booking and the final payment due date. Payments will be charged on the 1st day of the month, the 15th, or the last day of each month (determined automatically depending on the day of the month you book). Payments will be charged to your credit card on file. If your credit card details change at any time, simply update the info in our system prior to your next month's payment date. Please note declined payments are subject to a convenience fee. For more information, explore our Automatic Billing FAQs and our Terms & Conditions.
There is one question every traveler across the globe universally faces: should I purchase Travel Insurance? It's natural to ask yourself, should I spend the extra dollars to protect my vacation investment? Or do I leave it in the hands of Lady Luck and hope for the best. At VACAYA, we've always believed Trip Insurance was critical to the vacation planning process. That's why we took special care to integrate the purchase opportunity into our online booking process. Pre-pandemic, the main reason to buy insurance was to assure your safe return home if something were to happen to your health while on vacation. That's because quality insurance covers medical evacuation so people don't have to pay medical emergency transportation expenses out of their own pocket.
With Covid-19 in our lives for the foreseeable future, we now have an even stronger rationale for recommending Trip Insurance. "Cancel For Any Reason" insurance has quickly risen in popularity, and for good reason. If you decide you don't want to travel after the cancellation penalty period has begun, this type of insurance covers most if not all of your cancellation fee. It's also a great way to help honor your Social Contract with VACAYA.
So go ahead and buy that bucket list trip, but protect your health and your investment by purchasing Trip Insurance. ❤️