2,900 LGBT+ FRIENDS FROM
AROUND THE GLOBE
STUNNING BEACHES +
NONSTOP FUN
THE 2024 CARIBBEAN CRUISE IS SOLD OUT!
This 2024 Caribbean Cruise is completely SOLD OUT!  If you'd like to put your name on our waitlist for this cruise, please follow these 2 easy steps:
If you don't yet have a profile in our booking system, set one up HERE.
Once your profile has been completed, email info@myvacaya.com and provide us with the following information: the trip name full name, phone number, email address, type of room(s) you're looking for.
Once on the list, we'll reach out to you in the order your name appears on our waitlist if a room that fits your request becomes available.
With consumers' pent-up appetite for travel reaching a fevered pitch, we advise that you book as early as you can for all of our trips. We've seen a tenfold increase in bookings over the last year as news continues to improve. We certainly don't want you to miss out on another VACAYA adventure!
Congratulations to all those who managed to scoop up a room on our 2024 Caribbean Cruise. We can't wait to welcome you on this truly epic adventure!
VACAYA & CELEBRITY:
PUSHING MODERN TRAVEL TO BOLD NEW HEIGHTS
VACAYA is making a quantum leap up in the quality of ships we'll be sailing for our annual big-ship Caribbean Cruise – taking you to the edge of what's possible and then beyond!
Sailing Feb 17-24, 2024 for 7 magical nights from Fort Lauderdale to Puerto Rico, St. Croix, and Antigua, Apex will inspire you to reimagine everything you've ever known about cruising. Like VACAYA has done since the beginning, Apex also rewrites the playbook. And The V Team is thoughtfully reinventing the VACAYA experience from the ground up to match this stunning ship's innovative design. From fresh new ways to dine to its immersive play spaces, Apex with VACAYA will unfold surprisingly and with all-new moments of wonder and awe. While you'll certainly recognize a few common threads that tie all Celebrity ships together (like Café al Bacio, Blu, and Luminae), get ready to be wowed by premium touches from stem to stern!
So, without any further ado, it's time to take a peek (or is it peak with Apex?) at your next VACAYA vacation, our most thrilling yet!!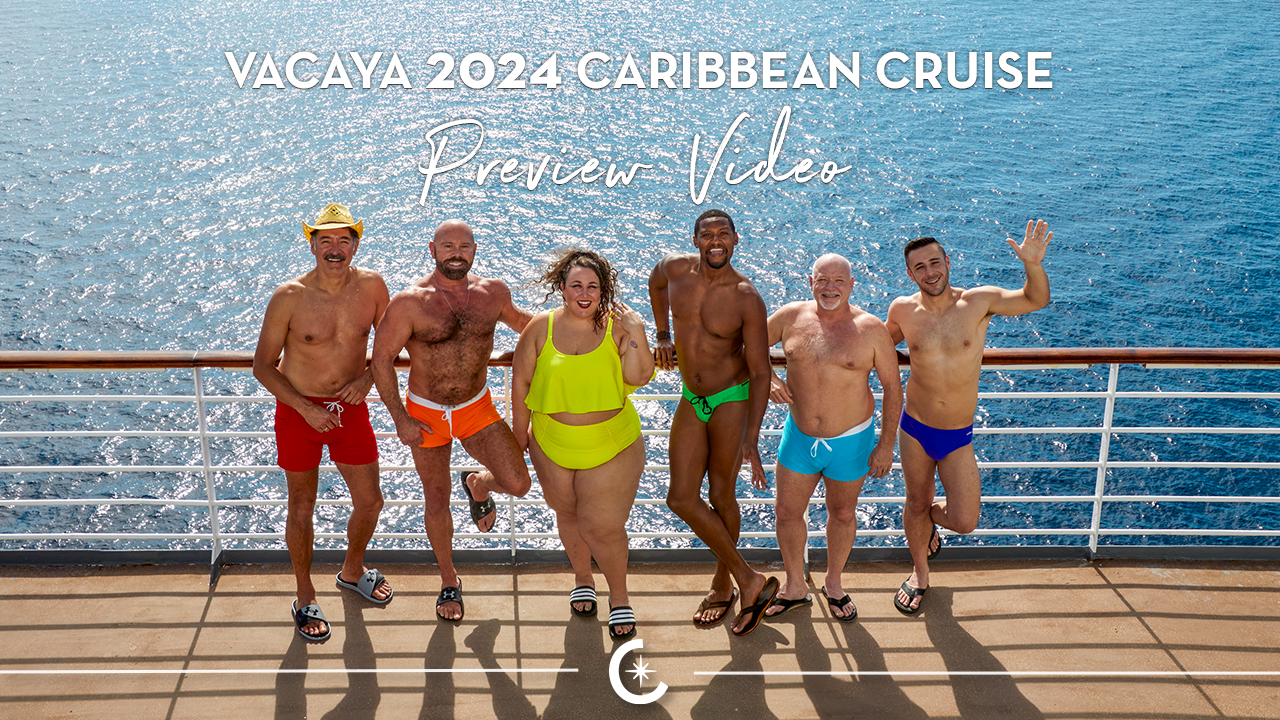 As you know, cruising takes the guess work out of travel. And with all the added VACAYA benefits – from signature entertainment and welcoming parties to endless social activities and non-stop fun – it's also an incredible value. With so many inclusions, your precious vacation dollars have never been better spent. And with 
this
 cruise – like we've done with all our big-ship Caribbean cruises since the beginning – you'll have the ability to purchase Celebrity's unlimited beverage packages to make the value even better!
It's amazing what's included:
7 Nights aboard the cutting-edge Celebrity Apex
Meals with flavors from around the world*
24×7 Stateroom Service, Reception Desk & Room Service**
World-Class Fitness Center
All-Star VACAYA Entertainment
Endless Celebrity and VACAYA social activities
Warm, friendly parties with music you love and can even sing along to
Party themes 120 days out
Celebrity Booking Numbers 45 days out
Abundant, clear, and timely communication via email and on the trip's GET READY page
VACAYA ReachOUT Philanthropic Service Opportunities
*Some of the specialty dining venues have an additional cost, but they're worth every penny.
**There's a nominal delivery fee for room service.
MYTH BUSTING UNLIMITED BEVERAGE PACKAGES
Once again, CELEBRITY'S UNLIMITED BEVERAGE PACKAGES WILL BE AVAILABLE FOR PURCHASE ON THIS CRUISE! Once online registration opens shortly before the cruise, you'll have the opportunity to purchase one of the myriad unlimited Alcoholic or Non-Alcoholic Beverage Packages directly from Celebrity. Pay just one price to enjoy a wide variety of drink choices such as premium coffees, bottled water, wines-by-the-glass, beers, or your favorite cocktails. Your package can be used in the Main Restaurant, specialty restaurants, casual dining restaurants, and all bars and lounges. All occupants of a single stateroom are required to purchase a beverage package if one person in the stateroom purchases a package. Pricing is subject to change.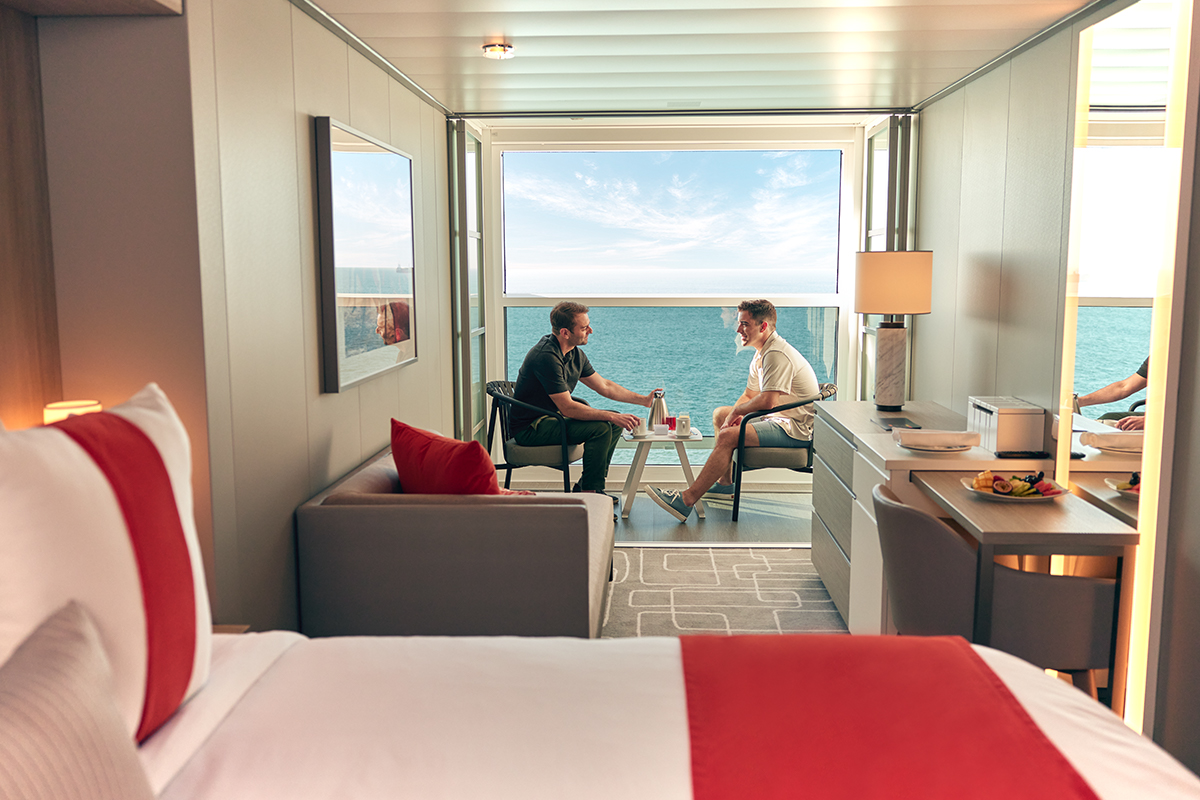 Unmatched space. Unmatched technology. An all-new way to "live" on a ship. Apex's elegant accommodations are designed with your comfort in mind and are inspired by the sea, sun, and sand. Celebrity's deep insight into the desires of travelers brings you thoughtfully included amenities, Infinite Verandas with dramatic ocean views, delectable room service, and endless special touches. Apex will redefine "home away from home."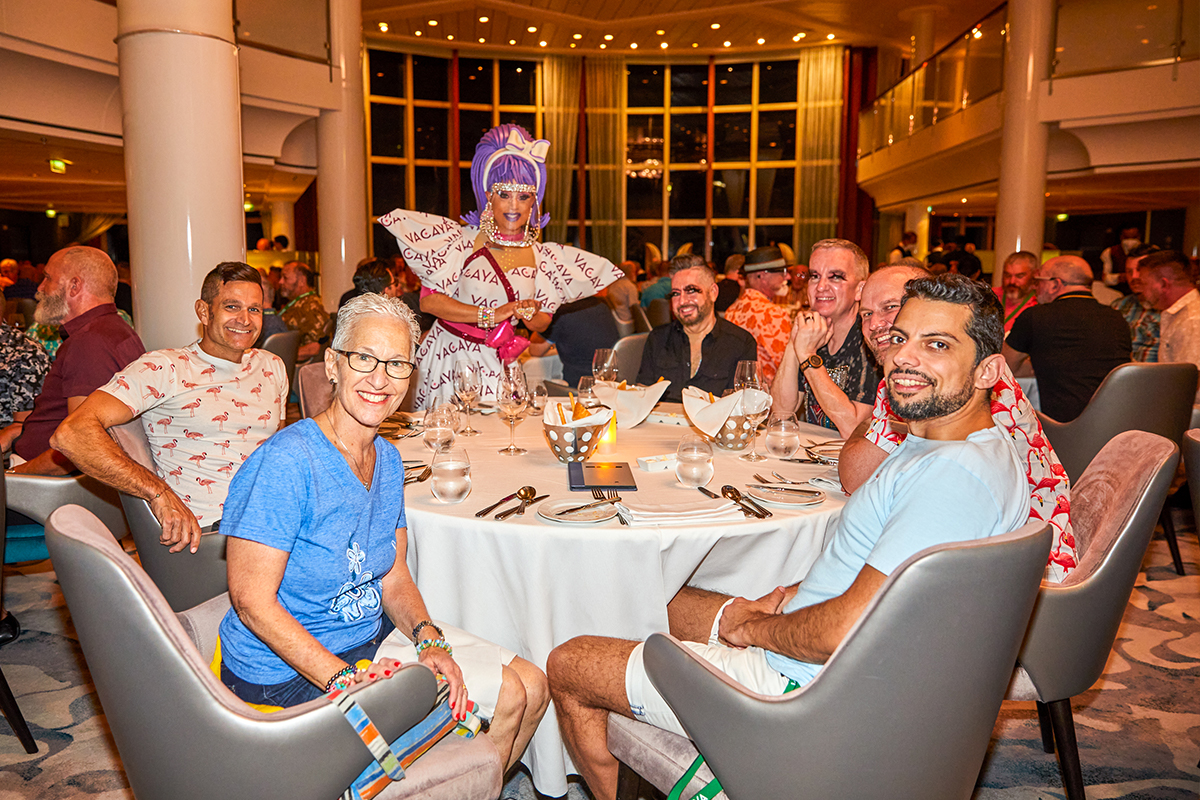 An unrivaled culinary repertoire of 29 distinct restaurants, bars, and lounges, including the brand-new Craft Social Bar (The V Team's favorite!). Globally-inspired menus crafted by Michelin-starred chefs bring the flavors of the world straight to the plate, providing an epicurean journey unmatched at sea.
STAR-STUDDED ENTERTAINMENT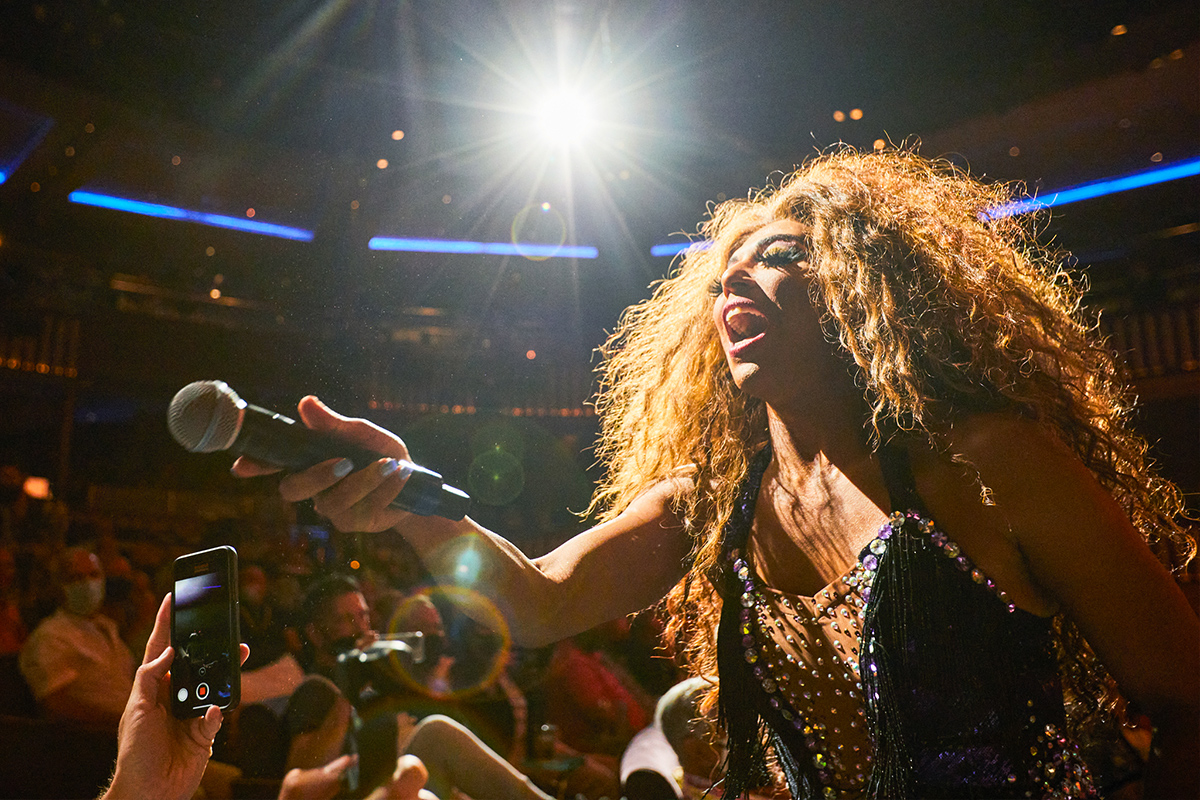 STAR-STUDDED ENTERTAINMENT
The entertainment onboard is just as revolutionary and carefully crafted as the ship itself. Edge media recently wrote about VACAYA entertainment, "packed with top-tier entertainers – a hallmark of the brand, which has quickly risen to best-in-class for queer travelers." We believe onboard entertainment should be plentiful, fresh, diverse, and unpredictable, surrounding you and delighting you with spaces and experiences never seen before. Apex is the perfect canvas for all we do!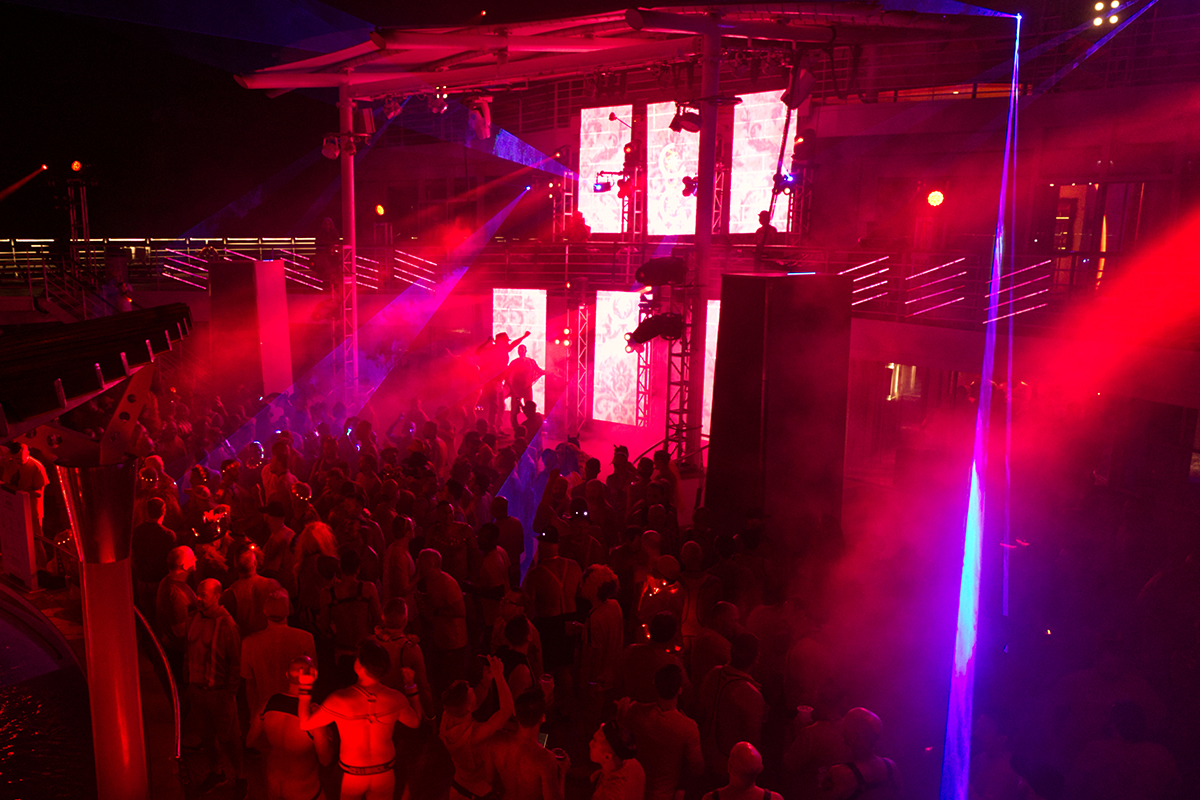 With VACAYA, you're in complete control of your own schedule. You can hop from one activity to the next or simply relax at the pool. Our activities include meetups, pool games, fitness classes, V-Dances (VACAYA's twist on the classic T-Dance), welcoming evening parties, and so much more. Part of the fun of each and every VACAYA cruise vacation is our theme parties. And in an industry-leading timeline, you'll have your party themes 120 days out!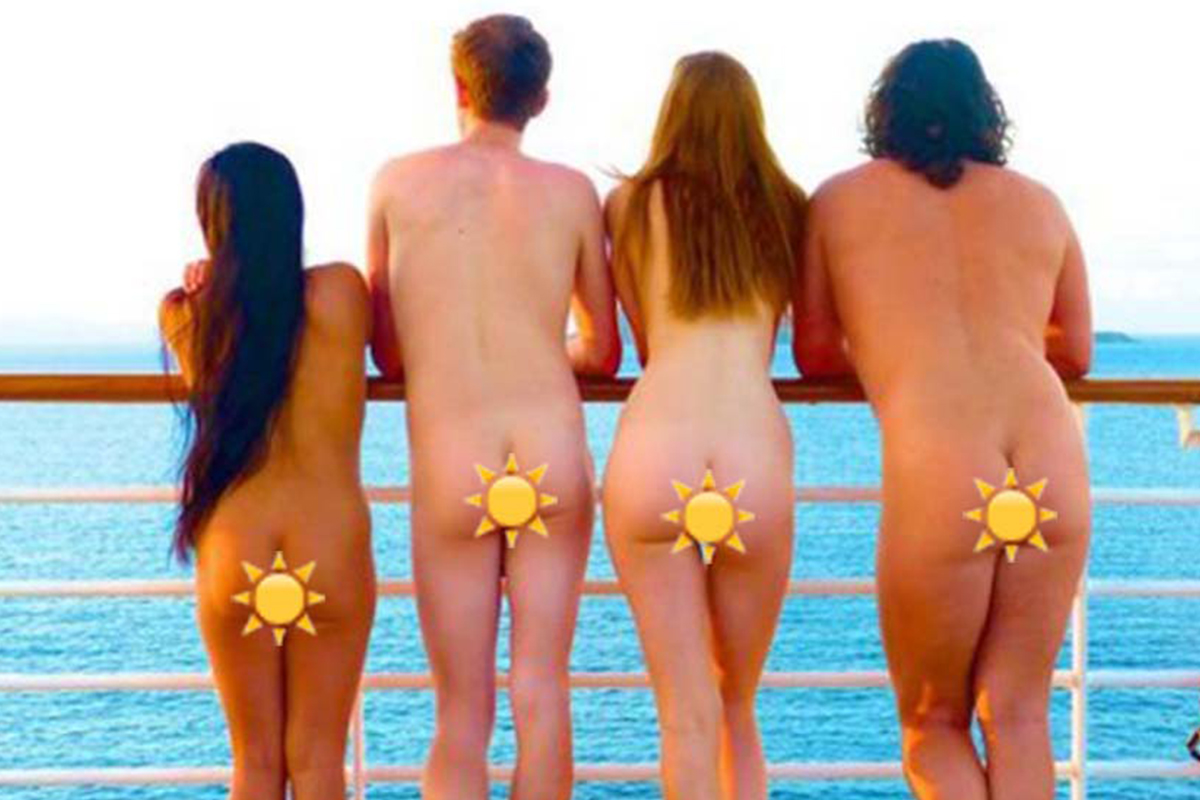 Our sexy sun deck allows you to go au naturel. Perhaps you're curious about what a clothing optional experience is really like, or maybe you want to get some sun without the tan lines, or perhaps you just want to embrace your natural look in a sea of body positivity. Whatever the reason, VACAYA offers you this experience. So go ahead… indulge in the company of like-minded adventurers!
PHILANTHROPIC OPPORTUNITIES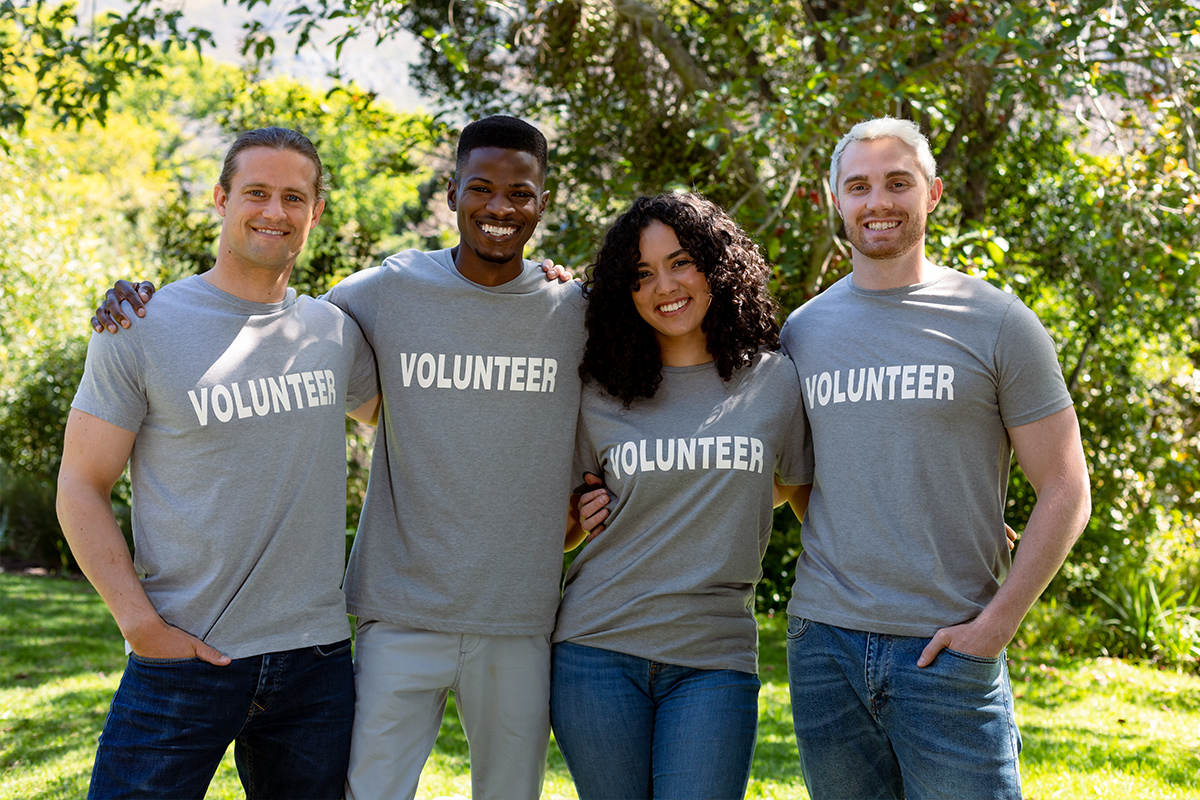 PHILANTHROPIC OPPORTUNITIES
One of VACAYA's main missions is to give back to the communities we visit. We view travel as a truly transformative experience. Gay travel specifically has changed the way people all over the world view our community. They have given us so much by welcoming LGBT+ travelers with open arms. Now, it's our chance to give back to them through our ReachOUT program.
We're working on several meaningful options for our 2024 ReachOUT initiatives. So stay tuned for more details, which will be outlined on our GET READY page.
Like her industry-changing sister ship Celebrity Edge, which was named one of TIME Magazine's
"World's Greatest Places"
in her 2019 debut season, Celebrity Apex features innovative outward-facing design and visionary spaces from world-renowned designers, connecting Vacayans to the breathtaking world around them like never before.
Sun and world-class luxury await on Celebrity Apex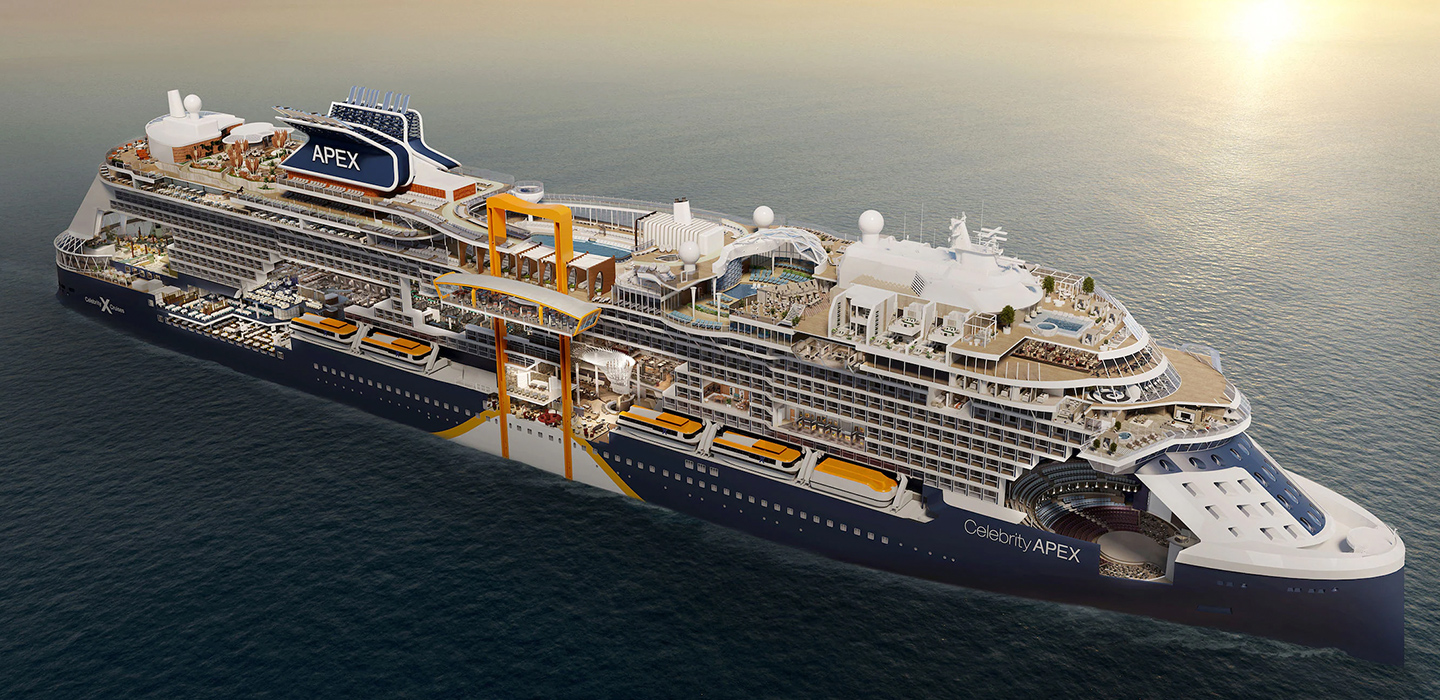 Oceanview Café
The main buffet onboard boasts sweeping two story, floor-to-ceiling windows and offers signature flavors from around the world.
Blu Restaurant
Exclusive to AquaClass guests, this restaurant features clean, crisp flavors and inventive cuisine complimented by an extensive wine list.
The Restaurants
Cosmopolitan. Tuscan. Normandie. Cyprus. These four included dining venues set a new standard with creative American cuisine and international influences. Each features a menu that matches its sisters' offerings, as well as restaurant-specific choices in which to indulge.
Casino
This Vegas-style casino rivals the biggest and best land-based casinos with a variety of games in a smoke-free environment. Feeling lucky? Ask V Team Member Johanna about her recent $24,000 win onboard!
Boutique Shops
The Celebrity Shops are a carefully curated collection of upscale brands and products you'll want to buy on vacation. Included in the mix are brands and keepsake items that are exclusive to your VACAYA sailing and can't be purchased anywhere else!
Magic Carpet
By changing function and location among Apex's decks, the industry-first Magic Carpet is both the best way to take in the spectacular views and the most exciting place to be.
The Grand Plaza
With invigorating energy and home to specialty restaurants, Martini Bar, Café al Bacio, and Craft Social Bar, this three-story venue is inspired by the piazzas of Italy.
Mast Grill
There's no better place to sample hearty burgers, salads, and sandwiches than at Mast Grill, poolside on the top deck.
Solarium
One of the most popular spots on every Celebrity ship, the Solarium has been reimagined with the ocean as the inspiration for this sanctuary.
The Retreat Lounge
Retreat guests can stop by this lounge for beverages (Celebrity Suites and above receive complimentary drinks) and bites, or to simply unwind in this peaceful sanctuary.
The Retreat Sundeck
Exclusive to Retreat guests and featuring a spacious lounge, plush stylish furnishings, a pool bar, and an inviting pool and hot tub, this luxurious outdoor area rivals any high-end resort.
Luminae Restaurant
Exclusive for Retreat guests, this restaurant boasts Michelin-starred creations you won't find anywhere else.
The Theater
This truly contemporary space with 270+ degree seating is designed to blur the line between audience and performance. The enormous digital screens comes to life in unique ways for every performance.
The Fitness Center
This state-of-the-art weight and cardio-filled space will push you to the next level of fitness at sea!
The Spa & SEA Thermal Suite
Ahh-inspiring escape filled with wellness and beauty treatments alike. The SEA Thermal Suite is an evolution of the popular Persian Garden on other ships our guests are familiar with. AquaClass guests have unlimited access to SEA Thermal Suite.
Rooftop Garden & Grill
This outdoor venue is full of unexpected pleasures day and night. Enjoy lunch or dine under the stars at the Rooftop Garden Grill, nestled perfectly in its own delicious corner of the Rooftop Garden.
Eden Restaurant, Bar & Cafe
Eden is a space where nature is so present, Celebrity calls it "a room that lives." Offering uniquely personal culinary journeys designed to not only excite your taste buds, but every other sense as well.
Apex features some of the most beautiful play spaces we've ever seen, including a state-of-the-art Main Theater, the perfect Pool Deck, the tantalizing Eden, and the bustling Grand Plaza.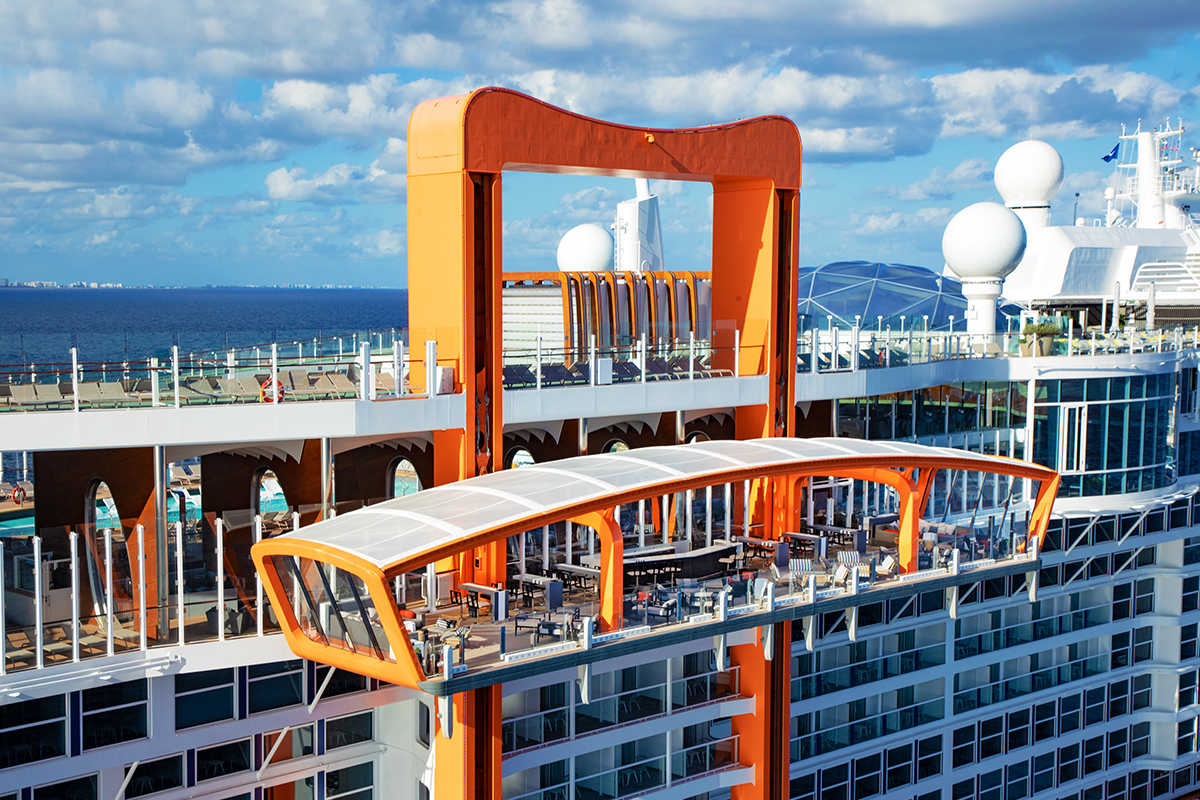 The Magic Carpet soars cantilevered above the sea and offers Vacayans uninterrupted vistas while sipping cocktails or having dinner and more! At the very top of the ship, the Magic Carpet hosts the mouthwatering Dinner on the Edge. Down to Deck 14, the Magic Carpet becomes a stunning extension of the main pool area and serves as an unforgettable, open-air dining experience. At the bottom on Deck 2, the Magic Carpet becomes a platform to board tenders to shore.
VIEW VIDEO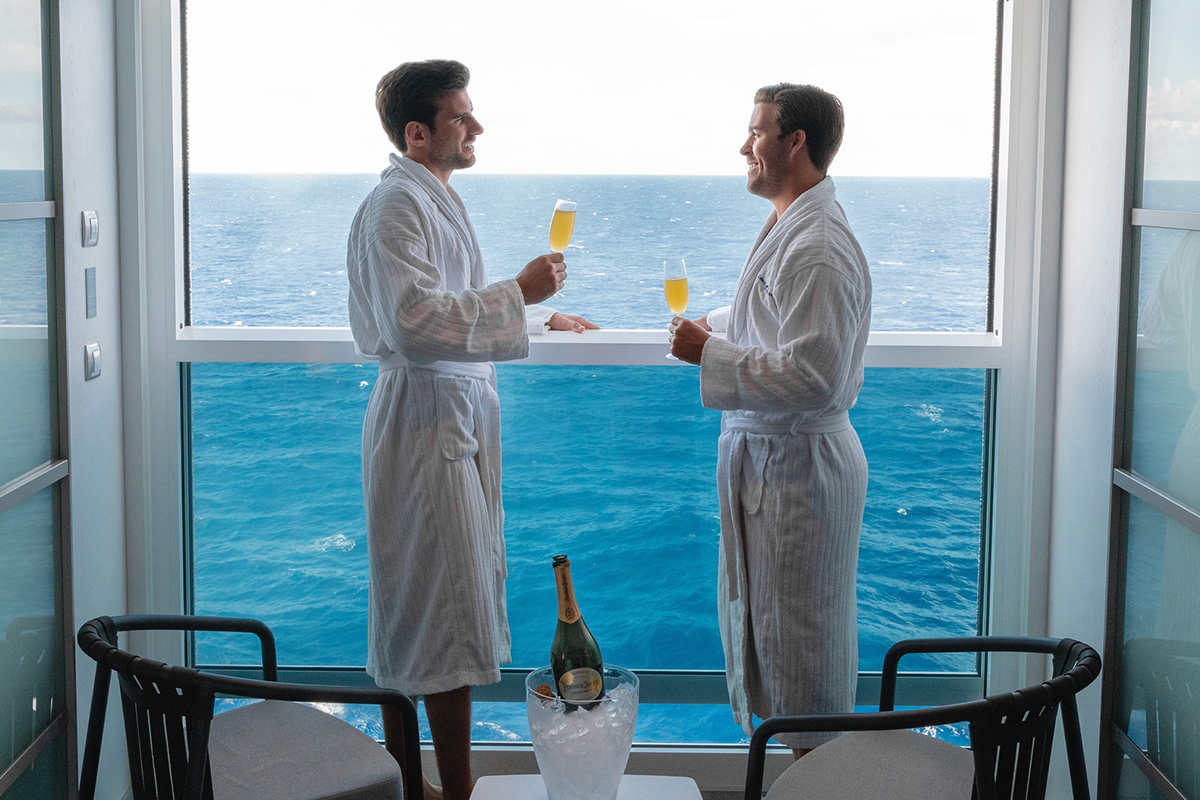 The most transformational aspect of Apex's stateroom design is the introduction of the Infinite Veranda, where with the touch of a button, your entire living space becomes the veranda, letting you walk right out to the water's edge. What had once been the separated veranda space is now part of your room – making Apex's staterooms among the most spacious at sea. For those who've sailed the rivers of Europe before, this innovative veranda design will be quite familiar.
VIEW VIDEO
.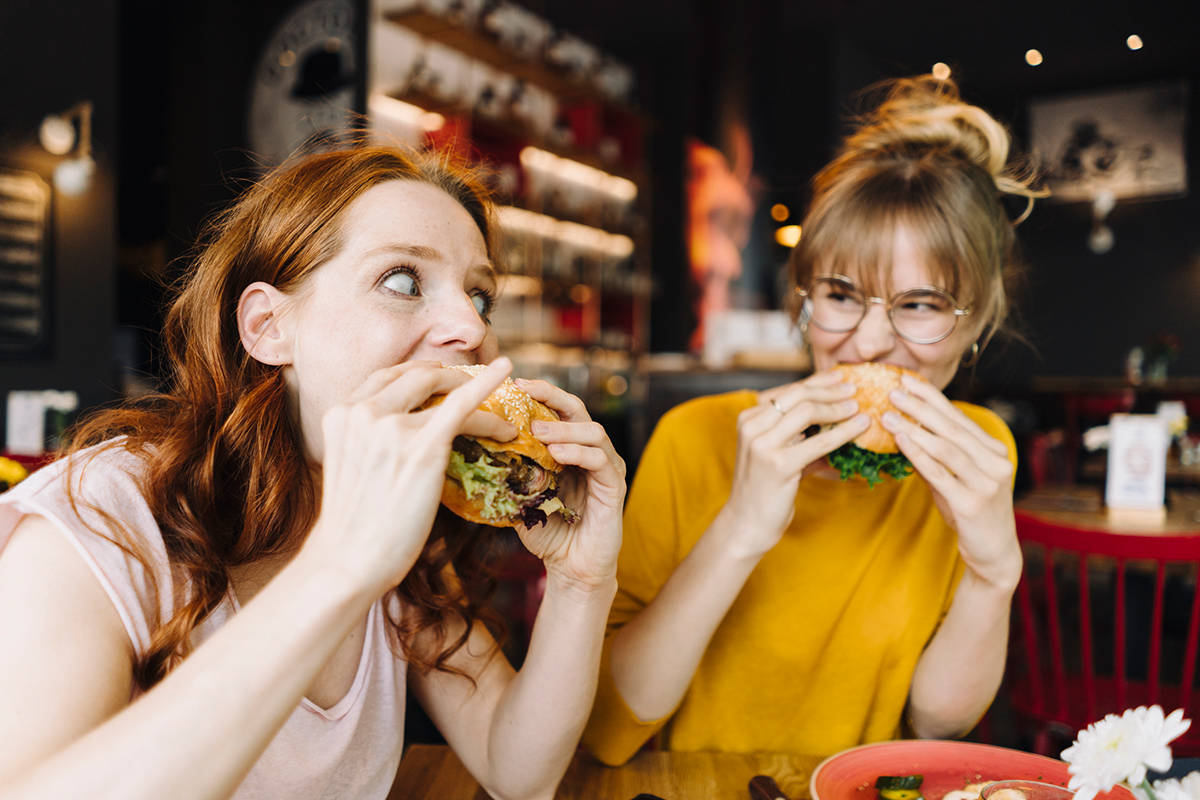 Apex is designed to connect you to the destinations you'll visit like never before, and one way it does that is by bringing the flavors of the world to you – right onboard. Embark on an unrivaled culinary journey, with 29 distinct restaurants, bars, and lounges to choose from. Savor new globally inspired menus crafted by our Michelin-starred chefs, featuring some delicious new dishes. You won't find another dining experience like this at sea – or anywhere, for that matter. 
VIEW VIDEO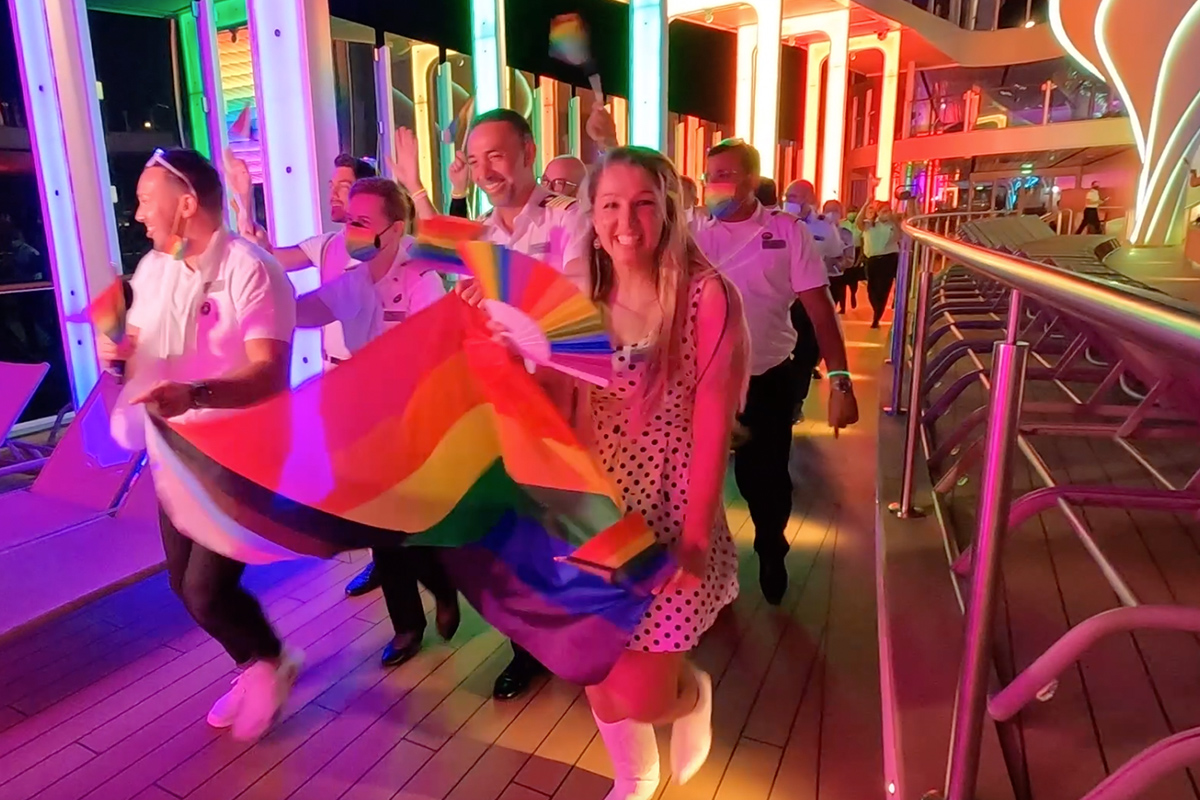 The Resort Deck is unlike any other outdoor space at sea… or anywhere, for that matter. Here, you'll find endless ways to enjoy the outdoors and connect with the sea, including the Rooftop Garden, the Solarium Pool, and the Main Pool, which is the heart of an asymmetrical space surrounded by an outward-facing, terraced pool deck that makes its ocean views the main focal point.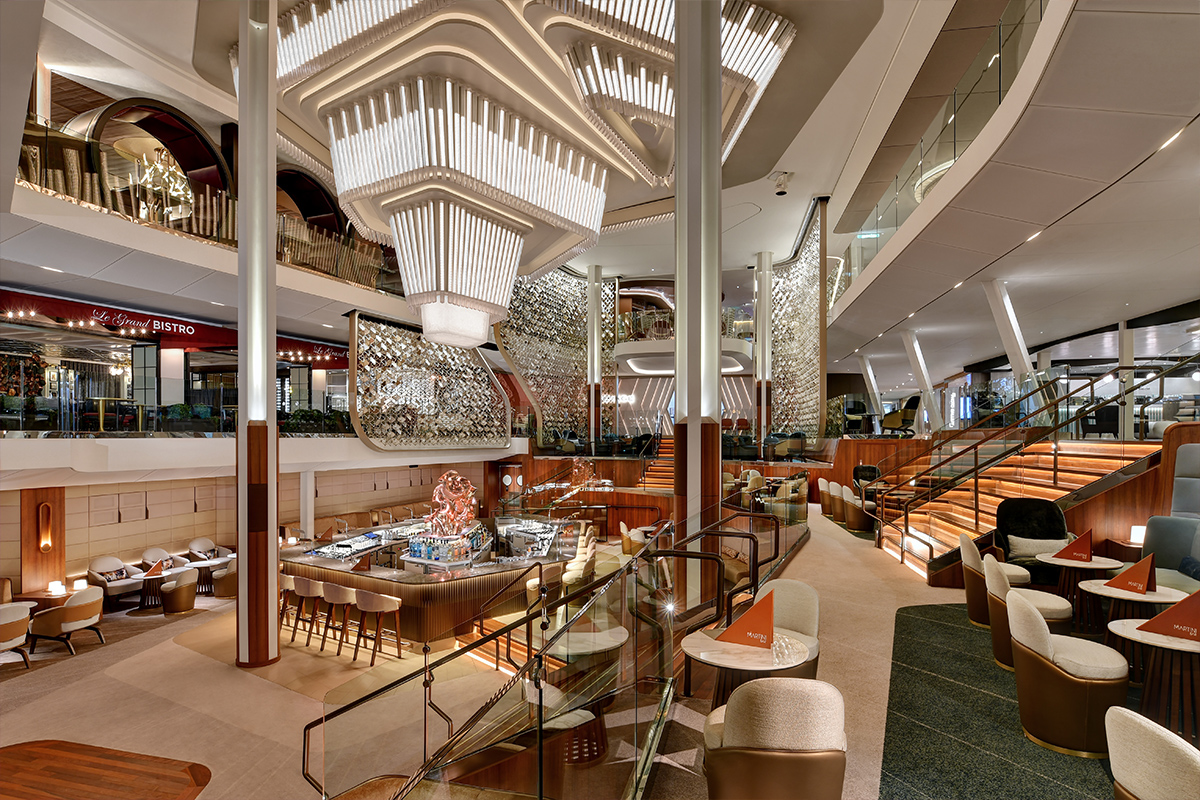 Experience a majestic, open, 3-story venue inspired by the piazzas of Italy and the invigorating energy of everyone coming together to savor a taste of the good life. Home to Apex's incredible specialty restaurants, the popular Martini Bar, and Café al Bacio, the Grand Plaza is the ultimate gathering place on Apex.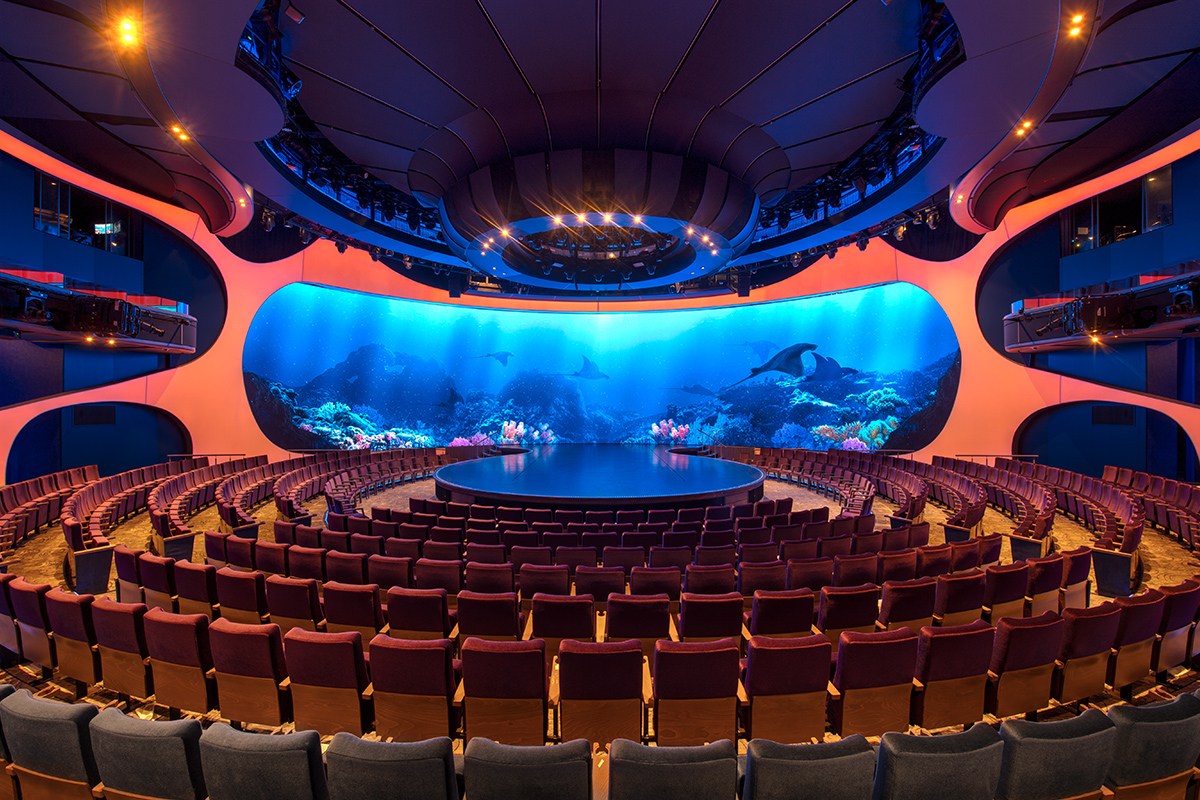 Every entertaining moment is more exciting than the next. The entertainment aboard Apex raises the bar to even greater heights with experiences that are just as revolutionary, just as technologically mind-blowing, and just as carefully crafted as Apex herself.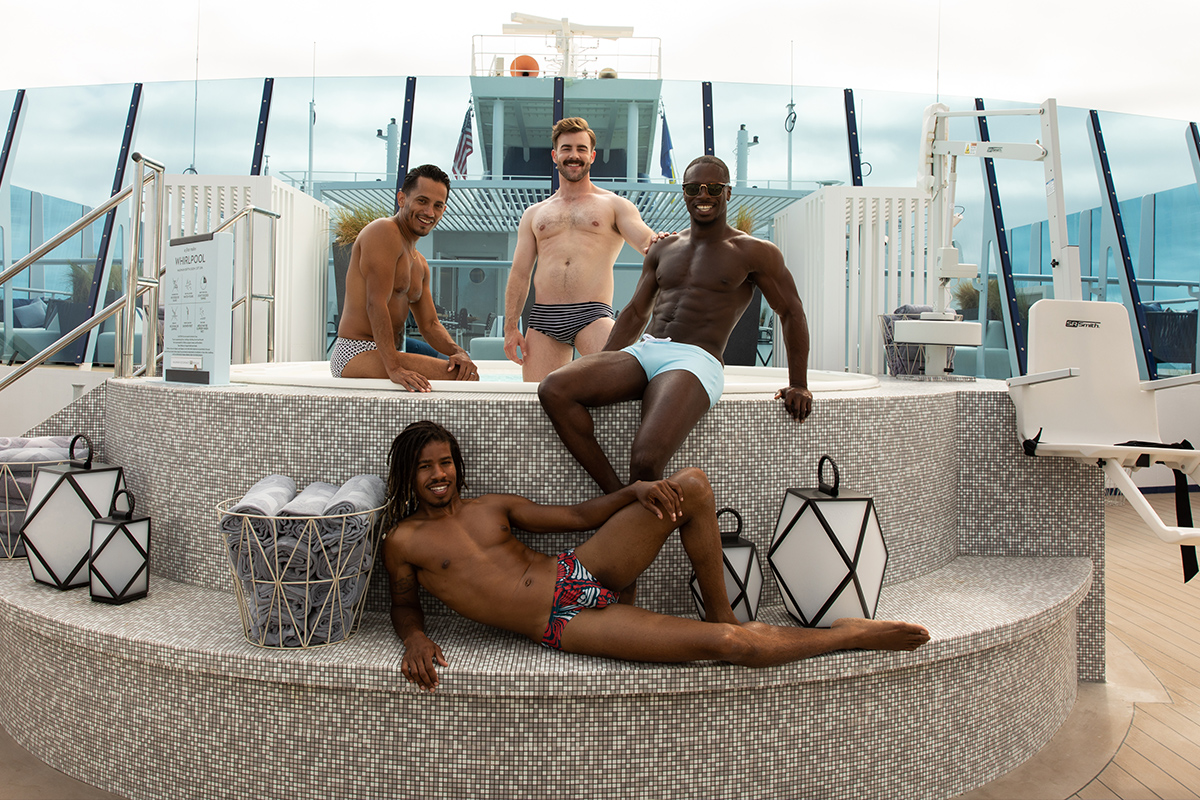 Upgrading to a suite that's part of The Retreat will get you additional perks. The Retreat boasts stunning accommodations, a private restaurant, and an exclusive lounge and sundeck to rival any high-end resort. A dedicated team of butlers, attendants, and concierges are on-hand 24×7 to ensure everything is taken care of on your vacation.
VIEW VIDEO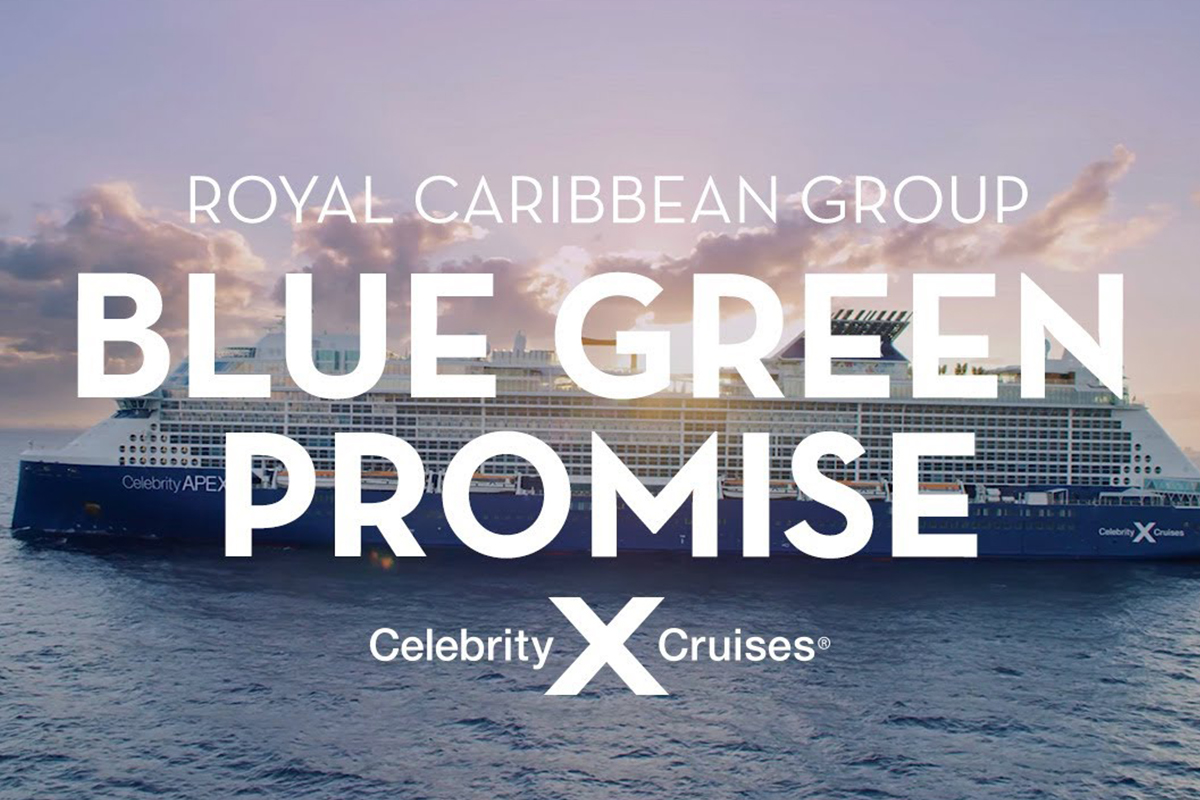 VACAYA is proud to partner with Celebrity for many reasons, but one of the most important is their commitment to the environment. Celebrity Apex has developed the Blue Green promise to support sustainable and resilient ocean communities. From curbing emissions to reducing propeller noise, Apex employs technologies to minimize environmental impacts.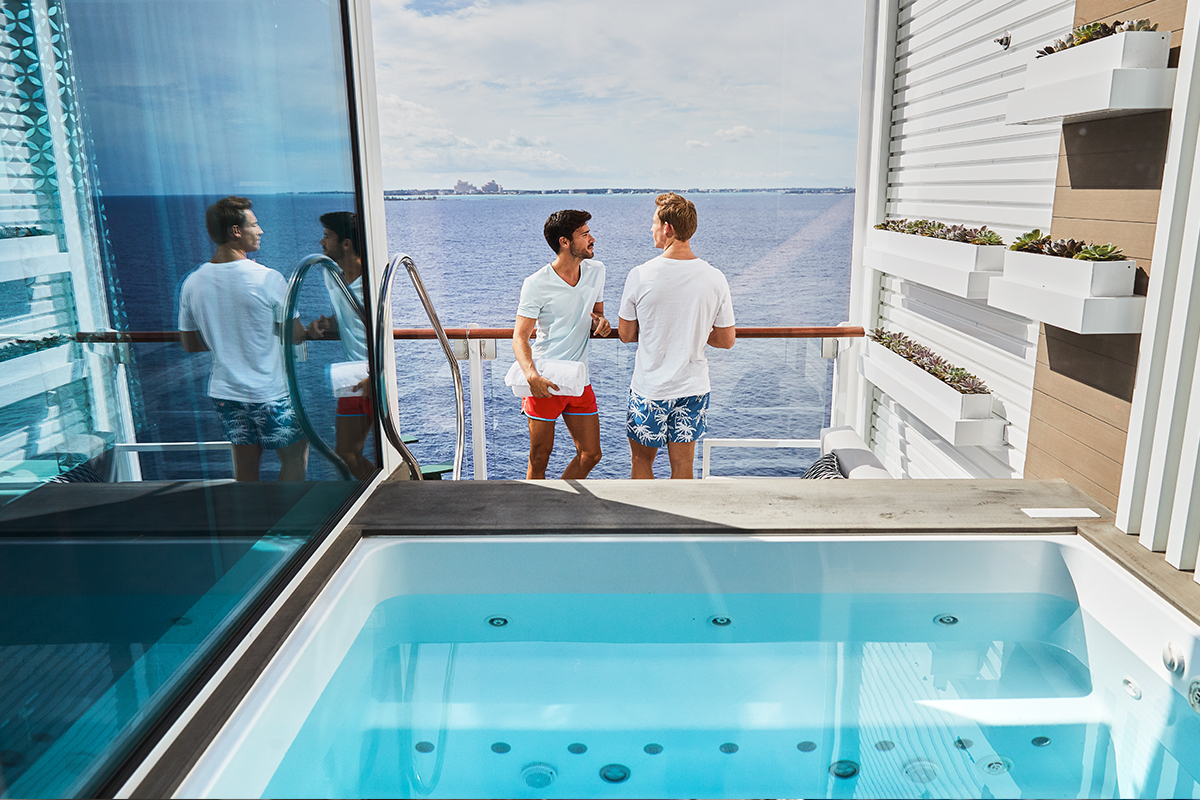 On land or at sea, your safety is our top concern. This means the ship upholds strict health and safety measures. As the world returns to normal, Celebrity is continuing to adapt and optimize its already robust protocols, integrating all the technological, human, and material measures to ensure the provision and maintenance of a healthy bubble.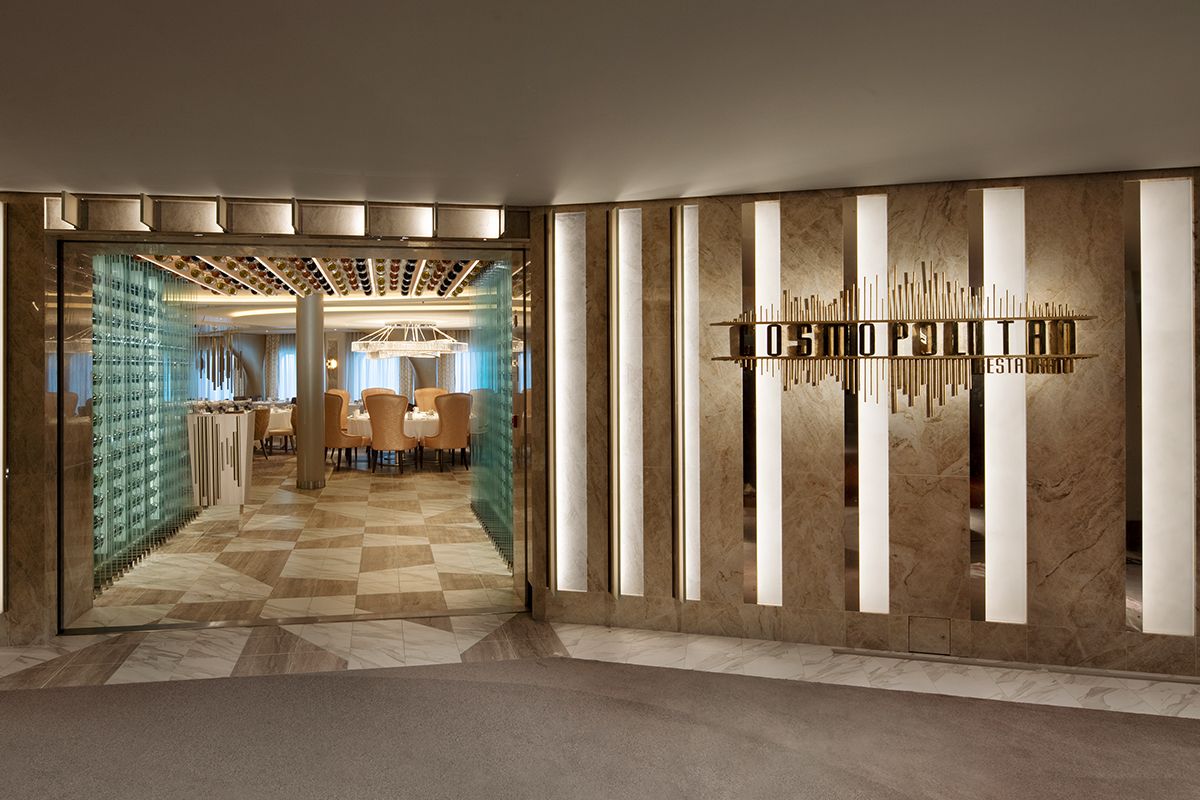 In addition to Apex's four main restaurants, you'll find an array of complimentary dining options, as well. From Eden Café to The Spa Café and from Apex's marketplace-inspired Oceanview Café to the poolside Mast Grill, there's every opportunity to please your palate morning, noon, and night.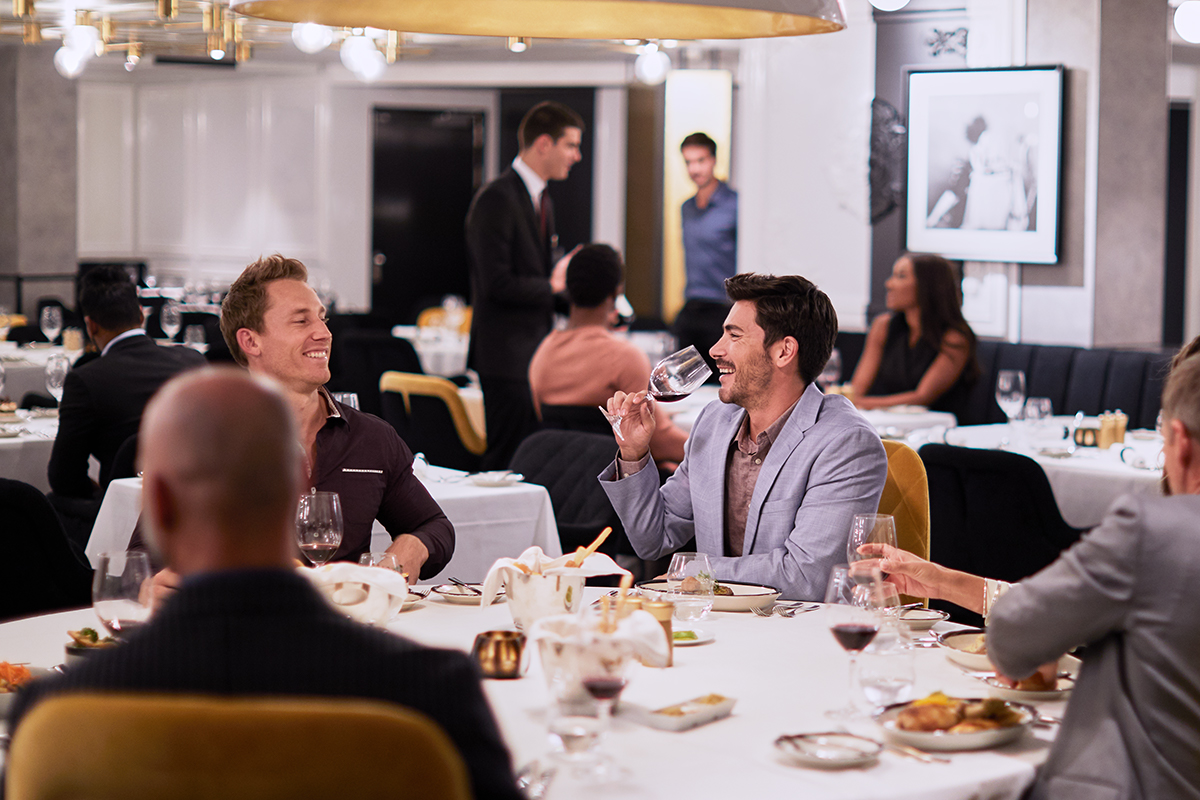 Celebrity has stretched their culinary imaginations to introduce exciting new menus and dishes across Apex's seven delicious specialty restaurants, from Fine Cut Steakhouse to Raw on 5 to Eden Restaurant and more. You'll also discover an entirely new Le Petit Chef animated experience in Le Grand Bistro that will bring your tabletop to life. All this is just a taste of the culinary delights that await you in the specialty restaurants aboard Apex. Service charge applies.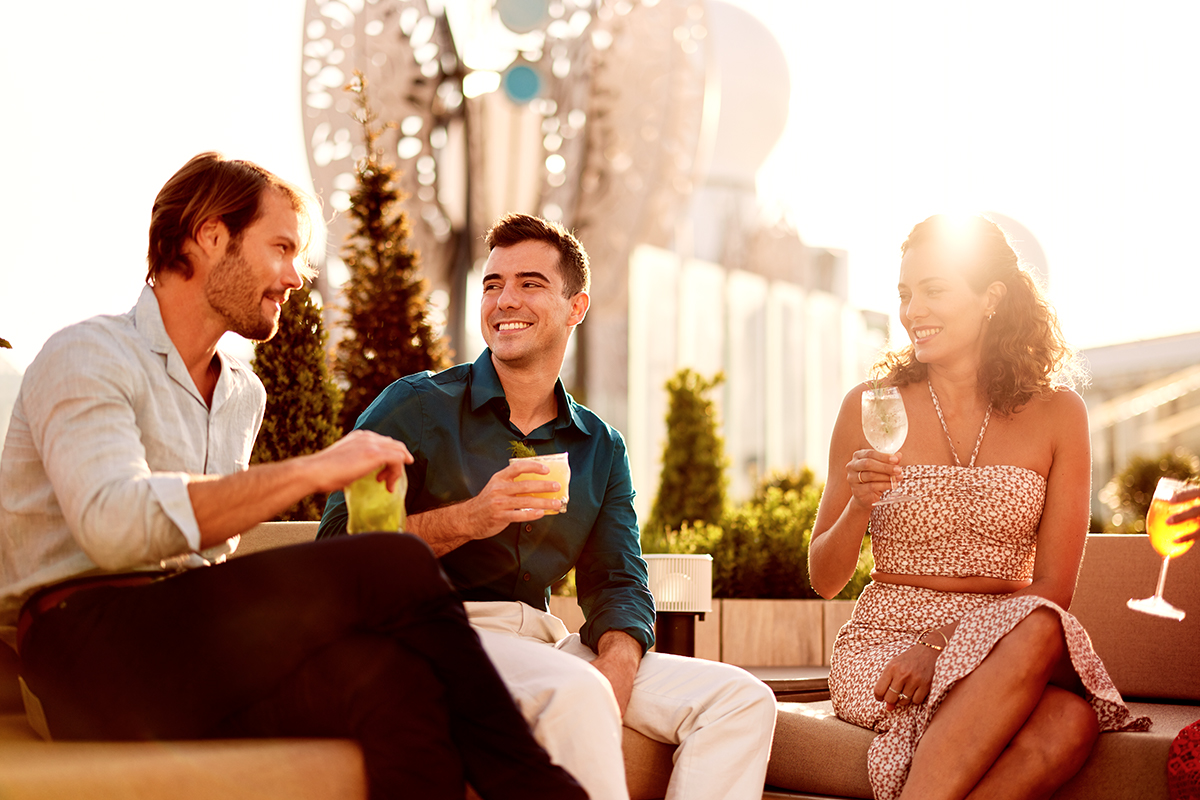 This outdoor venue is full of unexpected pleasures day and night. Enjoy lunch or dine under the stars at the Rooftop Garden Grill, nestled perfectly in its own delicious corner of the Rooftop Garden.
Discover the world-class contemporary cuisine at Eden Restaurant, crafted by a Michelin-starred chef. This breathtaking venue is the epitome of Apex's outward-facing concept and will awaken every one of your senses in an atmosphere that transforms from chill mornings and playful afternoons to wonderful evenings.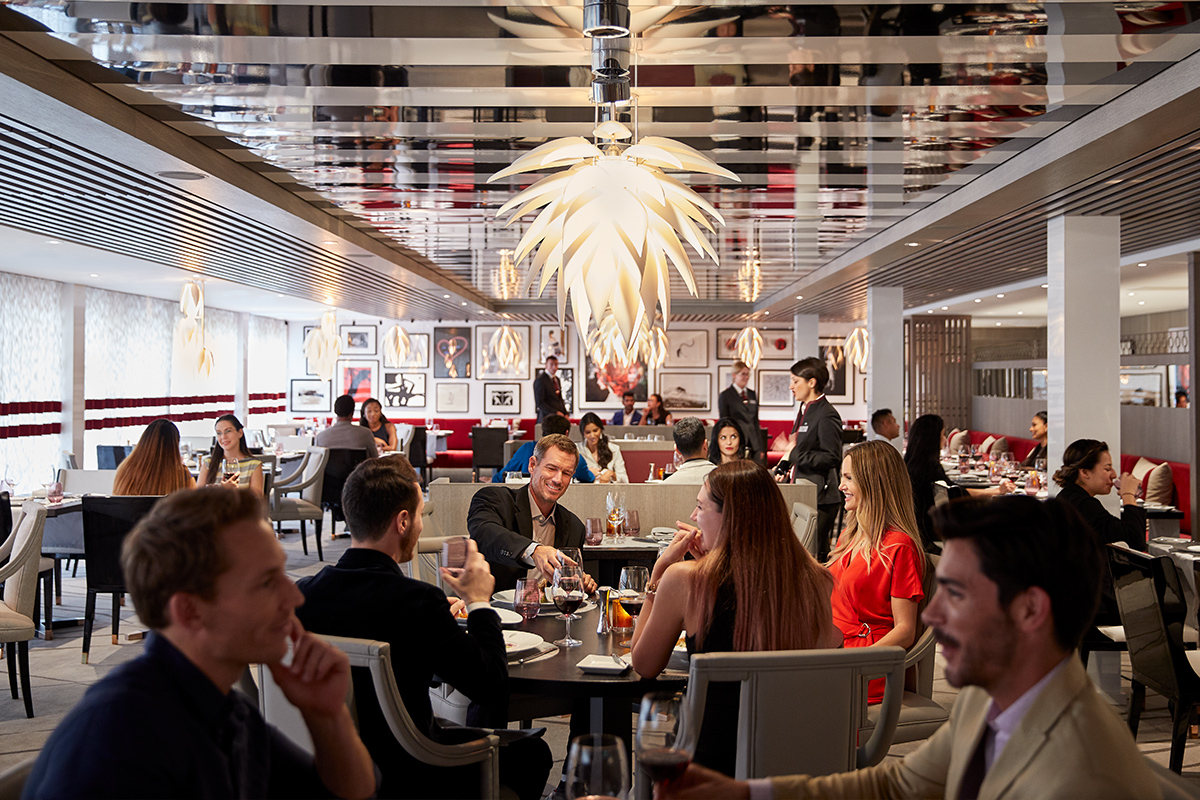 Suite guests have exclusive access to their own private restaurant, Luminae at The Retreat. Luminae is sumptuously designed and features menus that change daily as well as selections from Chef Daniel Boulud that are not available in any other restaurant onboard. *Exclusive for suite guests.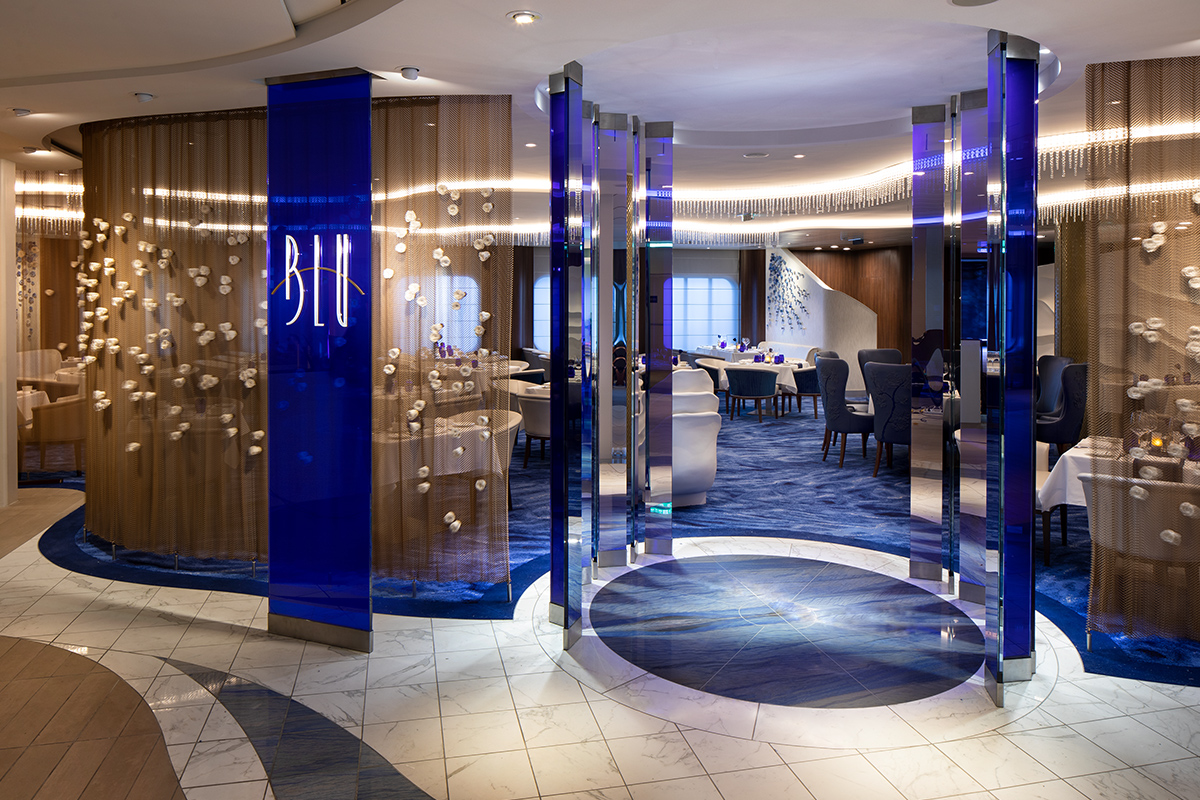 AquaClass guests will enjoy this exclusive restaurant, featuring clean, crisp flavors and inventive cuisine complemented by an extensive list of sustainable and bio-dynamic wines. Everything here is undeniably delicious. Pair all of that with personalized service, inviting surroundings, and natural light, and you have the fresh and bold experience of Blu. *Exclusive for AquaClass guests.
Whether you want handcrafted martinis, ice-cold craft brews, or delicious specialty coffees to perk you up, the bars and lounges aboard Apex offer something for every mood.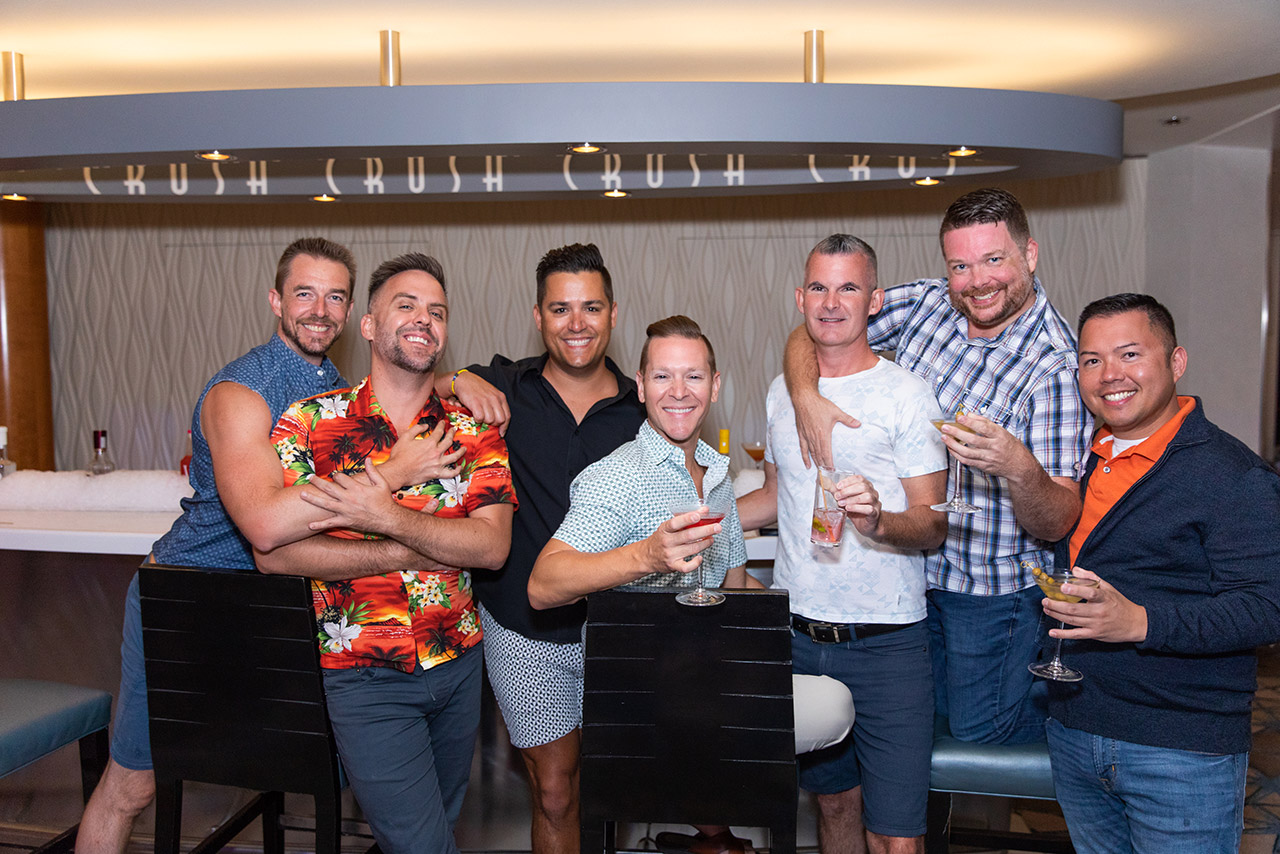 Enjoy handcrafted cocktails under the glow of the Grand Plaza's stunning LED chandelier, which features nightly choreographed light and flair bartending shows. You'll also find some of VACAYA's hottest signature cabaret and piano bar acts here each evening.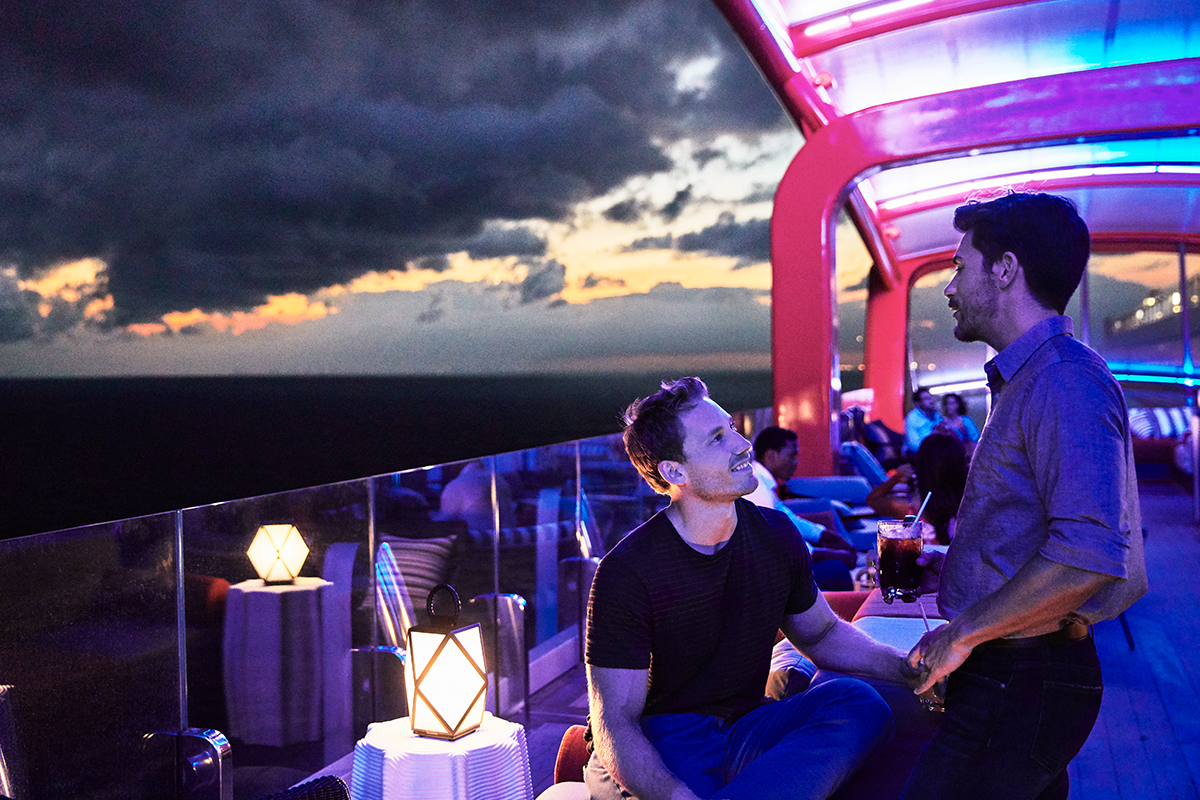 The Magic Carpet is designed with comfortable seating, a full bar, and space for live music performances, so it truly is a destination unto itself on Apex.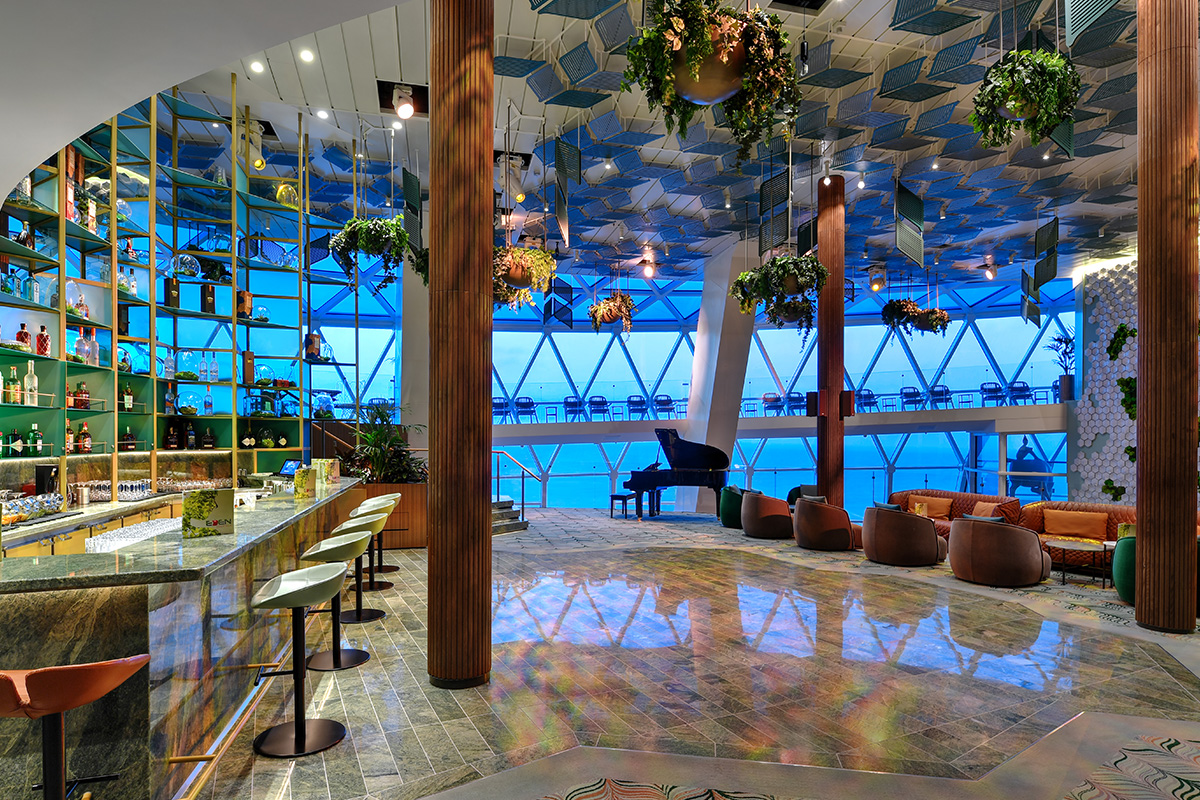 Tantalize your senses with a collection of craft cocktails that perfectly match the chill, playful vibe of Eden.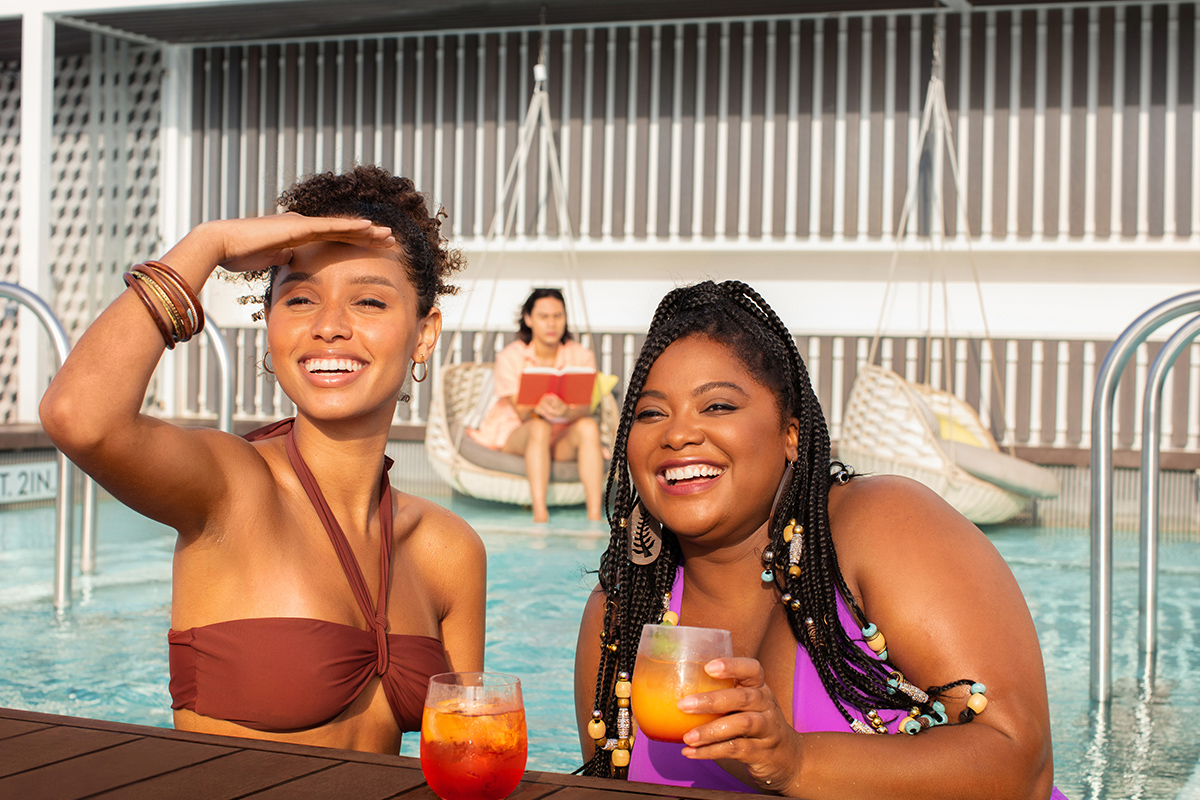 Exclusive to guests of The Retreat, this warmly inviting lounge is open 24×7 and offers a new fully stocked and expertly staffed bar (complimentary for guests in Celebrity Suites and above), as well as gourmet bites and live entertainment. Guests of The Retreat also enjoy exclusive access to the indulgent, inviting Pool Bar with private cabanas and plush loungers. Each Suite type features different inclusions (and those vary from standard non-chartered Celebrity sailings), so be sure to check your desired Suite's list of inclusions in our Rooms & Pricing section below.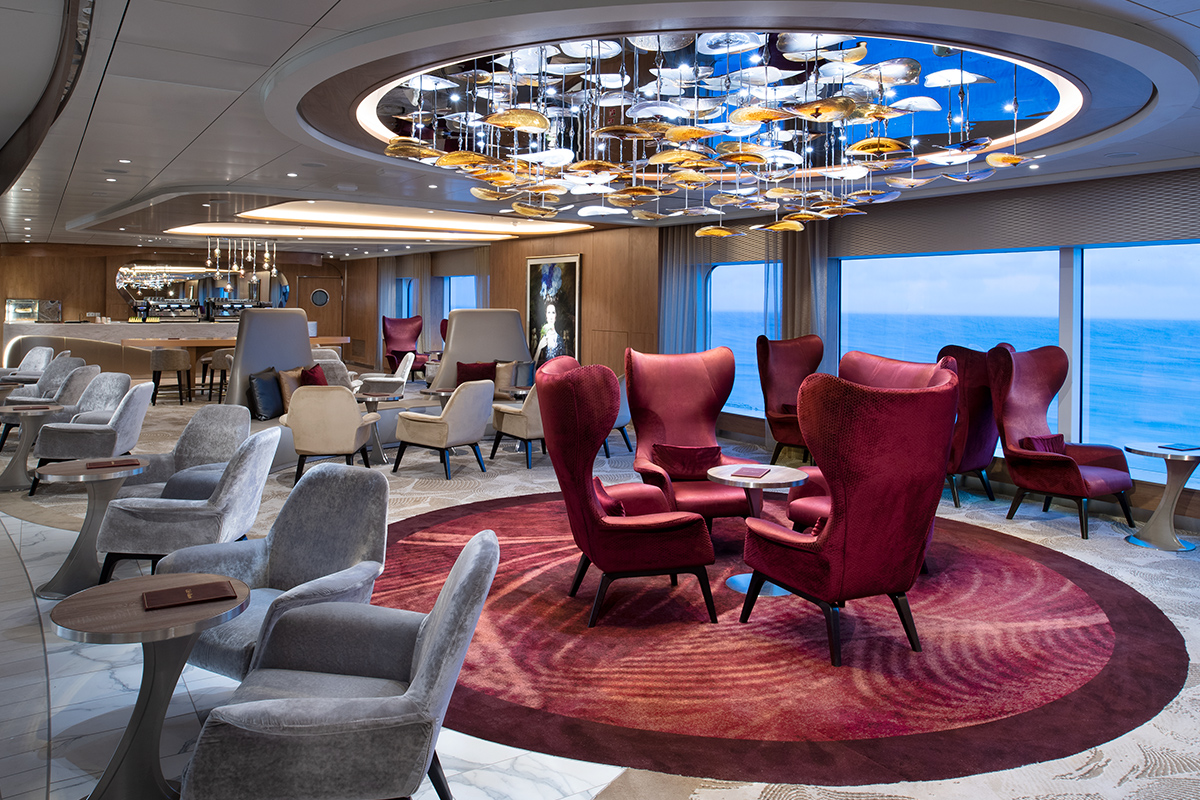 This Italian-inspired café located along the Grand Plaza is the perfect place to gather with friends and relax with delicious specialty coffees and sweet treats.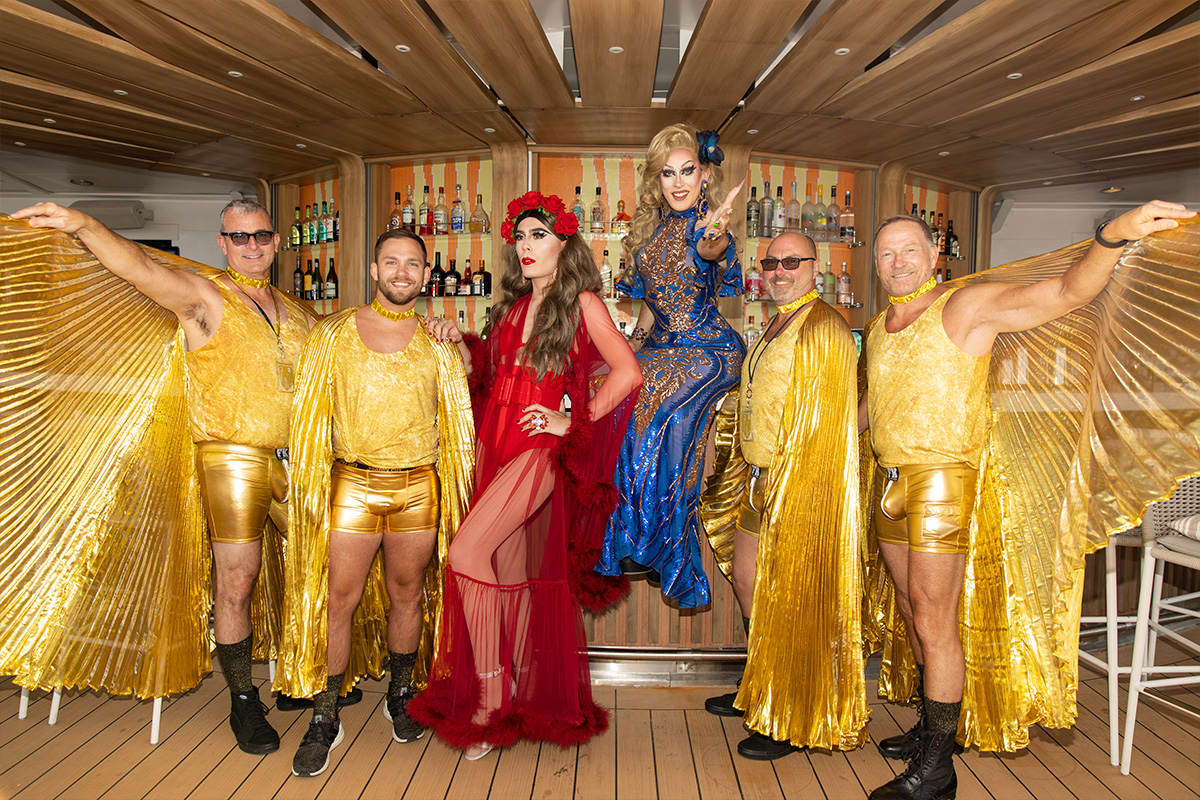 With a casual country club atmosphere and some of the most spectacular views aboard, this is the perfect spot to watch the world go by with a cocktail in hand.
DAY 1 | SATURDAY, FEBRUARY 17, 2024 | FORT LAUDERDALE, FLORIDA USA
DEPART 4PM
DAY 2 | SUNDAY, FEBRUARY 18, 2024 | A DAY OF SHENANIGANS AT SEA
DAY 3 | MONDAY, FEBRUARY 19, 2024 | SAN JUAN, PUERTO RICO
ARRIVE 4PM | DEPART 11:59PM
DAY 4 | TUESDAY, FEBRUARY 20, 2024 | SAINT CROIX
ARRIVE 8AM | DEPART 6PM
DAY 5 | WEDNESDAY, FEBRUARY 21, 2024 | ST. JOHN'S, ANTIGUA
ARRIVE 8AM | DEPART 5PM
DAY 6 | THURSDAY, FEBRUARY 22, 2024 | A WILD DAY & NIGHT ON THE HIGH SEAS
DAY 7 | FRIDAY, FEBRUARY 23, 2024 | FUN-FILLED & RELAXING DAY AT SEA
DAY 8 | SATURDAY, FEBRUARY 24, 2024 | FORT LAUDERDALE, FLORIDA USA
ARRIVE 7AM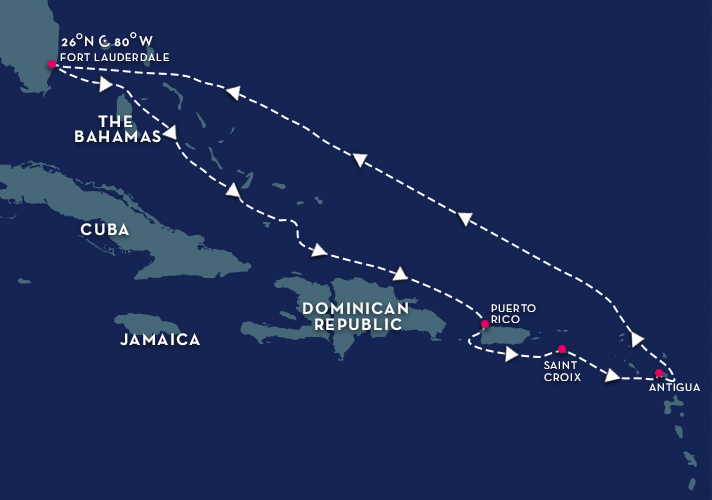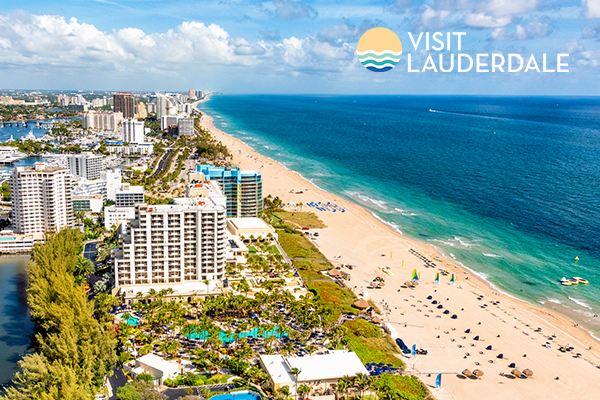 FORT LAUDERDALE, FLORIDA USA 26°N 80°W
SATURDAY, FEBRUARY 17, 2024
BOARDING 12PM
DEPART 4PM
Your first steps onto Apex will take your breath away! This gleaming jewel impresses from the go. And with our THIS IS ME party on the upper decks tonight, you'll get your first chance to connect with other Vacayans. Check out all the amazing things to do in Fort Lauderdale HERE.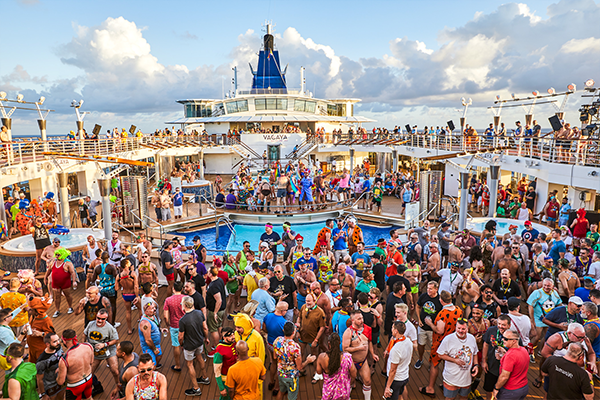 SUN-FILLED DAY & SIZZLING NIGHT AT SEA
SUNDAY, FEBRUARY 18, 2024
It's our first sea day and you just know we've got some incredible moments in store. How will you spend this day? By the pool with cocktails in-hand? Or in the theater with everyone's favorite Vacayan, Sister Helen Holy? The choice is entirely yours to make. We do know, however, that EVERYONE will be at our first V-Dance this afternoon. So be ready!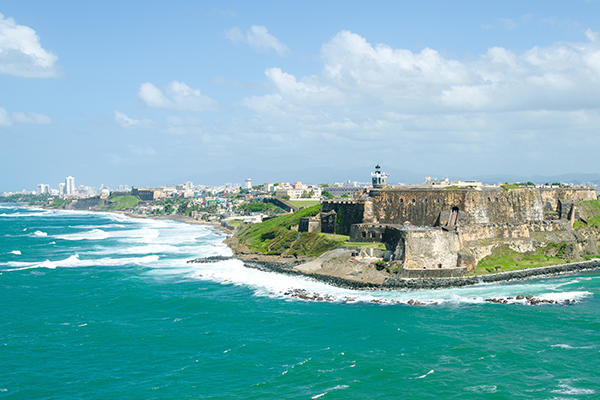 SAN JUAN, PUERTO RICO
MONDAY, FEBRUARY 19, 2024
ARRIVE 4PM
DEPART 11:59PM
You're finally starting to melt into all Apex has to offer. After a morning and early afternoon poolside, we finally arrive at our first port of call – the unmistakably beautiful and oh so gay San Juan! You'll have your choice of excursions today OR you can just hit the Old Town on your own and explore all this fascinating city has to offer.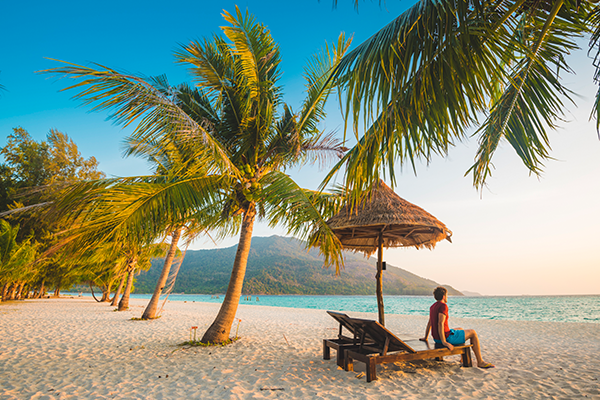 SAINT CROIX, US VIRGIN ISLANDS
TUESDAY, FEBRUARY 20, 2024
ARRIVE 8AM
DEPART 6PM
Saint Croix offers a truly mellow island experience and a nice break from bigger, more crowded beach destinations. Beaches are abundant across the island; Butler Bay, Dorsch Beach, and Frederiksted Beach, Coakley Bay Beach, and Cane Bay Beach are all perfect for relaxed sunbathing and fun. Buck Island Reef National Monument and Sandy Point Wildlife Refuge aren't far from the port at Frederiksted and make a great day trip for nature lovers. Foodies will certainly enjoy the mix of Cajun and Caribbean cuisines found here.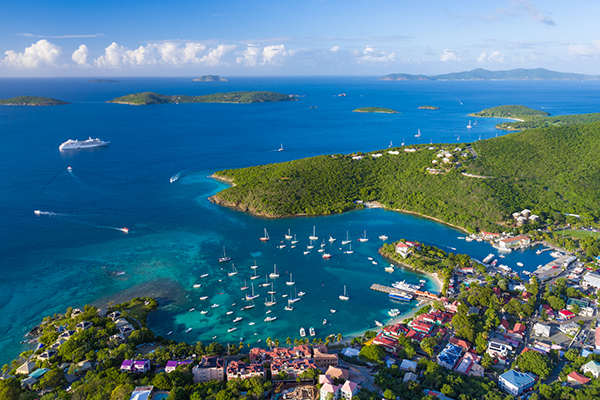 ST. JOHN'S, ANTIGUA
WEDNESDAY, FEBRUARY 21, 2024
ARRIVE 8AM
DEPART 5PM
Colorful St. John's is home to 365 white sandy beaches, historic testaments to British colonial occupation, and kitschy beach bars around every corner. St. John's is perfect for lounging beachside, snorkeling and diving, or hiking to see Fort Barrington's watchful eye overlooking the city. Tours to historic sites like Fort James and St. John's Cathedral make for a great way to spend the morning, leaving plenty of time in the afternoon for tasty Caribbean cuisine and seafood, where the fresh catch of the day rules local menus.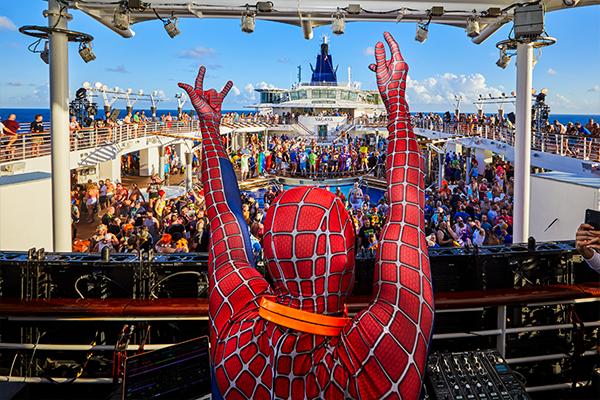 SHENANIGAN-FILLED DAY AT SEA
THURSDAY, FEBRUARY 22, 2024
After 3 days of island hopping, it's time to make the most of our beautiful ship. Today, you can hit the spa, check out Eden for the first time, dance the afternoon away on the Resort Deck, or simply sleep in. You do you today. But tonight… be ready for our biggest party of the week!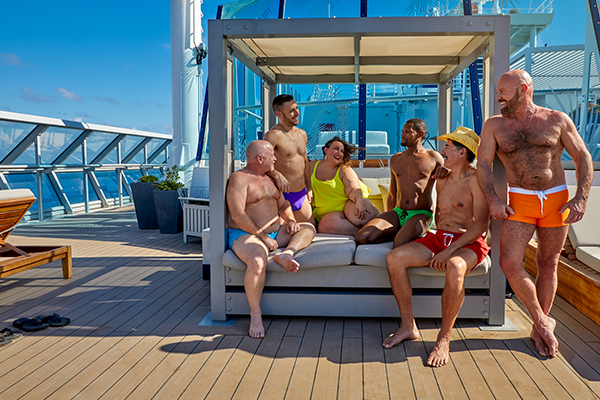 ONE LAST RELAXING DAY AT SEA
FRIDAY, FEBRUARY 23, 2024
After last night's party and the after-party, today is all about recharging before heading home tomorrow. But before we wrap this up, our signature SHE'S A MESS V-DANCE will hit the upper decks! SHE'S A MESS is easy… just throw on one piece of every costume you've worn this week. This is our fun way of celebrating all the weird and whacky costumes worn over the week, so get crazy, Vacayans!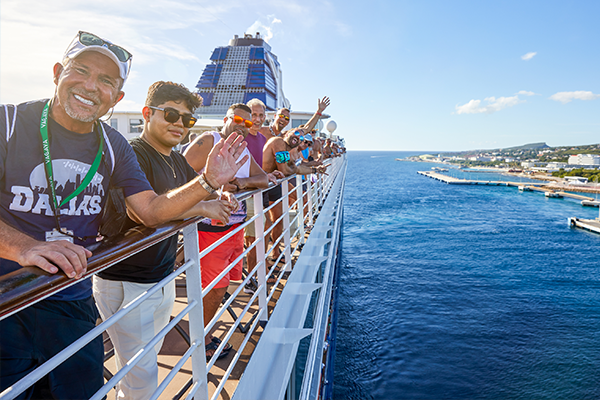 FORT LAUDERDALE, FLORIDA USA
SATURDAY, FEBRUARY 24, 2024
ARRIVE 7AM
We return to where it all started – beautiful Fort Lauderdale. We encourage you to stick around a few days to enjoy all this wonderful LGBT+ haven has to offer. Our friends at VISIT LAUDERDALE have compiled a great list of the amazing accommodations, bars, and restaurants the city offers HERE. If you're flying home today, we recommend flights at 11am or later. Port Everglades is a short 15-minute taxi/Uber ride away from FLL Airport and you'll have options to disembark Apex starting just before 8am.
While we work tirelessly to craft the perfect itinerary for each trip, it's always subject to change based on weather, sea, and myriad other conditions.
Apex features luxury accommodations that range from modern two-story villas with plunge pools to staterooms with Infinite Verandas that blur the boundaries between indoor and outdoor living, all carefully curated and designed by the award-winning Kelly Hoppen.
When you book online directly with VACAYA, you'll enjoy 24×7 access to your booking information, Pay-In-Full Bonus Offers, No-Interest Monthly Payments, AIRLINE DISCOUNTS, and our BEST RATE GUARANTEE!
While our Solo Traveling with Ease Program (STEP) has been sunset, we offer some great recommendations for finding a roommate HERE.
Suite inclusions on standard non-charter sailings vary from the suite inclusions available on charter cruises. To better understand what's included with each type of suite, we've created this helpful guide for you…
Non-Commissionable Port Taxes and Admin Fees are 347 USD per person.
Pre-Paid Gratuities are 168 USD per person for guests in Suites; 133 USD for AquaClass & Concierge Class staterooms; and 126 USD for all other stateroom categories. 100% of these gratuities go to onboard staffers, including your stateroom attendant, the culinary services staff, the behind-the-scenes hotel services staff, and the myriad department heads who work with their teams around the clock to create a flawless VACAYA experience for you.
Solo guests in their own stateroom pay double gratuities and single port taxes/admin fees. The one exception to this is Solo Travelers who've purchased an Edge Single Stateroom w/Infinite Veranda (Category ES), who only pay 1 Port Taxes/Admin Fees and 1 Pre-Paid Gratuity.
The fare for 3rd, 4th, 5th, and 6th guests is 397 USD each in all staterooms and suites. In addition to the fare, each additional guest pays the standard Port Taxes/Admin Fees, as well as the Pre-Paid Gratuity amount for that room category.
You will earn Captain's Club points for this sailing with VACAYA. Many of the standard-sailing benefits, though, don't apply to charter events. For example, most Captain's Club events, like the Captain's Club Welcome Aboard Party or the daily Happy Hours do not occur on charters. Discounts on beverage packages and internet packages, however, do apply based on your elite status. For those discounts to apply, you must first link your Captain's Club membership to your VACAYA booking within Celebrity's reservations management tool. You can only do this once you've received your Celebrity Booking Number which typically happens around 45 days prior to sailing. If you need assistance linking your Captain's Club account to your VACAYA reservation, simply contact Celebrity @
+1.877.200.2897
.
Room descriptions and sizing have been provided to us by Celebrity Cruises. Room sizes and layouts may vary slightly within the same category. For rooms with a capacity greater than 2, the additional bedding is a combination of sofa beds and/or upper berths. Prices are subject to change at any time – with or without notice.
Upon booking outside of 300 Days – 10%
At 300 Days (April 23, 2023) – 25%
At 240 Days (June 22, 2023) – 50%
At 180 Days (August 21, 2023) – 75%
At 120 Days (October 20, 2023) – 100%
Upon booking through 300 Days (April 23, 2023) – 10% of total
From 299 (April 24, 2023) to 240 Days (June 22, 2023) – 20% of total
From 239 (June 23, 2023) to 180 Days (August 21, 2023) – 40% of total
From 179 (August 22, 2023) to 120 Days (October 20, 2023) – 60% of total
From 119 (October 21, 2023) to 90 Days (November 19, 2023) – 80% of total
From 89 (November 20, 2023) to 0 Days (February 17, 2024) – 100% of total
Flights from your home city to Fort Lauderdale
Airport Transfers to/from Apex
Onboard Spa Services
Onboard Laundry
Gift Shop Purchases
Optional Excursions
Beverage Packages
Specialty Dining
Be sure to read VACAYA's
Terms & Conditions
, which include the Payment/Cancellation/Refund Policies for all reservations. Please note that cancellation fees apply from the time of booking.
For real-time availability, proceed by clicking 
BOOK NOW
. With ever-shifting inventory, a category that shows availability on this page may no longer be available when you attempt to book. If you need help finding the perfect room in another category or to add your name to our wait list for a sold-out category, feel free to email The V Team at
info@myvacaya.com
 and we'll be happy to assist you.
You may pay in full at the time of booking. Unless you later modify your reservation, no further payments will be necessary. BONUS OFFER: Paid-in-Full Reservations made through April 23, 2023 will receive 100 USD off per room.
Your initial deposit is due at time of booking. Then, your remaining monthly payments will be calculated using the number of months between your booking and the final payment due date. Payments will be charged on the 15th or the last day
of each month (determined automatically depending on the day of the month you book). Payments will be charged to your credit card on file. If your credit card details change at any time, simply update the info in our system prior to your next month's payment date. Please note declined payments are subject to a convenience fee. For more information, explore our 
Automatic Billing FAQs
 and our 
Terms & Conditions
.
There is one question every traveler across the globe universally faces: should I purchase Travel Insurance? It's natural to ask yourself, should I spend the extra dollars to protect my vacation investment? Or do I leave it in the hands of Lady Luck and hope for the best. At VACAYA, we've always believed Trip Insurance was critical to the vacation planning process. That's why we took special care to integrate the purchase opportunity into our online booking process. Pre-pandemic, the main reason to buy insurance was to assure your safe return home if something were to happen to your health while on vacation. That's because quality insurance covers medical evacuation so people don't have to pay medical emergency transportation expenses out of their own pocket.
With Covid-19 in our lives for the foreseeable future, we now have an even stronger rationale for recommending Trip Insurance. "Cancel For Any Reason" insurance has quickly risen in popularity, and for good reason. If you decide you don't want to travel after the cancellation penalty period has begun, this type of insurance covers most if not all of your cancellation fee. It's also a great way to help honor your Social Contract with VACAYA.
So go ahead and buy that bucket list trip, but protect your health and your investment by purchasing Trip Insurance. ❤️